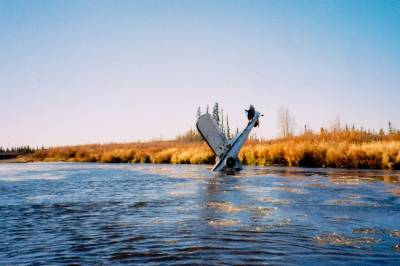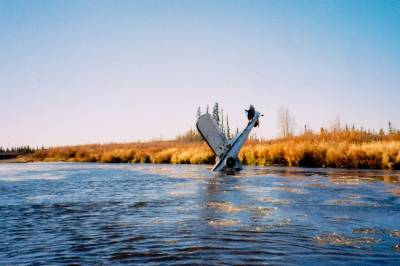 "Adventure is my brand," he said in a Wisconsin accent from the other end of the phone. I'd seen several of his DVDs and certainly wouldn't disagree.
I'd been introduced to Billy's name early in 2012 as Rokslide was forming, but I really didn't know much about this Alaskan guide. We had his DVD's in the Rokslide store, so I ordered a few. After watching only 20 minutes, I was on the phone with Billy with a slurry of questions about him and hunting north of the 59th parallel. With 14 years of guiding for an incredible 100-plus days per year, a library of self-filmed DVD's, and a book to his name, I knew I needed to introduce you all to a very unique yet humble person. Prior to meeting Billy, I didn't think much about hunting Alaska. As of late, that's all I've been thinking about.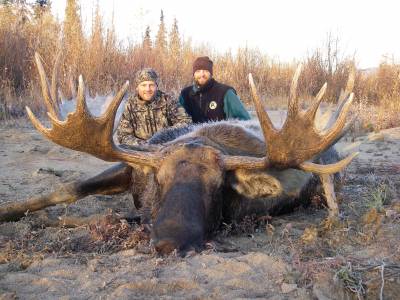 If you've ever wondered about hunting giant Brown Bear, 40″ Dall Sheep, Caribou, Alaskan Moose, Wolf, or Grizzly, then get to know Billy Molls- you'll be a better hunter for it.
Robby: "So Billy, how'd you get into hunting?"
Billy: "My Dad and Grandfathers influenced me the most. My paternal grandfather was a professional trapper and farmer who loved to hunt. He would spend six months a year living out of a log cabin in Northern Wisconsin, which he built himself, trapping for beaver, weasel, wolf, and bobcat."
"We rarely had time to get away from the farm, but when we did, dad and grandpa took me trapping and hunting. Trapping appealed to me as I was able to do it on my own and I could make money at. My grandpa was in his late 70's when he told me he wished he'd hunted in Alaska; If my grandpa wished he could have gone to Alaska, I knew that was the place for me. He lived 96 years and was the wisest man I've ever known."
Robby: "Single or married?"
Billy: "I somehow found the greatest blessing in my life, Stacia, when I was 27. Three months later we were riding horses to a mountain top in Idaho's Frank Church River of No Return Wilderness, where I planed to propose. Shortly into the ride, her horse slid off the trail and almost rolled down a steep bank. By the look in her eyes, I knew the ride was over, so I popped the question right then. That seemed to diffuse the situation a bit.
We now have three girls: My stepdaughter Mataya, 13, Charli, two, and Fracesca , one. Franki, as we call her, was born last August while I was sheep hunting. I didn't meet her until she was 2 months old. I racked up a pretty good satellite phone bill on the day she was born.
It is hard on family life to be gone so long, but my time in the wilderness keeps things in perspective. Absence certainly does make the heart grow fonder."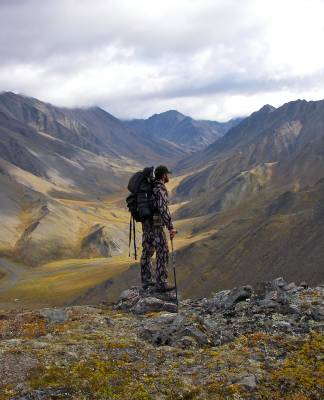 Robby: "How much of your living comes from guiding?"
Billy: "I typically guide in Alaska 100 days out of the year. I do many other things to make ends meet during the off-season: produce DVDs, write books and magazines, public speaking, carpentry, and farming, to name some."
Robby: "Do you have a favorite species to hunt?"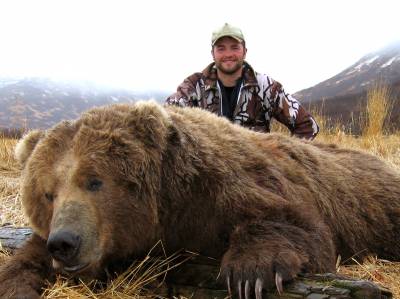 Billy: "Brown bear and Grizzly are my favorite. Bears are very intelligent, their sense of smell is unrivaled and the danger factor makes them interesting to hunt. You will never be more aware of your surroundings than when you duck into the alders to track a 1,000+-pound brown bear. Occasionally I have to backup a hunter on a wounded bear. While I still get buck fever when it comes to deer hunting, I don't remember ever getting it while hunting bears. With bears, I feel more clarity- perhaps it is because my life and my clients' could depend on it. Nervousness isn't a luxury you can afford."
Robby: "What inspires you?"
Billy: "Nature! The animals and the wilderness of Alaska have enriched my life beyond belief. That is largely the topic of my book, and will also be the topic of my next book. I could ramble for days, but I'll leave it at this: If your trying to figure something out in your life, go to any remote wilderness, spend enough time there, and you're likely to find your answer.
Robby: "Reviewing your DVDs made me more than curious about hunting Alaska. How would you advise someone who'd like to hunt north of the border?"
Billy: "US citizens who are non-residents of Alaska can hunt caribou, black bear, moose, and wolf without a guide. Dall sheep, Mountain goat, Brown and Grizzly bear all require a guide. If you're looking for an inexpensive Alaskan hunting experience, an unguided caribou hunt is the way to go. Whether guided or unguided, do a lot of research on your outfitter or air taxi. Like most things in life, you usually get what you pay for.
People always say, "Hunting Alaska, that is a rich man's sport." It certainly isn't cheap, but like anything in life, if you want it bad enough, you'll find a way to make it happen. I have a buddy who has gone on three international hunts recently. He isn't rich, but he's dedicated, does his research, and takes advantage of good opportunities.
I think any hunter who goes to Alaska will enjoy his experience more if he approaches the hunt with the attitude that he will hunt hard, enjoy the experience, and take what Alaska gives him.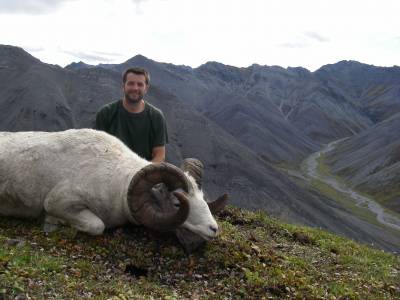 Robby: "Do you ever wish you were the one carrying the rifle?"
Billy: "In the first few years of my career, yes, but for the last decade or so, not at all. Having never shot a single big game animal in Alaska for myself has changed my perspective on hunting. Kind of like a father who would rather just sit in a tree stand with his child. I'm fortunate to experience some amazing adventures and not focus on "the shot". This has opened my eyes to a lot of things in nature, and hunting that I didn't notice before.
Robby: "What is the single greatest aspect of hunting?"
Billy: "Education: A good hunter never stops learning. We learn out of necessity. But the real beauty of this sport is that no matter how experienced you are, Mother Nature always has something to teach you."
Robby: "What's the future hold for Billy Molls?"
Billy: "I have no plans to stop guiding, but I no longer put my desires first. Whatever is best for my family is my priority. My hope is to continue to guide, write, speak, and make a living at it. I enjoy sharing stories and demonstrating what it's like to experience Alaska. If I can make a living doing that, do a little farming, trapping, fishing, and maybe tap some maple trees in the springtime with my girls, I'd be content."
Stay tuned, as I'm reviewing several of Billy's DVDs and will showcase them here. To win one of these DVDs, subscribe to the blog in the upper right. Anyone already on the subscribe list since we started the blog in March and until the next blog posts, will be entered into the drawing. You're going to love these DVDs!
Several titles of The Modern Day Mountain Man DVDs are available now in our store at Billy Molls DVDs
For more information on Billy's book, Alaska and Me, The Modern Day Mountain Man DVDs, or hunting in Alaska go to www.billymollsadventures.com.