I'm not gonna lie … I like big glass.  My spotting scope choice for general western hunting has been the excellent Swarovski ATX 85mm for nearly a decade.  That extra size over a 65mm spotter has come in handy on more than one lowlight occasion.  The optical performance of the 85mm spotter is stunning, but it isn't exactly ultralight at 5 ounces over 4 pounds.  Big spotters generally require big tripod heads to steady the load for smooth, steady panning. Especially with the added bulk and weight of a digiscoping setup.  Sure, there are strong, and reasonably light ball heads available that are up to the task, but I really like fluid and pan heads for gridding the peaks, avalanche chutes, and meadows in my hunting areas.
Fluid and Pan Heads
Big fluid heads designed for video are the obvious top-performing choice for stabilizing big spotters.  But like big spotters, they come with a weight penalty.  My preferred fluid head for glassing and digiscoping close to a vehicle is the Manfrotto MVH500AH, which comes in at nearly 2 pounds, and I am not taking that on a backpack hunt.  What I will take on a backpack hunt is the excellent and proven 10.6 ounce Outdoorsmans' Pan Head.  This head is a great compromise on size, weight, and stability, but I am always looking for other ways to save weight.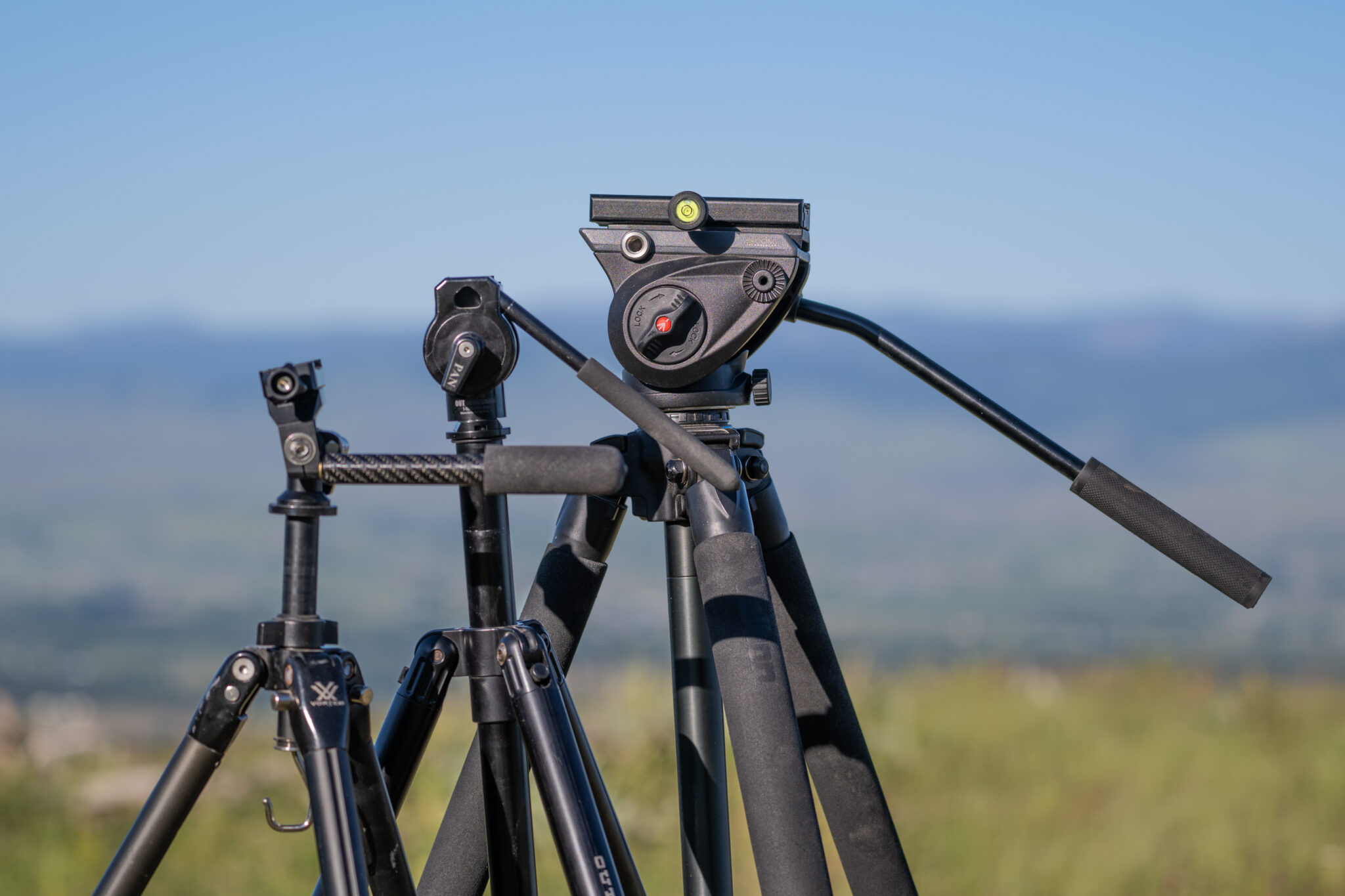 Wiser Precision
Wiser Precision is a shooting and hunting equipment manufacturer in Northwest Washington.  Wiser Precision tackled the backcountry stability problem and came up with the NightHawk PH 170 Pan Head.  The NightHawk is composed of anodized, machined aluminum and stainless steel.  The Nighthawk comes with a simple Arca-Swiss compatible plate, and accepts a huge variety of Arca-Swiss plates on the market. It is also tiny.  Like really, really small. Check out their website here.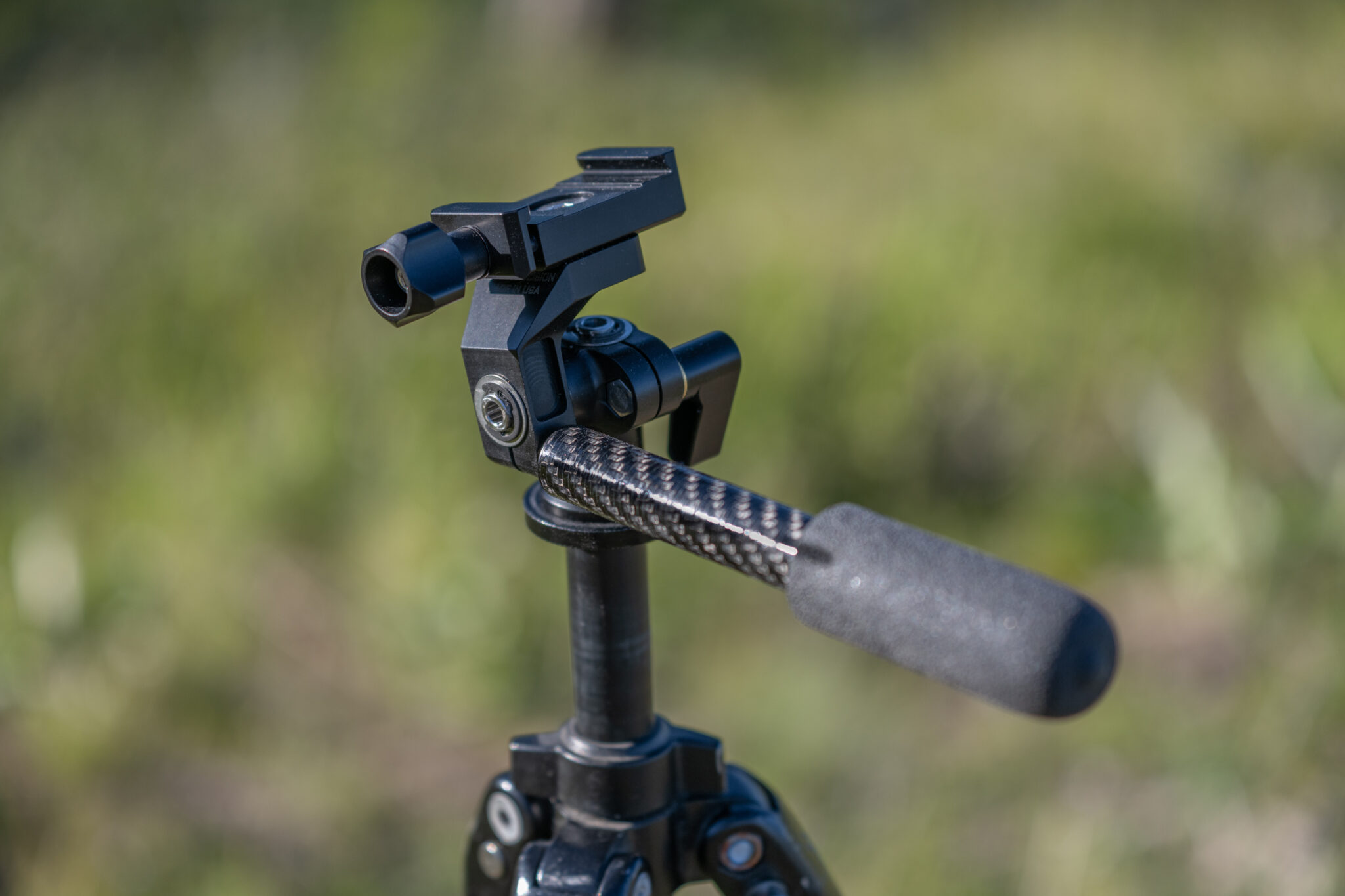 Nighthawk PH 170
It was time to dive right into testing.  Montana had an unusually snowy and cool spring, but glassing for sheds, bears, and winter range photography were still on the menu.  The NightHawk fit well into the spring schedule.  First, let's look at the specs:
Wiser Precision Nighthawk PH 170
Weight w/ CF handle – 6.1 ounces
Weight w/o CF handle – 4.9 ounces
Adapter plate –  Arca Swiss Compatible/ replaceable
Separate pan/tilt – Yes
Grease Dampened – Yes
Mounting – 3/8-16  stud
Price – $299
General Impressions
The NightHawk is impressively made with good CNC work and anodization on the aluminum components.  Thick grease is sealed into the adjustments at both axis, and both the pan and tilt functions are well damped and smooth.  While it was tempting to go all the way and use the NightHawk in its ridiculously light 4.9 ounce configuration with the tilt adjustment lever, I generally preferred the heavier (if you can call it that) configuration with the short, carbon fiber handle. Twisting the handle adjusts the tilt tension.  The carbon handle made tilt adjustments both easier to adjust precisely and crank down hard to lock in the view.  The small lever on the pan adjustment was sufficient, as I found locking down the tilt function more important, especially when digiscoping.

Arca-Swiss Compatible
As an avid photographer, I am well acquainted with the Arca Swiss Standard for adapting plates.  I'm a big fan of the system, and have various plates on much of my photo gear and optics.  The Nighthawk has a wide-opening Arca Swiss compatible receiver.  The receiver opens wide enough for the user to just drop the Arca Swiss plate in and tighten the dovetail.  There is no need to slide the plate in from the end.  This would be especially useful for hunters utilizing the Arca-Swiss compatibility as a rifle rest.  Arca-Swiss compatible accessories are widely avialable and often economically priced.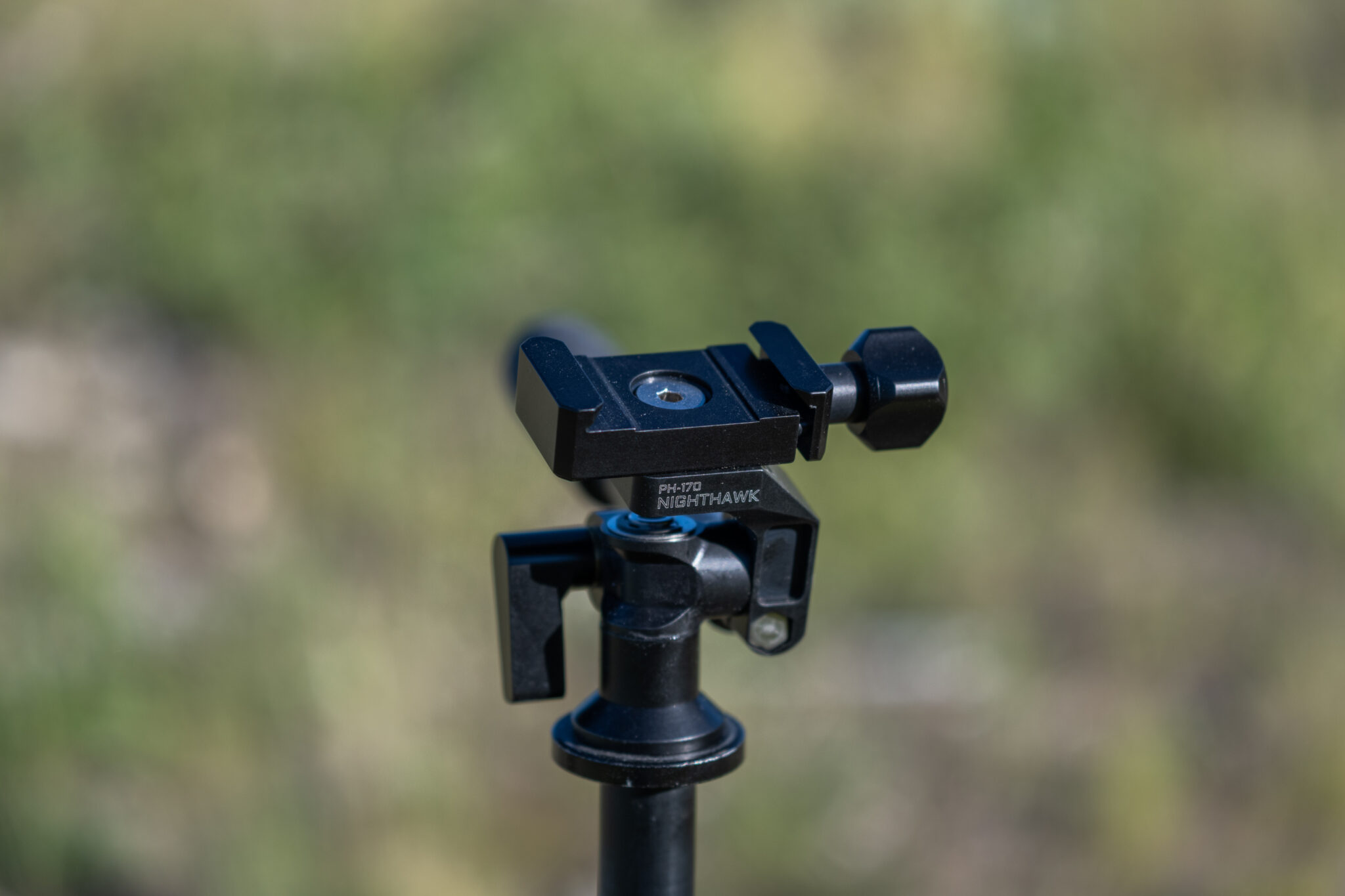 The NightHawk's receiver plate is removable, however, if the hunter had another receiver they wanted to mount like a receiver compatible with Manfrotto plates or others.
Performance
The big question was if the NightHawk was up to the challenge of stabilizing the big spotter setup.  The answer was definitively yes.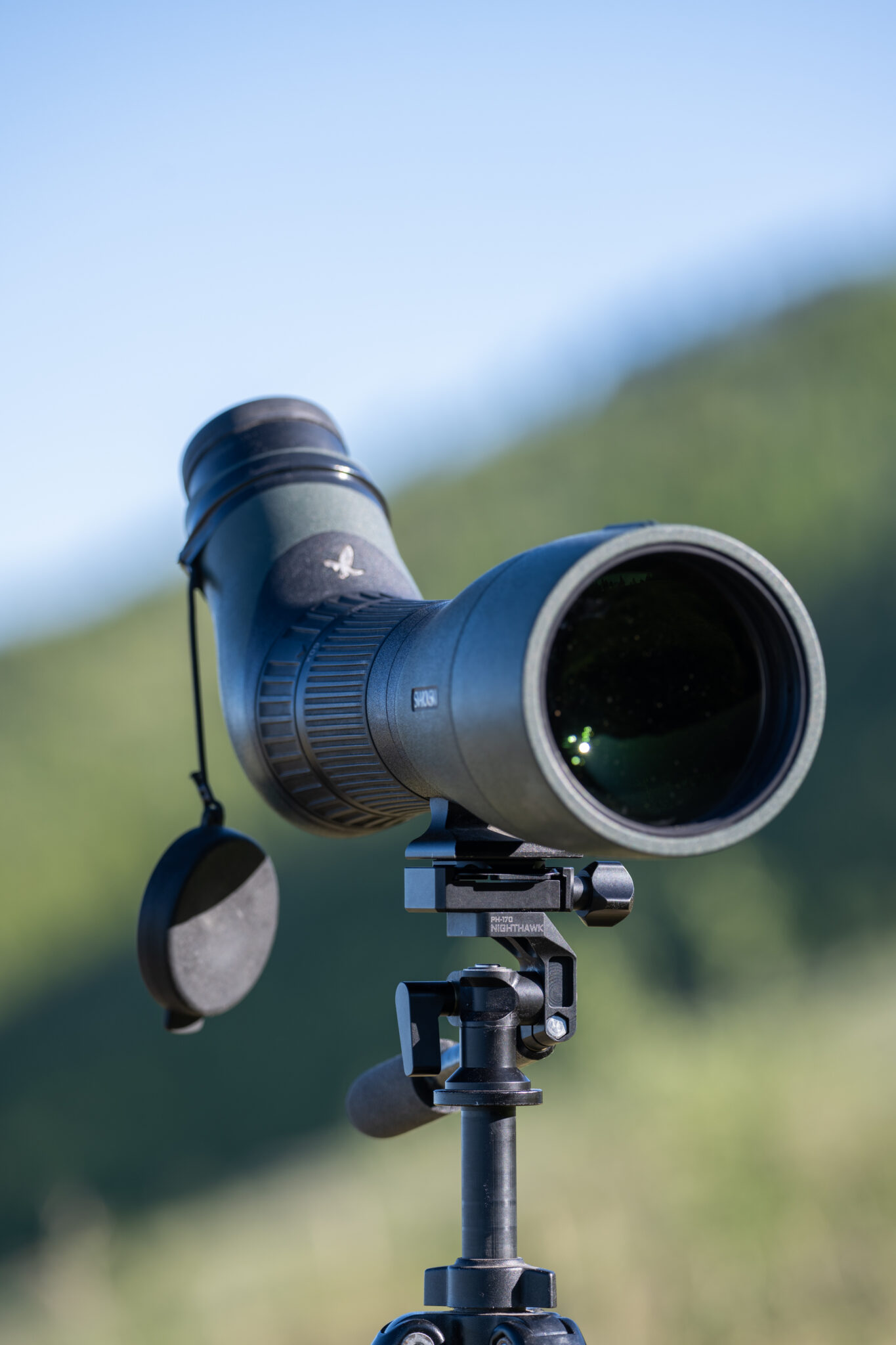 The Nighthawk held my full Swarovski ATX 85 with Novagrade digiscoping adapter and iPhone 13 Pro without issues.  A telephoto lens and camera were well-supported, and the NightHawk was able to provide smooth pans for video.  Lighter loads like a 50mm compact spotting scope or binoculars were no challenge at all for the Nighthawk.  Finding the proper tension and balance was key to maximizing the performance of the NightHawk.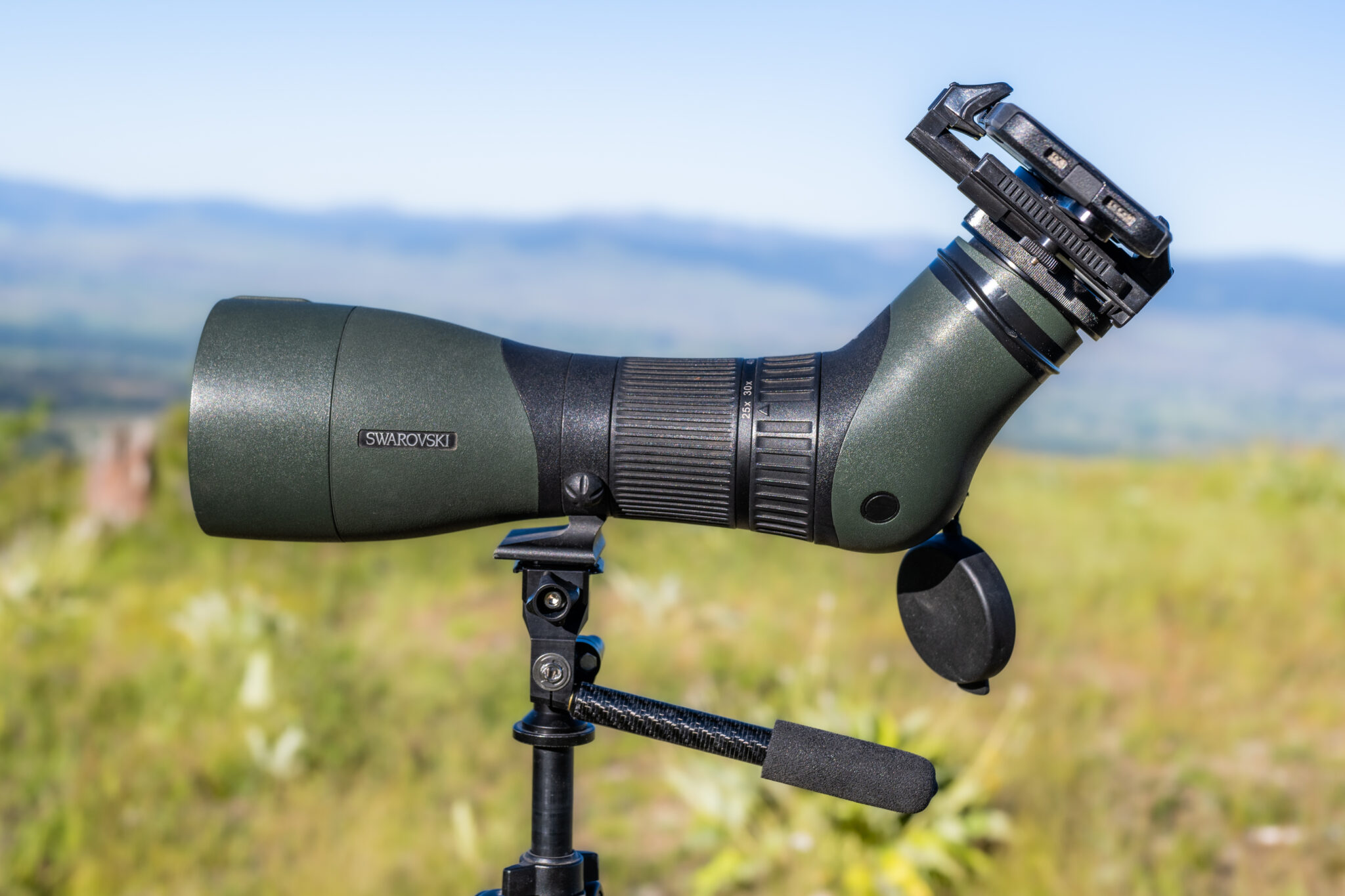 Backlash (drifting back) on a distant target after panning was present if the tension was light for the load.  Once the right tension was applied (through trial and error) the pan would stop sufficiently firm on the intended target, however.  I needed to mount the head on a heavy-duty tripod to evaluate this, as the legs of lightweight backcountry tripods flexed enough to supply their own apparent backlash.  The carbon fiber handle sits low on the head and it can limit the amount of tilt angle possible before coming in contact with the tripod base, especially on those tripods with large diameter bases.
Pros:
Build Quality
Small Size
Lightweight
Stability/Weight ratio
Arca-Swiss Compatibility
Price compared to top-shelf competition
Cons:
Price, while lower than top-shelf competition, is much higher than budget heads
Carbon Fiber handle can limit rear tilt angle on some tripods

Conclusion
The Wiser Precision Nighthawk is a good choice for hunters looking for absolutely minimal weight in the backcountry but keeping sufficient stability for larger glassing and digiscoping setups.  The NightHawk performs comparably to heavier and more expensive hunting tripod heads.
Comment or ask Matt questions here.
Also check out our optics and tripod reviews.