There is nothing worse than coming back to the trailhead after an exhausting pack out to find that the ice in your cooler is toast. That elk meat is now going to have to wait until you get to town to completely cool.  I've been in that situation a few times and now solely rely on roto-molded coolers that have been precooled before I set foot in the field.
This year, for our annual Rokslide cooler showdown, we went BIG! I mean, really BIG! We put Yeti head-to-head against Canyon Coolers in the 150-quart size. I would have liked to have included even more brand choices but logistically it would have been a nightmare. So I settled on my top two picks for this showdown.
Pre Cooling
As in previous showdowns, click here for 2018, click here for 2015, we precooled these coolers and then filled them up to the brim to see how long they will last in the same conditions. My local ice company was kind enough to let me use their walk-in freezer. You can also do this by throwing ice in your cooler and filling it up with water from a garden hose. This will help get the insulation nice and cool.
Often times, people tell me their cheap X-brand of cooler holds ice better than their high-end cooler. After digging deeper in the conversation, 9 out of 10 times they are sticking room temperature or refrigerated products in and throwing a bag of ice on top of it right before heading out. These are top quality coolers that have a ton of insulation, which requires some time to get cool. They will soak up a bag of ice very quickly, but once they get to the proper temperature, they tend to stay cold for quite some time. On the latter, cheap coolers do not have near the insulation, thus not requiring a lot of energy to get cold. If you are a weekend warrior or heading up to the lake for a day, these are things to consider before dropping coin on a high-quality cooler.
Before we go into the results, here is a quick rundown of what I like and dislike about both of these coolers.
Yeti Tundra 160- MSRP $679
Yeti has built a solid company over the years, and doesn't build junk. They have stood the test of time and also donate time and money into conservation efforts. Needless to say, they make a good product and have a good business model that obviously works.
As far as the Tundra 160 goes, It is well made just like all of the other products that sport the Yeti logo. This cooler is quite long and skinny compared to the Canyon Cooler. It is abnormally challenging to carry empty with a single person due to how far apart the handles are. It makes the weight feel quite a bit heavier than the advertised 55 pounds. The handles are comfortable though, and fit and finish are top-notch. There is a drain plug on each end so no need to worry about which end to stick in the truck first. The drain plugs measure just shy of an inch and allow you to drain just the water out without losing ice by twisting it one revolution. It comes with one basket that is 11"x13"x3". The Tundra 160 is made in the USA and sports an IGBC Bear Resistance certification.
Exterior dimensons- 45"x19"x21"
Interior dimensions- 39"x14"x17"
Canyon Coolers Navigator 150- MSRP $549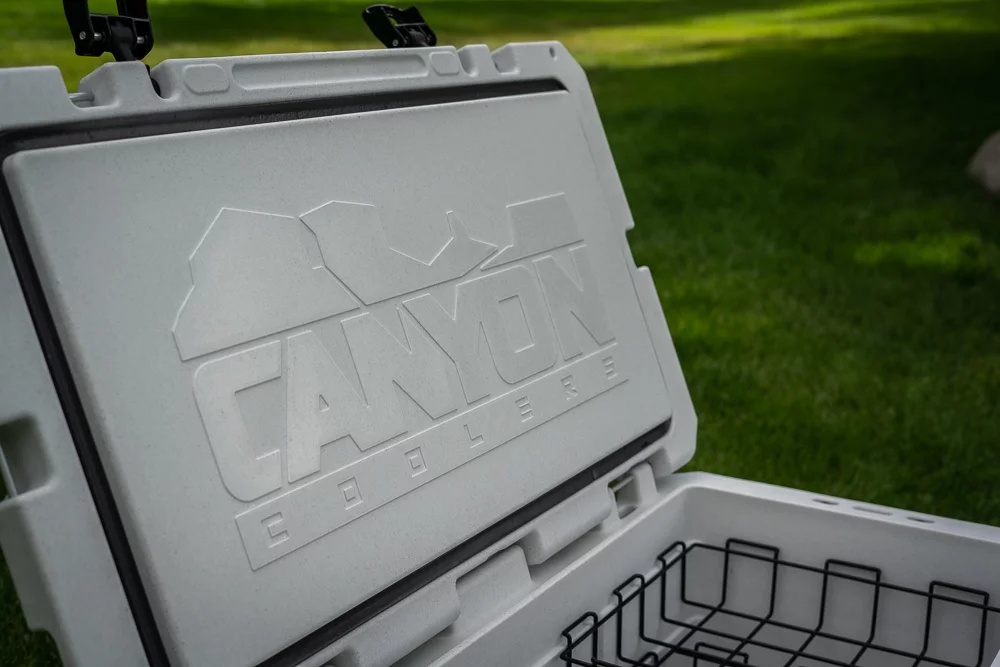 Canyon Coolers have been in every Rokslide Cooler Showdown since its inception. They have done exceptionally well in the past, and I didn't expect their new Navigator 150 will be any different. They have made a reputation for offering a high-end cooler for much less cash out of your pocket. They do this without sacrificing quality to boot. They are based in Prescott, AZ, and are a bunch of down to earth, genuine people.
They put a ton of thought into the Navigator 150, filling the needs of multi-sport users. With tie-down locations on the shell, you can easily strap it down in a raft, boat, or truck and still have access to the inside. You can also use the many tie-down spots on the lid to secure gear, saving precious space. I see future accessories in the future for Canyon utilizing these anchors. There are two oversized drain plugs on the Navigator with one being on the front. I like this because it adds versatility, especially when the cooler is loaded. They measure 1.75," and you have to remove them in order to drain water. While this cooler weighs over 65 lbs, it is easier to carry than the Yeti because it is 2" shorter and has longer handles, which makes you not have to stretch as far to carry. The Navigator does not come with a basket. However, I was able to test them. It can hold two baskets on separate shelves which will come in handy! It's a very bright idea, especially when you drain the water out of the cooler.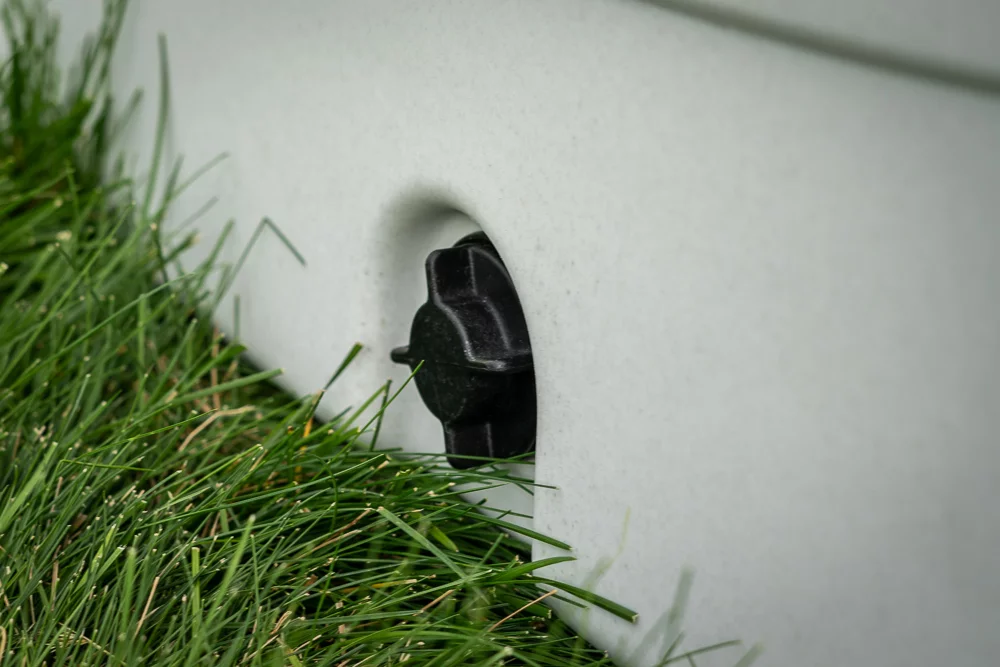 Exterior dimensions- 43"x23"x20"
Interior dimensions- 36.5"x17"x15.5
I was unable to test actual quart dimensions vs. advertised however a quick math calculation revealed the Canyon to be bigger by roughly 336 Cubic inches.
Now, after precooling and filling with ice to the brim, I placed them on a western exposure to soak up the hot Nevada sun. I opened them once a day to gauge the inside temperatures as well as to measure the rate of ice melt. It took just over 11 days for the Yeti to succumb to mother nature while the Canyon still had ice left. You can follow along here starting at Day 1.  The Canyon could have easily gone 2-3 more days; however, both coolers did their job so well, they made it to the start of my family vacation, leaving no one to check on them.
Yeti vs Canyon, My Choice
Overall, both did very well. However, the Canyon had a higher outside surface temperature but held off the inevitable longer than Yeti. When it comes down to choosing, you have to weigh what you are looking for. If it is strictly performance, the Navigator 150 gets the nod. If you are looking for features, well you are going to have to weigh the pros and cons of both and make your pick.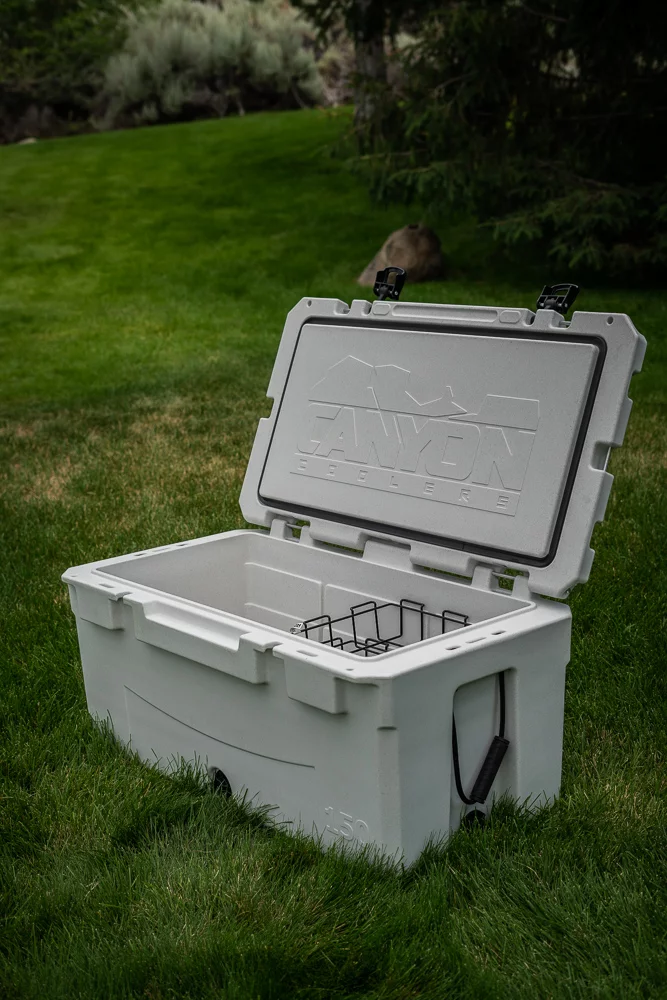 You can comment or ask Travis questions here.