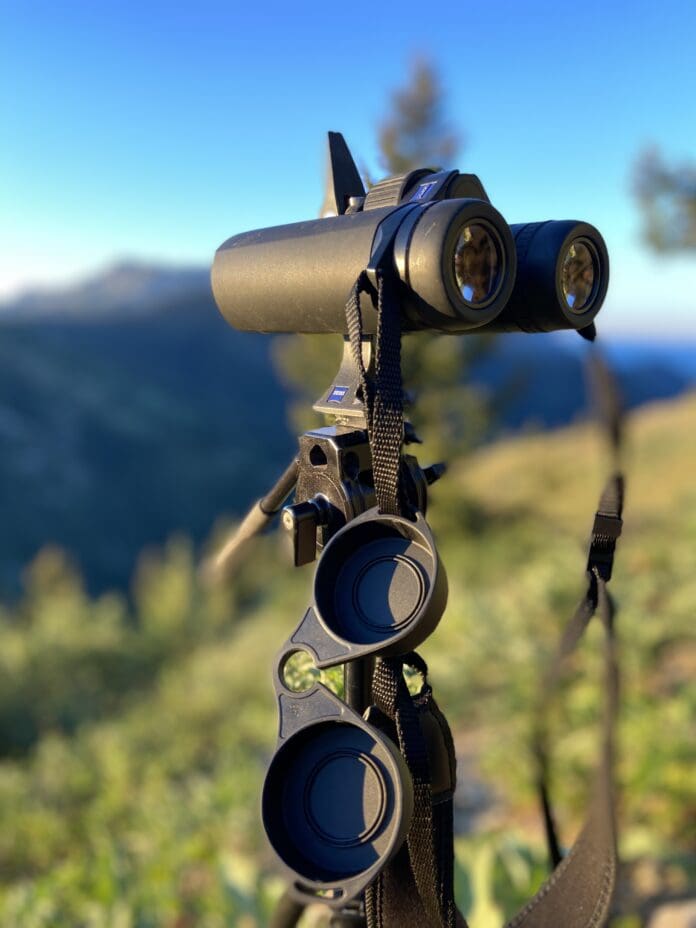 Zeiss has released several top tier compact binoculars in the last few years.  In 2021, I reviewed their awesome little Victory SF in 10X32 and 8×32, here.  I liked those SF binos enough that when given the chance to purchase at a writer's discount, I opened my wallet. Light, fast, bright, and a big FOV for class, these small binoculars were perfect for scouting when I don't need a rangefinder. Although I'm a lifetime user of 7-8X, I opted for the 10X instead simply because I'm not still-hunting when scouting. I found the extra 2X was great for summer glassing sessions. Then in 2022, they released the Zeiss SFL 10X40 (also available in 8X) here. Now I had a dilemma.
The New Contender
The SFL is not part of the Victory family like the SF is; it's a stand-alone binocular. In both optics, the SF stands for Smart Focus. The focus knob only rotates about 1.5 turns but is still very precise with decent stiffness to keep the dial in place, but not hard to move when needed. The new SFL is only 1.4 oz heavier than the SF, and includes the ¼-20 adapter for tripod mounting that many Western US hunters want.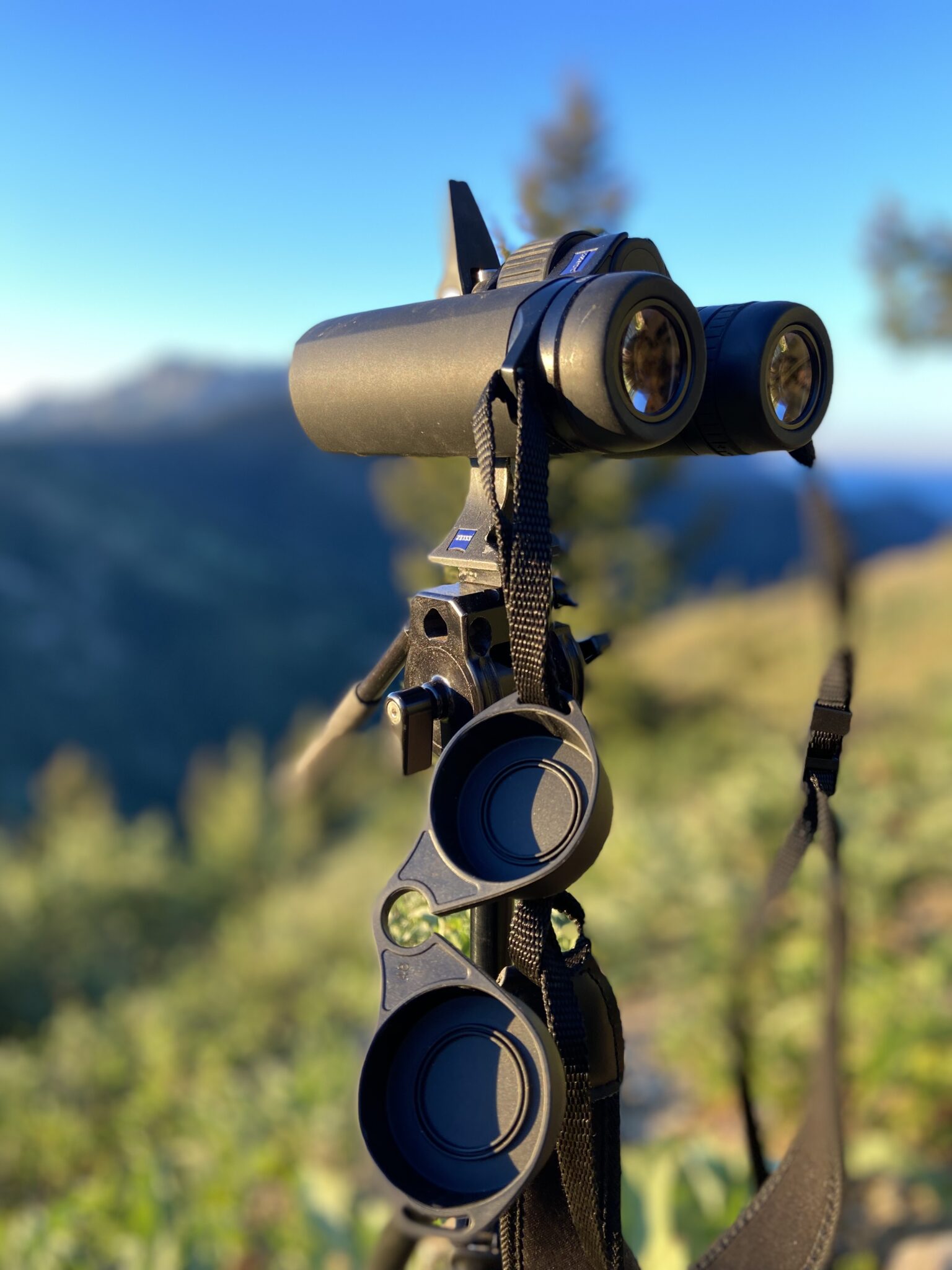 While these are two fairly different binos, to me a comparison is warranted. If I was in the market for a compact bino, I'd want to know the actual performance differences in the SF 32mm and the SFL 40mm. The reason being is that the SFL is about $700 cheaper than the SF. If the SFL will compete, then saving $700 bucks over the SF will get some users into the market for Zeiss' top-tier glass who might otherwise sit out. $700 bucks is still a chunk of change to a lot of guys.
To note, both the SF and SFL models incorporate ED glass, Field Flattener lenses, and ZEISS T-Star coating for 90% minimum  light transmission to eye. In addition, SF models also incorporates FL (fluoride) lenses. That stuff's all fine 'n dandy on paper, but I still prefer to use an optic and let it show me what it can really do for my eyes.
I signed up to to review the new SFLs back in April. As these, too, will be a scouting binocular, I chose the 10X. It's now August and after at least a dozen field days on them, I've reached a verdict.
Specs Compared in the Review
| | | |
| --- | --- | --- |
| Spec | SF 10×32 | SFL 10×40 |
| Weight | 21.2 oz | 22.6 oz |
| FOV @ 1000 yards | 390' | 345' |
| Light Transmission | 92% | 90% |
| Twilight Factor | 17.9 | 20 |
| ¼-20 Tripod Adapter | No | Yes |
Everything else is in their eCatalog here
Weight
As mentioned, the SFs are 1.4 ozs lighter than the SFLs. Also, by the image below, you can see that the frame size differences are (almost) negligible. Both binoculars were hardly noticeable around my neck, compared to full sized binoculars that I always know are there. To note, the neck straps are identical in both optics.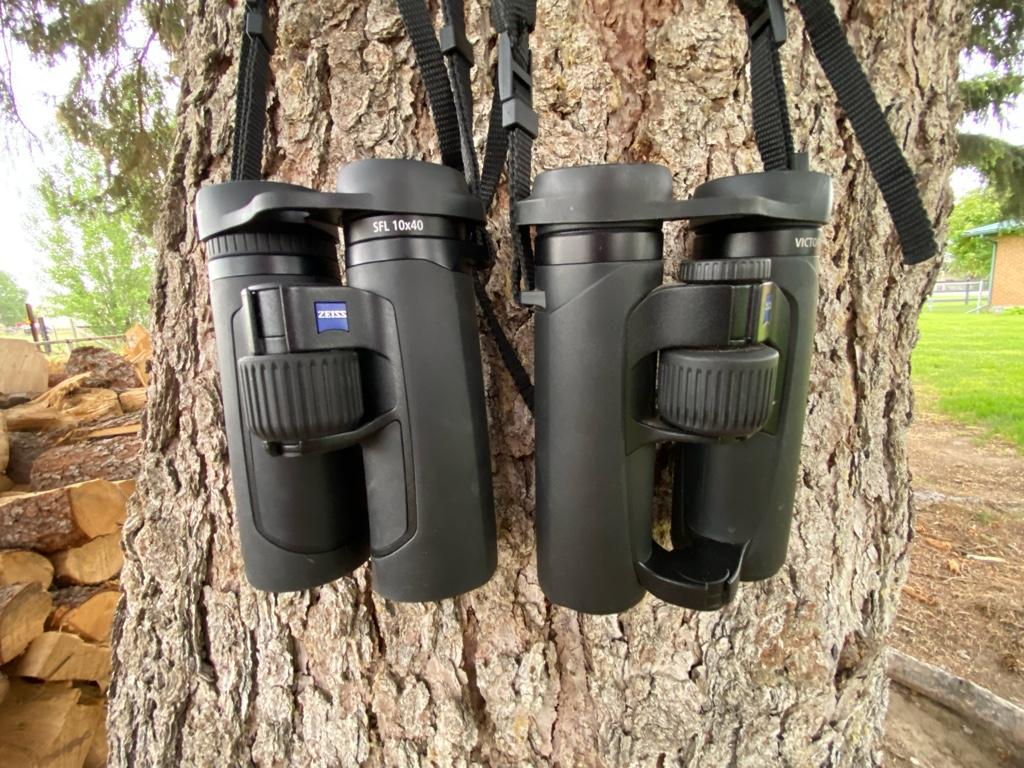 Field of View
While the SF's FOV is larger than the SFL's by 45'@1000 yards, it's hard to tell in real use. Both binos "immerse" you in the view, so this difference was not a deal breaker for the SFLs. It's just not significant enough to really notice unless you look for it.
SFLs had better Twilight Performance
Twilight Performance is my term for a real world test of Light Transmission/Twilight Factor/Exit Pupil Size—all numbers that are readily available for most binoculars. As the best hunting times are often when the sun is below the horizons, Twilight Performance is very important to me.
While the SFs boast a 92% vs. a 90% Light Transmission over the SFLs, the SFLs Twilight Factor is 2.1 more than the SFs. This is likely related to the bigger exit pupil of the SFLs at 4mm vs. the SFs at 3.2mm. That's a lot of numbers to digest, but I've learned that a simple side-by-side test studying fine detail at a distance at the edges of daylight will tell you all you need to know.
When I received the 10×40 SFL, I dedicated an evening from pre-sunset to 60 minutes after sunset, comparing the two. I put both binos on tripods, set up to look into a line of trees at 200 yards. The trees had been trimmed in the past so there were multiple white spots where branches had been removed. These spots contrasted nicely with the dark trunks, giving me fine edge detail to study.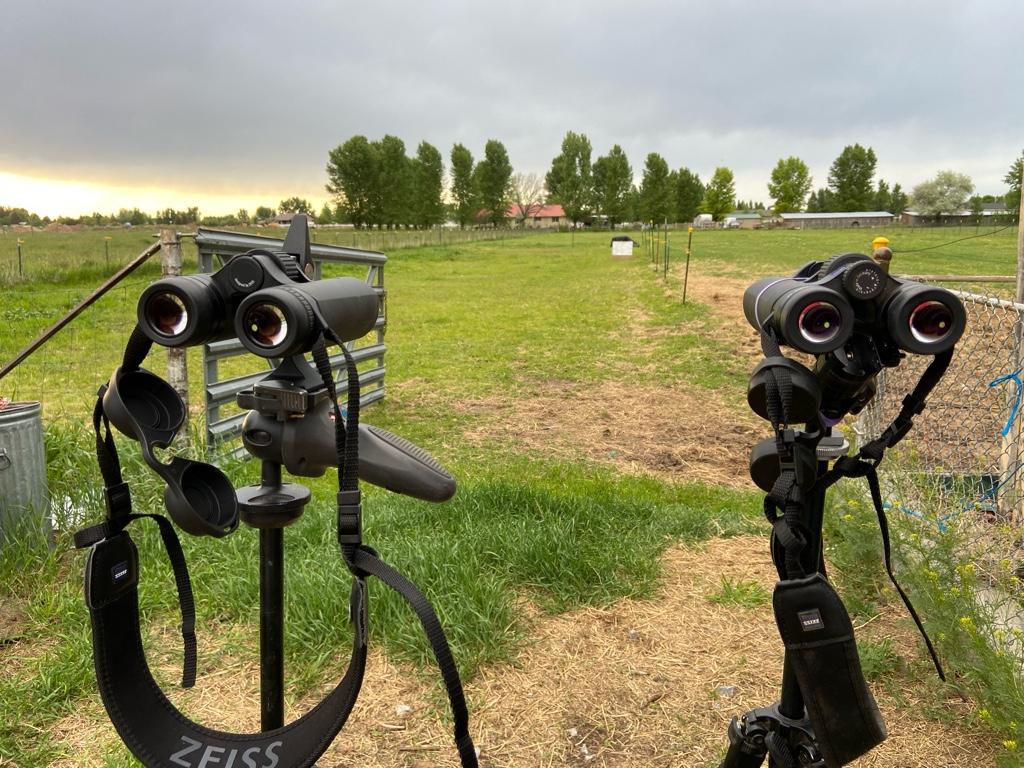 The results? The SFLs absolutely outperformed the SFs. Expected, yes, with two of the three performance criteria mentioned above in the SFLs favor, BUT the difference was much more than I had expected. The SFLs beat the SFs by up to 10 minutes! That's a lot, as many of my side-by-side tests over the years came down to just a few minutes. The SFs tapped out at about 45 minutes after sunset but I was approaching 55 minutes with the SFs.
As it was taking so long for the SFLs to tap out, I put them against my old 7×42 Zeiss Dialyt (6mm exit pupil) and my Swarovski 8×42 EL Range TA (5.3mm exit pupil). It was a dead-heat-virtual tie among the three. Considering those other binoculars have bigger exit pupils and also weigh around a half pound more, that is impressive performance for the Zeiss SFLs.
The SFLs have less FOV & Resolving Power
I did a test on the USAF Resloving Power Chart. For those new to that, it's just a chart with Groups of lines (Elements) that get smaller down the scale. The basic idea is to be able to resolve (completely see) the smallest Element in a group as possible. This makes for a good comparison between optics BUT as our main optics writer, Matt Cashell, says, it's not the end-all test for optics either.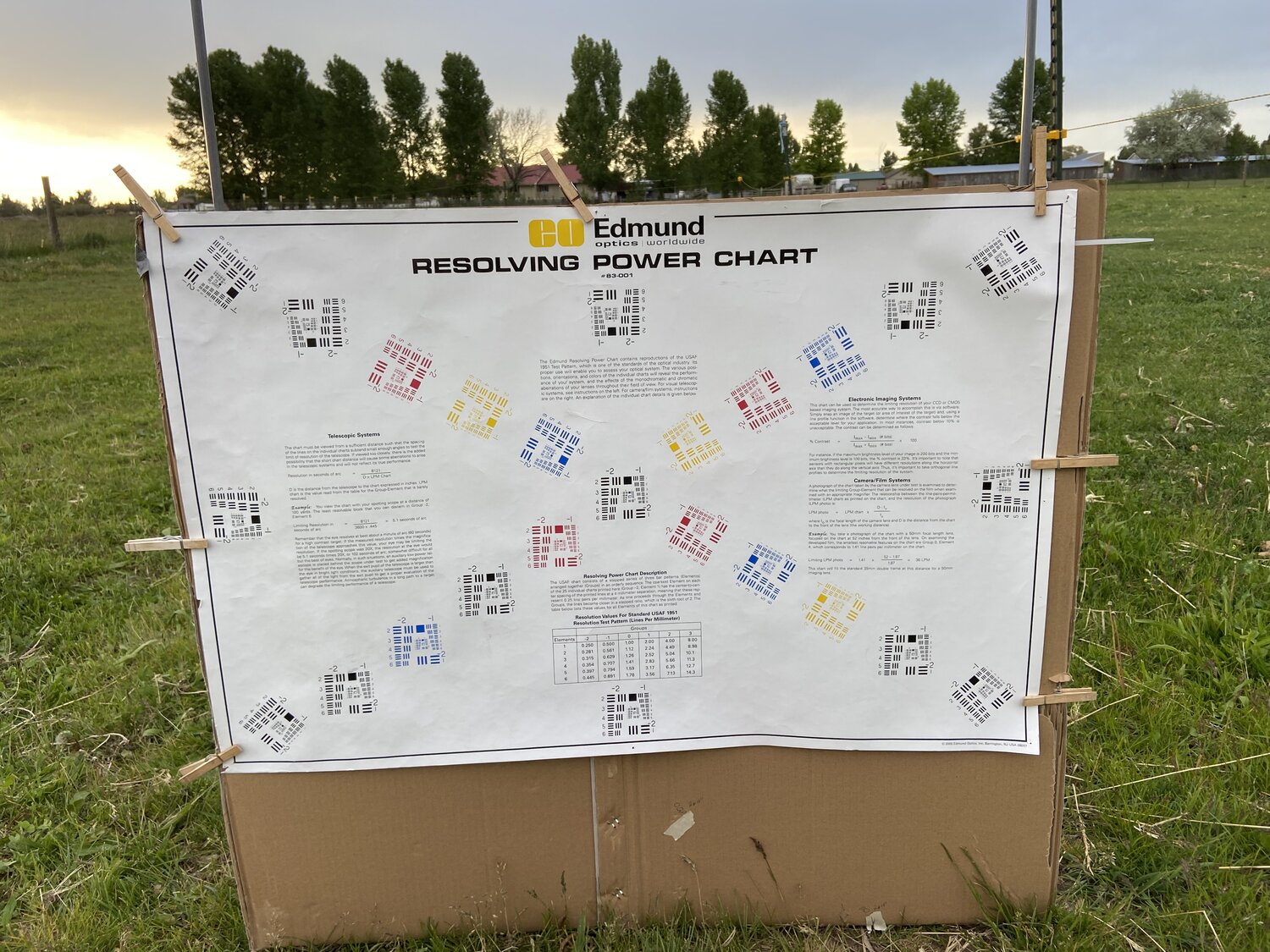 I spent an evening viewing the chart through both optics at 50 yards with full cloud cover. Both optics were on tripods.
The SF 10x32s we're able to resolve Group -1, Element 2 (shown below) while the SFL 10x42s could only resolve Element 1 in the same Group (one step less in performance).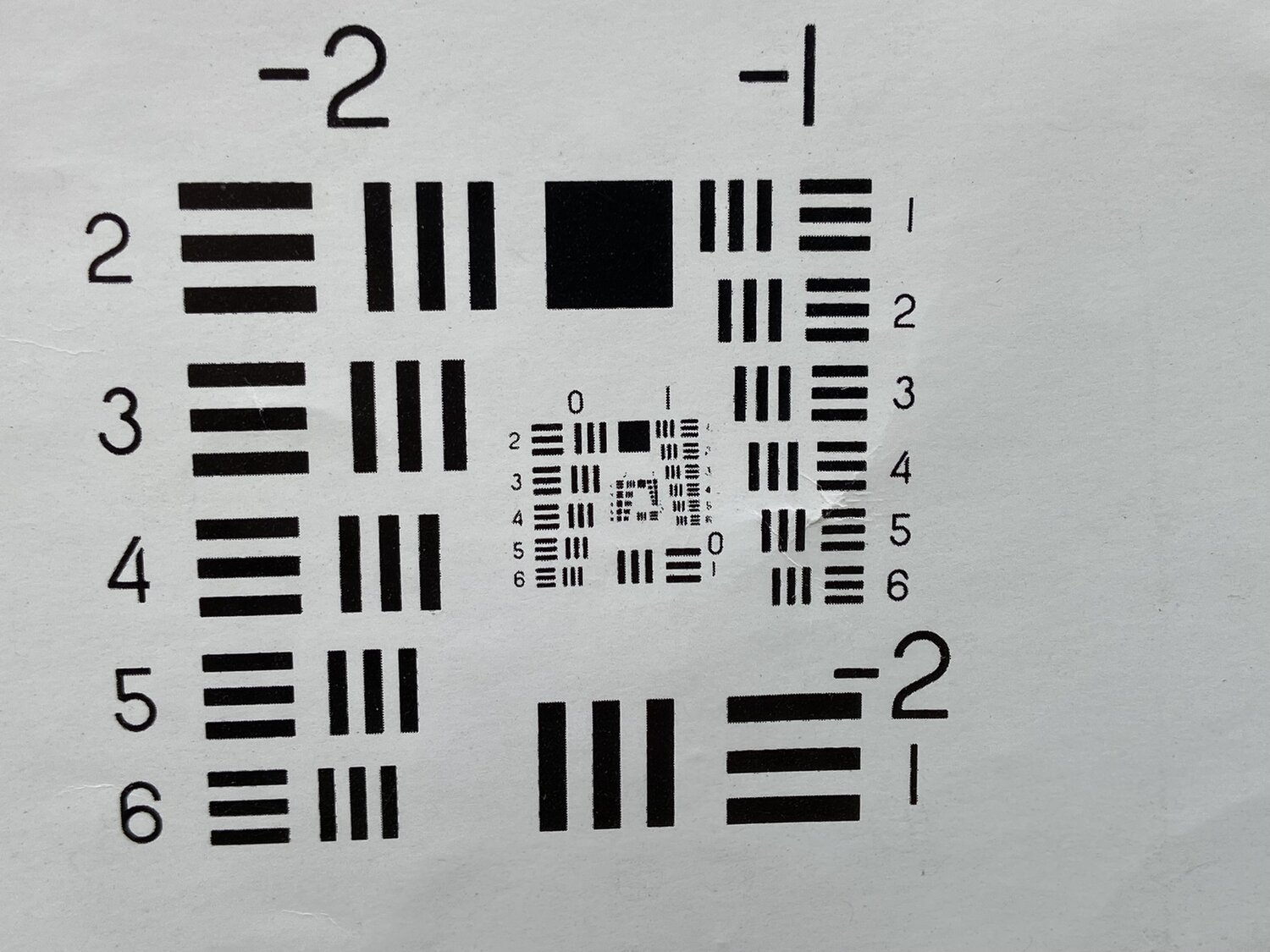 So although the SFLs have better Twilight Performance, the SFs can resolve more detail in good light. So it's a trade off.
Conclusion
For me, I'm liking the better Twilight Performance of the SFLs for only a small loss in resolving power, FOV, and a 1.4 oz weight penalty. Add in the ¼-20 tripod adaptability and the $700 savings, it's the SFL for me. More discriminating users whose budget isn't a big factor and are OK with using after-market solutions to tripod mount the SFs will enjoy more FOV & resolving power, and slightly less weight in the SFs.
As of publication time, our friends at Outdoorsmans are fully stocked up on the Zeiss SFL here
SIDEBAR: Zeiss Tripod Adapter & Quick Release Stud system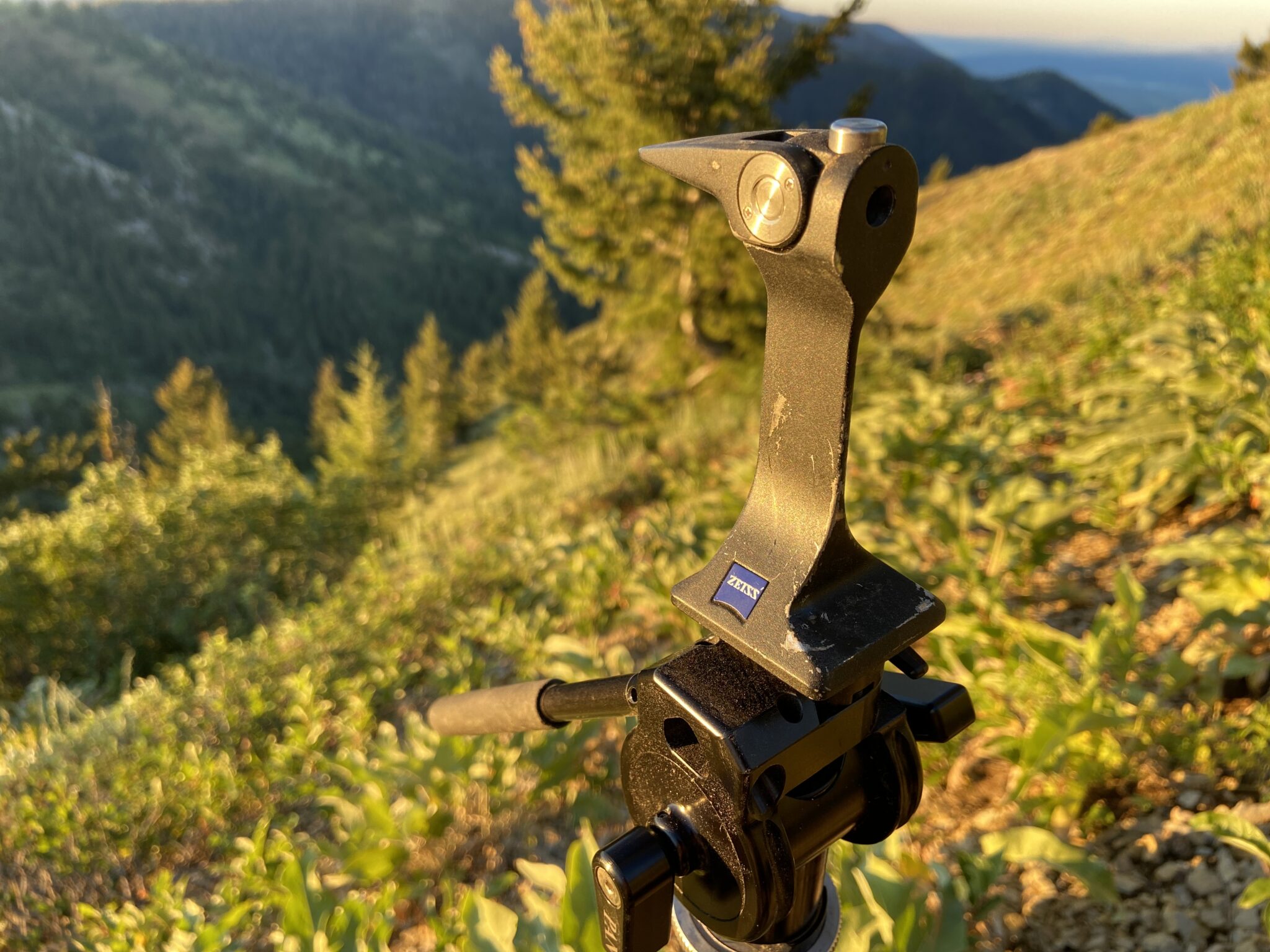 I ran Zeiss' proprietary tripod adapter and bino stud installation system for this review, and really liked it. The stud is easy to install, quick to release, and there is a two-step safety to keep the binoculars from falling. The only downside was it's a little bigger than some competing options. Below is a short video on the system. I'd recommend it for the SFLs and any other 1/4-20 adapted binocular.
You can comment or ask questions on this review here