2021 Five Bow Showdown Review
Are you looking for a new bow this year? Tired of being loyal to a company just because of who is shooting their bows? Or maybe it's just time for a change. This is where I am at right now with my shooting. After some problems I've had with some of my previous bows, it's time for me to move into a new compound hunting bow manufacturer. In this review, I'll be trying out five different bow manufacturers' flagship hunting bows for the 2021 season. I won't list every single one of the manufacturer's selling points unless they have a significant impact. You can look those up on their websites if you need more information. This review will cover what's most important for the average consumer, how each bow feels and shoots.
Choosing A New Bow
What I am looking for will be for personal reasons and hopefully, it will help some of you with your decision-making.
First and foremost is anchoring. I naturally have bad posture so it is a must that I find a bow that fits me comfortably at full draw without compromising my posture. I'm looking for at least a 31" axle-to-axle (ATA) but preferably a 32"-34" ATA bow. The reason I'd like a longer ATA is because the string anchors better for me at a lesser degree of angle at full draw. Also, a larger brace height. Having a longer brace will not only result in better groups and less torque because of less time on the string but also better string angle at full draw. This is because the string is further away from the riser before drawing back.
Another thing will be how quiet the bow is. Not only at the break of a shot, but also while drawing it back.
And lastly, how easy it is to cam tune and adjust.
Let me make it clear that I am not sponsored by any company so this review will not be influenced by any manufacturer. The five different hunting bows, in no specific order, are as follows.
The Bows
Mathews – V3 – 31
Elite – Enkore
PSE – EVO NTN 33
Prime – Nexus 2
Bowtech – Solution
Hoyt will not be in this review because of all the major problems I've personally had with them in the past.
Mathews V3 – 31
BRACE HEIGHT………………….6"
IBO RATING….………up to 342 fps
AXLE-TO-AXLE…………………31"
DRAW WEIGHTS….60, 65, 70, 75
DRAW LENGTHS……….26"-30.5"
LET OFF…………………80 or 85%
PHYSICAL WEIGHT……….4.5 lbs.
CAM………….CC w/ Switchweight
MSRP………………………..$1,199
GRIP
I really liked the feel of the grip on this bow. It has a thin skin grip plate over the riser to keep it narrow with the riser. This helps with less torque and gives a warm feel on the aluminum riser. The angle of the grip is nice too. Not too much forward and not too vertical either.
WEIGHT
The weight of this bow feels a little heavy for a 31" ATA bow. It helps with stability and sound but if you are weight conscious, it might be something to consider.
DRAW CYCLE
The V3 has Crosscentric cams that allow you to change draw length and weight really easily with a quick switch of the mods. I did not like the draw cycle on this bow. It wasn't very smooth and to be honest it was pretty stiff. The 85% let-off wasn't too bad but I didn't care for it. It did have a nice back wall though. Not too solid and not too spongy.
TUNING
Like most bows now, there isn't the ability to yoke tune this bow. To move the cams you'll need to add spacers as needed. Not that it needs them but if you are someone that likes to tinker, keep that in mind.
SOUND
When it comes to quiet, this is the bow. When the shot breaks, it is as close to silent as it will probably ever get. Super quiet even through the draw cycle.
FEEL
For balance on the V3, like most Mathews bows, this one is top-heavy as well which I don't care for. I did like the stability of the bow at full draw and at the shot break. Not much if any vibration and no torque.
STRING ANGLE
I noticed the limbs sit level with the limb pockets so when the bow is drawn back the cams bend lower than the limb pockets. Not sure if it makes a difference with string angle but I had to really dip my head to anchor my nose. It was probably just the combination of a shorter brace height and shorter axle-to-axle.
Read what Les Welch has to say about the V3 here or order yours here.
ELITE – Enkore
BRACE HEIGHT………………6"
IBO SPEED……………..340 fps
AXLE-TO-AXLE……………..33"
DRAW WEIGHTS……40-70 lbs.
DRAW LENGTHS……….23-30"
LET OFF………………..70-90%
WEIGHT………………..4.55 lbs.
MSRP…………………$1,099.99
GRIP
The grip is narrow because it is the riser with side plates. I like this but if you were hunting in the cold, it might be an issue. The angle of the grip feels just about right as well.
WEIGHT
The weight of this bow is just over 4-½ lbs. This isn't bad considering it is 33" axle-to-axle with an aluminum riser. The weight helps to keep the bow steady at full draw.
DRAW CYCLE
The Enkore has the Tri Track Set cam system. The cams also have the versa mods so that you can change draw lengths and weights at ¼" intervals which is nice if you are trying to find perfection. These cams have a real nice draw cycle. No big hump and small valley. As far as a back wall, you have the option for a limb stop or cable stop. I prefer the cable stop so that there is a little sponge to pull through the shot. These cams also have adjustable let off at 70-90 lbs. The draw weights are only offered in up to 70 lbs. so if you like to shoot 80 lbs. on your draw weight, this probably isn't the bow for you.
TUNING
The Enkore has SET (Simplified Exact Tuning) technology to "rotate" or "rock" your limbs at the limb pocket left or right to correct bad paper tears when tuning. This is nice because you don't need a bow press to do this! This is a major plus.
SOUND
This bow is really quiet except for when the cable stop hits the string. It makes a small slap sound which I don't like. We did however apply a piece of felt to the end of the stop and it killed the sound but how long will it stay on?
FEEL
Everything felt good with this bow balance-wise except at the break of the shot. Nothing major but because of its narrow limb stance it felt to have a slight torque after the shot broke.
STRING ANGLE
The Enkore had the 2nd best string angle and I'm sure it's because of its 33" ATA. If it would have had a larger brace height it probably would have been perfect.
Learn more or build and order your Elite Enkore here.
PSE – EVO NTN 33
BRACE HEIGHT………………………..7"
ATA/IBO SPEED…………….322-314 fps
AXLE-TO -AXLE……………………….33"
DRAW WEIGHTS…….50, 60, 65, 70, 80
DRAW LENGTHS……………..26" – 31.5"
LET OFF…………………………80 – 90%
WEIGHT…………………………..4.5 lbs.
OPTIONAL:……..65-75% LET OFF MOD
MSRP……………………….…$1,199.99
GRIP
I didn't care for the stock grip on this bow. It is a little bulky for me. I like a narrower grip. I would probably have to take off the stock grip and wrap the riser with athletic tape. As far as the angle of the grip, it felt right.
WEIGHT
The weight of this bow didn't feel heavy or light at 4.5 lbs, but it is a 33" ATA bow. The weight does help with stability and sound.
DRAW CYCLE
PSE has the Evolve cam that is super smooth to draw. 70lbs felt more like 65 at 80% let-off with no hump and a very small valley. The back wall is perfect, not too solid, and not too spongy. These cams will allow you to adjust your draw length and let off from 80-90% with just a few quick adjustments to the mods. I also shot this bow at 85% let-off and was really impressed with how it felt.
TUNING
This bow in 2020 wasn't able to yoke tune. You needed to use spacers on the cams to tune because the cable only reaches the splitter. Then at the splitter, it had a small separate string attaching to the cam. New for 2021, the control cable will go through the splitter and attach to the cams allowing you to yoke tune. I like this much better than spacers alone. You still need a press to do this which isn't as convenient as some of the other new bows requiring no press.
SOUND
The EVO NTN is definitely quiet, both during the draw and after the shot. It lands just behind the Mathews.
FEEL
This bow is dead in the hand. For me, I would just need to change the grip. With a wide limb stance and longer brace height, this bow has no vibration or torque and is very stable at full draw. Balance is nice with a slight tip forward fall after the shot.
STRING ANGLE
The PSE definitely had the best string angle out of them all. With a 33" ATA and a 7" brace height, that is expected. I was able to anchor very well without having to dip my head.
Learn more about the PSE EVO NTN 33 here.
PRIME – Nexus 2
BRACE HEIGHT………..…………6"
IBO SPEED……………..…..341 fps
AXLE-TO-AXLE…………..……..32"
DRAW WEIGHTS………40 – 80 lbs.
DRAW LENGTHS………….23"- 30"
LET OFF……………………65-90%
WEIGHT………………..…..4.25 lbs.
MSRP………………………..$1,199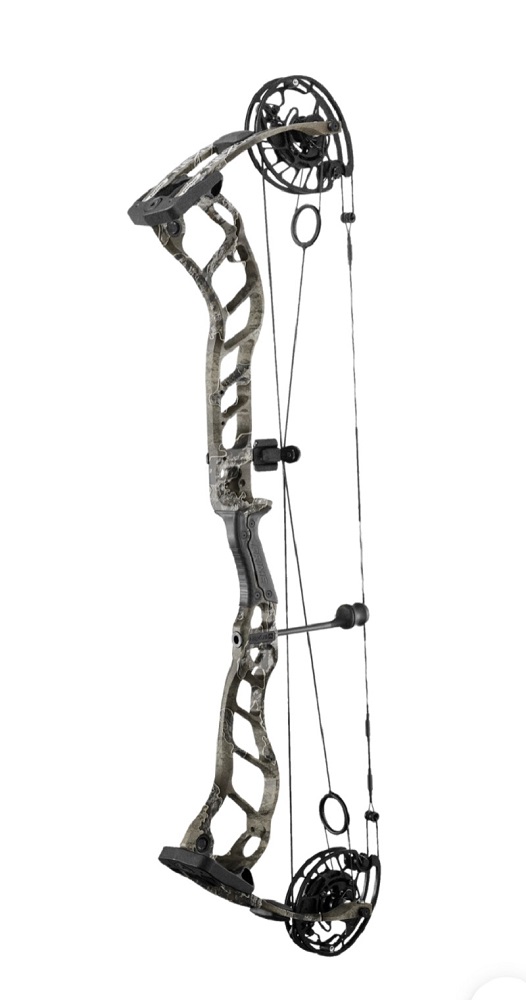 GRIP
Like the Mathews, the Prime has a really thin skin over the riser to keep a narrow grip that I like. New this year is the Nanogrip. It is supposed to help the hand from getting cold from the aluminum riser in cold weather. I didn't get to shoot this in cold weather so I'm not sure if it makes a difference. If it is really cold out, I am probably going to wear gloves anyway.
WEIGHT
The Nexus 2 is a little lighter than some of the other bows at 4.25 lbs. This surprised me because it is 32" ATA with dual cams and a wide limb stance.
DRAW CYCLE
The Nexus has the Roto Cam system. Like all Primes, they are dual which helps create stability and a wider limb stance. These cams have adjustable draw lengths and let-off weights with just a quick change in the mods.
What's nice about these mods is the let-off is adjustable from 65-90%. When drawing this bow back, the cams didn't feel too aggressive. Not a big hump and had a short valley. The back wall for me is a little too solid. It's like hitting a wall literally. This doesn't work well for me when pulling through a shot.
TUNING
With the Nexus, you aren't able to yoke tune because of the single cable attached to the splitter where another string attaches to the cam. Similar to the 2020 PSE EVO NTN. So to tune these cams, you have to use spacers which also require a bow press.
SOUND
The Prime is really quiet as well. Not as quiet as Mathews but about the same as the PSE. It's quiet on both the draw and at the shot break.
FEEL
When at full draw, this bow feels well balanced. It is very stable at full draw and after the shot breaks. Because of the bows' centered grip on the riser, when the shot breaks on a bare bow, it tips back or "heels" in the hand. I'm sure with some weight on the end of a stabilizer you could remedy this problem. This bow, much like the others, had very little shock or vibration.
STRING ANGLE
With the Nexus 2, I had to tip my head to get a good anchor. Again because of the 6" brace height. For this review I really wish that I could have shot the Nexus 4 which has a 34" ATA but still has a 6" brace. This might have been perfect.
Learn more about the Prime Nexus 2 here.
BOWTECH – Solution
BRACE HEIGHT……………………6"
IBO SPEED…………………..346 fps
AXLE-TO-AXLE……………………32"
DRAW WEIGHTS……50, 60, 70 lbs.
DRAW LENGTHS…………..25" – 30"
LET OFF………………………….80%
WEIGHT……………………….4.3 lbs.
MSRP………………………….$1,099
GRIP
The Solution comes with the "Clutch" grip which is just a thin front plate attached to the inside of the riser allowing for a narrow grip. You can also get the Clutch control plate that adds thickness to the upper portion of the grip to give less angle. I like the stock Clutch angle myself. This grip is pretty much just the riser and would probably feel cold in the winter months.
WEIGHT
The Solution and Prime were the lightest of them all but not by much. This bow is just over 4 ¼ lbs. The weight felt good on this bow.
DRAW CYCLE
This bow has Deadlock cams. The draw felt really smooth but it did have a little bit of a tight hump right before the short valley. The Solution SS has a much better draw cycle. I kind of wish that the SS was offered in a longer ATA because it has a larger brace height as well. The Solution at full draw had a really nice back wall. Just a slight sponge and I felt like I could hold at full draw for a long time with shaking. Only the draw lengths are adjustable with these cams.
TUNING
I was super impressed with this technology. The Deadlock cam allows you to shift your cams left or right to get that perfect tune without the use of a press. All you do is loosen a set allen bolt and turn another to adjust your cam left or right. I wish all bow manufacturers would do this. Very quick and efficient. Bowtech and Elite have the best cam tunability on the fly by far.
SOUND
Very quiet during and after the shot. Bow manufacturers are really starting to get this down.
FEEL
The Solution felt absolutely dead in the hand. Outside of the small hump on the draw, the bow felt very stable and solid. Even after the shot break, there was no shock, vibration, or torque. Maybe their orbit dampeners helped with some of that, but this bow felt great.
STRING ANGLE
This was pretty much the only flaw I had with this bow. I really had to dip my head to anchor with this bow. Like most of the other bows in this review, this one also has a 6" brace height.
Learn more about the Bowtech Solution here.
Comparing The Bows
Below I have scored all of the bows for each category on a scale of 1 to 5 with 1 being bad and 5 being good. As you can see, they are all very close.
| | | | | | |
| --- | --- | --- | --- | --- | --- |
| | Prime | Bowtech | Mathews | Elite | PSE |
| GRIP | 4 | 5 | 5 | 4 | 3 |
| WEIGHT | 5 | 4 | 2 | 3 | 3 |
| DRAW | 4 | 4 | 3 | 4 | 5 |
| TUNE | 3 | 5 | 3 | 5 | 4 |
| QUIET | 4 | 4 | 5 | 4 | 4 |
| BALANCE | 4 | 5 | 3 | 3 | 5 |
| VIBRATION | 4 | 4 | 5 | 4 | 4 |
| STRING ANGLE | 3 | 3 | 2 | 4 | 5 |
What Did I Choose?
After a lot of going back and forth shooting these bows, for me, it came down to two manufacturers: Bowtech and PSE. The Elite Enkore was really impressive and a close 3rd, which surprised me. My final decision though was………… To be continued lol.
Just Kidding!
No, seriously, I chose the PSE EVO NTN 33. The final decision was made because of a consistent anchor. I didn't want to have to compromise my posture/form by dipping my head or having to use a kisser button like I would have had to do on the Bowtech. Kissers can be a little too inconsistent for me, especially with long-range shots. If the Bowtech Solution would have had the brace height that the Solution SS has or if the Solution SS had a longer ATA, I probably would have gone with Bowtech. All of these bows are really well designed and shoot very very well. It all comes down to personal preference and how your body is anatomically shaped. So if you are in the market this 2021 season for a new bow, be open-minded and less brand loyal. You just might find that perfect fit!
Comment on this article or ask Jimmy questions here.
You can also check out some of our other archery articles here.