I stared out the window of the Cessna 206 as it circled the gravel bar we were about to land on.  I wanted to mentally photograph the area while I had the elevation to do so.  The pair of 206's had flown us into the Arctic Circle through breathtaking scenery.  All the changing regulations, worries, and nasal swabs of Covid-19 were finally behind us.  Our 2020 Alaska Caribou hunt adventure had truly begun.
Alaska Caribou Hunt
Dean Gideon and I began planning this hunt immediately after our 2018 moose hunt.  Another friend, Steve Hall, would be joining us.  Hundreds of text messages and phone calls went into our planning.  We chose a transporter and decided to take all of our own gear.  Once the hunt was booked we compared gear lists and weighed items so we would have everything needed without unnecessary redundancies.
Covid Complications
Covid-19 added a lot of uncertainty to our hunt as Alaska changed testing regulations frequently.  We also had to keep track of restrictions set by the town of Kotzebue that went beyond state regulations.  Eventually, we found a way to comply.  I got my negative test results by email when I landed in Seattle and it was a huge relief to know for certain I would be able to complete the hunt.  We would have to test again in Kotzebue but would be "quarantining" in the field before those results came back.
Let The Adventure Begin
Once the 206 landed on the gravel bar we started scouting a place to camp.  We were fortunate to find a small clearing of black sand surrounded by brush on three sides.  It was a perfect spot with elevation, wind protection, and visibility.  After camp was ready, we spent the evening glassing from a high river bank.  We saw around 300 caribou.  Most were young bulls, cows, and calves, but we saw a few larger framed bulls in the distance that got our hopes up for the morning.
Alaska Caribou Day One
The next morning we left camp at daybreak to glass from the high bank.  As the sun crept higher and we could glass farther, a pair of bulls two miles from camp looked promising.  We decided to get a closer look and started toward them.  Walking across tussocks was every bit as challenging as we'd heard.  It's something that has to be experienced to be understood.
Water is another challenge traversing the tundra.  High in the hills, springs came out of the ground.  Some immediately became deep narrow streams that could not be crossed in our Wiggy's waders.  The flat areas beneath the hills had large ponds with waterlogged flats spreading wide below. As we gained elevation one of the streams deepened and I ended up on the opposite side from the other guys.  My taller boots allowed me to cross on the flat before the stream became too deep.
I split off to pursue the bulls we'd glassed earlier.  Dean and Steve followed the stream to the top and glassed a different ridge.  I glassed often as my elevation change exposed new country and found the bulls three miles from camp.  The larger bull was massive with great double shovels and bez, but no points off his tops.  After watching him briefly, I chose to pass.  We all hunted back to camp but saw no other shooter bulls.  It began raining as we hiked back and continued all night.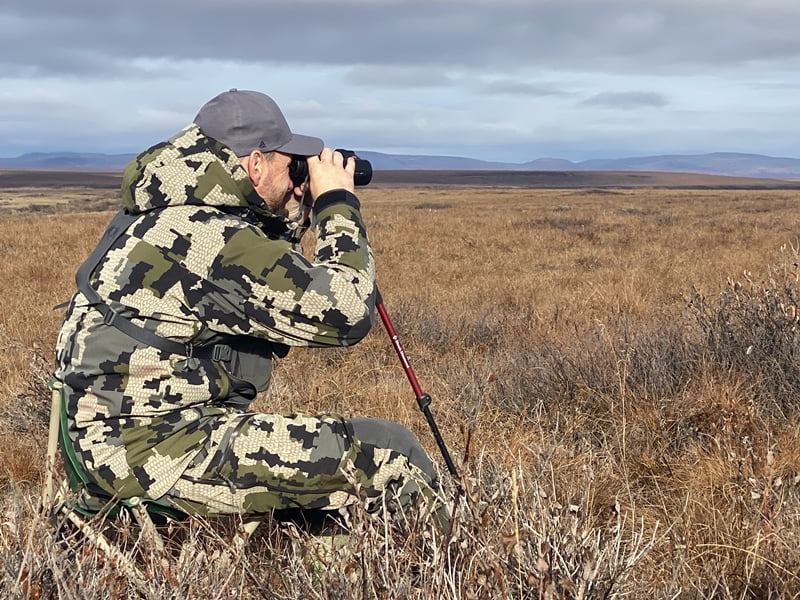 Rain On Day Two
Rain and low visibility greeted us again the next morning.  We used the time to build a meat rack and make improvements to our camp.  Once visibility improved, we returned to the high bank to glass.  Soon a group of caribou came over a low hump.  Three were decent bulls. Steve was up to shoot, so he and I started moving closer while Dean stayed on the spotting scope.
Bull Down!
We closed the distance to 500 yards before an older cow started acting alarmed.  Steve picked a bull and got prone using my pack as a rest and my glassing pad as a rear bag.  His first shot was good but the bull was still standing.  The second shot put him down for good.  The rest of the caribou moved back over the hump but did not seem very spooked. Steve watched through his scope to make sure the bull he shot did not get up. Meanwhile, I slipped up on the herd in case there was another shooter bull.  I got within range but chose to pass again as the best remaining bull had a broken main beam.
Celebration and pictures followed when we met at Steve's bull.  While we processed the bull, the rain picked up again.  We put our gear under a tarp and finished our knife work.  The torso of a caribou is larger than a mule deer, but the amount of meat they carry is not much greater.  Packing our hunting gear and a whole caribou back to camp between the three of us was very manageable.  We were thankful we'd already built our meat rack when we got back to camp.
More Rain For Day Three
The rain continued again through the night and morning.  We sat under our cook tarp and made a breakfast of caribou tenderloin and stovetop stuffing.   At 12:30 the rain dropped to a mist but visibility was still terrible.  Steve and I decided to go to the river to try to catch grayling.  They are truly a beautiful fish and strong fighters for their size, especially in the swift current.  The river was crystal clear so we could watch the fish as we fought them near the bank.  The rain picked back up again so we took our catch back to camp and cooked them for lunch.  They were very tasty.
Bulls Spotted
The rain finally diminished and visibility improved around 3:30.  We left camp and returned to our high bank.  I was in the lead and had barely cleared the top when I spotted a group of bulls to the southeast.  We broke out the spotting scopes and decided a few were worth a closer look.
The Stalk
Dean and I started off in pursuit this time leaving Steve on the spotting scope.  I was up to shoot first, with Dean ready if there was a second shooter bull.  The bulls were angling toward the river but also away from us.   We had to hustle to get within range before they crossed water we would require waders.  The best bull had velvet hanging from one antler making him easy to distinguish from the herd.  We made it within a quarter-mile before they dropped out of sight into the river bottom.  As soon as they were out of sight I asked Dean to grab my tripod and shooting rest from my pack.  We approached rapidly but cautiously.  We were able to keep their antler tips in sight while staying hidden from their eyes.
When we ran out of cover we ranged the bulls at 268 yards feeding away from us.  Dean set my tripod while I dialed my scope.  When I unscrewed the top cap on my Huskemaw scope, I saw it was dialed to 475 yards. Prior to the trip I shot my rifle at 100 yards, dialed it to 200, and put it in the case.  (I will never again use TSA approved locks on my gun case.)  I quickly dialed to 300 yards and shot standing with the tripod for support.  When the shot hit, the bull staggered a couple of steps and dropped.  Dean quickly took my place on the rifle and we looked over the remaining bulls but he chose to pass.  We had four days left to hunt and a bull already down to pack out.
Our waders were needed to cross another stream and make it to my bull.  We took pictures and admired him quickly, the clouds were once again looking like rain. My caribou was processed in about an hour and then packed back to camp.  At camp, we cooked caribou loin which had marinated for a day and celebrated with a little whiskey mixed with ice-cold river water.  It was a great day!
Alaska Caribou Hunt Day Four
The following morning visibility was good so we went to our high bank once again.  There was nothing moving.  After glassing everything nearby we went back to the river to fish.  Dean and I each caught a couple of nice grayling and cooked up another good lunch.  That afternoon we headed up a different ridge a mile and a quarter from camp.  Between that spot and the high bank we discovered we could see everything for at least six miles in any direction.  This became our routine,  glass from those two locations, and wait for an opportunity.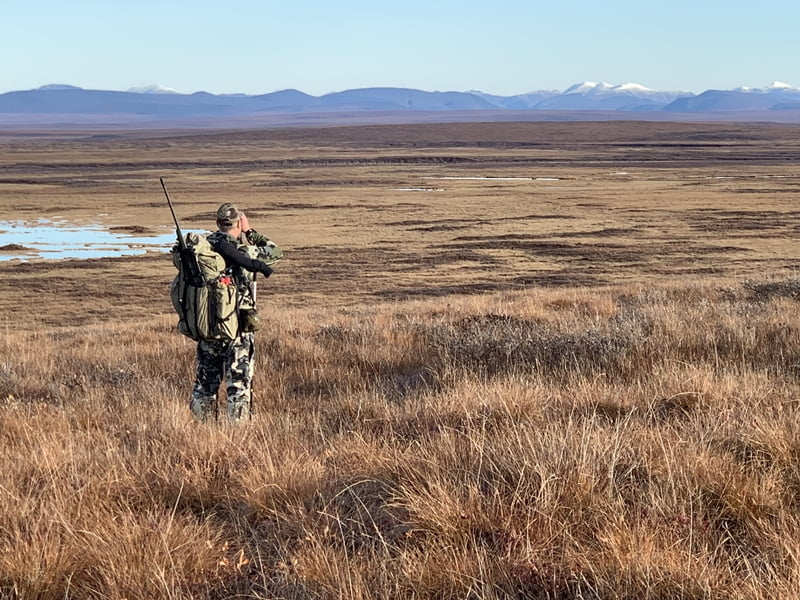 Wolf Encounter
A wolf visited our camp the night of our sixth day in camp.  Steve went out of the tent at 5:00 am and saw it running away in his headlamp.  It had been eating on our caribou heads which were set under the meat rack. Steve's caribou head had been drug several feet.  We tied our antlers to the meat rack for the rest of the hunt.
Final Days
On our second to last day to hunt, we were sitting under my tarp on the top of the ridge.  The wind was calm but we kept getting precipitation alternating between rain and ice.  The temperature had fallen considerably overnight and was below freezing.  Late that afternoon, Steve spotted a group of caribou feeding at an angle toward us a couple of miles off.  Dean left to try to intercept them taking only his rifle, trekking poles, and my range-finding binoculars.
Dean's Bull
The caribou bedded and Dean hit a stream he could not cross without his waders.  He stayed patient and waited them out, finally getting an opportunity at the best bull when they began feeding again.  He made a great shot at 330 yards sitting behind his trekking poles and we were tagged out!  By the time Steve and I packed all three of our gear and met Dean, the weather was getting much colder and windier with snow falling.  We quickly took pictures, cut the bull up, and loaded everything onto our packs.
This pack out was our longest and wettest.  Daylight was fading and the weather continued getting worse.  We used my phone with a saved onX map to make sure we stayed on course and got back to camp.  Steve had injured his foot earlier in the hunt and Dean was worn down from covering rough country fast to intercept the caribou herd.  My back was sore from carrying the awkward load of Dean's pack strapped to my pack hiking down to meet him. We stayed together and kept each other smart rather than fast getting back to camp.  It would have been easy to get injured and it was a bad night to spend out.
We had high wind and temps in the teens on our last day. Most of the day was spent in the tent.  With our cots stacked against one wall, we sat in our camp chairs telling stories.  It was great to be tagged out and not on the ridge in those conditions.
Final Night
Late that night the clouds broke and we were able to clearly see the Northern Lights for the first time.  They were more beautiful than I had ever dreamed of.   It was a perfect end to our adventure.
We flew out the next morning and took care of our meat at the hanger.  This was immediately followed by much-needed showers, a good meal, and a couple days of relaxation before our flight home.
This was an experience well worth repeating. We will be North of the Arctic Circle again in the next few years.
I put a detailed post under the caribou section on the Rokslide Forum going over some of the challenges planning our hunt, plus the logistics involved and gear used. Please feel free to ask any questions here and I'll do my best to answer them.
Don't forget to checkout this Rokcast episode where Jordan and Heath discuss his trip.