COOPER MODEL 22ML Muzzleloader
Inception & Design
by Glenn D. May
I have been a muzzleloading/black powder enthusiast for years. I enjoy and use both modern and traditional versions of the sport. For me, hunting has always been at the heart of this interest, and thus it's where my focus in the sport of muzzleloading lies.
When I came to work for Cooper Firearms, the idea of converting one of our center fire rifles into a muzzleloader didn't take too long to creep into my head. Cooper Firearms stands for quality and accuracy and if we could design a muzzleloader under the same standards of all Cooper firearms, I knew it could really stand out in the muzzleloading world. I toyed with the idea in my mind while I focused my efforts on learning my job and on getting my family settled in after our move from Colorado.
After some time I began talking to Mike Hudgins, the Custom Shop manager, about doing such a project. I got a very positive response and what basically amounted to a "green light" to develop the idea. I was pretty excited to say the least. Obviously, this didn't happen overnight, but we began thinking about it.
While hunting for pronghorn antelope with a co worker, Chet Wenzel, I brought up the idea of the project. Chet Wenzel, is a supervisor in the machine shop at Cooper and was also somewhat of a muzzleloader enthusiast. I was surprised when he told me that he had been thinking of something similar! We then decided to combine our ideas and really get down to turning those ideas into steel.
We began by looking at the CNC program for the Cooper Model 22, which is a short/intermediate length, single shot, bolt action/centerfire action that we use primarily for precision varmint rifles. I can't think of a better platform for a bolt action inline muzzleloader! Once we got into the program, we started discussing what changes needed to be made and which that we merely wanted to be made.
One of the things we decided right away was that the front locking lugs had to go. This greatly simplifies the manufacture of the rifle and allowed us to utilize a slotted bolt face that maintains positive control of the #209 primer for ignition. This means that the primer is inserted in the bolt face and not in the breach plug & is automatically extracted from the plug, requiring no tool to insert or remove the primer. Bolt action rifles utilize "mechanical", "initial", or "primary" extraction via a camming of the bolt handle with the rear receiver ring upon bolt uplift which provides the leverage for breaking fired cases loose from chambers for extraction. The Model 22ML does this as well to break the fired primer loose form the breach plug. We also increased the size of the barrel threads & changed the outside diameter of the barrel from 1.0″ to 1.2″. We felt that this would give us the extra margin of safety without increasing weight or bulk to any real degree.

The breach plug itself is made from heat treated 416 stainless steel & should prove very durable. It is of course removable using the supplied tool. The tool is manufactured from the same material as the receiver & has a finish to match the receiver as well. While developing the breach plug we really wanted to make sure that there was no blow back that would contaminate the action or scope of the rifle.

While designing the lugless bolt we had to decide what sort of lock up it would have. We tried a few different types that we were not happy with. Then Mike Hudgins suggested we use a modified version of the lock up used by the Remington M700ML and the Savage 110MLII. These rifles use a screw through the receiver which engages with a "dog leg" groove machined into the bolt body. This acts as a bolt stop, bolt release, & lock up engagement. The Remington used a screw through the rear receiver ring. This is unsightly to say the least. Savage did one better by moving the location of the groove and using one of the action screws. This is a little better but requires removing an action screw just to remove the bolt. Finally, both require a tool to remove the bolt, which is less than ideal. What we decided to do was use the "dog leg" groove in the bolt body but have it lock up on a standard Cooper bolt stop from one of our center fire rifles. The lock up is exactly the same but there are some benefits. The benefits are that it can't be over tightened and bind up the bolt, it can't vibrate out on recoil, it does not require removing ANY screws to get the bolt out, and it does not look like a screw in the receiver. I believe it's an all around better way to go with this type of lock up. Yeah, we're proud of it.

The initial prototypes used Green Mountain barrels until I discovered that our normal barrel vendor, The Wilson Arms Co., could make us a barrel with identical internal dimensions. The Wilson barrels are match grade, double stress relieved, button rifled, lapped, & air gauged. They shoot pretty darn well to boot! We were pretty picky about the contour of the barrels and the finished weight of the rifles. We wanted them to be under eight pounds without optics. The final version landed at about seven and three quarters pounds. This is a good compromise between being light enough to carry and heavy enough to not have unpleasant recoil. The barrel length of 26″ will maximize velocity from today's black powder substitutes.
When boiled down, we were not trying to set the modern muzzleloading world on fire or create the "next best thing." We've been in the quality gun business long enough to know that the gimmicks and fads will come and go, but QUALITY stays. That was our goal and I believe we achieved it with flying colors.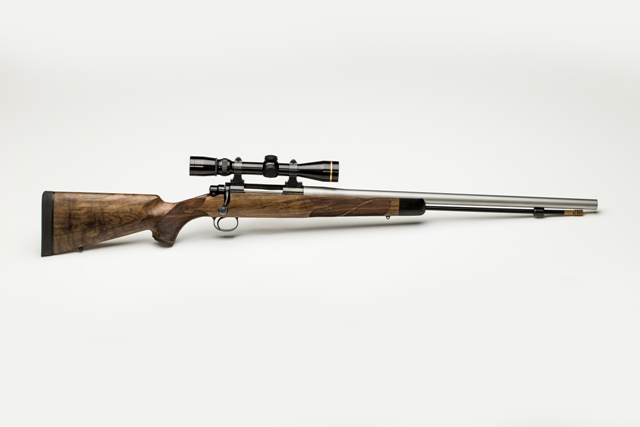 MODEL 22 ML Muzzleloader Specificiations:
•ACTION: Stainless or Blued (chrome moly) steel with one rear locking lug bolt action muzzle loader. *see foot note.
•EXTRACTION: Primer is held captive in slotted bolt face which allows positive extraction from the breech plug & easy manual removal from the bolt face.
•TRIGGER: Timney single stage trigger.
•ACTION DEMENSIONS: 8.25″ x 1.3″
•AVAILABLE CALIBERS: 50
•SAFETY: Two position on tang.
•PASSIVE SAFETIES: Bolt handle acts as safety lug when in the locked (in battery) position. Action has gas vent holes.
•WEIGHT: 7.75 #
•LENGTH: 44 ¾" with 26″ barrel
•BARREL: Stainless or blued (chrome moly) steel, 26″ 50 caliber 1:28 twist. Barrel has 11 degree target crown beveled to facilitate loading from the muzzle. *see foot note
•BREECH PLUG: Stainless steel, removable with supplied tool.
•STOCKS: Walnut or exotic species with hand checkering (various grades) or laminate (various color schemes). All stocks are glass bedded. Available in Classic, Custom classic, Western classic, Schnabel, and Jackson game. We're currently working on a synthetic stock design and hope to be adding that to our line of options
•IGNITION: #209 shotgun primer
•RAM ROD: Easton carbon fiber core with aluminum sheath, extendable, brass tips threaded 10/32 for accessories.
•SIGHTING EQUIPMENT: Action is drilled & tapped to accept standard Cooper scope bases or the Ken Farrell pic rail for the Model 22 action. Open sights are an option & are New England Custom Guns top mount variety.
The Model 22 ML is rated to handle standard "Magnum" (150 grains, volume) of black powder or a substitute. It IS rated to handle Black Horn 209 powder. It is NOT rated for smokeless powder.
* Action cannot be converted to fire center fire cartridges.
You can discuss this article here
Glenn D. May of Cooper Firearms
For more information, you can contact Glenn directly at 406.777.0373
or
email: [email protected]