Carrying a rifle while using a pack can be somewhat of a pain in the butt (or shoulder). The rifle sling keeps falling off your shoulder, and it can be just downright uncomfortable at best depending on your setup. In the past, each time I knew I would be rifle hunting with a pack on, that feeling of the hassle of using them together usually popped into my mind. Hopefully, the Slik Sling from Creative Outdoors is the answer I've been looking for.
Creative Outdoors Slik Sling
I pushed out a review about the Creative Outdoors Montana Bow Sling on October 24th, 2020 here on Rokslide. At that time I was thinking about how I could use that same sling with my rifle. It wasn't long after that when Josh Susic, Owner of Creative Outdoors, reached out to me about the Slik Sling that is made for rifle hunters. The Slik Sling is to be used in conjunction with a pack which was right up my alley! Win-Win! More info here.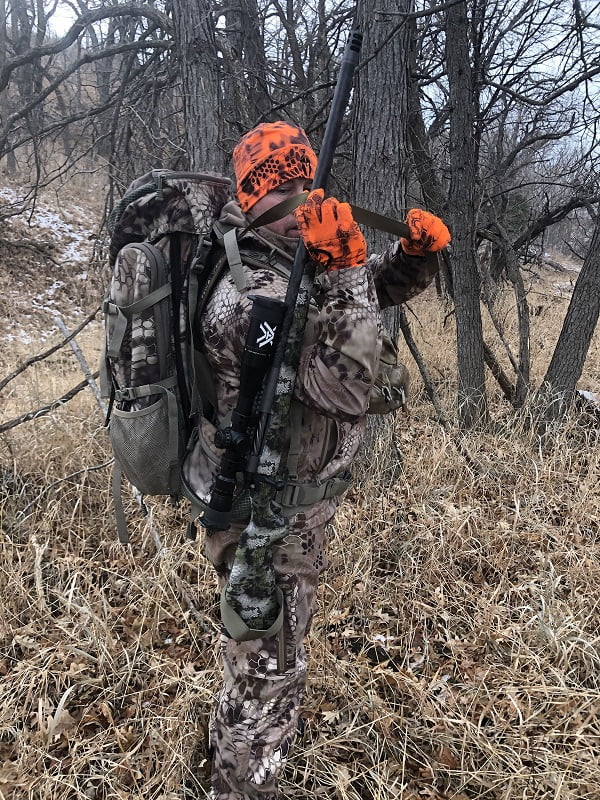 First Impression
It didn't take Josh any time to get the Slik Sling sent right out to me to test and review during a late-season rifle hunt. My first impression was on a high note as this might be the remedy for my rifle and pack use troubles that I had in the past. In the package, there were several pieces to this contraption. The gun shoe, webbing keeper with strap lock, and sling strap.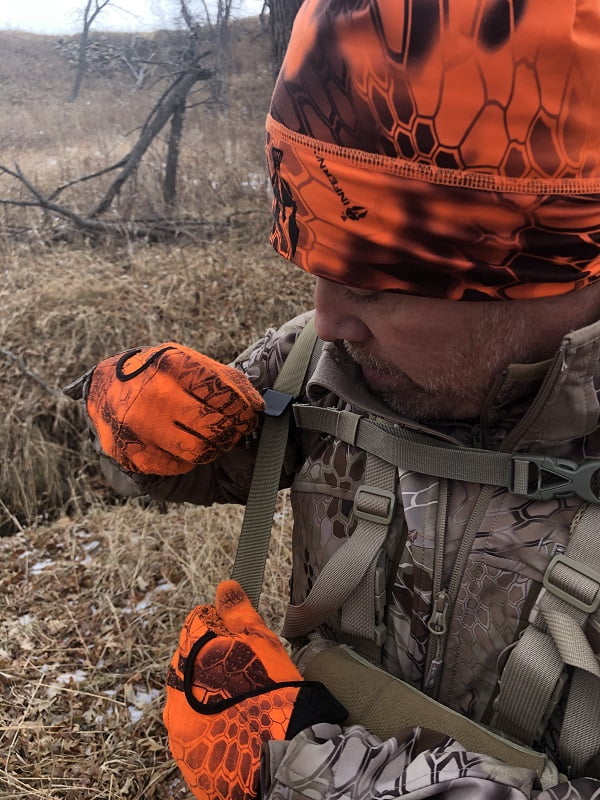 A Little Confusing To Start
I was a bit confused while looking at the pieces and forgive me if my description of all the pieces doesn't make sense as I am unsure of what the technical names are. I had no idea how they all went together and how they buckled to the pack. It's not rocket surgery or brain science by any means and I was able to figure it out. A huge help was watching the videos that Josh has on his website.
After watching the videos and seeing how everything is used, it made everything make much more sense. Perhaps detailed instructions could be included with each purchase to help the customer out. Sometimes the little extra reassurance goes a long way!
Once everything was on my pack, I ensured that nothing was going to move and all the straps were in a location that they needed to be. This did take a couple of attempts. The last thing I wanted was for a buckle or strap to come undone and let my rifle fall to the ground or to be in a position that wasn't ideal or the best possible location. Even after watching the videos, I was still worried that the sling strap that holds the rifle barrel wouldn't be enough to keep the rifle in its place. At the same time, I also knew that Josh wouldn't push this product out if he hadn't tested it a ton already with good results.
Attaching To Different Packs
Each pack that the Slik Sling will be attached to will be a bit different due to the many various configurations of packs out there. The gun shoe portion attached as needed on my hip belt around the padded portion but due to the shape of the padding I was unable to keep it tight. I would prefer this to be tight as possible but if I move it to the end of my padding it moved the rifle too far forward. At any rate, leaving it loose didn't change the effectiveness of the gun shoe it just changed the location as to which the rifle would position itself while strapped in.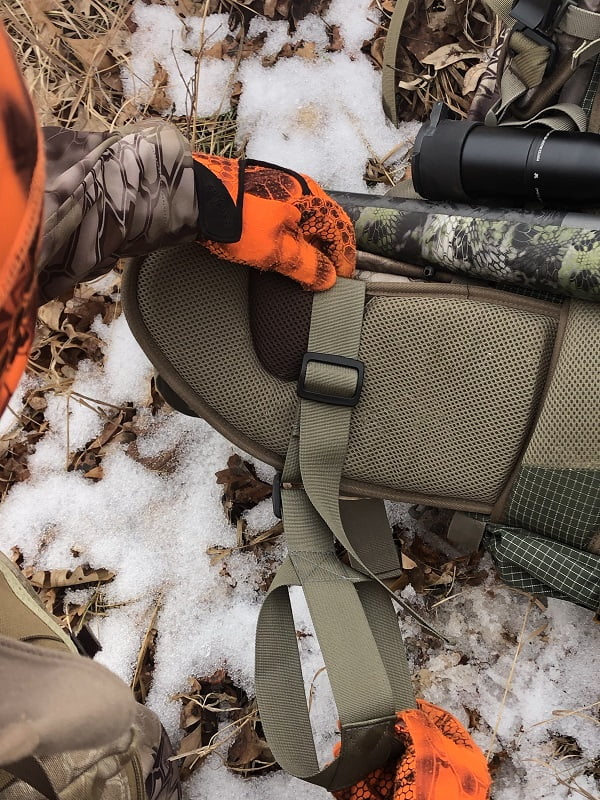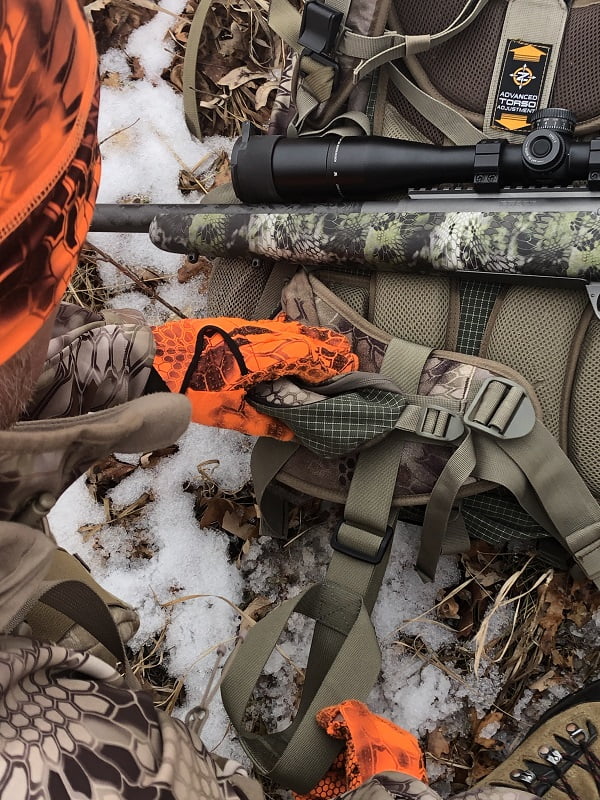 Attached Bipods Can Be An Issue
Be informed that if you are using any sort of bipod, this system could cause you issues. I tested it with a Harris bipod on my rifle and the bipod was digging into my shoulder causing it to be very uncomfortable.  On long mountain type hunts, I wouldn't have this bipod on the rifle so that alleviates that issue, but worthy to keep in mind if you are running bipods on your rifle.  You do also have the option to reverse the rifle so the bipod is facing the rear as well which will help a good deal.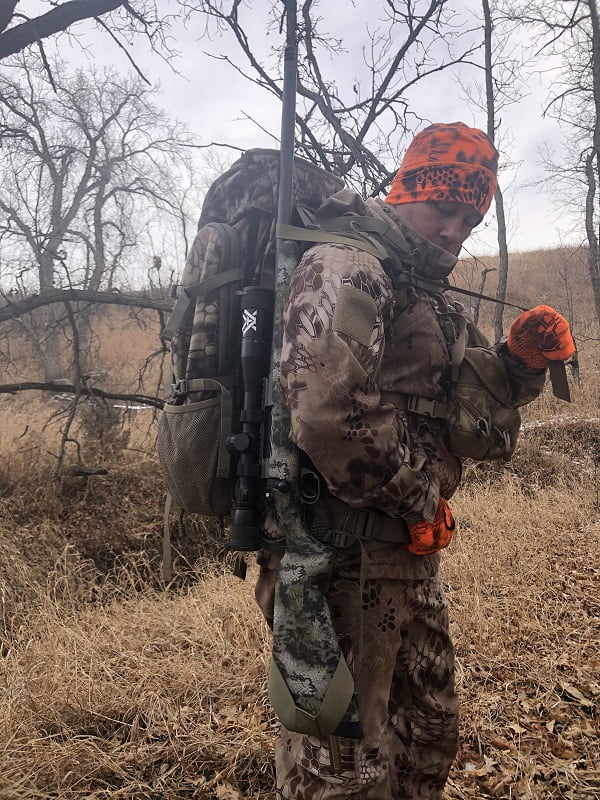 Field Testing
During a recent hunt, I was able to use the Slik Sling and give it an honest attempt at finding shortfalls in the system. The gun shoe held the butt plate of my rifle firmly in place and was positioned nicely on the side of my pack around the hip belt padding.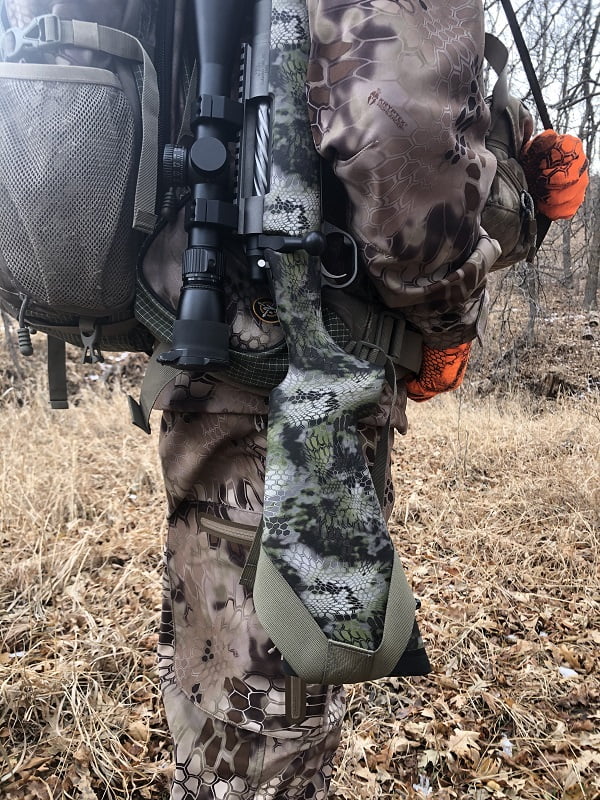 The webbing keeper was positioned on the shoulder strap and held in place and has the sling lock buckle attached to that as well.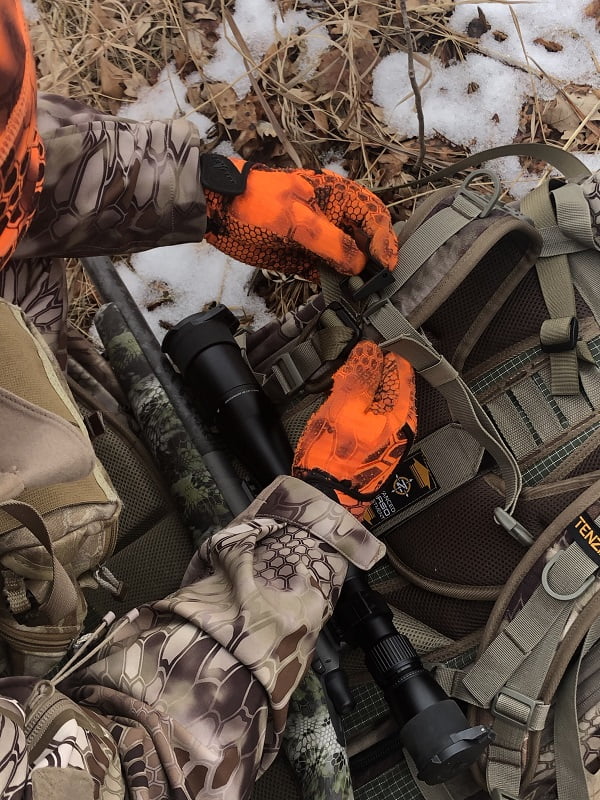 The sling that goes around the barrel of the rifle was attached to the top of my pack near the center of the pack on webbing near the center of the pack.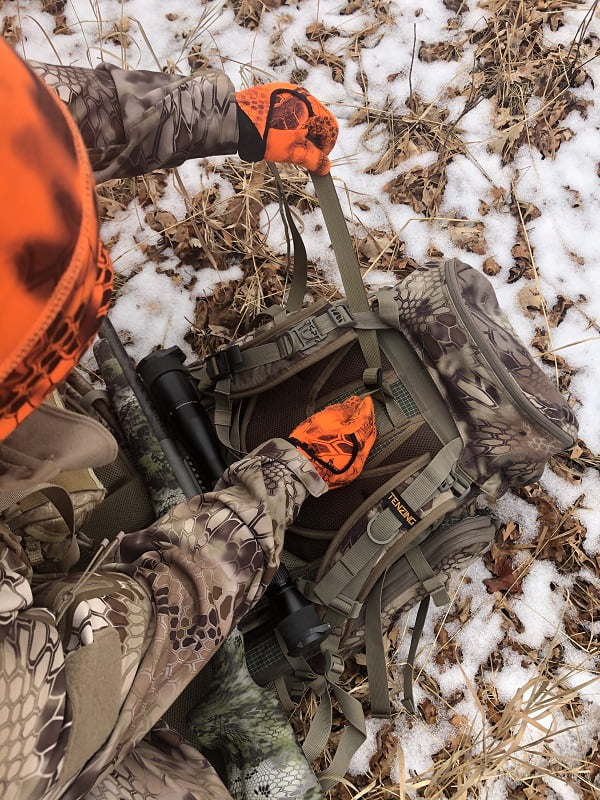 Each item was fairly easy to reach at any given time. Occasionally when looking for the sling it would fall back behind and I would have to reach for it to find but after using it for a bit I became familiar with finding everything without searching for it.
No More Concerns Of Failing
Earlier I mentioned how I was concerned that the sling strap wouldn't be enough to hold the rifle in place. Much to my enjoyment, it was never an issue and the rifle remained right where it was supposed to at all times. When bending over, short sprints, uphill and downhill angles, and over logs, everything stayed in place as intended. It is such an easy concept to use it made things that much easier to hunt with a rifle while wearing a pack.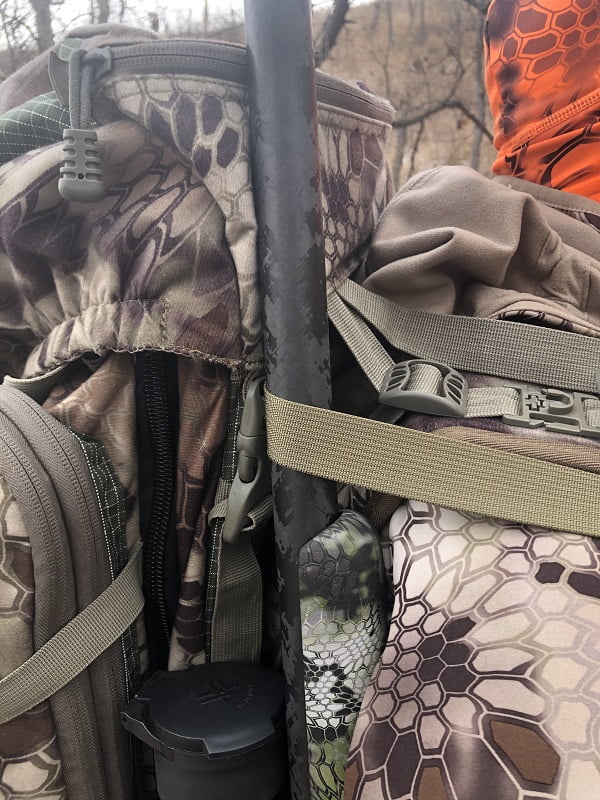 If you are unsure of the sling strap holding, you can wrap it around the rifle barrel an extra time for reassurance. I found that with increased time of use I became more comfortable with this setup and it also became second nature to use it. My concern faded away and my comfort level increased.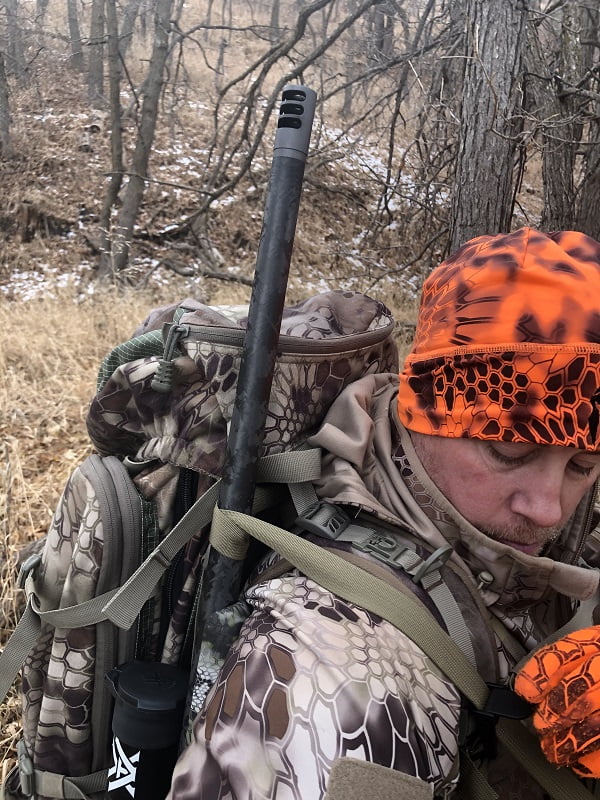 There are times, while on the hunt, that I like to unbuckle my waste belt in order to reposition or to redistribute weight or to give my hips a rest and shoulders more work. While unbuckling the waist belt of my pack it would cause the rifle to become unstable which could be an issue and usually resulting in keeping the waist belt fastened at all times.
The Shot
Another thing to consider is how this will affect you getting your rifle out of the sling and prepared for a shot. This system does take a little bit more time to access your rifle due to the style of sling and it being buckled in. There is a tradeoff between speed of unslinging your rifle and comfort I suppose. It doesn't take a great deal of time (minimal) but is slower than if you are just using a regular style sling. But then again you aren't having to deal with the hassle of keeping it on your shoulder either!
End-User
This is meant to be used by anybody who rifle hunts and who is also using a pack at the same time. There shouldn't be any issues or problems with getting the Slik Sling to work on many packs on the market, but you should ensure there aren't any issues before making the purchase by contacting Josh. The gun shoe may not be compatible with some packs that do not have the waist belt but there are options of attaching the gun shoe to other portions of the pack. This needs to be thought out and if you have questions reach out to Josh and he will help you out.
If you do not have the extra webbing on the shoulder strap of your pack to accept the webbing keeper but you do have the waist belt, there is an additional accessory available to make that a possibility. This part still attaches around your pack shoulder strap in any location to be able to lock the sling into place.  Also, keep in mind that if you have an external frame pack, it may not be a good fit as the rifle would be rubbing against the frame which in turn could cause damage to your rifle.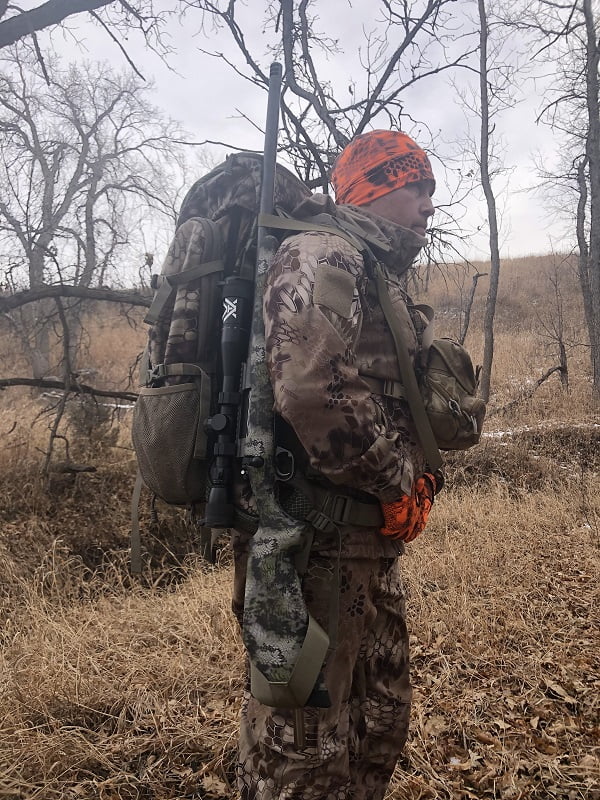 You can comment on this review or ask Jared questions here.
If you ever have problems or have questions feel free to reach out to Josh Susic at Creative Outdoors. He can help you out if you run into a snag. And, He is super responsive and takes his products and feedback to heart. Creative Outdoors