For me, sleeping pads have been the toughest gear item to dial in. I've gone through numerous pads from Big Agnes, Thermarest and Exped. I haven't had a major fallout with any of those brands, but some of the comfort driven models can come with a weight and bulk penalty. While I'm not a big ounce counter, the multitude of options available today had me searching for a pad that was plush and comfortable, yet compact. Last year at the Sheep Show I found the NEMO Longbow sleeping pad in the First Lite booth. First Lite has recently partnered up with NEMO to make a line of sleeping bags, pads, and tents geared to the hunter and angler. Loving the look and sound of it, this summer I had one on my doorstep to use for the fall. You can check out the NEMO collection here.
Here are some key features of the Longbow Alpine pad:
Pad thickness: 3 inches
Dimensions: 72" long x 20" wide x 3" thick
Packed weight: 1 lb, 5 oz (17 ounces)
Packed size: 8" x 3" diameter
Material: 20D fabric
Temp rating: -20 to -10F
Price: $239.95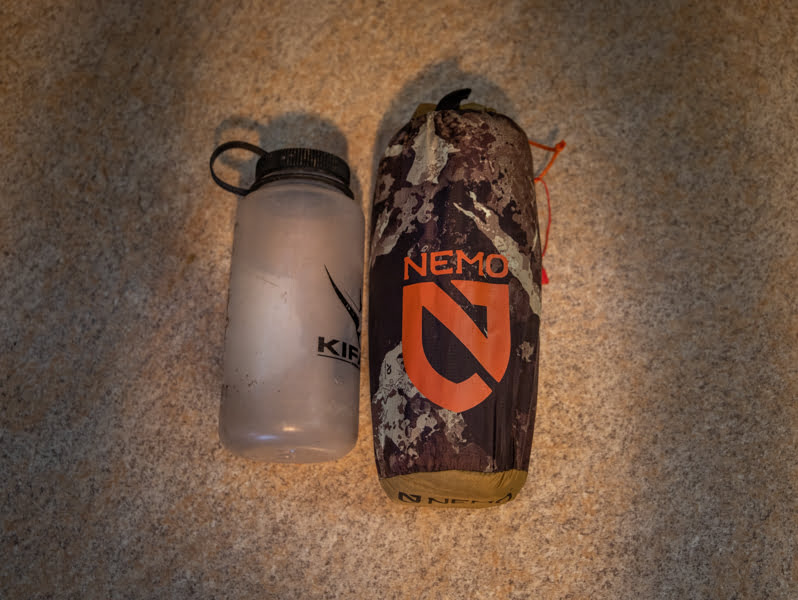 Size And Inflating
I loved how compact it was–slightly larger than a nalgene bottle. I rolled it out on my living room floor and began blowing it up. NEMO includes a pump sack, something I had not used before. It's a dry-bag-looking sack that is open-ended on one side and connects to the sleeping bag nozzle on the other side. You only have to lightly blow into the open end, as it captures the ambient air at normal pressure (Robby Denning later showed me how well a slight breeze can help fill it.)  You then roll the top over and compress all the air into the sleeping pad. This way you don't have to manually blow it up and it keeps the moisture from your breath out of the pad. Once blown up, I crawled on it and was happy with the initial feel.
I'm five foot ten inches so the six foot pad fits me well. The pad isn't rectangular like some others, it's rounded at the top and tapers towards the foot–similar to a mummy-shaped pad. Currently there's only one version available at 72" in length, so if you're over six foot tall this may not be the pad for you. I roll from one side to the other while sleeping and I thought the width for the pad was okay. When laying on my back, my arms lie on the pad when directly at my sides. When rolling from side-to-side, it dispersed my weight well and I never touched the ground.
First Lite NEMO Sleeping Pad Durability
I used the pad on four backcountry trips this year totaling 18 nights. The first trip, we slept in a floor-less tipi and I had forgotten my Tyvek for protection. We ended up using a couple trash bags under the shoulder area of the pad. I didn't have any durability issues in those six nights. The rest of the trips were also in a floor-less shelter with Tyvek underneath the pad for protection. The horizontal baffles were comfortable and that three-inch height from the ground was great, especially after multiple nights.
In the number of nights I slept on the pad, I didn't have any durability issues. Being a thinner and lighter material, I'm happy with the amount of stress it handled without fail. One dislike I do have though is their nozzle system. The nozzle to insert air into the pad is integrated into the main plug to deflate. So it's very easy to accidentally pull the whole plug instead of only the air inlet. Not a deal breaker in my eyes, but something that takes attention while inflating.
It's important to remember that any sleeping pad isn't built to take much abuse and should be taken care of the best you can. A protective layer under the pad can be the difference between waking up on the ground and a good night's sleep.
A product I always carry for patch jobs is Tenacious Tape from the company GearAid. It's an extremely thick, sticky fabric tape. While on a trip to Alaska a few years back, we ended up patching two different sleeping pads with large holes and the pads remained full the rest of the trip.
The pad treated me well and I imagine I'll be using it for years to come. If you're looking for a new pad, give the NEMO Longbow Alpine sleeping pad a look here. You can also browse the rest of the NEMO/First Lite line here.
You can comment on this review or ask Jordan questions here.
Check out these other sleep system reviews as well: