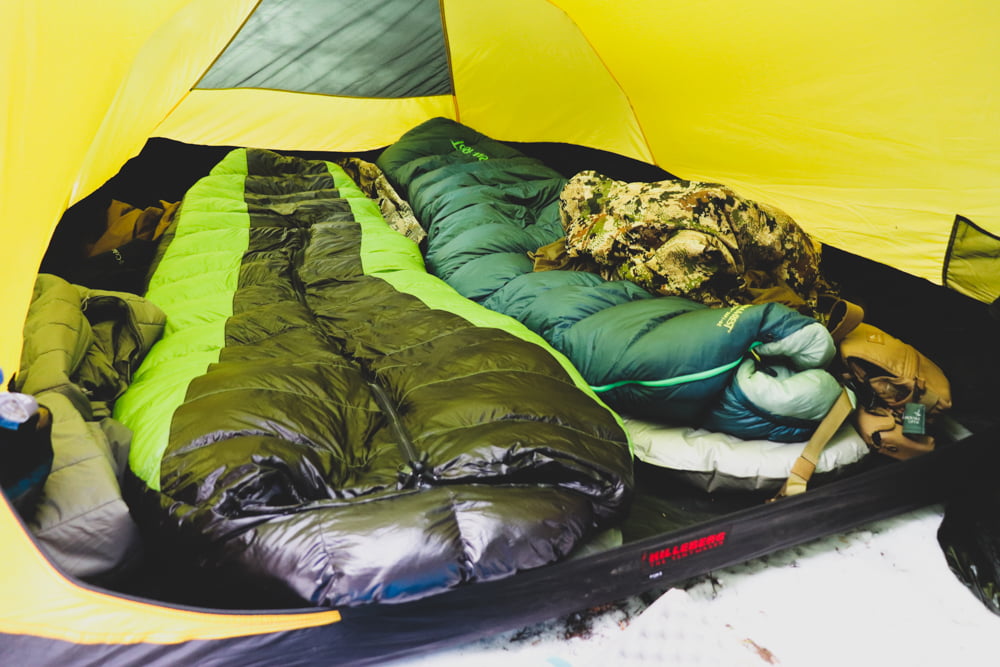 With bad weather in the forecast and a backpack trip for late-season elk quickly approaching, I had to find a warm synthetic sleeping bag quickly. After searching the top brands and realizing almost none of them could have the sleeping bag to me in a week, I started searching 0-degree sleeping bags to see what else was out there. I came across Outdoor Vitals Atlas Hybrid. The Atlas is a mix of 80% synthetic LofTek and 20% 800 fill down. The reviews on their web site were good and the prices were almost unbelievable. They were sold out of new 0 degree bags but had one in the outlet section that had been returned for some reason, I quickly purchased that bag and had it in my hands a few days later.
Atlas Hybrid First Impressions
The first thing I noticed when I got in the Atlas bag was the area around my knees seemed a little tight. I have been using a down quilt for the last few years, and I figured it was me noticing that I don't have the freedom a quilt provides. I also noticed some flaps that are sewn inside the bag. After going back and re-reading the description I found out that these are shoulder baffles. The baffles also had a small pocket sewn into them on the right side that works great for keeping my phone from freezing and losing battery life.
Outdoor Vitals Atlas Hybrid Specifications
Weight: 0 Degree Regular 3 lbs 4 oz
Shell: Denier Ripstop Nylon with VitalDry DWR
Fits up to 6' (long 6'6")
Shoulder Girth 64" (long 68")
Insulation Type: 80% LoftTek Synthetic 20% 800 Down Fill Power StormLoft DWR treated
Center Zip Zipper
Compresses to 11×8 inches
Some Background
A little about me, I'm 5'10" and 185lbs. I am primarily a backpack hunter and I prefer a floored shelter. I would consider myself a warmer sleeper then the average person, I always pack in a pair of basketball shorts to sleep in and normally only wear a merino top if I wake up cold at night. For this review, I was sleeping on a Therm-a-Rest NeoAir XTherm and sleeping in a Hilleberg Anjan 3 GT.
Testing
The hunt took place in November, it snowed for a few days leading up to the beginning of the hunt. The weather report was calling for partly sunny skies, high temperatures of just over freezing and lows down in the single digits. The sleeping bag fits nicely in a medium Kifaru 5-String Stuff Sack in the bottom of my Cavern pack. Because I ordered this from the outlet section it didn't come with the stuff sack from Outdoor Vitals, I knew this at the time of purchase.
Night One
The first night was supposed to be the coldest at 4 degrees so I was a little nervous sleeping in a new bag with my normal sleeping attire. That night I decided to wear my First Lite Fuse bottoms and an ultralight wool crew top. I climbed in the bag freezing and instantly felt warmer. After hiking in several miles and setting up camp I was out quick. That first night I woke up in the middle of the night because I was too warm, so I unzipped the bag far enough to get my arms out.
Night Two
The next night I went with my normal sleeping attire. Instead of putting the shoulder baffles over my shoulders I laid them down in the bag. They covered from my armpits down to my belt line. I woke up a couple of times that night from sliding off my sleeping pad and both times I stopped to think about how I felt in the bag. And, I realized the baffles made a noticeable difference in the warmth of my upper body. I never noticed my initial concerns about the tight fit on the hunt.

Conclusion
I was very impressed with the Outdoor Vitals Atlas sleeping bag. It fit into a smaller stuff sack than I expected for a zero-degree synthetic bag. Which I think is due to the mixture of synthetic and down insulation. The shoulder baffles definitely keep you warmer, I will continue to run them over my mid-section instead of over my shoulder. The pocket also kept my phone warm which helped out with my battery life. I had never slept in a bag with a center zip so it took a little getting used to, but after a couple of nights, it became a non-issue. I would like to see a strap system added to help hold you on your sleeping pad.
Now for the best part, the price for the Atlas is only 179.97 for a zero-degree bag! Most of the big brand companies are easily double that. With all that said, this sleeping bag has earned a permanent spot in my backpack for late-season hunts. You can order yours here.
You can comment on this review or ask Casey questions here.
Here are some other Rokslide articles you might like.