Whitetail hunting is as much a test of mental stamina as it is endurance.   In my experience, neither of those things are helped by unneeded discomfort from hunger or being inappropriately dressed for the weather.  Hunger is easy enough to fix on a long sit, just bring food.  Similarly, warm weather is easy enough to overcome, just wear lighter clothing.  On the other hand, colder weather becomes problematic when you are attempting to remain motionless for hours on end, waiting for the opportunity to make that one perfect shot on the buck you've been hunting all season. First Lite Solitude bibs and jacket solve that issue.

Over the years I've tried many different combinations of cold weather gear to stave off the cold setting in and causing me to come out of the tree early.  I even used an ugly heavy purple down coat on occasion, that I bought at Goodwill over a decade ago and have yet to find its match in warmth.  This season, I decided to give the Solitude set of bibs and jacket a shot, which is the latest offering from First Lite in their Whitetail Line.
Solitude Bibs
Anyone who hunts whitetail in cold weather knows a good set of bibs is indispensable for maintaining warmth.  Not all bibs are created equal and some features make bibs much more functional.  First Lite's Solitude Bibs are full of nice features.  Here are some of their listed features:
Features:
True to Size: Purchase your normal size
60g of insulation throughout bib pant
KitLink™ 37.5 fleece-lined chest muff pocket seamlessly integrates with zippered pass-throughs on the jacket
Zippered stash pocket on the front of muff with two interior gear loops
Quick-release suspender clips at chest
Top-of-thigh, double cargo pockets featuring drop-in and zippered pockets
Full side-zips for easy on-off
Reinforced, 2.5-layer water-resistant seat panel
Bottom cuffs fit over or under knee boots
The first thing I noticed about both pieces is how quiet the fabric is; it is virtually silent.  The KitLink muff pocket adds a surprising amount of warmth and thereby overall comfort. It works much better than other systems I have used in the past.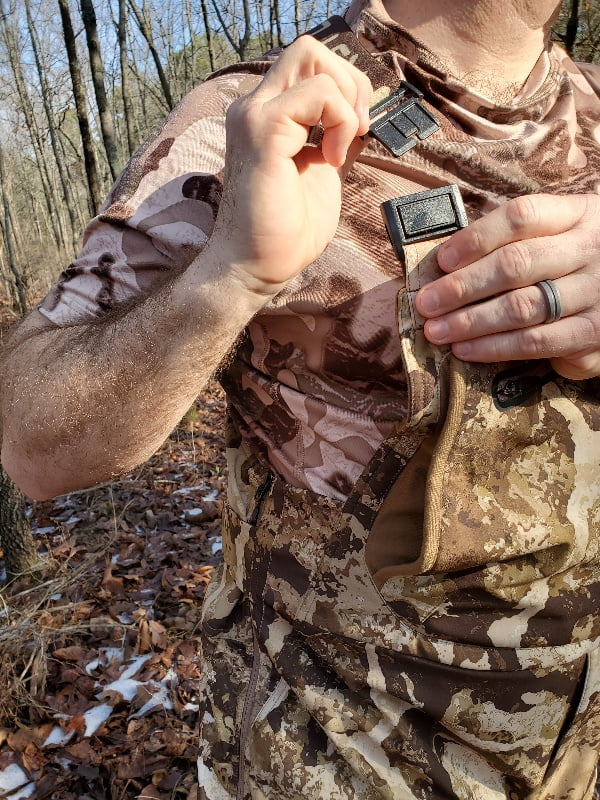 The full-length leg zippers combined with the quick release suspender clips make for easy removal on midseason hunts when mornings start cold but warm up later. The bibs are also easy to get on after a long hike into your stand.
The insulation seems to work well down into the 20s pretty easily, though I did not have the opportunity to test any lower temperatures as it hasn't got that cold here in Missouri yet.  I did not find the zippered pocket on the front of the muff pocket very useful, but others might for calls or tags.  The fit was pretty spot on for size.  Overall I can't say there's anything in particular that I was unhappy with about these bibs.
Solitude Jacket
Jackets are a piece of gear that lives in my pack most of the year.  The type of hunt only dictates which jacket I will bring, not whether I will have one.  As with bibs, some jackets are far superior to others and it's typically in the small details that make this so.  Here are First Lite's listed features for their Solitude jacket:
 Features:
True to Size: Purchase your normal size
100g insulated body
60g insulated sleeves/hood
KitLink™ zippered pass-throughs for full compatibility with bib muff pocket
Removable 3D Turret™ hood construction for maximized field-of-view
Tree Stand harness pass-thru
Insulated hand pockets with a seal-tight gasket to block out cold weather
Shooter's sleeve for optimized compatibility with rifle or bow
2-way front zipper for maximum comfort and accessibility when seated
Double Napoleon storage pockets
Two gear loops at the chest for anchoring range finders and calls
Waist drawcord to seal in warmth
Stays warm whether dry or wet
As mentioned earlier, the quietness of the outer shell is outstanding.  The most notable feature is the KitLink zippered pass-thru that allows your arms to pass through the sides of the jacket and utilize the bibs muff pocket.
This KitLink system works incredibly well and as far as I'm concerned, anything less than this in the future is missing the mark.  For a simple system, I'm pleased with how well it keeps hands warm and improves overall warmth.
The next thing I was truly impressed with is the 3D Turret hood.  In the past, every other hood I've used would work OK, but whenever I would draw my bow I would have to kick the hood off because either it didn't track with my movements or it would hit my bowstring. The 3D Turret hood does not have this problem at all.  I am able to snug the hood tight to my head and it tracks with my movements perfectly.
I found no trouble when shooting my bow in the jacket at all, which I attribute largely to the shooter's sleeve.  The insulated hand pockets are too tight for me to get items in and out comfortably or to put my hands in with gloves on. Although they do work alright with bare hands.  The tree stand harness pass-through is vital for keeping warm and safe, however, I've been using a Tethrd tree saddle this year so I didn't need to utilize that feature.  It is a pretty warm jacket for its weight, though I did notice a slight chill in the shoulders.   The fit on this jacket works well for me and I found it consistent with my size.

Conclusion
For someone looking for an outerwear insulating layer for mid to late season whitetail hunting, I think the Solitude bibs and jacket from Firstlite are a great option.  I found very little fault in this as a set.  As individual pieces, the jacket and bibs are a solid choice, but they are much better together and allow the wearer to fully take advantage of the features.  This set should keep the stationary wearer protected down to 20° Fahrenheit or so.  These will replace some of my previous pairs of bibs and quite a few jackets, though I'll fight you if you try to get me to give up my trusty old purple Goodwill coat. You can order yours direct from First Lite here.
You can comment on this article or ask William questions here.