By Ross Russell, Rokslide Prostaff
Keeping our feet dry and comfortable during long days of hiking contributes to both our success and enjoyment.  Gaiters offer the ability to help keep your feet drier during a day of inclement weather and when mother nature may want to soak you to the bone.  Whether it is snow, rain, or stream crossings gaiters enhance your ability to stay dry with minimal extra weight.
When I think of what I want from a gaiter, I think of ease of use and something that goes on quickly. I want them to stay in place and not be something that I have to mess with constantly as they slip down my legs.  I want a material that is waterproof and will help keep me dry when the conditions are wet and snowy, a snug fit so as to not let snow and debris in and made of a material that is reasonably quiet.
Through the last five years I have been wearing the KUIU gaiters on days when I want to keep my feet dry and keep snow from getting down the tops of my boots.  Their gaiters are constructed of a wind and waterproof material (Toray Dermizax) that is both waterproof and very lightweight.  My experience has shown when removing the gaiters at the end of the day, my pants have remained dry under the gaiters, thus validating the waterproof feature of the gaiters.

FROM KUIU SITE
TECHNOLOGY
Dermizax® NX Waterproof Breathable Laminates
The New Standard for Waterproof Breathable Laminates
Toray's Dermizax® NX membrane is completely windproof and waterproof and offers 200% four-way stretch comfort while eliminating bulk and weight. Its smooth texture and lightweight configuration make Dermizax® NX up to four times more breathable than other waterproof fabrics, and the perfect choice for super-lightweight, waterproof, breathable gear.
The gaiters are attached over your pant leg and boots by way of a four point system.
1.There is a buckle and nylon boot strap. You adjust the buckle to accommodate the size of your boot and the strap goes under the boot in front of the heel.
I have worn several pairs of these gaiters none of the buckles or straps have failed after thousands of miles. The strap is heavily reinforced to the gaiter and the buckle is of heavy construction.
2. A large vertical velcro enclosure secures the gaiter around your leg. The velcro measure 15.5 inches down the length of the gaiter and two inches wide. Once secured it will not come undone unless you undo it.
3. A top buckle system holds the gaiter in place around your calf. This design has shown itself to be highly efficient at keeping the gaiters in place and not letting them slip down my leg. Nor does it allow debris and snow to get into the tops of my boots, since you can tighten the buckle to your own individual preference. I have yet to have a buckle fail and seldom do they come unbuckled. They will accommodate a calf to approximately 17 inches.
4.There is a lower snap enclosure with double riveted boot lace hook over the front top side of your boot. This helps to keep the lower front portion of the gaiter in place when post holing in snow and doesn't allow the gaiter to fold from the front end allowing snow to accumulate under the gaiter. I've had many days in deep snow and have yet to have issues with snow accumulating from the underside, as the design keeps the gaiters in place and snug.
Durability
The lower half of the gaiter is reinforced as this is the area that tends to take heavier wear and abuse from either snow or brush.  To date, the lower portion of the gaiters has shown exceptional resiliency against punctures or wearing through.  You can see where over time the miles accumulated, and brush and snow beating has simply begun to wear out the material, but it has remained functional.  The upper half of the gaiter tends to be more susceptible to punctures as time goes on and the material simply breaks down from use.  This is where the gaiters have shown the most wear.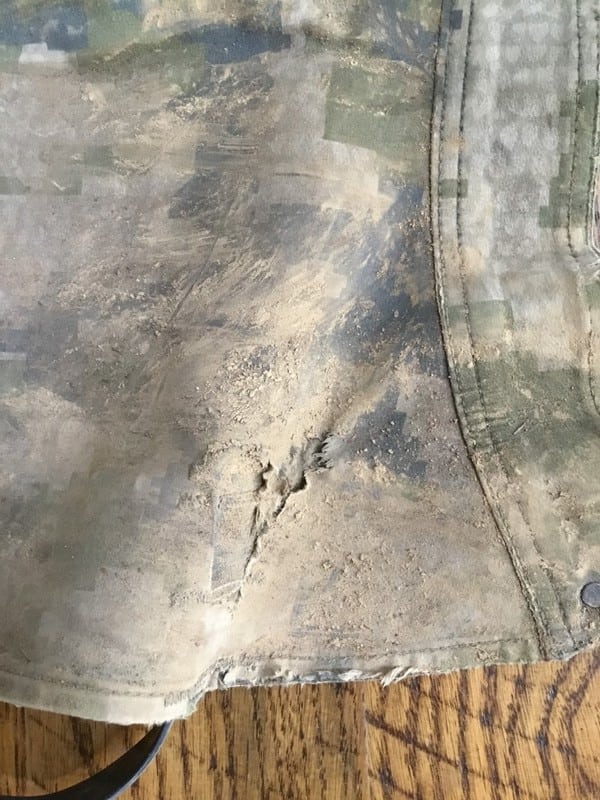 The Yukon gaiter also offers a stretch factor within its material that allows it to maintain its shape, this again helps to keep it in place, but also in providing added durability and breathability to the gaiter.
FROM KUIU SITE
If you are looking for a gaiter that provides a waterproof element for your boots, is easy to put on, very well designed, stays in place, provides added warmth and will last many years in harsh conditions, the KUIU gaiter is a great choice and addition to your hunting gear collection.
You can comment or ask Ross questions here.