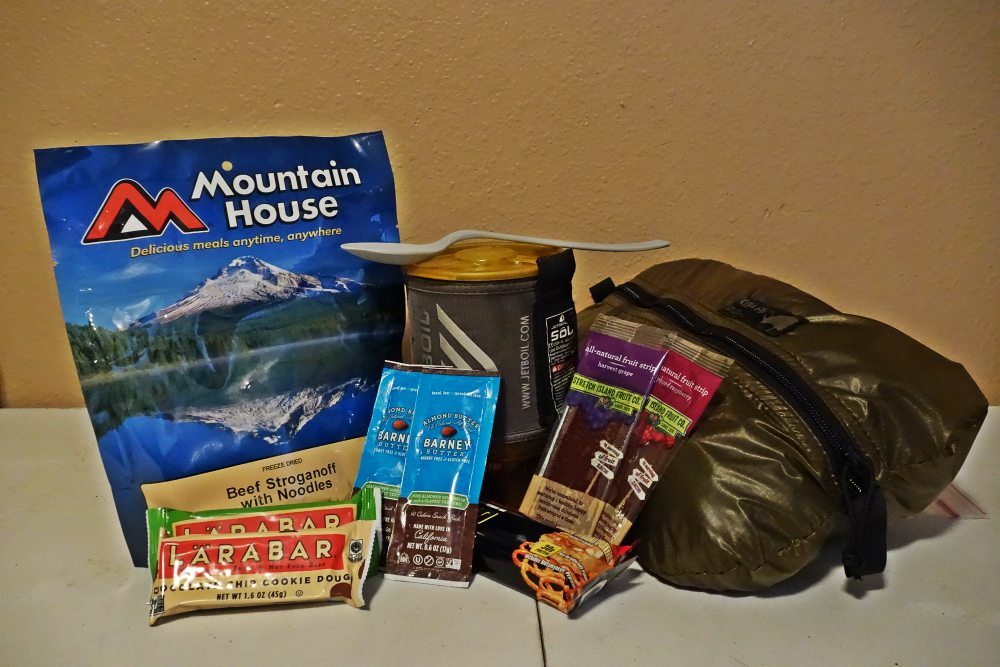 Food for a Day–Backcountry Style

By Brock Akers, Train to Hunt Director
There are two things in this world that really peak my interest: hunting and food. Obviously food is essential for everyday well-being and is why we don't want to overlook it when preparing for a backcountry trip. Two things we want to consider are weight and calorie count. Typically you are burning calories like crazy in the mountains and we need to look for food that packs a punch on the nutrition label. On the flip side, we want it to be as light as possible. Combining these two things can be a challenge.
Let's start with planning out what our day of food is going to look like. I like to have three major meals. Breakfast, lunch & dinner–that's pretty standard. I also like to fill the gaps between meals with snacks. Breakfast is often overlooked by many people. This holds true in the mountains as well. Most people get up and are ready to give chase to the giant buck they put to bed the night before. It's important to eat something first thing to give your body initial fuel for the day. Even if you aren't hungry yet, force something down. I like to start with a ProBar or Protein Puck
Next is lunch. Now this meal took some time before I found the right one. I got the idea from a member here on Rokslide. I take five slices of salami and one cheddar cheese stick and roll up in a tortilla. I make three per day and vacuum seal them. It comes in right around 940 calories and is pretty tasty. You can pre-make several packages and then freeze them for upcoming hunts. They keep for days without any issues. I feel like this is as close to a "fresh meal" as you can get, short of eating the animal you just notched a tag on.
Moving on to dinner, this is probably the meal I look forward to the most. After a long day of hiking & hunting, back at camp and well after the sun has gone down, the thought of a warm Mountain House or Hawk Vittle is pretty appealing. There are plenty of different options to choose from and they are relatively affordable if you do a little shopping online. This is a perfect time to take your boots off and reflect on the day or plan for tomorrow while that hot water turns dry crunchy noodles into much needed calories.
Now on to the other things in my food sack. I am what I call a "grazer", meaning I eat all day long. So I need to make sure I have plenty of other things to snack on other than the three main meals:
. (2) Kelloggs Fruity Snacks – 2.5 oz & 200 calories each
. (2) Stretch Island Fruit Co. Fruit leathers – 0.5 oz & 45 calories each
. (3) Nature Valley Fuit & Nut bars – 1.2 oz & 140 calories each
. (1/2) Idahoan instant mash potatoes – 2 oz & 220 calories
. (1) Snickers bar – 2 oz & 250 calories
. (2) Almond butter packets – 0.6 oz & 90 calories
Notice that most of my choices are over 100/calories per ounce ensuring plenty of calories per ounce of food I'm packing. This puts my total calorie count for the day at roughly 3,425 depending on what dinner I choose.
Keep in mind that this is what works for me. It took several multi-day trips to really get this dialed in, yet I still am always looking for new things to try out. Experiment with other foods/snacks until you find what works for you. Have fun with it, read labels and be creative.
Discuss this article here