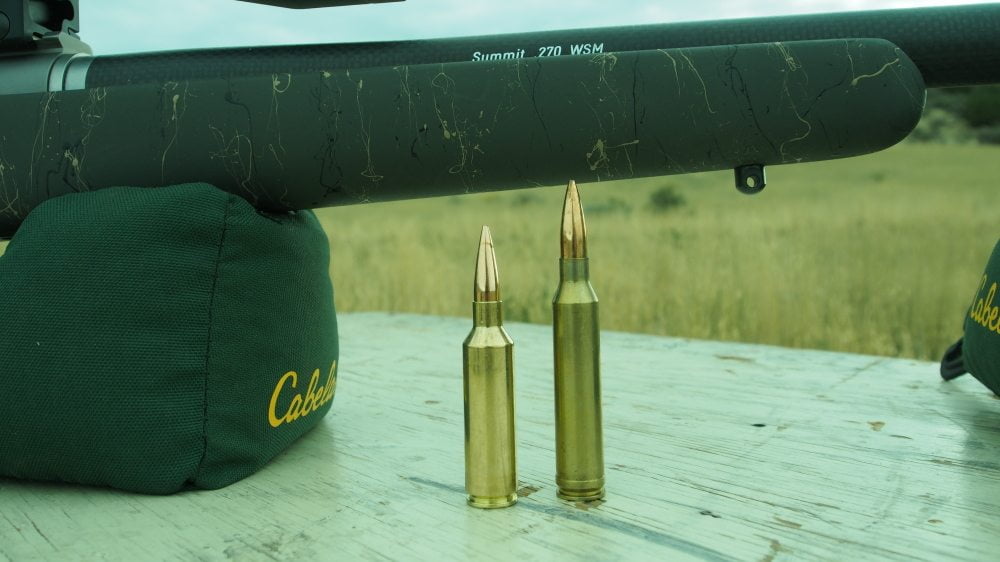 I started out hunting mule deer in the early 1980's with a 30.06. That caliber served me well until one early morning hunting near Hoback, Wyoming. A 170″ buck appeared at timber's edge at approximately 600 yards. With no way to get closer, I held several feet above his back and touched her off. Dust flew well below his front hooves and like it is with most big bucks, he disappeared forever.
Within a week, I purchased a 7mm Remington Magnum known for the flattest trajectory in the magnums at the time. I fell in love with the caliber and hunted nearly 25 years with the "Magnificent 7" as many writers have called her. While rangefinders and range-compensating scopes (both turret-style and hash mark) have lessened the need for near-horizontal trajectory, in the real world of hunting for big mule deer, flat trajectory is still very important. Often a hunter has to make split-second decisions without a rangefinder and has little time to prepare for an accurate shot.
Then in 2001, a new caliber was introduced by Winchester that really caught my attention: the 270 Winchester Short Magnum. While many calibers introduced seem to only split hairs at best with current offerings, the 270 WSM provided a clear advantage over other magnum calibers for the backcountry mule deer (and sheep) hunter: magnum performance in trajectory, and in a lighter faster and stiffer short action. In my book, ounces, seconds, and accuracy rank high when it comes to hunting big mule deer.
To capitalize on the increased powder capacity of the 270 WSM, a 24-26″ barrel is needed, which can negate the weight savings of the short action. Because of this, the mass gun builders produced a lot of rifles chambered in the 270 WSM but these guns only offered a slight weight savings over traditional long action magnums.
I found myself waiting for someone to bring the caliber out in a platform that offered significant weight savings AND an accuracy guarantee of less than an inch. While they are out there now, I needed a company who was also willing to work with Rokslide as a sponsor (I have to pay the bills like everyone else).
Finally, in 2015 Christensen Arms introduced their Summit Carbon Rifle chambered in the 270 WSM (more on that gun in a later post.) This gun in a short action with a 26″ barrel tips the scale at 6 lbs 3 ozs. While you can read all over the internet published velocities of 3200 fps (130 grain bullets) in the 270 WSM, I've learned in reality that published velocities are rarely attainable in an accurate load. The extra 2″ on this barrel was just insurance with little weight penalty due to the carbon barrel.
I received my gun in mid-September and was pleased with the range performance of the 270 WSM, as I suspected all these years that I would be. Using a ProChrono (lent to me by Rok Blog subscriber Shane Hayes), I chorongraphed the 130 grain Berger Classic Hunter at and average of 3125 fps over four (3) shot groups with an average group size under 0.75″.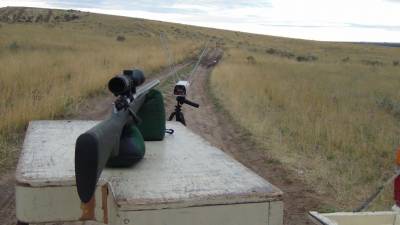 The math works out that this gun will produce a five-inch flatter trajectory over my 7mm Rem. Mag load (168 Berger Classic Hunter) at 500 yards while only giving up 200 ft-lbs of energy (1700 vs. 1900) at the same distance. As I'll be installing a Vortex scope with their Dead Hold BDC reticle, my last hash mark (I prefer the speed of hash marks over the slower turrets) will take me to at least 600 yards (my practical shooting limit that I discuss in my book "Hunting Big Mule Deer).
The only potential downsides I've found in the 270 WSM is the fat case (based on the .404 Jeffery) and a sharp shoulder angle of 35 degrees. In most guns, this can reduce magazine capacity by by one round compared to standard diameter magnum cartridges. Christensen Arms remedies this with an ejectable magazine that extends below the stock. Also, in theory, the sharp shoulder along with a rebated rim might cause feeding problems (not acceptable when hunting big mule deer where mere seconds often count.)
I reached out to several companies in the late 2000s and none could guarantee I wouldn't experience jamming issues, another reason I waited so long to jump ship to the 270 WSM. Christensen Arms said they'd guarantee the gun for 30 days (standard for everyone) if I experienced feeding problems and I could switch to another caliber. That gave me the confidence to finally make the switch.
Make sure you "Subscribe to blog" (Upper right under Fitness/Other) so you don't miss my follow-up posts on the field testing of the Vortex Scope, Precision Reflex Inc split Picatinny mounts, and of course the Christensen Arms Summit Carbon. Although I'm not a long-range hunter, if you are, you might be especially interested in this project.
To read Part II, click Goodbye 7mm Rem Mag, Hello 270 WSM Part II
Read all about what's important to me in a rifle for hunting big mule deer in my new book, Hunting Big Mule Deer