KIFARU Reckoning Backpack Review
By Jordan Budd, Rokslide Staff

Besides being 100% made in the USA, one of the coolest and most attractive things about Kifaru is the number of bags they have for different situations. All are designed by true backpack hunters for real hunting styles and scenarios. Another huge point I'd like to make is the quality of Kifaru customer service. Every time you call in you're talking to people that know the product inside and out. I've also heard numerous positive reviews of Aron Snyder, Kifaru's Chief Designer, answering questions and calling guys back after hours, during the weekend, and even on the side of a mountain. You can't get that anywhere else.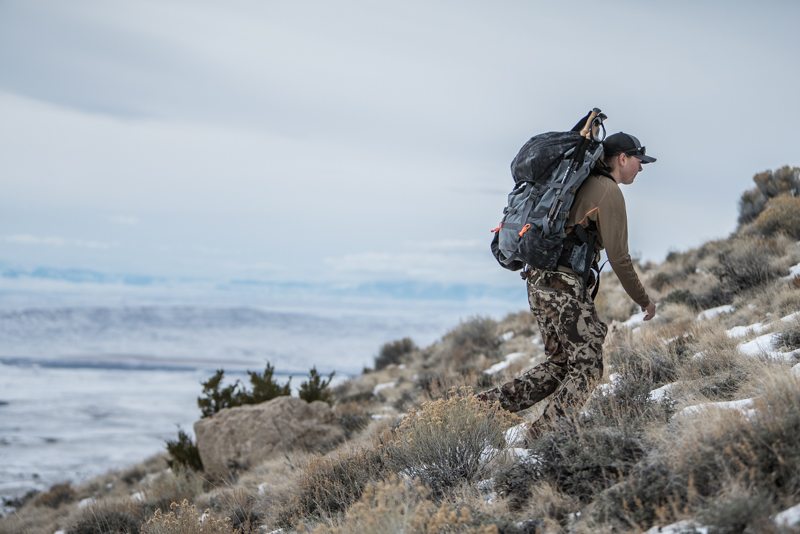 Last year was my first year with a Kifaru system, and I settled in with the AMR. Fellow Rokslide staffer, Brock Akers, has a great review of the AMR bag here.

When Kifaru released the Reckoning bag last fall, I had to get my hands on one. My normal backpack trip needs are three to five days with the occasional extended trip in the north country. They pulled designs from three or four of their other packs combining them (with some spice) to come up with to come up with the Reckoning design. Empty, with all compression straps and buckles, the bag comes in at 2 lb. 13 oz. and totals in at 7,500 cubic inches of bag space at its max.
The bag features include:

– 3 sewn-in horizontal compression straps on each side anchoring the bag to the frame
– 3 more horizontal straps sewn down the back that are independent from the side straps
– Integrated fold over lid
– Bellowed side pockets (500 ci each)
– Full length center zip with 2 zippers (one from top, one from bottom)
– Sewn-in meat shelf with two different attachment points
– Water bladder hanging system between bag and frame
– Two rows of PALS webbing on the bottom to attach additional pockets and accessories
– Big top and bottom carry handles with the bottom doubling as a bow-carry system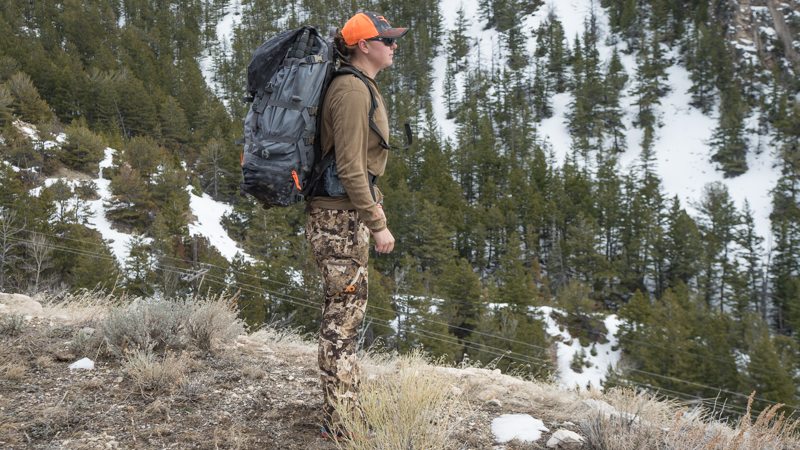 Bag loaded with five days of gear and food
The side and back compression straps work independently from each other allowing you to keep things strapped to the back that you want quick access to like tripods or your weapon, but without losing bag compression while unbuckling them. Things that you don't want crushed while wrenching down on the side compression straps like a spotting scope are also great to strap onto the back-compression straps. The bottom carrying handle also doubles as a loop to put the cam of your bow in then strap on for easy carrying.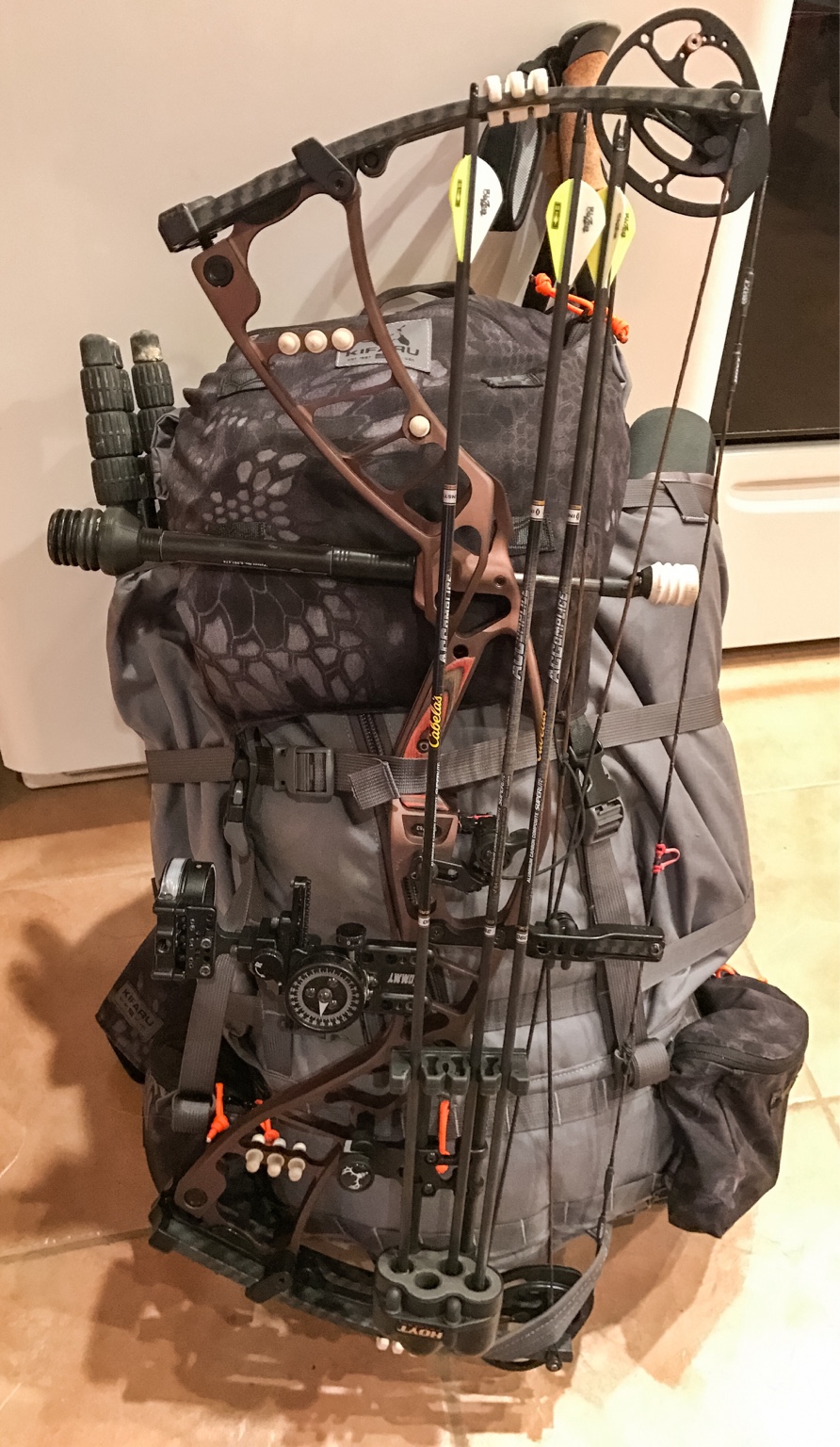 The integrated lid is a very simple idea. There are two tab loops on top of the collar that take open-ended female buckles. Then when the collar (lid) is folded over, the vertical compression straps hook into the female buckles. This eliminates the need for any additional lid. I however like to run the additional Guide Lid on top, mainly for organization holding my camera, maps and anything else I need quick access to. The vertical compression straps are also attached using the K-clip system, and can be moved up or down the bag as needed
The side pockets are probably my favorite feature of the bag. I usually run my spotting scope (80mm Swarovski) and a rain jacket in one side; then my tripod and glassing seat in the other side. Each side is 500 cubic inches, so there's still quite a bit of room left for puffy jackets or other gear if needed. The 95mm Swarovski scope also fits with ease. A tab loop at the top of each pocket lets you to hang a water bladder as well if needed (see video here) They are also bellowed, so they fold flat when not in use.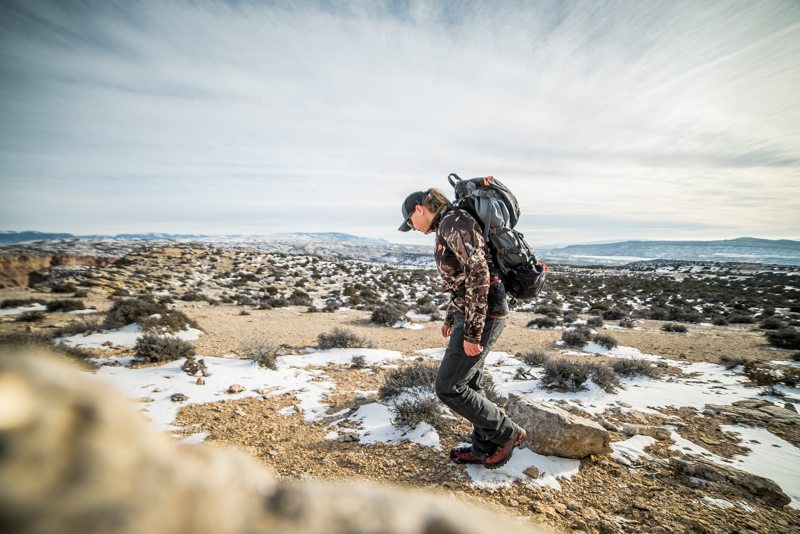 The full-length zipper is my second most favorite feature. Nice when the bag is completely full but great for when it's collapsed in day mode. The center access and zipper that comes from the bottom lets me get into the bag without unbuckling many straps and losing compression.
They've also incorporated a sewn-in meat shelf with two attachment points. One for bigger loads and another for smaller loads that fits closer to the frame to keep loads more elevated. However, the guys over at Kifaru really discourage using the meat shelf with a full load of gear in the bag, as it expands your load out rather than up and decreases comfort by a large margin. There's also a tab loop between the bag and the frame meant to hold a water bladder that, I think, works very well.
Dry bag between the Reckoning and frame, demonstrating the load shelf
The main bag up to the top of the frame (with lid folded over) runs 5000 ci; with the lid folded up and in use (like a collar,) the bag is 6500 ci. Each side pocket is 500 ci totaling the whole bag at 7500 cubic inches. I run mine with a guide lid (1200 ci) and two medium belt pockets (215 ci) on the bottom PALS webbing, giving me an additional 1660 ci in organization space.
In closing, the Reckoning is proving to be a perfect fit for most of the backpack hunts that I do. Expanding into an extended pack while being able to collapse to a very stream line and functional day pack is gold to me. The bags are starting at a respectable $284 at Kifaru.net
You can watch a video review by Jordan here Part I and Part II

You can ask Jordan questions or discuss this article here