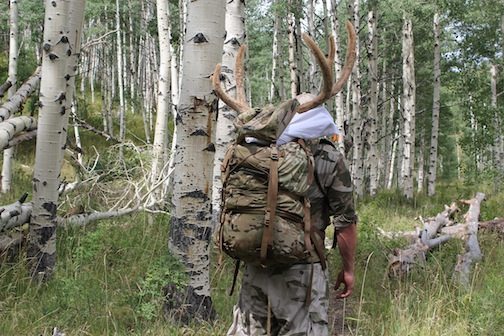 KIFARU TIMBERLINE
BY Aron Snyder

5lbs 9oz's
5,400 cubic inches of internal space,
1,800 cubic inches of exterior pockets
Dual layer 500 denier Cordura bellow sleeping bag compartment zipper,
Single layer 500 denier Cordura on everything else
Camouflage options…..Multicam, Foliage, and Olive Drab Ultralight or Aluminum frame stays
Lid options Flat Lid (standard with he pack), Hunting XTL and the normal Kifaru hunting lid.
I have always enjoyed all types of hunting, but heading into the wilderness, living off of what's on my back, has always been my true passion! To do this type of hunting, you're going to need a pretty good relationship with your backpack. If you think about it, you'll have this thing on your back more often than not and an uncomfortable pack that does not fit your hunting needs, can drive you off the mountain as quick as anything else. So since my addiction to backpack/bivy hunting started, I have been on a never ending quest for the perfect wilderness pack.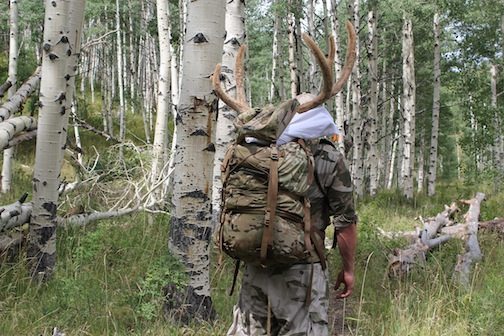 My search had almost ended a year ago when I met Patrick Smith (owner of Kifaru International) and started using his packs, but something was missing. The comfort was there, but I needed just a few more extras to make my "relationship" with my backpack perfect. So with a lot of encouraging (or pestering), a few headlocks and a couple old dog vs. young dog conversations, Patrick and I started to design the pack that would solve all of my issues.
Here is what we did to make this pack a reality:
First, I needed a pack that had a comfortable suspension, was functional, had adjustable load lifters, as well as an adjustable yoke. Since Kifaru already offers all of these things, half of the battle was already complete.
Next up was the overall weight. I wanted a pack that was sub 6lbs, but able to handle 80lb loads with extreme comfort, yet remain stable and sustain well over 120 lbs. With these type of #'s being thrown around, it was a no brainer to use the Kifaru UL frame stays; I also wanted the pack to be durable enough that I could throw it down a rockslide and still have it be "good to go" when I picked it up at the bottom. To get this type of durability and abrasion resistance, Patrick decided to use the tried and true 500D Cordura; using this material meant we needed to do some creative designing. When the bag was being designed, we left out all of the "non-mission essential" items, but kept the pack extremely functional. When I say "non-mission essential", I'm talking about the excess webbing on the hip belt, the plastic D rings and buckles, and the small useless pockets that hold nothing but toothbrushes.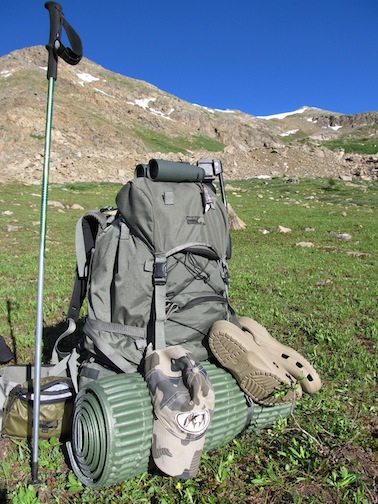 Now we needed to tackle the daypack issue! Having a functional daypack when you get 6 miles into the wilderness is a must, and digging around the bottom of a 5,000 CI pack for a headlamp is a pain in the ass, so we added two 300 CI zippered pockets between the packs horizontal compression straps and then crisscrossed a stretchy cord over them to keep everything from bouncing around when the pack was not completely full. These pockets would be large enough to keep water filters, headlamps, knives, GPS's and all the normal things you need when day hunting. For the tripod and spotter, we attached two vertical, 600 CI, non-zippered pockets. These pockets would work well for my spotter and tripod, but would also be perfect for raingear, tents, and any other large items that you may need to access or stuff in quickly. The size of the pockets were measured when the pack was full, so the size will shrink a bit when the pack is empty and compressed.
Once the pack was built, it was time for some serious testing. I already new the pack design was comfortable and functional for me, but I wanted to make sure to get several other hunters' opinions and thoughts before giving Patrick my thoughts; making this as non-biased of a test as I could! Every time I headed into the mountains, I would take a different buddy that had his own favorite pack. We would then readjust and swap packs half way through the journey and head back towards the trail head. These trips were anywhere from 1-4 nights and 10-35 total miles. Doing it this way would give each user a real life side by side "mountain terrain" comparison on comfort and functionality over several miles. I ended up having five different hunters (male), 2 non-hunters (male) and my wifeJ along with their favorite packs (varying in torso length and size), go against the Timberline head-to-head. I am pleased to say that the consensus of all testers favored heavily to the Timberline. With that being said, this pack was designed for multiday hunting trips, as well as day hunts, when you don't want to head back to the truck to grab another pack.
The 7,200 cubic inches will seem a bit overboard for 1-3 night trips, but as the pictures show, this pack is extremely versatile and will work well for the shortest overnight trip. Another thing to think about (Patrick may shoot me for saying this) is the option of cutting the material off above the first draw cord. This will cut the size of the pack down a few hundred cubic inches and that may be an option for some, but at a weight of 5lbs 9 oz's, I would not think the slight loss in weight would be worth it.
In 2011 I was lucky enough to spend 75 days in the field and packed out several animals with the Timberline with loads ranging from 35-150 lbs. If you look at the pack now, you would still think that it just came off the shelf (except for the blood stains). This type of durability is hard to find these days and I'm sure my current Timberline will see well over 150 animals before it needs a tune-up from Kifaru.