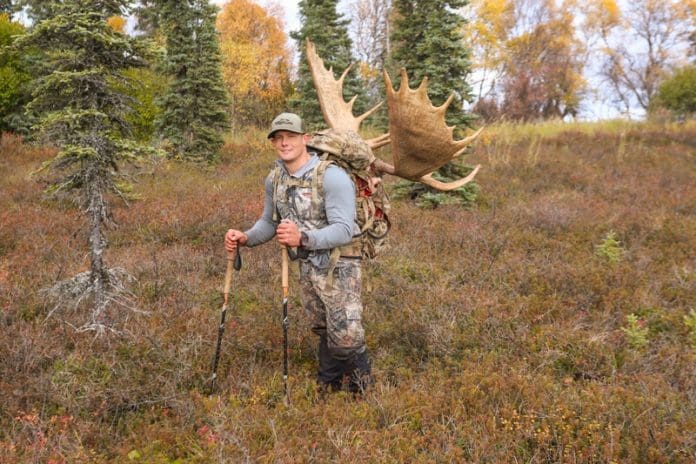 Layering 101
By Shaun Smith, Rokslide Senior Member
Technical clothing has advanced by leaps and bounds over the past few years. Gone are the days of denim jeans and cotton shirts. Hunters are now able to customize systems for the type and length of hunt they are going on. Materials such as merino wools, treated downs, polyesters, Gore-Tex and prima loft are just a few examples of how much clothing systems have evolved. These materials have drastically changed the way hunters are able to stay comfortable while on the mountain.
While deciding on a layering system, there are a few things I look at before deciding what to pack. First and foremost, I look for "Duel Use" items. Duel Use items include things like rain gear which will also double as a wind blocker during those chilly morning glassing sessions. A puffy jacked is another great example of a duel use item. Not only is a puffy jacket a fantastic insulation layer. It is also a great pillow when stuffed inside a stuff sack or pillow case.
Secondly, I break my system down into four simple categories. Base layers, insulation layers, outerwear, and accessories. Once you break a layering system down into categories like this, it really takes a lot of the guess work out of it. Systems are going to vary drastically depending on the time of year and climate you'll be hunting. For example, you'll likely not be wearing the same layering system for a spring bear hunt in Northern Idaho as you would for an August archery hunt in Southern Arizona. However, the principles of your system will be similar.
Layers, clockwise from lower left: base, outer, insulation, accessories

Base Layers
Base layers play a critical role as the foundation of any layering system. Not only do they play a major role in helping your body regulate its core temperature, they are also critical for wicking moisture away from the skin. Base layers come in multiple fabrics, weights, and thicknesses. Personally I prefer merino wool base layers over synthetics, even though there are some great synthetic base layers on the market today. I strongly believe the advantages of merino wool outweigh the advantages of synthetics. Not only does merino have fantastic breathability and dries very fast, merino doesn't start to stink nearly as fast as most synthetics do.

Insulation Layers
Insulation Layers are the meat and potatoes of any layering system. If you are cold and miserable on the mountain, chances of throwing in the towel sky rocket. With so many options available between down jackets, synthetic puffy jackets, soft shells, and vests, this layer can be quite overwhelming.
First thing you need to do while choosing this layer is figure out the "Where and How". Where will you be hunting? Is it wet, cold, warm, dry? These factors play a huge role in making an educated decision on what kind of materials your insulation layer must have. How will you be hunting? Active or sedentary? Backpack, horses, day hikes, ATV? Knowing what kind of hunting you will be doing is the final piece of this decision. If you are backpack hunting where weight is a major factor, you're most likely not going to want to utilize a heavy soft shell style jacket. A warmer lighter down jacket will do the job. If you're going to be really active during the hunt, you can get by with less insulation. My point is that you need to think through each choice with the actual hunt in mind.
Outer Layers
Outer layers are your first major layer of protection from the elements. Though this layer does not provide much insulation, it does provide protection from rain, wind, or anything else mother nature throws your way. Outer layers not only need to provide protection from the elements, but they also need to be breathable and durable enough to handle whatever you may encounter. Just as with the insulation layers, the "Where and How" also play a critical role in this layer. Are you going to be hunting where it is dumping rain on you every day? Or are you hunting somewhere that you can hunker down and wait out an afternoon thunder storm?
Accessories
Items such as gaiters, gloves, beanies, and balaclava's are all great additions to any layering system. The options are endless and can be custom tailored to your personal preference. Just as with the previously discussed categories, this one is very weather dependent. There is really no right or wrong way to go in this category, as these are just additions to your layering system. No matter what time of year or area I am hunting, I always have a lightweight beanie and lightweight glove at a minimum, and I will add from there as needed.
By thinking through each of the above categories, it will not only better help you understand the concepts of layering, but it will also make you much more efficient in the way you pack. Below are two of my personal systems I utilized last fall. One system was used for a drop camp moose hunt in Alaska and the other was utilized on my early season archery hunts. Though both systems differ, they both utilize the same principles discussed above.
Alaska Moose Layering System: (Non Backpack Hunt)
Base Layer:
Sitka Merino Zip T X 2
Sitka Merino Bottom X 2
Sitka Merino BoxerX 2
Insulation Layer:
Sitka Core Heavy Weight Hoody
Sitka Kelvin Puffy
Sitka Jet Stream Vest
Outer Layer:
Sitka Dew Point Jacket
Sitka Dew Point Pant
Sitka Timberline Pant
Accessories:
Sitka Shooter Glove
OR Goretex Mitten
Kifaru Fleece Beanie
Sitka Merino Beanie
OR Croc Gaiters
Early Season Archery System: (Backpack Hunt)
Base Layer:
Sitka Merino Zip T
Sitka Merino Boxer
Insulation Layer:
Sitka Kelvin Light Jacket
Outer Layer:
Sitka Dew Point Jacket
Sitka Mountain Pant
Accessories:
Sitka Shooter Glove
Kifaru Fleece Beanie
You can check out any of the Sitka items listed above at Sitka Gear

You can ask Shaun questions or discuss this article here

Backcountry archery hunter? Then check out Shaun's "Backcountry Proofing Your Bow" and "Practicing for Success"