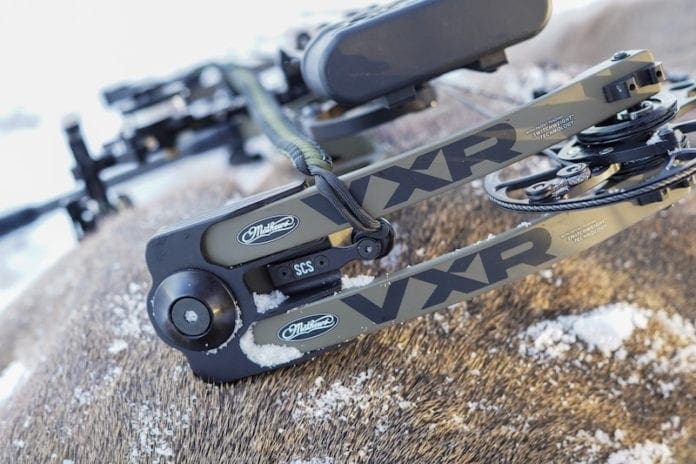 Mathews VXR
Crazy that another hunting season has come, and mostly passed, so quickly. It's like an early Christmas waiting for the bow manufacturers to unveil their new rigs each year. Over the last year, I've owned and shot almost all of the flagship bows from the major companies. To say Mathews had their work cut out to top their most recent flagship, the Vertix would be an understatement. You can read my review from earlier this fall on that bow here. I also reviewed the bigger brother of the Vertix, the Traverse here.  However, I'd wrap up the 2019 season with Mathew's latest release, the VXR. More info here
A New Challenge
My fall whitetail hunting schedule was going to be a fun, albeit a busy one. It would make the timing of getting the bow, setting it up on the fly, and then hunting with it a new challenge.  I got packed up in early October and only packed the Vertix, knowing the VXR would meet me somewhere along the route. While I had the Vertix and Traverse ready to hunt, I really wanted to get the new VXR some hunting time. This allows me to best help anyone in the market for a new bow as I'll be operating from first-hand experience, not theory.
My Mathews VXR Specs
My new VXR was going to be coming in 70#, 28.5" draw length, 85% let-off, and the new Green Ambush color. The VXR is available in two models. VXR 31.5" and VXR 28", these names also signify axle to axle length. I would be testing the 31.5" model.
Did I mention this would be a challenge?
Logistically, once I hit the road we were going to have to coordinate between four states and four friends in each as to where the bow would go. My bow press, set up supplies, and archery target were packed. This would likely provide the fastest turnaround time on a Rokslide review ever!
First Impressions
As the shipping date neared we got a location coordinated, and the bow was on the way. To be honest, I wasn't really excited about this "new" green color… even though green is my favorite color. However, Mathew's had asked that I go with this color as it would be a new launch for them with the VXR. First thing I noticed, to my surprise as I pulled it out of the box, it was pretty lit. Looking back, I guess I shouldn't have really been surprised.
The second thing I noticed was a little "tab" between the limbs at the upper part of the riser, that said "SCS".  I like to be up to speed, but I had no clue what this was. It didn't take long though to see that this was Mathew's new integrated Silent Connection System, designed for bow hoist rope, and bow sling attachment. It's actually an ingeniously simple concept, yet it works great. It's positioned for a perfect balance when bow is slung, and when raising or lowering to and from the tree stand. To note, the Silent Connection System is available online, not just at dealers, so upgrading your bow is a cinch.
Set-up On The Tailgate
After unboxing and admiring, it was time to get to work. This bow would also be set up with the IMX rest, and I would need to get my loop on, peep tied, and sight installed.
It was an abnormal weather trip. I wasn't really expecting snow in Missouri, in October!! Weather ranged from single digits to 70°. Packed for multiple states and a five-week trip, truck camper space was at a premium. I did, however, have a pretty nice "set-up bench"–the steps that slide into my truck receiver hitch, to get in and out of the camper. They would do!
Sighting In My VXR
Bow setup was super easy, it took less than 30 minutes, and I was ready to start shooting a few arrows. At the time, little did I know, actually how few I would shoot. I shoot an HHA Kingpin, 3 pin sight. I sight those pins for 20, 30, and 40 yards, anything beyond gets ranged and dialed. I've set up enough bows, and know my arrow set up well enough that it's pretty easy to gap and set my pins before even shooting. I did this and then shot my first arrow at 10 yards. I needed a few clicks right and up. Then shot 20 yards. Two slight adjustments and I shot one at 30. Now mind you, not only am I sighting in a new bow, I'm doing it the first couple times I've ever drawn and held this VXR. So, I'm also trying to get a "feel" for this bow.
The last pin would be arrow #4, at 40 yards. It landed less than an inch from center. I'd say I was pretty good, at least for a tree stand whitetail hunt. Not really wanting to try and sight in an actual sight tape, I opted to roll down and find out where my 50-yard pin would be. Arrows #5 and #6 are pictured below. I was dialed and ready to go, in six arrows, out to 50 yards, with a completely new rig!!!
Time To Hunt!
It only took a couple more minutes of hunting in Kansas to put the VXR to work, than it did to set-it up. Arriving late, getting setup and organized, I was tired and I told my buddy Nate, about 2 am, we didn't need to hunt in the morning. He said "It's Kansas, dawg, we're hunting." 4 hours later we were on the road. After an hour drive we crawled in the tree, a little late. An hour later we crawled out, and picked up my bloody arrow. The prototype IronWill broadhead had passed completely through the 146" 10 point, pictured below, that Nate had rattled in.

Drawing the VXR
Now let's rewind a little. The first time I drew and held with a release was to set and confirm the peep height. The draw cycle was ridiculously Smooth! Smooth! Smooth! I also noticed that the slight "drop" I felt in the Traverse was not there. At the wall, it locked in. It was SOLID. Immediately this bow felt like "home". I hadn't squeezed the trigger on it yet, but draw and hold were spot on. With everything set, it was time to shoot. As I shot those first six arrows, I was amazed. Smooth, quiet, shock-free, stable, balanced, easy, repetitive, natural, are all words that describe the process.
Switchweight Equals Versatility
With Switchweight Technology, there is no more having to swap out limbs. With this new technology, you can adjust your peak weight with the quick change of a mod. Available in 60, 65, 70, and 75-pound peak weights.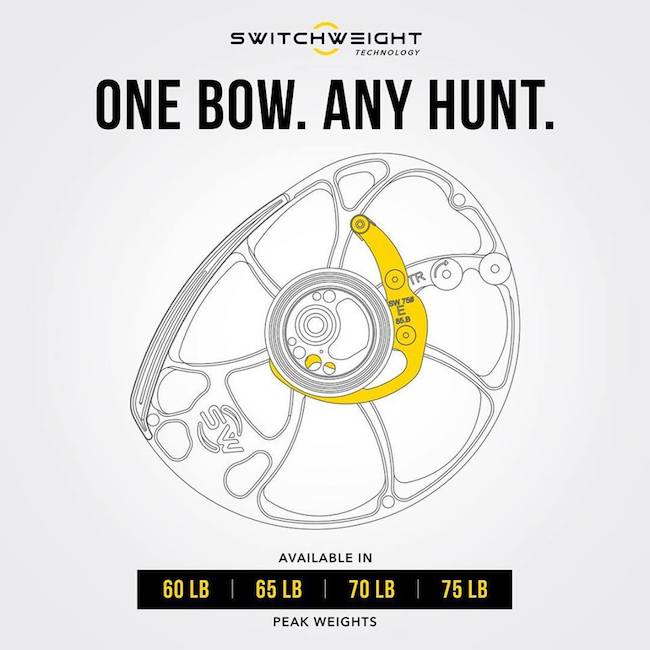 I asked for an extra (65#) set of modules, just so I could document actually how easy the Switchweight Technology is. I've since made the swap after I got back home. It literally takes less than three minutes. Simply put the bow in the press and compress until the cam allows rotation to remove two little screws on each module. Replace with the new module, tighten screws, and slowly add tension back to the bow. So simple. I'll be doing a quick video showing how to do this, and I'll link to the article discussion link below. Be sure and subscribe to that thread at the "watch button" on Rokslide's forum so you receive the updates and any member discussion.

Specs on the 31.5″
Brace Height – 6″
IBO Rating Up To  343 FPS
Axle-To-Axle – 31.5″
Draw Weight – 60, 65, 70 & 75
Draw Lengths – 26.5″ – 31″
Let Off – 80 or 85%
Weight – 4.66 LBS
The Mathews VXR 31.5″ also has the Crosscentric Cam and Engage Grip, as I've previously reviewed on the other models.
Mathews Crosscentric Cam
The Crosscentric Cam allows the weight to stack smoothly through the draw cycle and then transfers the maximum amount of efficiency back to the arrow. This produces higher arrow speeds and more consistent accuracy, all while reducing wasted energy that creates unwanted recoil, vibration, and sound.
Mathews Engage Grip
The Engage Grip is new for 2019. This was designed for increased consistent hand placement and a reduction in torque, which results in greater accuracy. It's a slim soft grip, with an integrated flow into the riser, which is machined out to make the thumb and riser mesh as one. This blend makes finding that repeatable sweet spot natural.  In English that means it's comfortable as all get-out, and when it comes to crunch time, you'll be ready. This will make a majority of us better shooters.
Mathews VXR 31.5″ Customization
It's also available for custom build on Mathew's Bow Builder. If you haven't, jump on that page and see how easy it is to put together a bow according to how you hunt. With Bow Builder, it's a quick and simple process that you can run through and customize literally everything on your bow. Multiple color options for riser and limbs, strings and cables, dampers and accessories.
Feature Tech Extended 6-Bridge Riser
Stability is key to accuracy – taking a strategic approach to the riser design led to a platform that cut weight while maintaining maximum rigidity in critical areas. This new riser design allows the VXR to hold like a target bow but handle like a dagger. Not only does it do all that, but it also looks pretty cool too.
You can read and watch more about the pre-release, real-world testing done at the Proving Grounds.
I've been able to shoot this bow a lot since that initial setup. It's honestly quite unbelievable. I feel cliché saying it because I've said it about other Mathew's bows, but they raise the bar every time! As of now, this bow is beyond anything they've ever built. At least in my opinion and for my style. By the time you read this, the Wisconsin early archery and rifle season will have come and gone, and I'll be back in the tree stand hoping to arrow another one with this gem.
EDIT: After submitting the article, I was able to shoot this doe with the VXR as well. I was spot and stalk scouting when she jumped out of her bed in the snow. She stopped 52 yards away, not knowing what I was. When the 40-yard pin settled just over the top of her back, I executed the shot, and she traveled just under 60 yards. The encounter lasted about 10 seconds. I didn't have time to think or range find. I just acted, and everything was automatic. This bow is already an extension of me.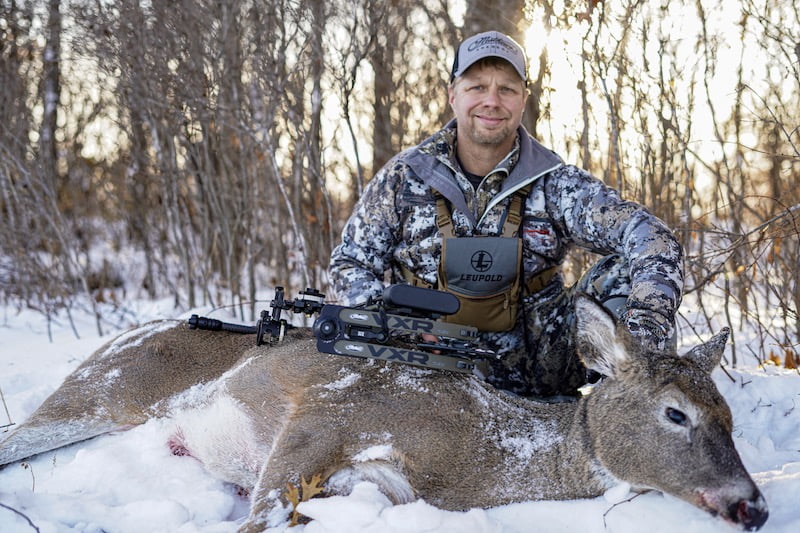 Conclusion
I've never reviewed a product where I couldn't find something that I didn't like, or that I thought could be better…until today. This is literally the nicest bow I have EVER shot…..it already makes me wonder what will be dropping a year from now!!!
If you're looking for a smooth, quiet, balanced bow that seems to have radar-like target acquisition abilities, look no farther than the new VXR 31.5 from Mathews. Be prepared though, you'll likely be buying a new freezer and clearing some wall space! Stay tuned as I have the VXR 28 on the way and will give you a few thoughts and comparisons on the shorter version. Order your new Mathews VXR here.
You can comment on this review or ask Les questions here.