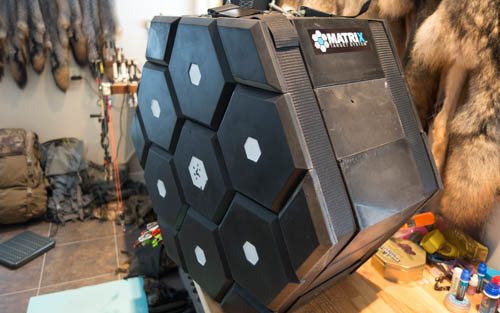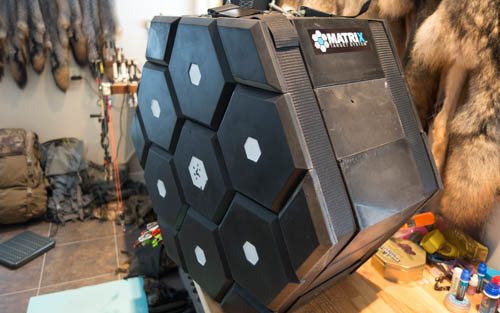 Matrix Target System Review
by Tony Trietch, Rokslide Moderator

At first glance, the Matrix Target doesn't look much different from many other archery targets out there. It is black with white aiming points. I admit that I scrolled by it a few times before I read up on its design features and realized I had to get my hands on one.
THE NUTS AND BOLTS
The Matrix Target System was designed by Kevin Peterson and his son KG when they saw a real need for a better target. They are DIY public-land hunters from Worden, Montana .
When practicing at longer ranges, most of us shoot at the middle to prevent arrow loss or damage should we get a flier. With most targets, once the middle is shot out, the target gets relegated to short range duty so we can shoot the corners. Kevin and KG designed The Matrix to solve that problem by simply rotating the aiming points to keep a fresh center.
The Matrix has more surface area to shoot than most popular targets
This is a list of goals that Kevin and KG wanted their target to obtain:
• Have interchangeable, replaceable modules
• Large enough to shoot confidently at longer ranges
• Light enough for one person to carry
• The ability to shoot single modules for elk-camp type scenarios
• Build the target with a material that could handle all arrow tip types
• Easy arrow removal
The Matrix Target System with its interchangeable modules gives you a target that should last longer than any other target available, simply by rotating the hexes.
The target is made up of seven hexagons and six diamonds (corners). These form the shooting surface. Two heavy duty 2″ straps with quick release buckles hold it all together by wrapping around the perimeter. Rotating the hexes is easy and done by simply loosening the straps enough to pull the hexes apart. Each side of the target is shootable, giving you 14 different modules to rotate. When a module wears out on both sides, it can be replaced with an order to Matrix for $45 per module. The target is made of proprietary hybrid polymer designed to offer superior self-healing characteristics and a resiliency to tearing. The corner diamonds are made with polymer that is a bit stiffer than the Hexes and should not need to be replaced.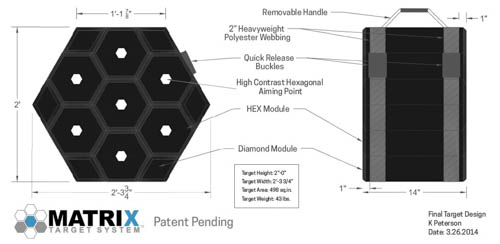 The Matrix is 27.75″ wide corner to corner and 24″ at its narrowest width (flat side to flat side). It is 14″deep and weighs in at 43lbs. You can build a larger or smaller custom target simply by adding or removing hexagons and diamonds. The target is plenty big enough for long range practice and you can throw a single hex into the truck for that shot or two before a hunt. Each module has one large aiming point and one small aiming point on the other side.
The target is made in the USA and is sold direct-to-consumer, including replacement parts, thus reducing the overall price of the system. It is not cheap at $295 but according to Kevin, it would probably sell for over $400 if sold through box stores. This consumer direct business model helps reduce the cost.
TOOLS TO TEST

I received the target to test in early January. My shooting was done indoors as it has been a windy and snowy start to 2016 here in the north country that I call home. All shooting was done at 15′ or less, with the target at chest level. I used my 70lb/29″ Hoyt Nitrum Turbo with five different arrow configurations:
27″ Easton Carbon Injexion .330 @ 436 grains @311 fps
27″ Easton Axis .260 @ 500 grains @288 fps
27.75″ Gold Tip Kinetic Kaos .300 @ 463 grains (without ballistic collar) @297fps
27.50″ Gold Tip Kinetic Pierce .300 @ 443 grains (with Ballistic collar) @ 307fps
27.125″ Victory VAP Elite .300 @ 429 grains @ 312 fp
I tested the Matrix with several different arrows and it held up to all of them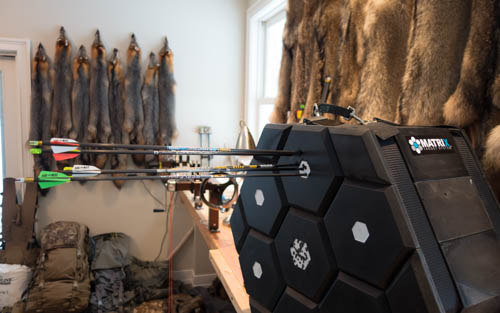 FIELD POINTS
On a new (un-shot) hex with field points, penetration was between 6.50″ & 8.25″. The Axis penetrated the least and the VAP the deepest. After a few hundred shots concentrated directly in the center area, the same arrows penetrated the target by an average increase of 3″ with no arrow deeper than 11″. All the arrows pulled out with ease one-handed and became easier as shots "softened" the hybrid polymer foam. Shots that hit in between the hexes showed no difference in relation to penetration or ease of removal.
BROADHEADS
For the broadhead (bh) testing, I had to exclude the Easton Injexion due to not having any Deep 6 bhs available. The other arrows got a Wac 'Em 3-blade screwed on them. I found it interesting that when my test arrows were fired into new un-shot foam with a fixed blade bh installed, the arrow penetrations were all much more similar across the board than they were with field points. The penetration spread was 7.50″- 7.875″ with the Wac 'Em 3-blade. The arrows were easier to pull out than with field points. I assume this is due to the foam being sliced and not able to seal around the shaft.
When the bh tipped arrows were fired in to the Hex that had seen hundreds of concentrated shots, the Matrix held the deepest penetrating arrow to 12.25″. All arrows were close in average penetration with the bh. Obviously we aren't going to make a habit of hammering away with a bh at the same center dot from 10′ away as this would tear up any target fast. However, I was very pleased with how well the Matrix handled the punishment the testing provided.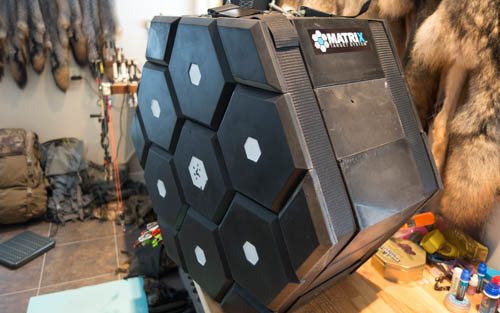 Like any target, the foam began to sliver once broadheads were fired repeatedly into the center. I was not trying to spread out my shots, I was trying to punch a hole through it. The Matrix held up great!
CONCLUSION
The Matrix Target System is not inexpensive and that will be tough for many to get past. It is however a quality piece of American made gear that is designed to last for a very long time. I tried my best to shoot out a hex in the past month and it has held up.
Once an archer understands how long it can last him or her by replacing hexes that become shot out, the value becomes clear. I expected a lot due to the cost and hype surrounding the Matrix and it not only lived up to the hype but exceeded my expectations. The Matrix Target System and its replaceable hexes give the user a renewable target where they can always shoot the middle. For those who like to think they are "getting their money's worth" out of a product, the Matrix won't disappoint.
The target and other accessories including extra hexes are available directly from Matrix Target's website here. You can follow them on FB here or Instagram @matrixtargets. If you have any questions you can call/ text Kevin at 406-698-8235.

You can ask Tony questions or discuss this article here
Author Tony Trietch was born and raised in Northern Michigan by outdoorsy parents. He fell in love with the sport of pursuit at a very young age. Decades later, Tony does not shy away from the fact that he has built his career and life to cater around his hunting. He is a multi-weapon hunter and spends 60-100 days per year out West (and more at home)scouting and hunting. From solo backpacking for elk and velvet mule deer, to sleeping in a farmer's barn so he can pursue coyotes and whitetails– everything is fair game! A self proclaimed gear junky, Tony looks forward to sharing his experience and knowledge with all of Rokslide.