Parents of outdoorsy kids are seasoned veterans in the perpetual struggle to find durable, well-designed, youth-specific gear. Aside from the bows many of us owned as kids, I had little to no experience with youth archery equipment. Both of my girls, 11 and 13, had expressed interest in taking up archery, albeit for different reasons. My oldest daughter Aubrey wants nothing more than to take a Dall sheep with a bow, while my youngest, Kyleah, is content just to shoot 3D targets in the backyard with me. Searching the web for youth bows turned up a few options, but it quickly narrowed down to what, in my opinion, is the only real option: Mission Radik (link here). The Mission is by one of the most trusted names in the industry: Mathews Archery.
The Mission Radik retails for $339. It checked all my criteria boxes—including the poundage capability to hunt all big game in Alaska—but the big one was that the bow can be adjusted to accommodate growing teens.  No more outgrowing an expensive bow!  Although I'd purchased a Mission Radik in right-hand in 2020, with my own money, I needed a lefty for Aubrey. I worked with Rokslide to arrange a review and soon had the comped left-handed bow on my doorstep.

Mission Radik
Mission offers a wide range of color options to suit each individual personality. For our house, we'd be rocking a right-handed "pink splash" and a left-handed "green splash." One of the bows inherited an older sight and rest that I already had lying around. For the second bow, we opted to equip it with the Mission Bowhunter Kit for an additional $199. Included in the kit are a 5-pin TruGlo sight, QAD Hunter rest, and Apex 5 arrow quiver. More info here.
Mission Bowhunter Package can be found here.
Setting Up The Radik
This bow can absolutely be set up without taking it to a local pro shop. Mission has several videos on their website that will walk you through adjusting draw length and draw weight. That said, rather than fighting very windy and rainy conditions outside, we opted to take the bows to our local pro shop. We're fortunate to have a great shop close to the house with an indoor range. After a few short minutes working with the staff, each girl was set up and sending arrows downrange.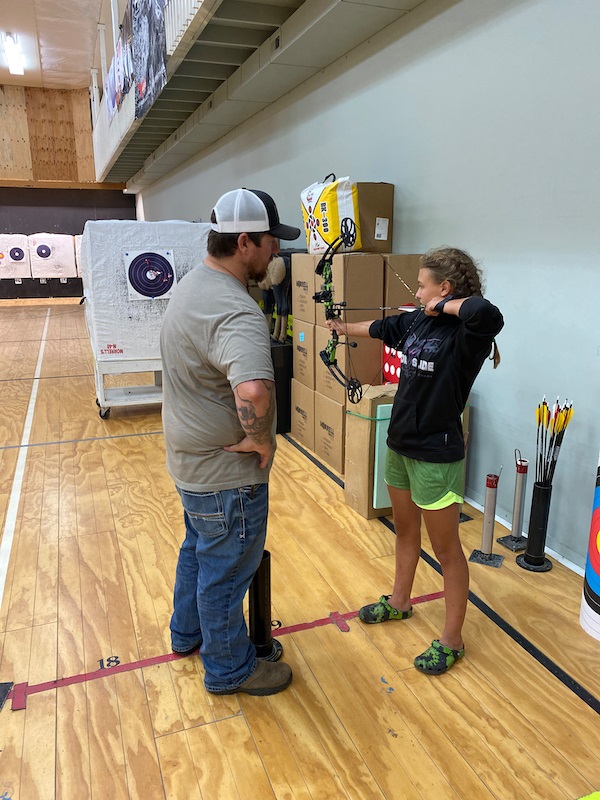 Mission Radik absolutely hit the mark with their adjustability. A Fast Fit cam system offers draw lengths from 17-28" in 1/2" intervals, all without the need for a bow press in less than 30 seconds. Draw weight ranges from 10-50 lbs which makes it possible to hunt all big game in Alaska. With an 80% let off, holding draw remains manageable for extended periods.
Arrow speed is a mixed bag that ultimately depends on the final draw length and weight. While I do not have the ability to check speeds at the house, once draw weight reached 40lbs, flight path, and penetration into targets were what I would consider sufficient for medium-class species hunting purposes.
Draw length and poundage adjustments are easy enough that my girls were able to complete the task themselves with my oversight.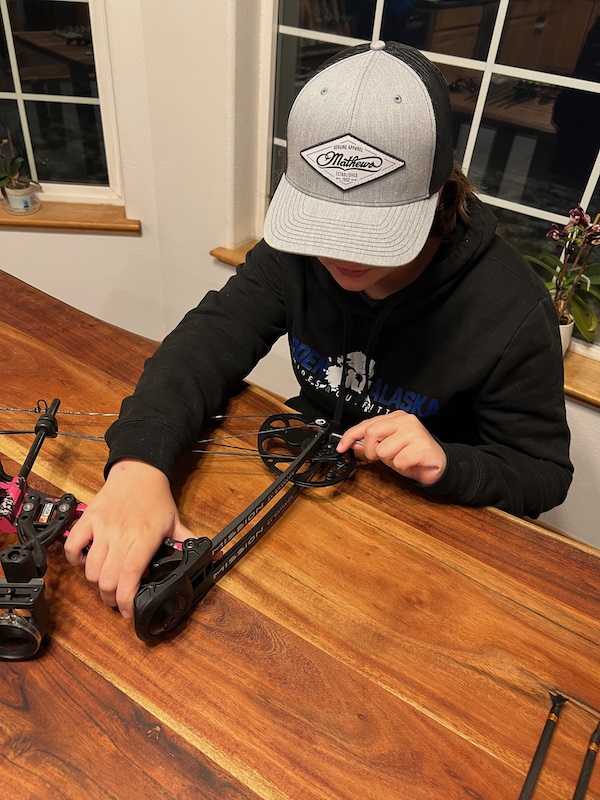 Check out this Mission Radik Video on draw length adjustment:
Mission Radik Features
The Radik comes loaded with features that set it apart from a host of adult bows with wide ranges of adjustability. One of the best attributes for small shooters is its axle-to-axle length at 28" and physical weight of 3.04 lbs. This combination causes little to no shoulder fatigue, helping to keep groups tight and arrows finding their mark. This is a huge advantage for building shooting form and muscle memory since the girls could get loads of reps in.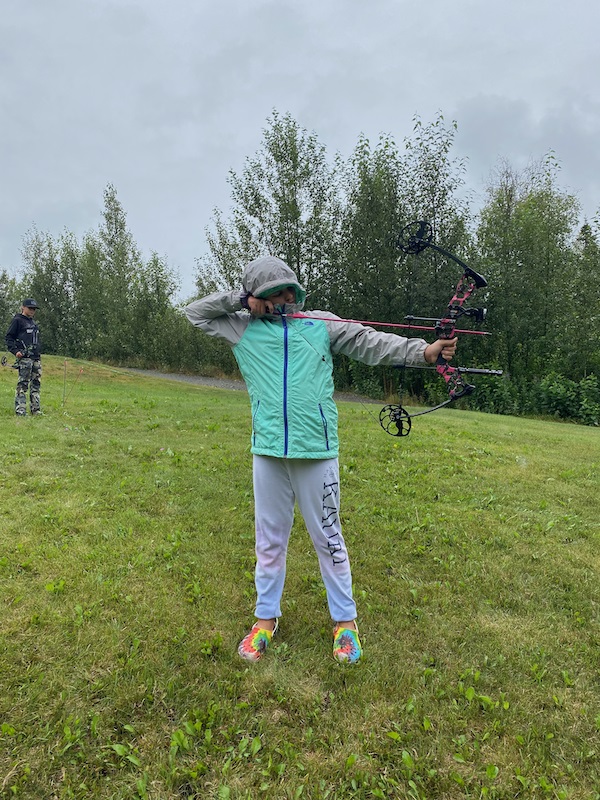 I wanted to test the bow for myself with draw length, and poundage maxed out. A firm, confident backwall and relatively quiet at the shot made it surprisingly pleasant for me to shoot.
Starting With One Pin
To help the girls get used to shooting with a pin sight, I removed all but the 20-yard pin for the first few evenings of shooting. There's already enough for a new shooter to remember without having to decide which pin to use.
If I had a critique for the sight provided in the Mission Bowhunter Kit, it would be that the sight must be inverted for left-handed shooters. This positions the sight bubble on top of the sight rather than its traditional bottom positioning and leaves the logo upside down. Not a huge issue, but aesthetically it seemed off. As confidence and skill improved, pins were added back into the sight and adjusted for 10-yard increments.

Adjusting Draw Weight
With 20 yards and extremely low draw weight mastered, we marked the poundage adjustment bolts with a silver Sharpie. This makes it very easy to track revolutions and ensure equal limb adjustment as we worked our way to higher poundage. Starting with minimal poundage reinforces technique and fundamentals, but with the arrow traveling that slowly, any error in execution is magnified.
Arrows
For the initial low poundage, we were using cheap arrows that I had on hand. Once speeds increased, and I was convinced we were done losing arrows, a trip back to the local pro shop had them each a set of custom Easton 6.5 carbon arrows. I included weighted inserts to bump up total arrow weight, and went with 125-grain broadheads for the hunt. We chose 125s because that's what I shoot, and in the event either of us needs to use the other shooter's broadheads, there will be no issues. On a side note, the B3 Archery DeStrukt that we chose comes with a practice head which doubles as a small game point. What a fantastic idea, especially for kids! Stump shooting, checking zero, chasing grouse along the trails; the possibilities are endless.
Hunting With The Mission Radik
Aubrey at 13 years old is flat out determined to hunt with her bow. After a few months of practice and strengthening, she can now pull 40 lbs. That's the minimum for medium-class big game in Alaska.  She has been grouping very well on our 3D bear target at distances out to 40 yards.
To reward her for all the hard work, we planned a trip into Prince William Sound to chase bears and blacktails over Veteran's Day weekend 2022. We really wanted to have a great hunt story to accompany this review. But mother nature had other plans, and we were sidelined due to the weather. Regardless, we'll be ready for and anxiously anticipating spring bear next year.
My Final Thoughts on the Mission Radik
The Mission Radik by Mathews is not just a repurposed adult bow that can be adjusted down to fit youth archers. This is a legitimate youth bow capable of taking just about any big game animal in North America. Combined with its ease and range of adjustment, and a very reasonable price point, the Mission Radik is a must-have for growing archers. View all specs and colors, and find a dealer here.
Comment on this review or ask Kyle questions here.
Check out the rest of our archery articles here.