I am a big fan of spotting scopes and carry one on just about all my scouting and hunting trips. Even when I'm hunting rutting elk with my bow I have a hard time leaving it at home. I like a spotting scope that is lightweight, clear, bright and has a wide field of view. The Nikon Monarch Fieldscope ED82-A looked like it would check those boxes so I was interested in testing it out. After using one for a full year I came up with some things I liked and some things I didn't.
Initial Impression
In the box, I found the Fieldscope 82ED-A spotting scope, the MEP 20-60 eyepiece, lens caps, and a full cover with a carry strap for protection in the field. The body is aluminum with a textured finish and also features rubber armor at the back end, near the eyepiece. I feel that some rubber at the objective end would have been a nice addition and help protect the spotter when not using the cover. The objective lens has a slide-out sunshade for glassing in bright conditions. The MEP eyepiece is very smooth and is marked low to high instead of 20 to 60 like most other spotting scopes I've used. Overall, I was impressed with the quality and ready to try it out.

Nikon Monarch Fieldscope 82ED-A Key Specs
20-60X magnification
82mm Objective
111 ft FOV at 20x at 1000 yds
4.1mm exit pupil at 20x
57.8 oz
Waterproof and Fogproof
Feel and Ergonomics
The fit and finish of the 82ED-A are very nice. The sunshade slides out smoothly and easily. And, the focus and zoom both turn smoothly. We all know the "angled vs straight" debate will continue without end and there are people who like both. I prefer angled and was comfortable with the angled eyepiece of the Fieldscope 82ED-A. The eye relief was good and allowed me to get a full view throughout the power range without having to touch my eye to the eyepiece. The balance was good on my tripod and made it easy to glass since I didn't have to over-tighten the tilt on my Outdoorsmans Panhead to keep the spotter from tilting.
Nikon's smooth and fast "Optimized Focus" ring in the middle of the body makes it easy to find that perfect focus. One thing I don't care for is the "offset" eyepiece location. As you can see in the photo below, the body is quite wide below the eyepiece and it mounts just right of center. This makes the spotter wider and adds bulk.

Glass Quality
My personal spotting scope is a Swarovski ATS 20-60x80mm so that is what I compared the Nikon Monarch Fieldscope 82ED-A to. I had both spotters out a few times during the early morning and right up until dark. I felt there was a very small advantage in brightness with the Swaro and it might allow another minute or two at last light before you can no longer see. Edge to edge clarity was so close for me that I would call it a tie. The Nikon field-flattener lens really produces a great image. I feel the color tone of the Nikon is very neutral and didn't notice a strong blue or orange tint. Chromatic aberration correction was also very good.
Eyepiece Options
The Monarch Fieldscope that I tested included the MEP-20-60 Eyepiece which works great for all around spotting and digiscoping. In addition, Nikon also offers the MEP-30-60W and the MEP-38W for those who like a wider field of view. All three eyepieces are compatible with the straight and angled Fieldscopes.
Digiscoping
The Nikon ED82-A pairs very nicely with my Novagrade phone adapter or camera adapter. The eyepiece shape creates a solid mounting surface for the Novagrade to attach to. The 82mm objective lens and 4.1mm exit pupil provides good brightness for the photos. And, the optimized focus ring made it easy to get a sharp image. You can read more about the Novagrade phone adapter in my review here.
Sam Weaver's Thoughts
Last fall I was talking with Sam and he mentioned he was going on a desert sheep hunt with a friend of his. Sam and I both thought it would be a great chance for Sam to test out the Nikon and give his feedback.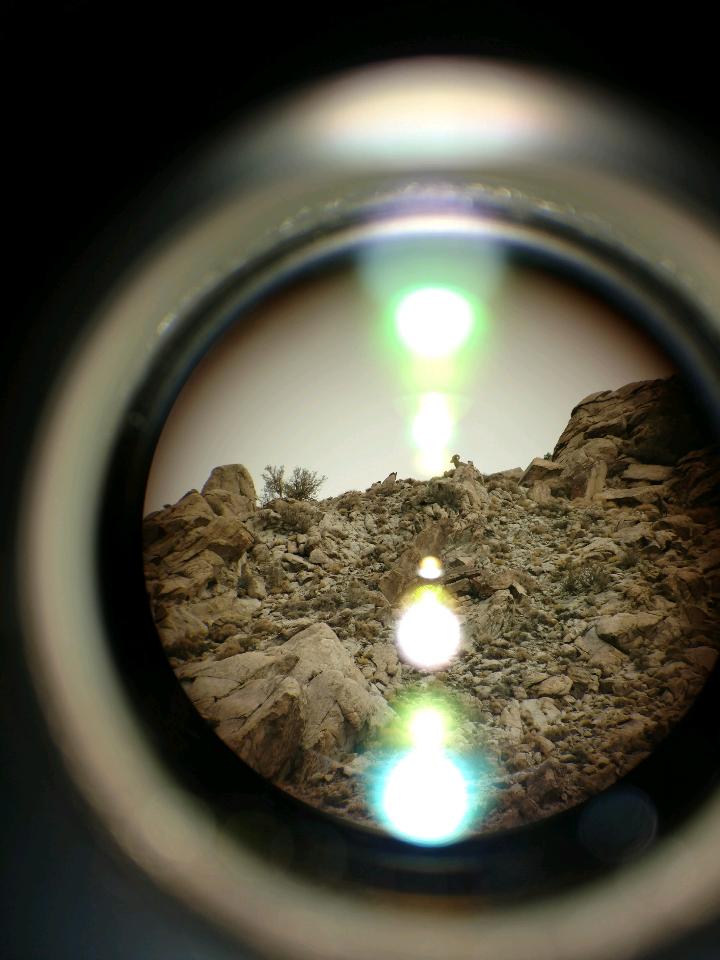 " Compared to my Vanguard the Nikon eyepiece seemed pretty large but it's almost the exact same diameter as the Swarovski ATS and I didn't find it uncomfortable at all. The Nikon really has a great image all the way through its power range. At high power, I did find the eye relief to be a bit touchy but never had an issue not being able to get a full in focus view after moving my head a touch. I didn't think I would like not having a micro adjust focus knob but it's a nonissue after a couple of times getting used to the focus wheel. My partner has the same type of focus on his Swarovski and didn't notice anything worth mentioning."
"Overall I was impressed with this Nikon. It was much better than my Vanguard which I expected but I also preferred the view of the Nikon over the Swarovski which surprised me. It truly more than held it's own. It's a noticeable difference in weight being heavier than the Swarovski but I didn't put either on the scale. If I find one of these Nikons for a good deal I'm going to be buying it."

Conclusion
Nikon offers a lifetime repair/replacement warranty on the Fieldscope so you will be well taken care of if there is ever an issue. I think the Nikon Monarch Fieldscope 82ED-A is a great scope and at $1599 is a good value. I would feel confident relying on it for any hunt. If you are in the market for exceptional glass to help count that last growth ring or find that extra antler tip the Nikon Monarch Fieldscope should be on your list for consideration.
You can comment on this article or ask Justin questions here.