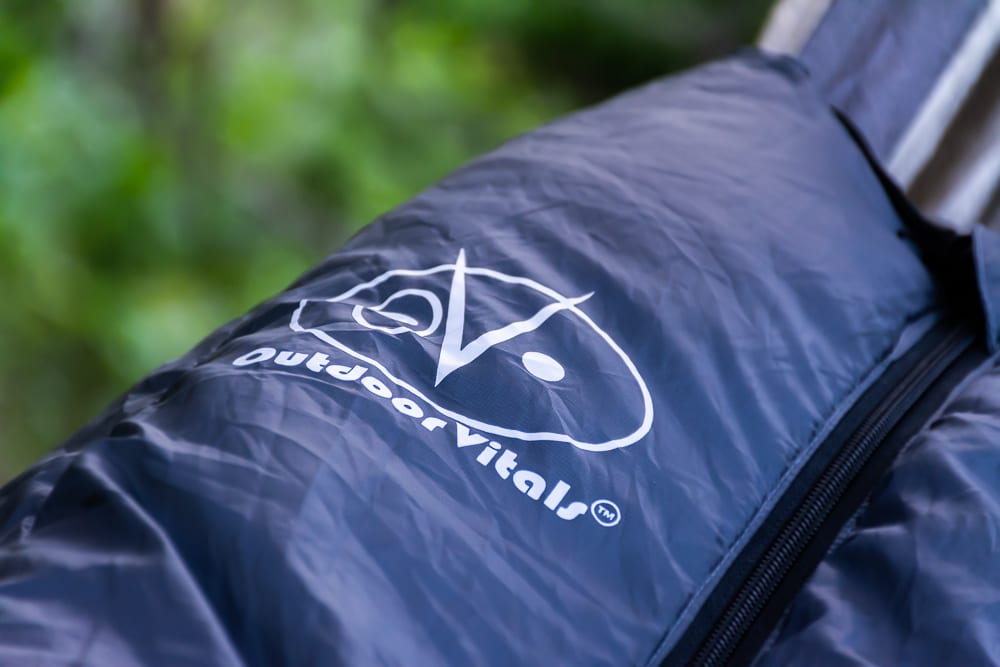 Backpack hunting is a test of tolerance of misery. Everything about it is hard. Heavy packs, carrying weapons, mobile camps, varying weather, and the list goes on.  The industry has responded with products that lighten loads, and improve comfort, lessening the misery in small increments. Multi-purpose gear is at the forefront, dropping both weight and cost for the hunter. From backpacks that haul camp, weapons, and boned-out game to tents that are specifically designed to use trekking poles for support, multi-use is the name of the game.   Outdoor Vitals had this in mind with their innovative MummyPod Sleep System.
Outdoor Vitals is a small company founded by entrepreneur, backpacker, and hunter Tayson Whittaker. His goal was to lighten loads, improve comfort, and protect the wallets of backpackers and hunters. Essentially, the MummyPod is a down sleeping bag with a center zip and foot box that opens or closes according to need. Sleeping on the ground under a tarp? Keep the foot box zipped and you have a lightweight down sleeping bag. Want to get off the ground into a hammock? Just open the foot box and thread through your hammock, and you have 360-degree insulation that comes in lighter than most top quilt/bottom quilt combinations. I measured my 15-degree version right at the advertised spec of 2 pounds 9.2 ounces including the cordage and stuff sack (there is also a 0-degree option). Without doubt a great idea, but how does it work?
Sleeping bag
This is a very good sleeping bag. Construction is good, and right in line with the price point. Materials are light, and stitching looked good. While the MummyPod didn't have the extra-durable feel of some of the expensive high-end competition, I didn't have any durability issues with it. The center zip includes a new style of zipper pull from YKK that won't snag on the fabric. Every sleeping bag should come with this zipper! The StormLOFT DWR-treated down lofted up really nice in short time. Overall, I kept plenty warm in this function, even on a couple of nights right down near the 15-degree rating.
Hammock Insulation System
Initially, I thought this would be the best use of the MummyPod, but my experience after many nights in the MummyPod and the hammock was a bit of a mixed bag (pardon the pun). The good news is it works! With the included bungee cordage adjusted to minimize dead air between the hammock and the underside of the insulation, and some practice stuffing the foot box flap, I was able to seal up the tube pretty well and maintain a comfortable micro-climate in the hammock. The neck baffles worked better than expected for sealing up the head end of the hammock, too.
All wasn't perfect, however, as the nature of the product has a couple of side effects compared to a two-quilt system. First, it constricts the amount of space in the hammock, which means you can't get a good diagonal lay. This makes it harder to get a flatter lay, and especially hard to get to your side or change position. Hammockers that are just back-sleepers won't find this much of a drawback.
The other issue for me was that although space is constricted, there is still some air between you and the top insulation. It wasn't a problem keeping the air warm with the MummyPod sealed up properly, but if you prefer having your insulation right against you (you know … all nice and cuddly) it just doesn't feel the same. This won't be an issue for everybody, but I soon realized I prefer the more blankie-like experience of a top quilt.
MummyPod Price and Warranty
The MummyPod offers excellent value as a sleeping bag alone, but ridiculous value as a sleeping bag and hammock insulator combination. At the time of this writing, the standard down 15-degree MummyPod (fits up to 6') lists for under $250. Many competitor sleeping bags are closer to $500, while a sleeping bag, under quilt, and top quilt can easily go over $1000. OV says they can price aggressively with their direct-to-consumer model. In value, the MummyPod is hard to beat, and hunters can take those savings and put them into tags or travel. Outdoor Vitals offers a standard warranty against defects in craftsmanship but excludes user damage and normal wear. The warranty is only for the original buyer, so keep your proof of purchase.
Conclusion
Outdoor Vitals has a clever product that nobody else offers in the MummyPod. It is super versatile and works as intended at a low price to provide a ton of value to the backpack hunter. I found no drawbacks in using the MummyPod as a traditional sleeping bag. The versatility of using it as hammock insulation is a definite plus, especially for any adventures where you may use it in both capacities. However, for designated hammock trips, I will be sticking with a two-quilt system.
The unique and useful MummyPod shows Outdoor Vitals is an interesting company with a great vision, and I look forward to the versatile products they have coming next.
You can comment on this article or ask Matt questions here.