A person would write a book that rivals War and Peace with the number of Rokslide forum threads discussing the merits of tarp tents, multi-person tipis, lightweight stoves, bug defense, and how to keep water from soaking your sleeping bag when it rains. Then, late last winter, Argali announced a tent solution that could solve these issues for the western hunter with one system. Enter Argali's new Absaroka and Rincon tipi-style tarp tents.
Argali Absaroka Tents
Both tents can accommodate an insert, are compatible with a lightweight stove, cut ounces compared to other options, and have no-sag fabric to make sure the walls do not cave in when it's wet from dew or rain. As a hunter who values versatility, lightweight, and multi-season use gear, I was excited to take one for a spin this spring. Check out mtnwrunner's thread for a review of the Rincon 2P.
I went with the Absaroka 4P tent. For one, my current 2P systems are snug with my significant other, let alone our gear. Also, if I want to carry a lightweight stove, I would likely be hunting with a partner. Plus, last year I noticed on a backpack bear hunt with a buddy that most traditional tents are heavy. If I am going to be hunting with a good partner, I want to split the weight and make it as comfortable as possible without carrying a ton of bricks in my pack.
Absaroka 4P Specs
The tent weighed 31 ounces, with the insert coming in on the nose of the advertised 34 ounces on my scale at home. The 5-piece center pole that Argali sells came in at 14 ounces, and then just over 11 ounces after I lost a segment of it somewhere on our turkey hunt. Yes, the tent still pitched great with the lower ceiling, though if you buy the center pole, I recommend making sure you always strap them all together when not in use to keep track of them. I also pitched it with trekking poles. They weigh 20 ounces, though I normally would not count them as additional weight on a hunt since I carry them all the time.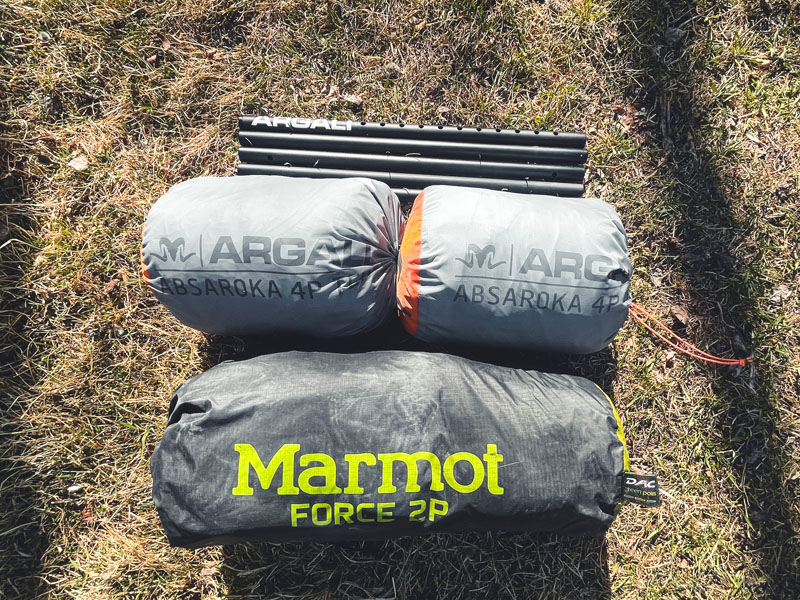 Lightweight
The tarp by itself is lighter than most comparable 4P tipi tent canopies and made with no-sag Silpoly fabric by a company that specializes in high-quality tent construction. Not to mention, there is a removable stove-jack flap they call the ARC Removable Stove Jack System. That easily trims a couple of ounces when not running a stove. It comes in at a price competitive with the least expensive of the tents in this category, including those in the traditional backpacking/recreational space.
For those who want all the nitty-gritty details on specs, listen to the podcast Brad Brooks did with Jordan Budd on the Rokcast.
While specs and comparisons are incredibly helpful for making a purchase, I wanted to focus on how the Absaroka performs in a variety of conditions in the field with this review and weigh the pros and cons of each scenario.
About the Test
I had the Absaroka set up for a total of 12 days. It was set up five different days in varying conditions in my yard to look at how it handled moisture, and wind, and to seam-seal it. I slept in it seven different nights from April to June in the mountains. Thanks to the moody spring, I got the gambit of conditions in those three months; from frosty low 20s mornings in early April to soggy and windy spring days in May, to warm and buggy conditions in June.
Argali Absaroka In The Wind
In the wind, the tarp tent held up notably well. First, I set up the tent in my yard with a stout prevailing wind and 50+ mph gusts to see how it would do. I purposefully did not run extra guy-out lines to see how sturdy the tent would be without them because, let's face it, there are always moments in the middle of a hunt when a storm can blow in or out and catch a person off-guard with sudden gusts. I can confidently say the tent held well in strong winds without the extra guy-outs and remained taut throughout the wind event.
Next, we went on a weekend-long turkey hunting trip. Those temperatures were cold at night with lows in the low 20s and highs in the 50s. It reminded me of October rifle deer hunting.
Spring Bear Hunt
Then, I set up my tent in the mountains on a May bear hunt and received a combination of soggy conditions and sustained winds in the upper 20 and low 30 mph range. The snow had just melted in the area, so I pitched it on ground that was the closest thing to a flat spot without being in standing water and muck. Because of the wet ground, I added the insert for this trip and it kept me from getting any of my gear muddy or wet.
Lastly, I took it out on my first deer scouting trip in June. I set up the tent on a rocky point about 30 yards back from my glassing knob. It was warm with 80-degree days and upper 40-degree nights. Plus, the bugs were out.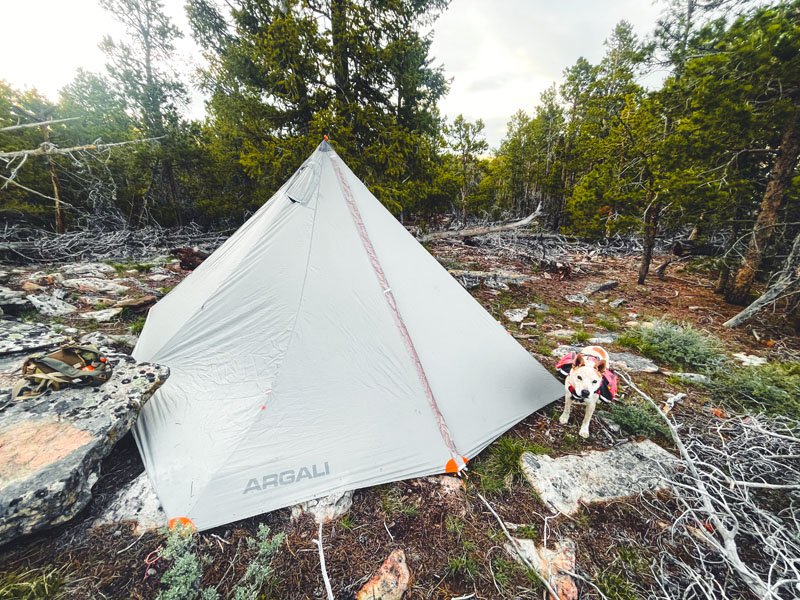 How does it pitch?
I am admittedly an impatient tent-pitcher. I want to get it set up as quickly as possible and crawl in for the night or get out to the glassing knob for the last few minutes of light. That works great with a standard pup tent, but not necessarily for tipi tents.
The Absaroka pitches relatively quickly and was self-explanatory but I found myself needing to be deliberate with my staking to ensure it pitched evenly on all sides. I kept repeating to myself, "slow is smooth, smooth is fast," to make sure I pitched it appropriately, starting with nailing down the corners with a proper balance of snug to the ground, but not too snug.
Hot Tent
In early April, camp was on a grassy flat area with plenty of room to stake it out just right. I used a small titanium box stove with a relatively short stovepipe that was built for a smaller tarp tent to heat it in the mornings and evenings. I would not recommend the short stovepipe, though the spark arrestor did its job for us and we had zero issues with sparks on the tent.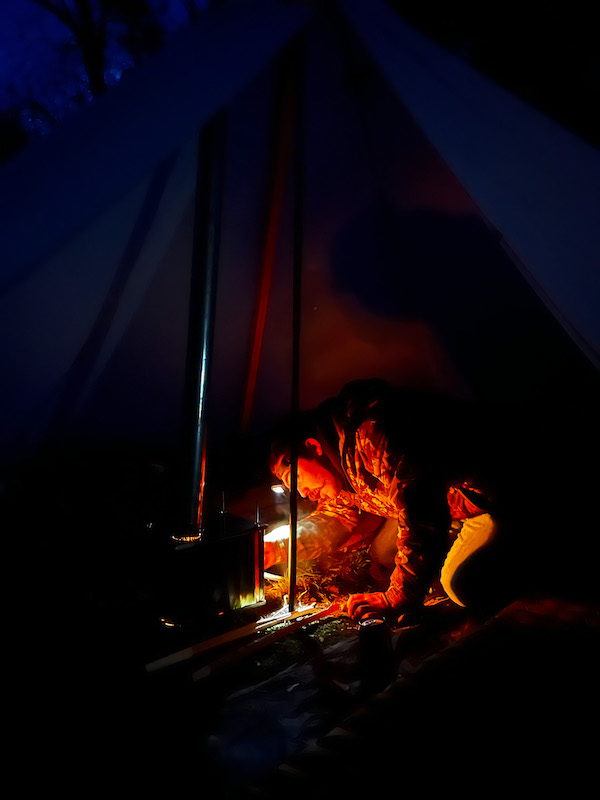 Additionally, there was plenty of room for the three of us to have brews by the hot stove in the tent, though only two of us slept inside for the night. I would not recommend planning on more than two people with the stove included for the sake of keeping your sleeping bag well away from the stove.
Pitch Insert First When Practical
In May, the wet ground and mud made it tough to pitch on a perfectly flat surface, and I needed to use a deadman to keep the stakes from pulling. As such, I couldn't get the insert nor the canopy pitched exactly how it should look. I was also pitching the tent and insert in the dark. Even though I had not practiced setting up the insert yet, it was easy to get it operational with the color-coded webbing on the guy-out points. I will suggest users lay out the insert first, then pitch the canopy over the top.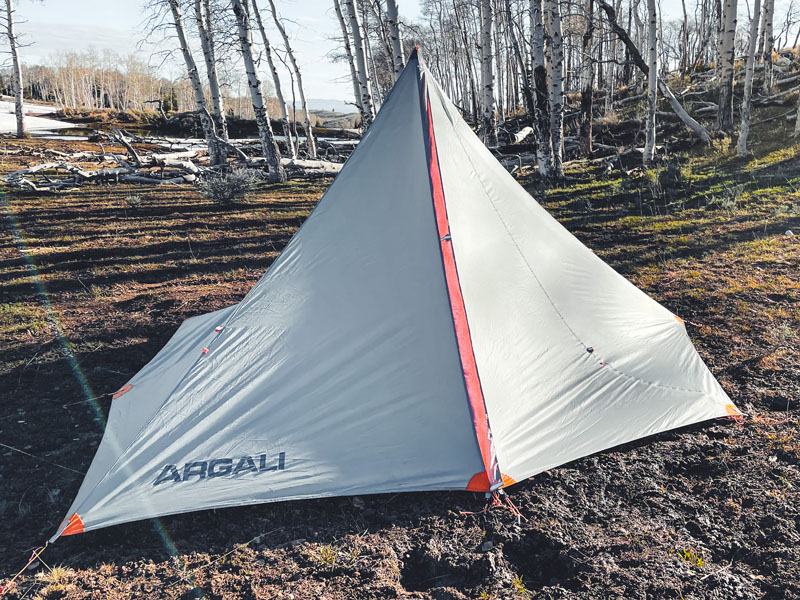 Space To Pitch Can Be A Challenge
Later in June, I pitched the Absaroka on a confined, rocky glassing knob. I quickly realized that is not the ideal place for a 4-person canopy-style tent. I have pitched larger, freestanding double-wall tents in these rocky spaces (I can think of a time last August in particular) and got away with it because they are, as the name suggests, free-standing and don't rely on the stake-out points to keep it up like a tarp tent. While this may seem obvious to some, it is important to note when weighing out this style of tent versus another option, whether comparing smaller tarp tents or freestanding tents.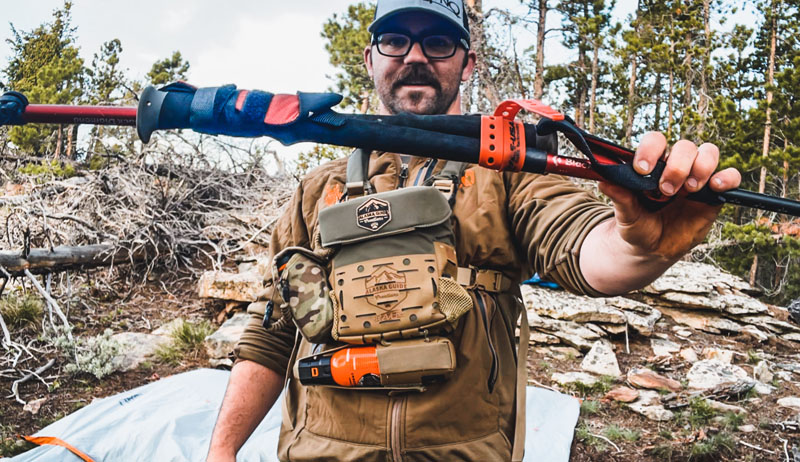 I went with trekking poles only on this trip and connected them at the handles with a standard orange rubber Voile strap I always carry to limp along gear if it breaks, and the strap that keeps my sleeping pad compressed. That gave me a ton of height adjustability. I personally will run trekking poles more often than not after that experience since I don't normally hunt with trekking poles but love their support during a heavy pack out.
Long story short, I learned I will not be kicking out a deer bed and pitching this tent in it. That's a job for the Rincon or a smaller 1p tent.
Addressing Concerns
A common thing folks are worried about when it comes to tipi-style tents is enough headspace to make it worth bringing over a freestanding tent. Granted I am only 5 feet 7 inches tall; I can stand up right next to the center pole. There's adequate space for being hunched over and standing to put on pants in the morning for most people. Plus, the space inside is ideal for a lightweight chair, like a short Helinox or something similar, while you stoke the fire on a late-season hunt.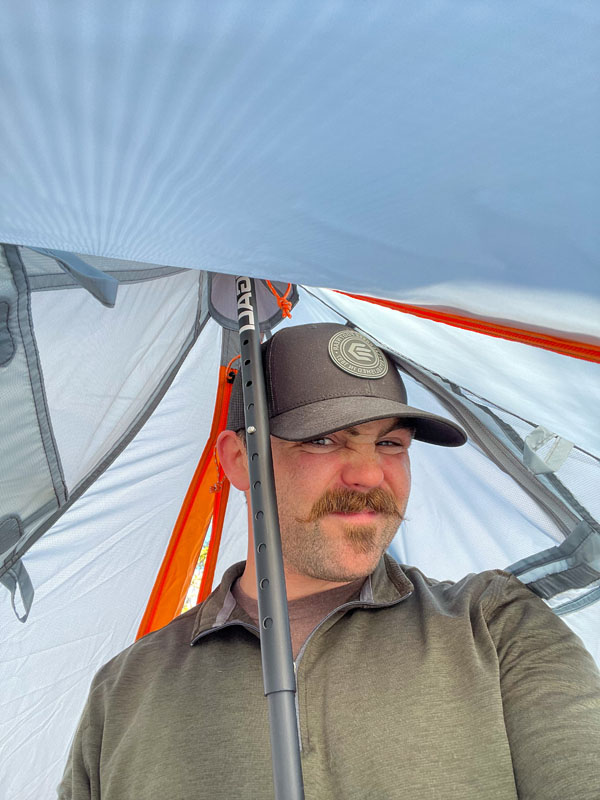 The Nest Keeps Water and Bugs Out
Bugs on your face and water on the floor are consistent and legitimate concerts with standard floorless shelters. The insert is necessary, in my opinion, for someone who hunts in those buggy or wet environments for those reasons. Having it along on the soggy May trip was a godsend, not only for keeping my gear clean but also because it kept the Black Ovis synthetic/down blended sleeping bag I did a review on from getting wet. I did not pitch the insert in June because of the rocky and confined space and can confirm the bugs are an issue. I woke up more than a couple of times to creepy crawlies trying to call my mustache home.
Two Doors For Easy Access
The two doors on the Absaroka were extremely handy when two people were sleeping in the tent. Nobody crawled over the other person's gear or got dirt in their sleeping bag. That said, it is interesting the insert only has one door. Granted the entire inside of the tent is cleaner for having the liner and there is a weight savings from only having one door, I anticipated an insert with matching doors to the canopy.
Guy-out lines and stakes are not included due to the variability in how many lines and stakes people may want to run. There are up to 10 additional guy-out loops in addition to the standard 8 ground staking holes (2 on the doors). Argali recommends at least 6 stakes, though I always ran it with the full 8 because of the constant breeze in Wyoming flapping the doors around. The new Argali piton stakes are lighter and less expensive than the ones I use, so keep an eye out for those coming in stock. Using the Argali Piton stakes only adds 2 ounces to the entire setup, while the ones I used were just a couple of ounces more than that.
Who Is the Absaroka For?
It was clear when creating the Argali tent lineup, Brad was deliberate in his creation of the Absaroka 4P tent. This is an ideal system for someone who archery elk hunts with a partner in the backcountry of states like Idaho, Montana, and Wyoming. It is also a great set-up with a stove for later season mule deer hunters who want space, a stove, plenty of room for gear, and a comrade – think October in Idaho or Wyoming or 2nd Season in Colorado.
Plenty Of Space
The Absaroka has enough space to be plenty comfortable as a base camp next to the truck. It is also extremely lightweight if you throw it in your pack split between you and a hunting buddy at somewhere around two pounds per person in the heaviest of configurations with the center pole and insert.
The pre-ordered tents are shipping now and there are a couple of additional tents in stock for those who want to pick one up before hunting season. At $385 MSRP it is about as reasonable of a price for the canopy any two hunting buddies could split for their next hunting camp set up.
You can find it on Argali's website.
Other accessories, including the center pole, insert and piton stakes, are not in yet, but likely will be before fall. If interested, sign up to receive their notifications at Argali.com so you can snag your entire Argali tent system when they come in.
Comment on this review or ask Jaden or Brad questions here.