Buckeye Optics Scope Rings
By Brock Akers, Rokslide Staff
When putting together a rifle, whether it be for long-range shooting or your standard hunting scenarios, having the utmost confidence in your equipment is important. There is nothing worse than second guessing your weapon. I want to be 100% positive that if there is a miss, it's human error and not a failure on my gun. A quality set of scope rings, in my opinion, is just as crucial as quality optics. You can have the best scope money can buy on your weapon but if not supported and held correctly, it will not do you much good.
I ordered the Buckeye Optic Aluminum 30mm G2 Ultra-Light Picatinny Rings in medium height. The rings would sit atop my Tikka T3 7mm to house a Nightforce SHV Riflescope. I have a lot of confidence in this rifle/scope set up as its taken animals from 70 yards to 541 yards. My initial inspection of the rings was good. Machine quality and craftsmanship was on par with what I would expect. They were packaged very professionally and even came with a handy T-handle torque driver. That's not your common tool so I imagine a lot of folks find that useful.
There is business card inside the box that states an unlimited lifetime warranty as well as recommended torque settings for the cross bolt and cap screws, again very valuable information. Its nice that you don't have to flip through a book to find them. They are right there on a card for you. Rings weighed 4.4oz total on my scale, which is pretty good compared to steel rings. I should also note, theses rings are made right here in the U.S.A.

Installation was pretty straight forward. After I mounted the bottom housings to the rail I went ahead and laid my alignment bars in. Take note and remember to keep your top housings in the same direction and paired with the same bottom housing. They are typically machined and cut as one piece so keeping them paired up will maximize your chance at having them perfectly lined up. I've mounted many scopes with brand new rings and I can say with out a doubt that these are the first rings that I have not had to lap. The alignment bars touched perfectly and I was 100% satisfied with that.
I set my scope, snugged the top housings down evenly (making sure there was an even gap on each side between the upper and lower housings) with a dap of lock tight and then torqued the recommended settings of 20 Inch/lb. I double checked that my cross bolts were torqued to 60 Inch/lb and then called it good. I went to the range shortly after and re-zeroed the rifle. Everything held true and I was able to get sub 1 MOA that I am looking for in my set up.

I am looking forward to getting these Buckeye Ultra-Light Rings in the mountains this fall and if all goes planned, they should be helping fill my freezer for years to come.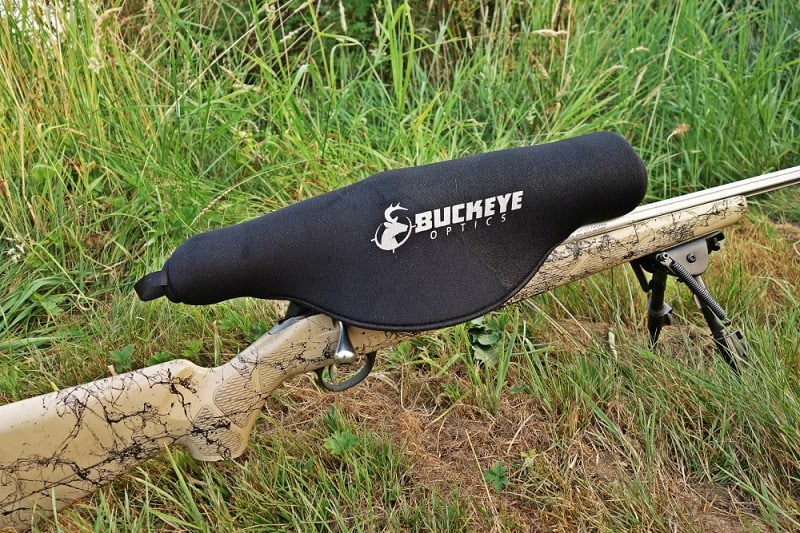 Side Review of the Buckeye Optics Scope Cover
I've always used a neoprene scope cover for my rifle scopes as I feel like they give me the best protection for what I am actually trying to protect. I have had to buy new ones each year pretty consistently as the sharp edge of the objective lens seems to wear through after miles and miles on my rifle. After receiving and playing around with the scope cover from Buckeye Optics I think my problem is finally solved. With the neoprene being double the thickness as the traditional scope cover and the objective end being a separate piece of neoprene with a sewn seam to match the diameter of the lens, the pressure is relieved. On my old scope covers, there was one vertical sewn seam down the middle that once stretched over the scope, put pressure on the edges of the objective lens. Time will tell if this will hold up but I am leaning towards good results. The cover also has built in "ears" that come down and provide some protection for your action. All the sewn seams are waterproof (confirmed with a garden hose) and it fits my scope nicely. Great piece of gear for a little extra piece of mind. As it's still summer, I can't really comment on durability, but as I said above, all the right things are there for this product to last a while.
You can ask Brock questions or discuss this article here