Salomon Quest 4D GTX

by Brock Akers, Train to Hunt Director
With my season winding down, I wanted to share my thoughts on the Salomon Quest 4D GTX hiking boot. In the last several years, this boot has become wildly popular and for good reason. They are comfortable, lightweight, and affordable. I've owned mine for about 10 months putting about 300 miles on them. During that time, I wore the Darn Tough Full Cushion Boot sock exclusively. I never treated them with anything before or during use as I wanted to test them without any aide. I am not sure Salomon recommends even treating them as a quick online search yielded no results. That could have changed by now though.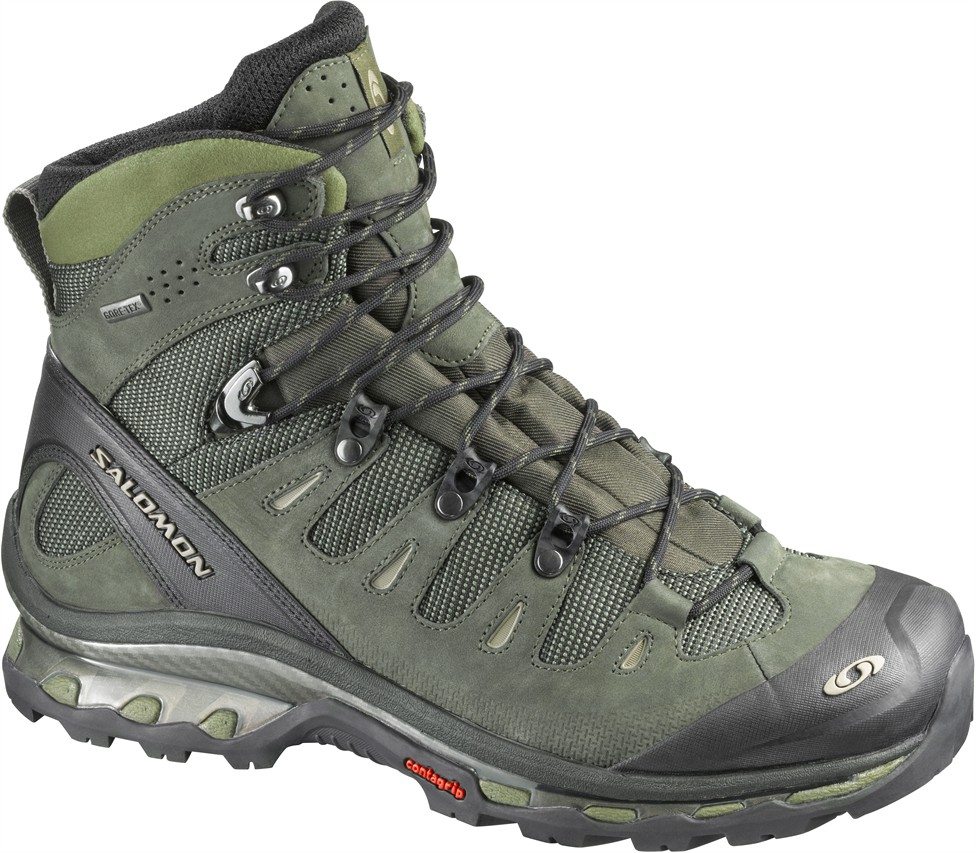 My initial thoughts out of the box were good. They were incredibly comfortable and fit my foot well. They felt like tennis shoes. I have an issue with boots because my foot is is not very thick. I have a hard time filling out boots and tend to get heel slip due to too much space between the top of my foot and the tongue. However, this was not an issue with the Salomons.
The factory insoles seemed cheap so I replaced them them with Superfeet insoles. I liked the lace locks at the mid-point on the boot. It really helped cinch them tight. The soles seemed mildly aggressive and I was a little worried that the Contagrip® design might not grip well.
Once I took the Salomon's into the woods, I used them in just about every situation imaginable including rain, sun & snow. They touched ground in four states, carried heavy and light packs in flat to steep ground from sand dunes to boulder fields. I was impressed at the abuse they took. It definitely shows cosmetically but the boots continued to perform as needed for the most part. As far as traction, it was never an issue. The Contagrip® design did about as well as any industry leading boot would when crossing slippery rocks in the creek or heading up a steep mud covered hillside.
The Gore-Tex® held up longer than I expected but did start to leak eventually. I think the turning point was a four-day soaker over Labor Day weekend in the Central Cascades of Washington. I would pour water out of my boot at the end of each day. To be fair, I don't think there is a boot that could have kept you dry though as I was wet from head to toe daily. After that weekend, they seemed to absorb moisture more than before.
It was also around this time that I started to notice the green color of the boot lighten significantly. On an elk hunt in Montana around the middle of September, I started to notice minor separation from the sole to boot back near the heel. I think this is just from the sheer number of miles they had on them at this point.
After each hunt, I would spray the boots with the garden hose with a stream nozzle attached, making sure all the dirt and mud was out of the stitching. I'd then dry them them on the boot dryer. This will prolong the life of your boots immensely by preventing the stitching from rotting. In the field, I'd pull the SuperFeet insoles out and stand them vertically in the boot to assist in drying. I have had great results with this.
If you are a hunter that does maybe one or two trips out West a year, these boots are right up your alley. You'll easily get several seasons use as long as you take care of them properly. If you are like me and put triple digit miles on them, be prepared to buy a new set each season. I've found sales for the Salomon Quest 4D GTX for under $200. That's not a huge investment for comfortable boots once a year. Will I buy a new set for next year? Most likely but as a backup set. I am still searching for the perfect boot that will last a few years and with the perfect fit.
You can discuss this boot review here