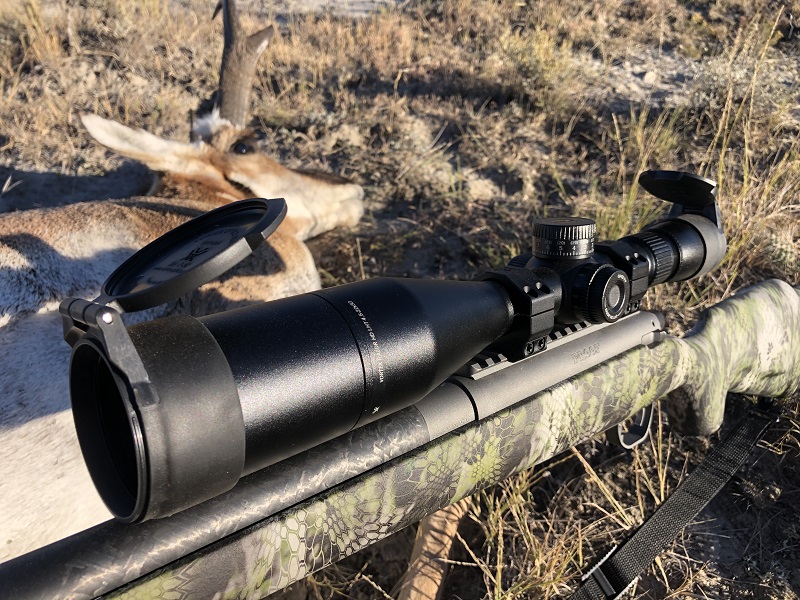 Vortex Razor HD LHT 4.5-22x50mm Review
To remain a viable company in the optics industry you need to keep competitive and introduce products that are in demand by your users, products that will keep them coming back for more. Vortex is known for their superb warranty that is likely one of the top in the business and they are doing a great job of offering products that end-users want to see. They listen to their customer base and continue to introduce products that are highly sought after by many. They offer a wide range of optics with several very competitive price points.
Vortex Customer Feedback
Many have asked for Vortex to add a few things to improve the Razor HD LHT scopes to include a first focal plane, enhanced zoom range, and address bleed-over issues with the illuminated reticle. The new scope power range is a whopping 4.5-22X and is in a 50mm objective. This is a much larger range of magnification than that of the previous HD LHT scopes. Let's take a quick look into this new powerhouse that they introduced! All packed into a small, lightweight package. More info here.
Razor HD LHT Features
All of the same great features are still offered that were in the previous line as well as a few new ones. Many options include an illuminated reticle, HD lenses, first focal plane, XLR-2 reticle, and their RevStop Zero system.
With a 30mm tube and 50mm objective it still comes in a lightweight 21.7 oz. That makes this scope a great option for those of us looking for a lightweight scope packed full of options that many want.
The exposed locking elevation turret makes it easy to adjust and lock into place by pulling up to unlock and pushing down to lock into place. The RevStop Zero system will keep your turret locked in where and when you need it. The parallax adjustment and push-button illumination are incorporated together on the left side of the scope. This scope is offered in either MRAD or MOA.
First Impression
I opened the box and was impressed with the packaging and attention to detail. Inside the foam packaging and magnetic flaps of the box, everything was perfectly arranged. Sometimes I wonder why a company offers such a fancy box when they are generally discarded after the scope is removed.
I was impressed and often the first impression will make a consumer happier right off the bat with the product that they just acquired. I was surprised that included inside was a free custom turret coupon from Kenton Industries. This coupon allows you to order one custom turret decal online, free of charge. Enter in all information about the load you are using and they will send you a custom-made decal to place over the top of the current turret. I can't promise that all of these scopes will come with this coupon but I took advantage of this option and got a custom turret decal ordered shortly after getting the scope mounted.
I filled out the required info on the Kenton Industries website and clicked order after entering the coupon code. They gave me a call to verify my load before they printed the decal as well to ensure I was getting what I needed.
XLR-2 Reticle
The XLR-2 reticle is an illuminated, long-range reticle with elevation and windage reference subtensions that many like to refer to as a "Christmas tree" style reticle due to its obvious shape.
Great for long-range shooters and hunters who prefer to hold for bullet-drop and wind at distance. It seems a bit busy at first, but after you begin to understand it and use it, it becomes a great tool to have. With the first focal plane, all MOA remains constant at all magnifications.
Sighting In The Razor HD LHT
I used the 30mm Vortex Precision Matched rings and got everything mounted up on my Proof Research Terminus .300WM. I leveled and torqued down and was nearly ready for the range.
Since I don't have all the fancy tools to bore sight, I used a technique that my father taught me. I placed a target at 25 yards and looked down the barrel and lined up the center of the barrel with the center of the target. Next, without moving the rifle, I moved the crosshairs to the center of the target. This would get me on paper at 25 yards. Within two shots I had it zeroed about a half-inch low at 25 yards. This would put me close to zeroed at 200 yards. Within three shots I had my zero set at 200 yards and I began to test it from there.
Razor HD LHT Illumination
I shot several shots as it was getting to be low light and used the illuminated reticle. The intensity is easy to adjust with the push of a button and I liked that there was no bleed over across other parts of the reticle like in past versions of the LHT's.
The vertical and horizontal crosshairs illuminate while the rest of the "Christmas tree" does not. Some may like the way it illuminates while others may wish they all did. If you forget to turn it off, no sweat, as the illuminated reticle auto-times off.
The scope performed great in low light and the 50mm objective helped a great deal with this.
Razor HD LHT Specifications
Magnification 4.5-22x
Objective Lens Diameter 50 mm
Eye Relief 4.0 inches
Field of View 23.5-4.7 ft/100yds
Tube Size 30 mm
Elevation Turret Style Locking – Exposed
Windage Turret Style Capped
Elevation Adjustment Graduation 1/4 MOA
Windage Adjustment Graduation 1/4 MOA
Elevation Travel Per Rotation 15 MOA
Windage Travel Per Rotation 15 MOA
Max Elevation Adjustment 75 MOA
Max Windage Adjustment 45 MOA
Parallax Setting 25 yards to infinity
Length 13.3 inches
Weight 21.7 oz
I was able to test it at longer yardages as well and test out the Kenton Industries turret tape.
Testing At Various Distances
I was slinging Hornady factory loads, 180 gr SST and the tape that they sent was built with this load in mind. This also tested out the scope and turret to see how reliable they could be.
I positioned my target at 400 yards and spun the turret to the required setting for that range and took a shot. I was happy to make impact on the target well within that of a kill zone on any animal I would be hunting. The impact from my first round was just 1/2" low and 2" right. Several other shots remain right in there.
Next I moved to 550 yards and all my shots were still within that of any kill zone of any big game animal I may hunt in the future.
I know I know, I wasn't shooting off a bench and my rifle wasn't pinned down to tell you the exact accuracy of the turret. I try to keep my shooting as realistic as possible and shoot either off my bipod or my pack much like I've been taught in real-world conditions and military training.
Next I dialed the turret back to my 200-yard zero and took a shot from 200 yards to confirm my zero was still spot on. Everything checked out and I was happy with the results.
I am a little concerned with how the turret tape will stick over an extended period even with cleaning the turret before installing, so I may need to keep an eye on that.
The Hunt
My son, Jackson, and I set out on a South Dakota antelope hunt excited for what was in store. Having a light rifle is important especially when you may be going on long hikes. After all, taking a heavy bench-style shooting rifle on long backcountry hunts will have you rethinking your madness after a little while!
This scope paired with a lightweight rifle is just what the doctor ordered! Although this was an antelope hunt on flat terrain, the walk was a long one and I appreciated the lightweight combination of the two.
Our scouting the previous week paid off and we located a good buck far off in the wide-open prairie. Depending on our approach and concealment, the shot could range anywhere from close range to several hundred yards. I was ready to take my first animal while using this scope.
Like many hunts, everything happened so fast it seemed. As we stalked closer to the buck and his does they gave us the slip. We found ourselves once again scouring the rolling hills and flat prairie trying to find the buck only to have him come running past us within 75 yards while chasing another buck. We quickly hit the ground and set up my bipod and got the scope on the fast-moving quarry. The buck stopped just over 300 yards and I set the turret on 3 for a 300-yard shot and settled my crosshairs and squeezed the trigger dropping the buck in his tracks. My first animal with the new Razor HD LHT!
Conclusion
With an MSRP of $1,999, and all the features, it makes it a great option for backcountry hunters looking for a scope packed full of many options.
I have been pleased with the scope and it is an improvement over previous years of the HD LHT lineup. They have addressed the bleed over within the crosshairs and the scope keeps a sharp image all the way to the outside with little distortion on the edges.
Low light performance is good with the 50mm objective pulling in more light than previous versions of the scope. I think they listened to many of the complaints in past versions and addressed them in this model. Although I haven't been able to really put this scope through the wringer just yet, I believe it will perform great in upcoming excursions in the backcountry. Learn more and find a dealer here.
You can comment on this review or ask Jared questions here.
Read more Rokslide Optics reviews here.