Back in January, I attended the SHOT show in Las Vegas and was introduced to one of the new bullet designs from Berger Bullets, the Classic Hunter. Berger redesigned their VLD bullet to be less sensitive to seating depth, making them much more compatible with factory rifles.
Here is Eric Stecker of Berger Bullets talking about the new design:
Berger Bullets sent me a box of the Classic Hunter bullets just as they hit the market this last summer. I asked Rokslide pro-staffer and gun guru, Matt Cashell, (Bitterroot Bulls on the Rokslide forum) if he would test the new design. He accepted faster than a speeding bullet so I shipped him the box of the shiny new gems. Matt put the new bullets through the gammut and now he's here on the Rok Blog to give us a complete report. Whether you're just curious, or in the market for a great bullet, Matt's article is more than worth the read. Show us the money, Matt!
___________________________________________________________________________________________________________________________
"Like a lot of rifle nuts, I like to try new stuff, and tinker with stuff that already works. This is probably due to the fact that rifle technology, especially bullet design, has made such drastic improvements recently. Bullet manufacturers, like Berger Bullets, have been making big strides in high ballistic coefficient projectiles for hunting, so naturally I was excited to test the new Classic Hunter design for Rokslide. First, lets catch up on a little of the science behind bullet design.
Ballistic Coefficient
Ballistic coefficient (BC) is a numerical representation of how "slippery" a bullet is. The higher the number, the better. This number can be plugged in to reliable ballistic software and gives the shooter accurate ballistics for their load and conditions. Why do hunters want a slippery bullet? Because they lose less velocity, and drift less in the wind. This makes for more reliable wind calls and retained velocity for increased energy down range. Hunters end up making more reliable hits, further out. Another benefit is that at extended ranges, standard cartridges perform like the "magnums" of yesteryear.
As a side note, I recommend the new G7 BC model instead of the outdated G1 model. This G7 has been promoted extensively by Brian Litz of Berger Bullets (among others) because it is much more accurate with modern boattail designs like the Classic Hunter. If you want to read up on the G7 vs. the G1, visit Berger Bullet's Blog.
Ogive
The shape of a bullet's nose has a big effect on BC. Berger's VLD design utilizes an aggressive secant ogive. This makes for awesome BCs (The 7mm 168 grain VLD-Hunting has a G7 BC of .316). The problem is that the design makes for long noses that factory rifles have trouble fitting in magazines when loaded to an accurate seating depth.
I have had great luck loading traditional tangent ogive bullets, like the Nosler Accubond. In my experience, the Accubond provides a good balance of BC, easy loading, accuracy, and terminal performance out of rifles with factory twist rates and magazine lengths. The 7mm 160 grain Nosler Accubond runs a G7 BC around .260., so when I saw the new Berger Classic Hunter checked in at .309, I was more than curious.
The Nosler Accubond (left) compared to Berger Classic Hunter (center) and VLD (right) bullets
Berger Classic Hunter
The new Berger Classic Hunter bullet offers a "hybrid" design combining both tangent and secant ogives, in the hope to make for an easier loading bullet that still offers a BC advantage over traditional tangent ogive bullets. This bullet is specifically designed for factory twist rates and SAAMI (Sporting Arms and Ammunitions Manufacturers Institute) cartridge overall lengths (COALs). Robby sent me a box of Classic Hunters in 168 grain/7mm to try out. While the BC of .309 was not far off of the VLD, I wondered if I'd be able to get them to shoot?
The hybrid ogive of the Berger aided in leaving plenty of room in the Savage magazine
Developing a Load
My test mule for these bullets is my trusty Savage 110 chambered in 7mm Remington Magnum. The rifle sports an EGW rail, TPS rings, and a 4-16X50 Vortex Viper PST riflescope. Loading equipment included a Lyman turret press, Redding Competition Dies, Nosler Brass, Federal 215 Magnum primers, and an RCBS Chargemaster Combo dispenser/scale.
To test the "loadability" of the Classic Hunters, I chose four temperature-resistant 7 Mag powders: Hodgdon H4831SC, Hodgdon H1000, Hodgdon Retumbo, and Ramshot Magnum. I found my 168 grain VLD data from Berger and worked up from near-starting loads. Using a Hornaday COAL gauge to develop The COAL to the lands, I loaded all of my powder-testing rounds at 0.02 off the lands.
My current hunting load for this rifle is the 160 grain Accubond over Retumbo for 2960 FPS muzzle velocity. I verified zero with that load, and started firing the Berger Classic Hunter bullets in 3-shot, 100 yard groups through the chronograph. I let the sporter barrel cool adequately between every shot. All loads proved safe, and I received the following data for the heaviest charges:
H4831SC = 2876 fps Max Spread = 12 fps Group size = .78 in.
H1000 = 2996 fps Max Spread = 4 fps Group size = .38 in.
Retumbo = 3122 fps Max Spread = 22 fps Group size = .86 in.
Magnum = 2987 fps Max Spread = 16 fps Group size = .92 in.
The really surprising thing was the accuracy. ALL of my loads at the .02 off the lands COAL shot under 1 MOA. Not surprisingly, the powder with the lowest velocity variation had the smallest 3-round group size. Even more impressive was the fact that all of the loads shot to the same point of aim, with the hot Retumbo load hitting about 1 inch higher than the others. It seems that Berger was successful in the "easy to load" category, at least for me and my rifle.
I chose the low-variation H1000 load to develop further and loaded at 4 different COALs. The following shows the results:
.02 off lands = .37 in.
.03 off lands = .41 in.
.04 off lands = .49 in.
.06 off lands = .48 in.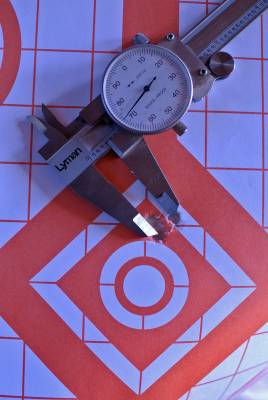 Tight groups were the norm with the Berger Classic Hunter and Hodgdon H1000 in the author's 7mm Remington Magnum
That is not a lot of variation! Seems Berger accomplished what it set out to do. I realize that my test rifle may just really like the Berger Classic Hunter bullet, as rifles do have their preference. The Savage does shoot many loads well, but I did not get satisfactory results previously with the 168 grain VLD Hunting bullet when loaded to magazine length.
I am quite optimistic about the new Classic Hunter. I'll be back in the next month or so with updates on the terminal (as in I killed some animals!) performance."
____________________________________________________________________________________________________________________________
Thanks Matt!
Roksliders, so you don't miss Matt's next installment on the new Berger Bullet Classic Hunter, make sure you subscribe to the Rok Blog (top right of the Blog under Fitness/Other "subscribe to blog"). Also, you won't want to miss my upcoming 12-day Idaho mule deer hunt starting Sunday, December 1st, right here on the Rok Blog.
Finally, because we're so generous here on the Rok Blog 😉 we are giving away a box of Berger Bullets in the Classic Hunter! As of press time, we can only get 30 caliber in the 185 or the 168 grain. If you'd like to win a box, all you have to do is become a Rok Blog subscriber (top right of the Blog under Fitness/Other "subscribe to blog") and post in the comments section below what rifle you'll be shooting the bullets in. Simple as that! I'll draw for a winner and announce on the Rok Blog December 17th.
Please don't enter if you don't have a use for the bullets. Let's keep the odds good for the hunters who can really use them.