I am always looking for ways to make my gear list shorter.  Anytime we can take something into the field that does multiple tasks, we will have a simpler and lighter pack.  A range-finding binocular is a perfect example of one of those dual-purpose items. I have been a fan of them for a long time.  I bought the original Leica Geovid HD-B 2000 when it came out and have used it all over the country for different types of hunts.  They have served me well and when an opportunity to try the new Geovid HD-B 3000 came about, I jumped all over it. More info here.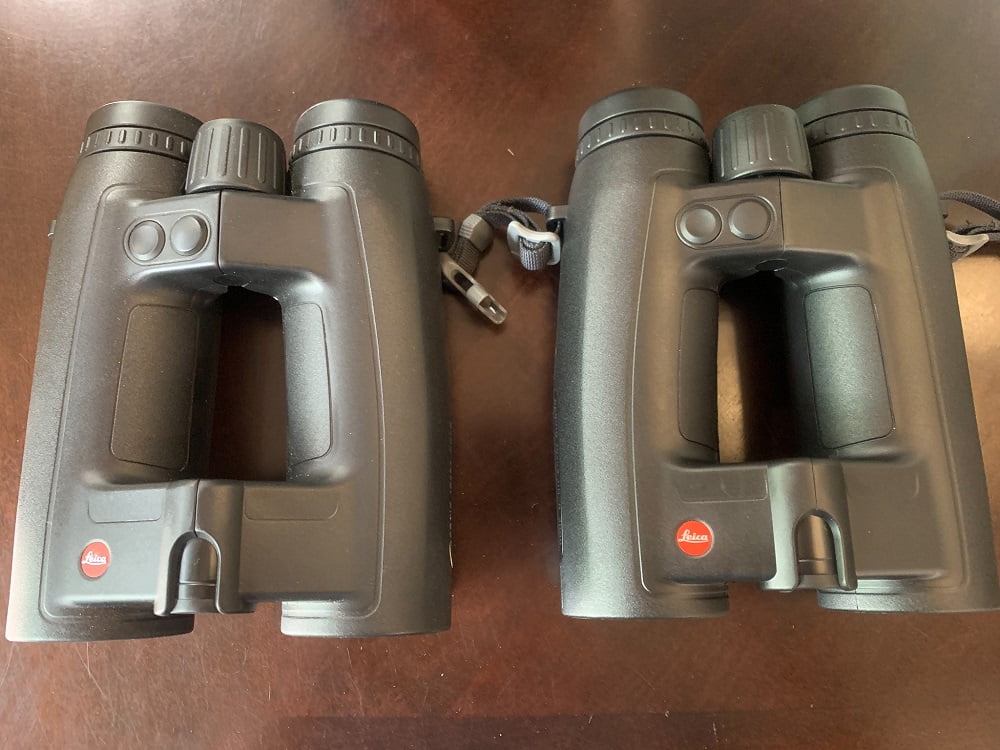 The Geovids come with a case, instruction booklet, lens covers, neck strap, battery and battery cover tool.  I don't use the neck strap as my binos live in my chest harness but the accessories appeared to be high quality

Specifications from Leica:
Prism Type: Perger Porro-System
Magnification: 10.0x
Objective Lens Diameter: 42 mm
Exit pupil: 4.2 mm
Field-of-View: 374 ft / 114 m
Minimum Focus Distance: Approx. 16.5 ft / 5.0 m
Twilight factor: 20.5
Dioptric Correction: ±4
Focus Type: Internal focusing with center focusing barrel
Dimensions: 4.9 x 7.0 x 2.8 in / 125 x 178 x 70 mm
Weight: Approx. 33.3 oz / 980 g incl. battery.
First impressions of the new Geovids was as expected.  Clean lines, flawless exterior finish and great ergonomics.  This wasn't news to me as the exterior is unchanged from my older model.  They feel great in the hand and it only gets better when you put them to your eyes.
I put the new version up against my older Geovid at low light and could not tell any difference–both have fantastic glass that is sharp, clear and bright.   The eyecups are easy to adjust and the focus/diopter is simple to set and stays where you adjust it to. The user is able to set the bino to read out in US or Metric.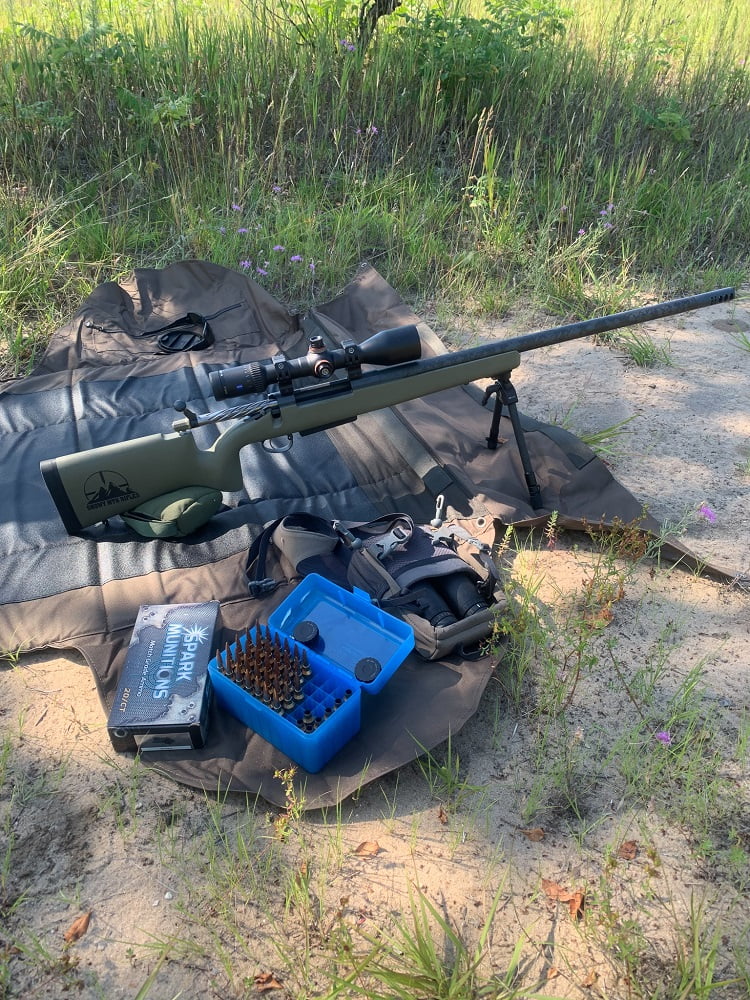 The new laser in the 3000 model is much more powerful than the previous models.  I was blown away with exactly how far I was getting ranges.  Even in less than perfect conditions, the range finder was getting ranges well beyond what I expected.  I free-handed 3250 yards on a large boulder the first morning scouting in Colorado!  The 3000 rating is less than what these are capable of.
The button to get range is on the right-hand side, which I prefer for bowhunting.  There is a second button that will give you barometric pressure, temperature, and angle.  Each time you get a range, those factors are used to get you an accurate reading.  Both buttons operate easily and response time is fast.
There are several ways in which you can have the Geovid HD-B's ABC (Advanced Ballistic Compensation) report back a ballistic range to you:
Holdover in inches or centimeters
Click adjustment in MOA or MIL
Equivalent Horizontal Range (EHR).
The HD-B has 12 ballistic curves built in that you can match up to your rifle's specs. Or to really customize and maximize your precision, it has a micro-sd card slot that allows you to upload your personal weapons data.  Leica has a program that walks you through the entire process: Leica Ballistic Tool.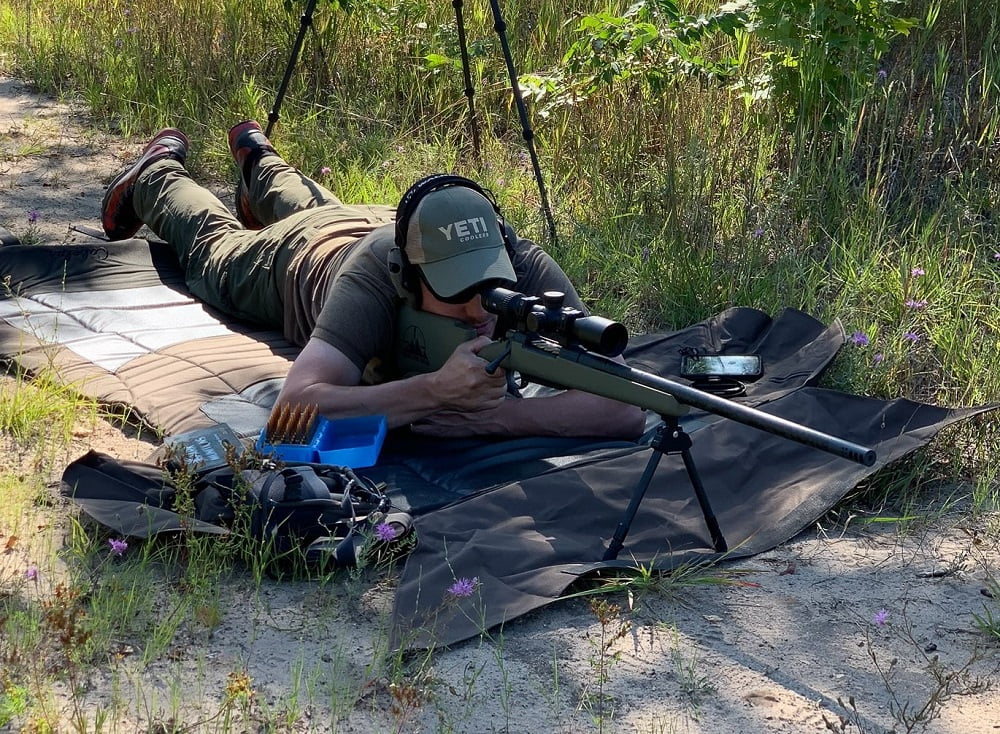 With the card uploaded into the secure and waterproof slot, the HD-B's will give you ballistic measurement values based upon your exact weapon/load data, angle of the shot, and the ambient weather around you.  I have used this for some time now with my Snowy Mountain Rifle and it flat out works.
In addition to the new faster and more powerful laser, the 3000 also has a new LED display.  I never had a problem with the original display but I do prefer the new version.  Also, there is a new scan mode which will give a range every half second by simply holding the button down.  I used this in brushy conditions where I was attempting to get a range through vegetation that was in front of my target.  The scan works well and I was able to determine correct ranges better with it.
The only complaint I have with the HD-B 3000 is the fact it limits range corrections to 1000 yards.  It will still give you the distance but no turret correction.  I use a phone-based app to get corrections after 1000 but it would be much better if Leica took off the limiter.
Leica has been a leader in the laser range finding optics for over 25 years and has a long history of building quality optics with world-class glass, the Geovid HD-B 3000 is no different.  I would recommend these to anyone looking to eliminate a bino and separate range finder. See Leica website here for more info.
You can comment on this article or ask Tony questions here.