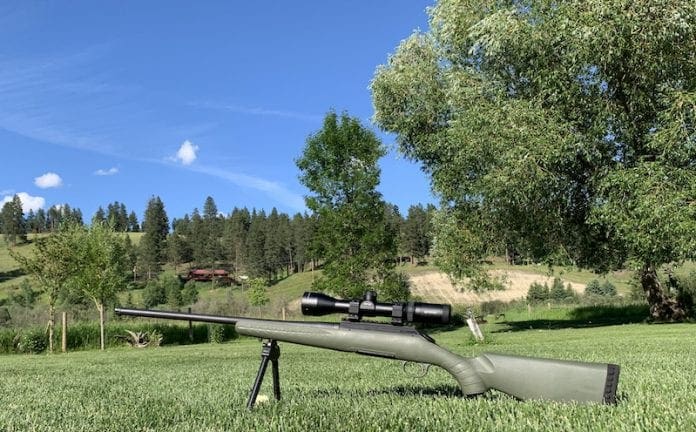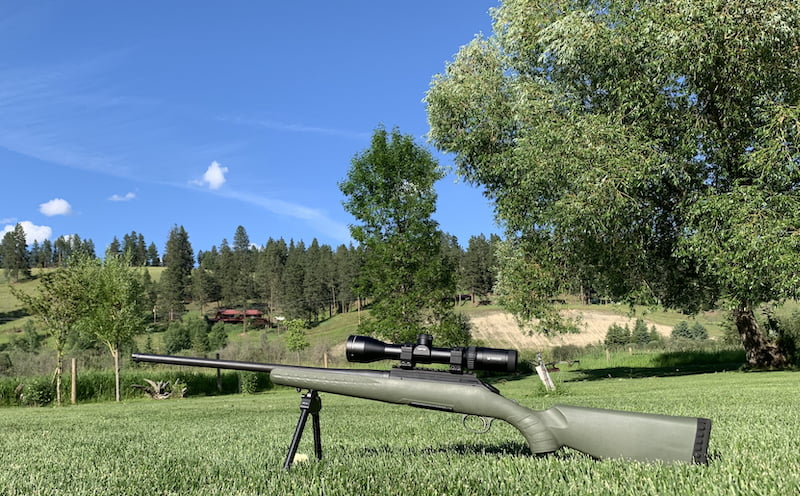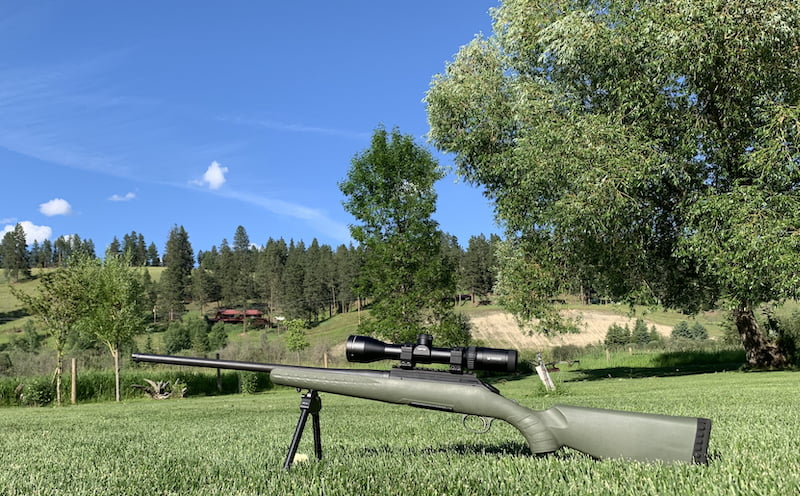 The Vortex Viper HS 2.5-10×44 has become a popular scope. The "HS" stands for "Hunting and Shooting". It's light. It's short. The glass has great clarity and the reticle is easy to see and understand. The HS is a classic, short-range, affordable scope. My thirteen-year-old son flopped down in the dirt and squeezed off three rounds at one hundred yards. The first shot was a little high left. The next two rounds were almost touching but the result was a 3-shot group of 1 MOA. The HS makes "Hunting and Shooting" so easy a kid can do it. That's why it is so popular! More info here.
So, if all you want to do is consistently hit your target and go home, then stop reading this review. Go buy the scope and sleep soundly. You'll save yourself a pile of money and hours of agonizing over which scope to buy. However, if you like to play games, then read on.
The Set Up
Just to make sure we are all on the same page, the Vortex Viper HS is twelve inches long. It weighs 16.5 ounces. It has capped turrets and has a second focal plane reticle. The adjustment graduation is ¼ MOA. This link will take you to Vortex's website for a detailed list of specs on the HS.
For this review, I was shooting a 6.5 Creedmoor, Ruger American, with 135 grain Eagle Eye Ammo. I was supported in the front by my Spartan Javelin Bipod.
Read my review of the Eagle Eye Ammo here.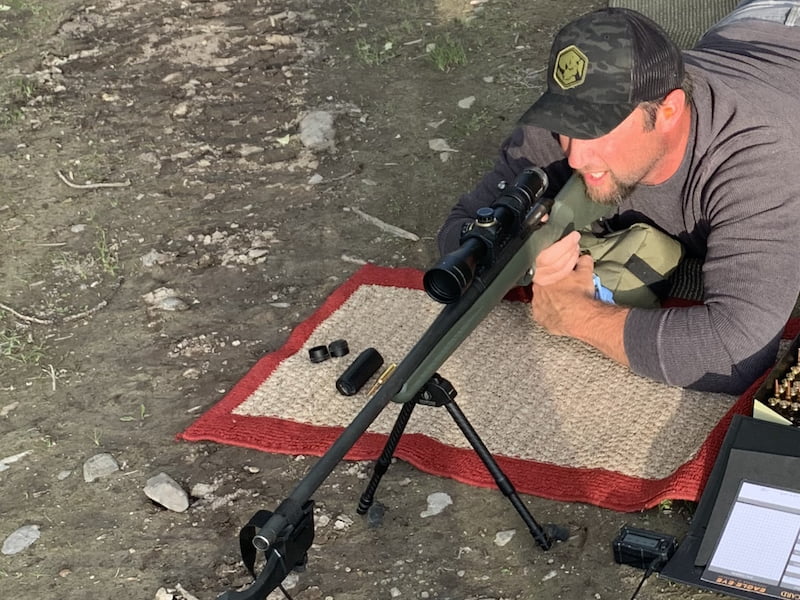 The Story
Here's how this went down. On Thursday, I mounted the scope, attached a barrel-mounted chronograph, and zeroed the rifle at one hundred yards. I entered the data into my shooting app. This scope has the Viper HS Dead-Hold BDC reticle.
I'm no math-a-magician, but I understood that if I split the difference between 1.5 and 4.5 and 7.5, then I would know where to hold for 3, 6, and approximately 9 MOA. Like this: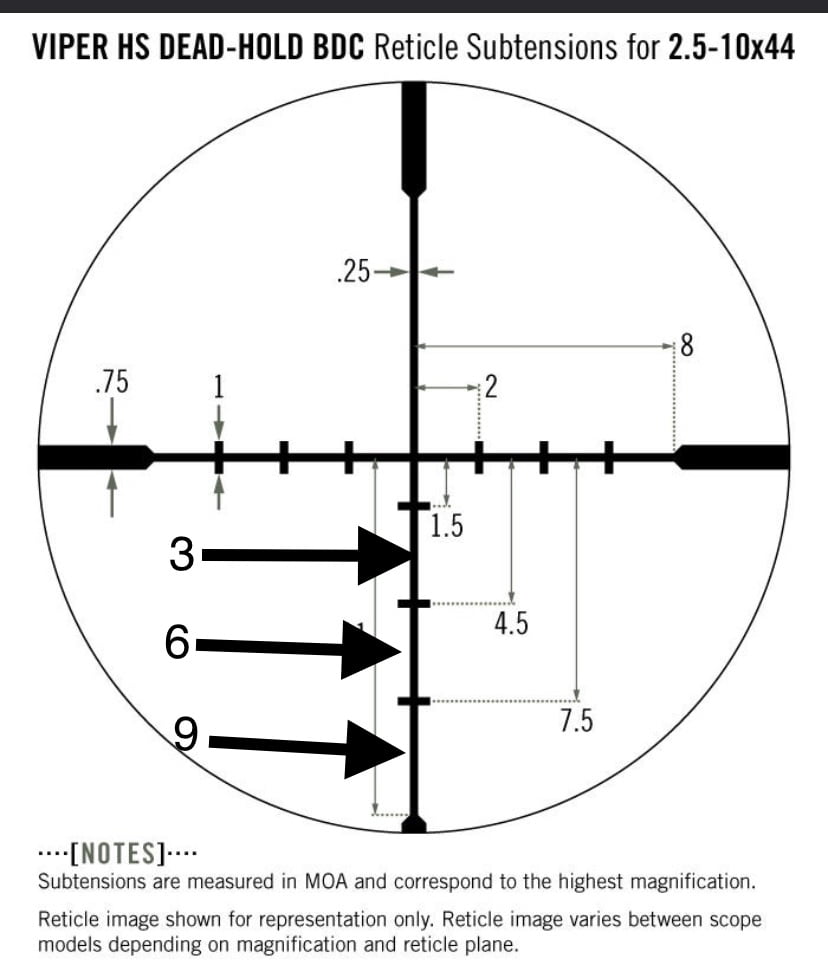 The bottom post in the scope is 11 MOA. As I sat on the couch and looked at my shooting app, I knew that my max range would be about 550 yards.
At The Range
On Friday morning, I verified my zero. We set the twelve-inch gong at five hundred yards. The app said to hold -9.24 MOA (see photo above). I set up the Spartan Bipod and hit three for three. I almost missed the first shot, but in reality, it was easy and boring and anticlimactic. The target was positioned on a hillside with brush and willows and finding a level spot for the target was difficult. The only real option was to move farther away from the target. We ranged another hundred yards and moved back to six hundred. The app called for -12.37 MOA, but as I wrote above, the reticle is limited to 11 MOA.
Re-Indexing Zero
The Viper HS turret gives you the option of re-indexing to zero after sight in. You simply pull up on the turret, spin to zero and set it back down.
I hadn't bothered to do this. The app said that three hundred yards was -3.76 MOA, which is awfully close to 3.75 and is an easy adjustment. Again, I'm no mathematician, but we decided that if I cranked 3.75 that would essentially give me a three hundred yard zero. I uncapped the turret. It was sitting at 7 MOA.
I came up 3.75 MOA and landed at… you guessed it, 10.75 MOA.
The app was reset to a three hundred yard zero.
With these adjustments, a six-hundred-yard shot was now -8.61 MOA. Out came the bipod. I chambered a round and hit the gong. Feeling pretty cocky, I quickly racked in another round and missed.
Dialing and Double Checking Zero
Later that evening, before sunset, I brought the turret back down to 7 MOA to reset the one hundred yard zero. That's when my son shot his 1 MOA group shown above. Then, I laid down and shot this sub-MOA group.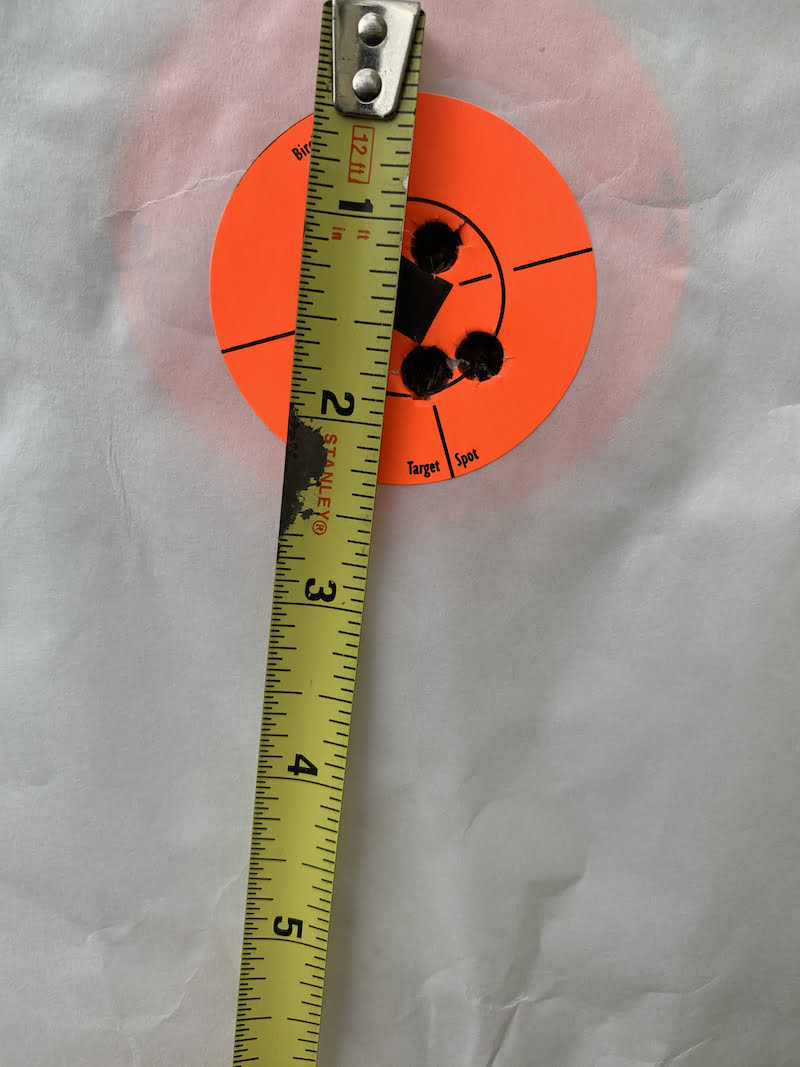 This is the best grouping I've seen from this rifle and that's really difficult for me to dismiss.
The Takeaway
Here is what we realized. The max elevation adjustment on the Vortex Viper HS is eighty-six MOA. That's a lot of travel! A hunter could choose their yardage and set their zero. I know this is a hot topic. I've read the threads. You do you! Choose whatever zero you want to choose. Once you have your rifle zeroed, you can easily see where 1.5, 3, 4.5, 6, 7.5, and 11 MOA land for your rifle. Re-index your zero. Yes, this is a capped turret, but if you like to shoot and you want to play games, then take the cap off and crank away. In full disclosure, estimating 8.61 MOA wasn't easy for me. Since this is not an FFP scope, the thicker reticle is going to become problematic at some point. Dollar for dollar, the HS is worth every penny. It's fun. It's easy. It works and it obviously has the ability to be more than "just" a short-range scope.
Learn more or order yours here.
You can comment on this article or ask Howard questions here.
Some other optics reviews you may enjoy: