The Zeiss Conquest V4 caught my eye when looking for a middle-of-the road price point long-range scope that will deliver in all types of conditions for years. I have used a Nightforce NXS 5.5-22X50 as my go-to long-range scope and loved it. However, I can't afford to spend that kind of money on every set up that I obtain. I have had a few mid-priced, long-range scopes that I have used on other rifles over the past several years and have not found one that checks all the boxes as a go-to long-range scope. The ones I have had have either let me down in low light performance, dependability or just in specs–like not having enough adjustment to dial to the distances I want.
My Setup
When I first noticed the Zeiss Conquest V4 and its specs, I felt I found the scope I had been looking for. I was fortunate enough to obtain the 6-24X50 with the ZMOAi-T20 reticle and Zeiss' new Precision Rings for this review. Once I had this scope in my possession, it did not disappoint the eyeball test–very compact and lightweight weighing in @ 24.4 ounces. I decided to mount it on a Red Rock Precision stock and action with a Proof Sendero barrel. All that chambered in 300 Ultra Mag +P  and equipped with an HS 20 MOA rail shooting Hornady 225 ELDM bullets.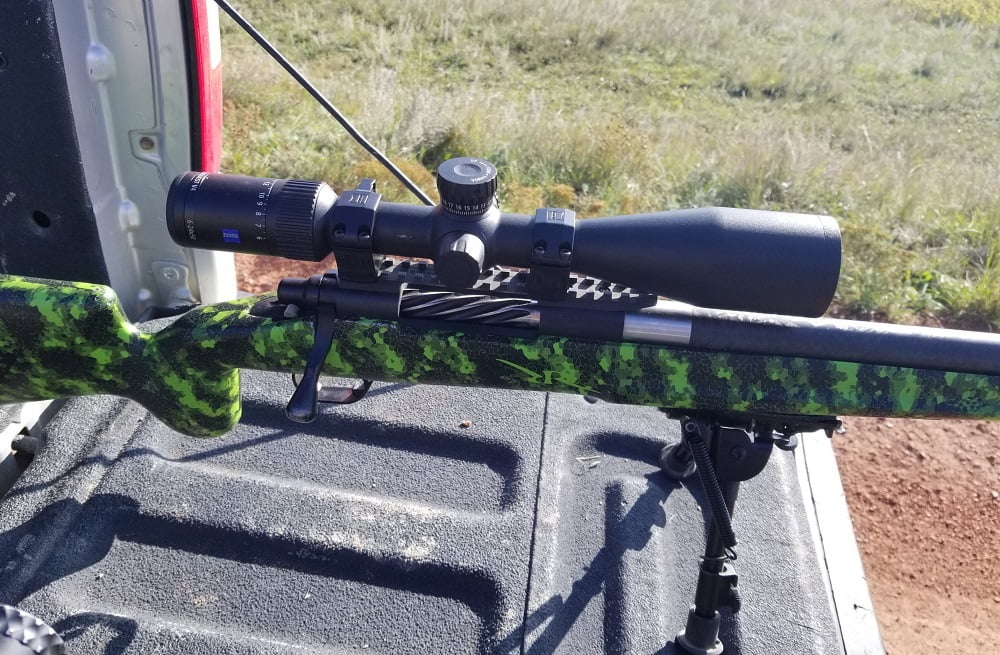 Zeiss Precision Rings and Integrated Level
Using the new Zeiss Precision Rings, which I found very solid, well-built and lightweight at 4.4 ounces, mounting the scope was very easy. From what I can personally tell, they are as good as any other set of rings I have ever used, and that includes Nightforce rings. The bubble level mounted at the top left is small and barely protrudes. Initially, I was skeptical that I would like it as I am used to a bigger bubble level mounted on top. However, throughout the review, I became fond of this setup and found I do not have to move my head to check the level, just open my left eye. Also, unlike other side-mounted bubble levels, I've used, the Zeiss doesn't hang up in gun cases nor is it and easily bumped.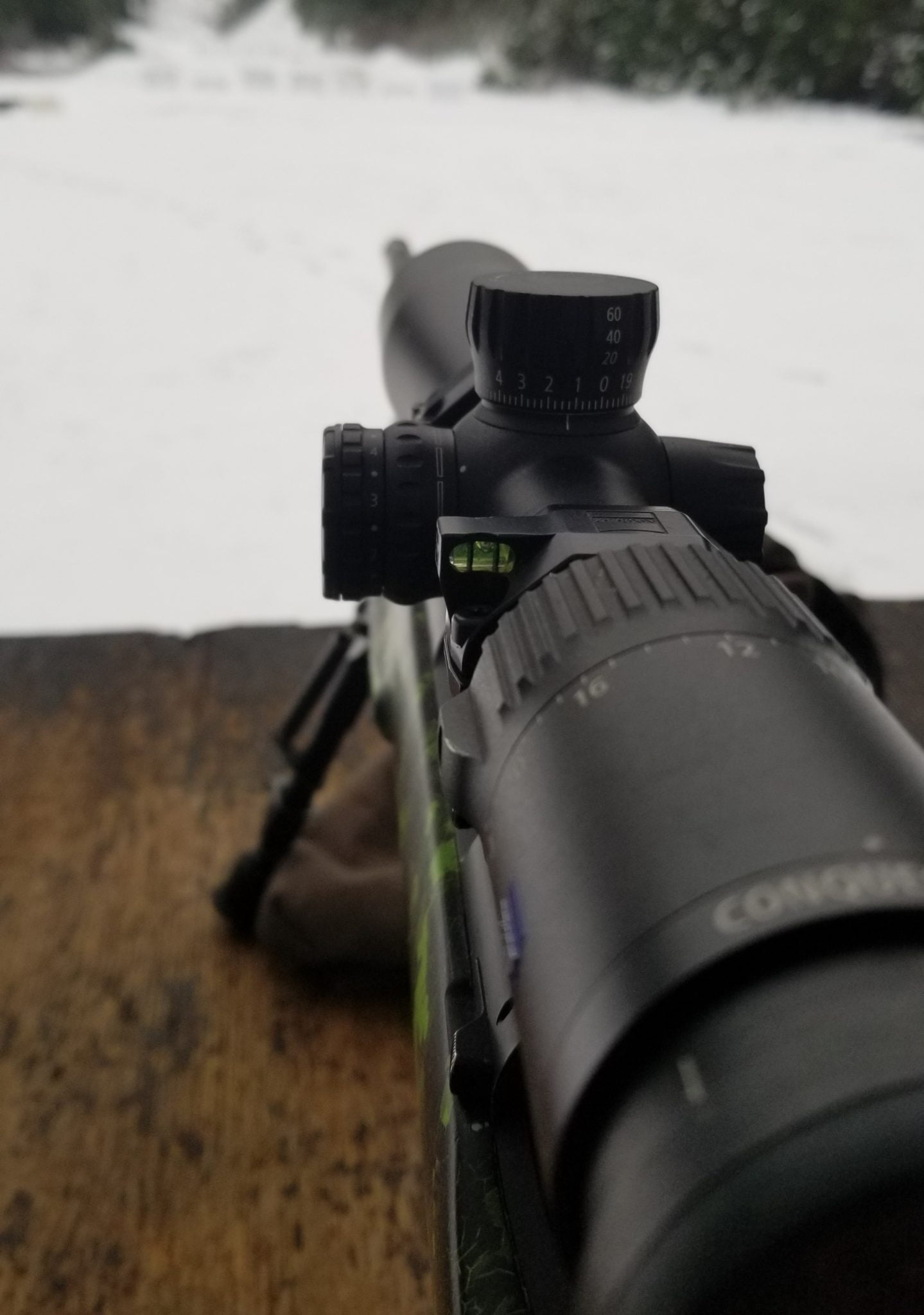 I decided to run it side by side with my Nightforce NXS 5.5-22X50 mounted on a 338 Lapua for much of the review. Also, I had a few other scopes mounted on rifles to check it against, they included a borrowed 5-20 Vortex Razor, 4-16 Vortex PST, and Leupold VX3.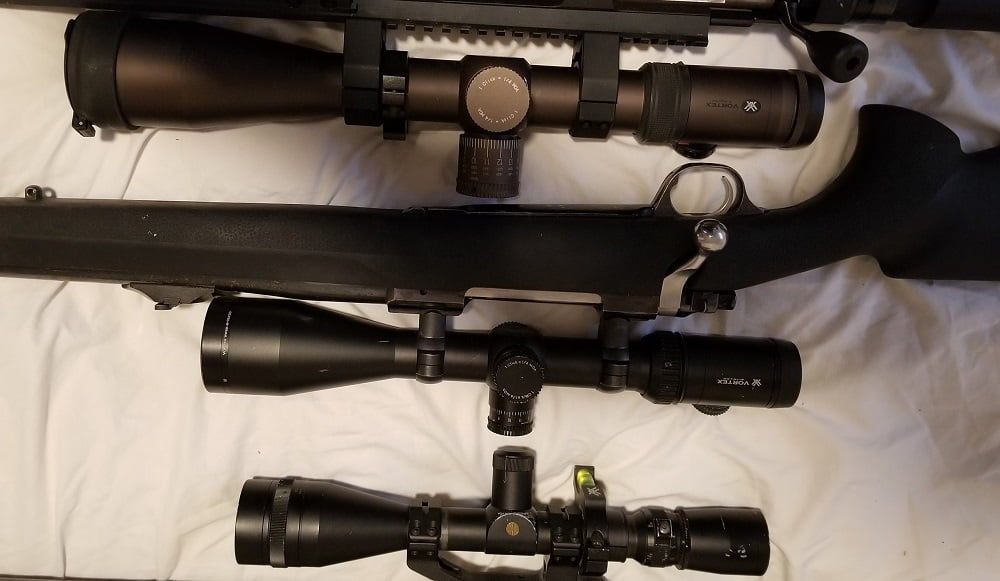 Setting Up And Sighting In
Once mounted, I brought to the range to give it a spin. First off, I found the turret very ergonomic, and just plain feels right. I also found the clicks very solid and crisp. It has 20 MOA per revolution, which I like. I fell in love with the zero stop right off the bat  thinking to myself this is the easiest and best zero-stop I've personally used.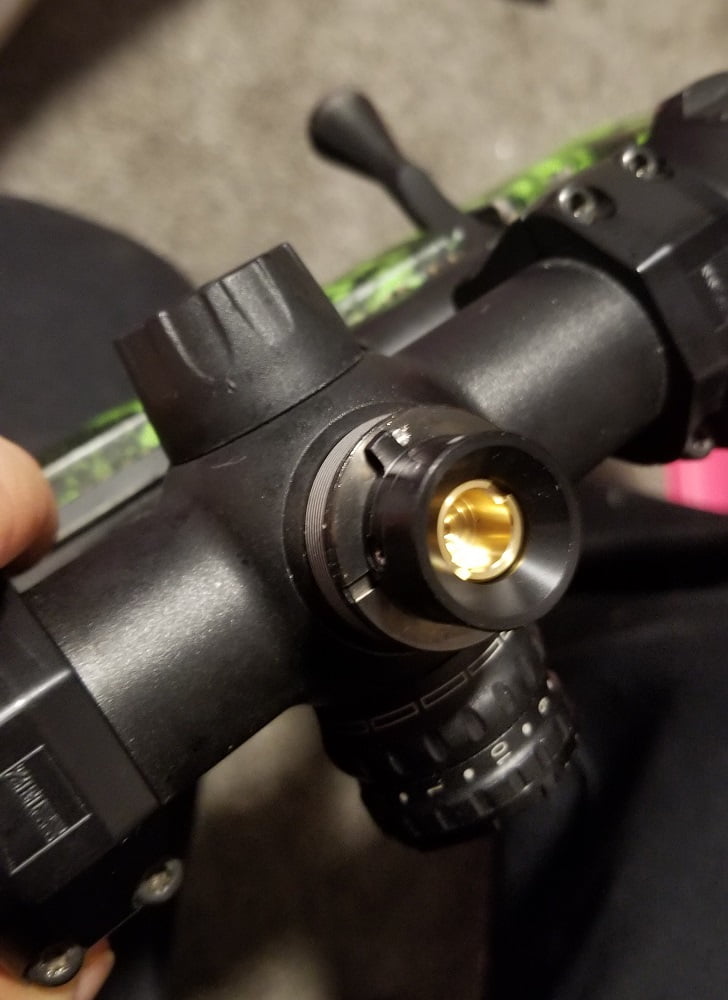 Zeiss Conquest V4 Turrets
I have used quite a few long-range scopes, and the top turret compares favorably with all of them. As good as the top turret is, the windage turret is a letdown. While it dials correctly with solid clicks and has a spring-loaded mechanism that allows you to return to zero very quickly, it is small and doesn't have a great feel. The windage cap is plastic and wants to cross tread every time I remove and replace it if I'm not careful. With that being said, I never had any issue with it during the length of the review. Zeroing the scope was a breeze.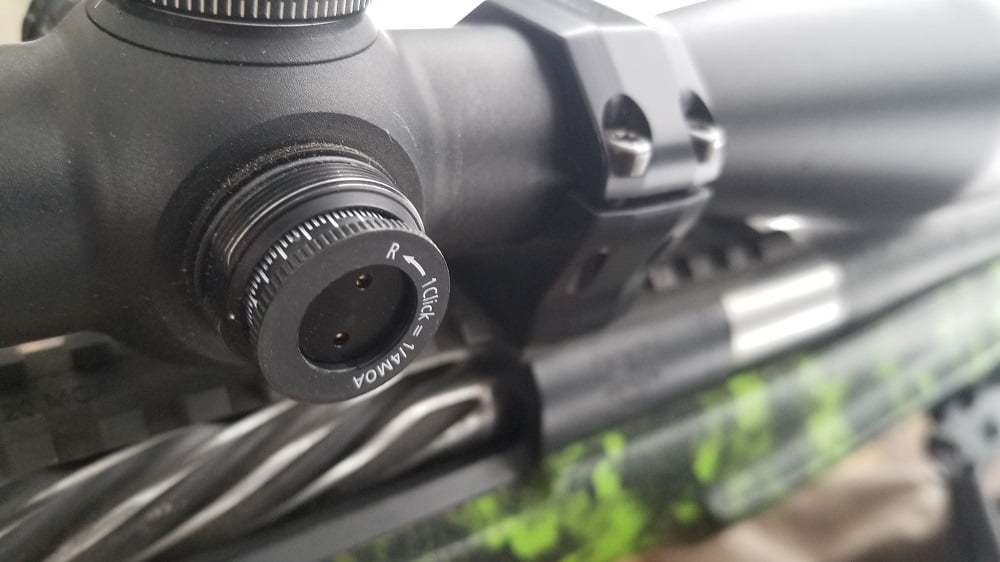 Optical Quality
Looking through the scope, I found it very clear. Although I found the eye relief a bit finicky as it needs to be right to get a clear reticle. It doesn't lock, and I found myself adjusting it a few times during the length of the review. The parallax knob and adjustment work alright but is middle-of-the road with other scopes in the same price point I have used.
Zeiss ZMOAi-T20 Reticle
The ZMOAi-T20 reticle is identical to my Nightforce NXS MOAR and Vortex PST. In comparing them, I found it isn't as tight as the Nightforce but sharper than the Vortex due to better glass. With all that being said, I was able to shoot great groups, and while it doesn't stand in the class of my Nightforce NXS, it performed as good as the Vortex Razor and better than the other scopes.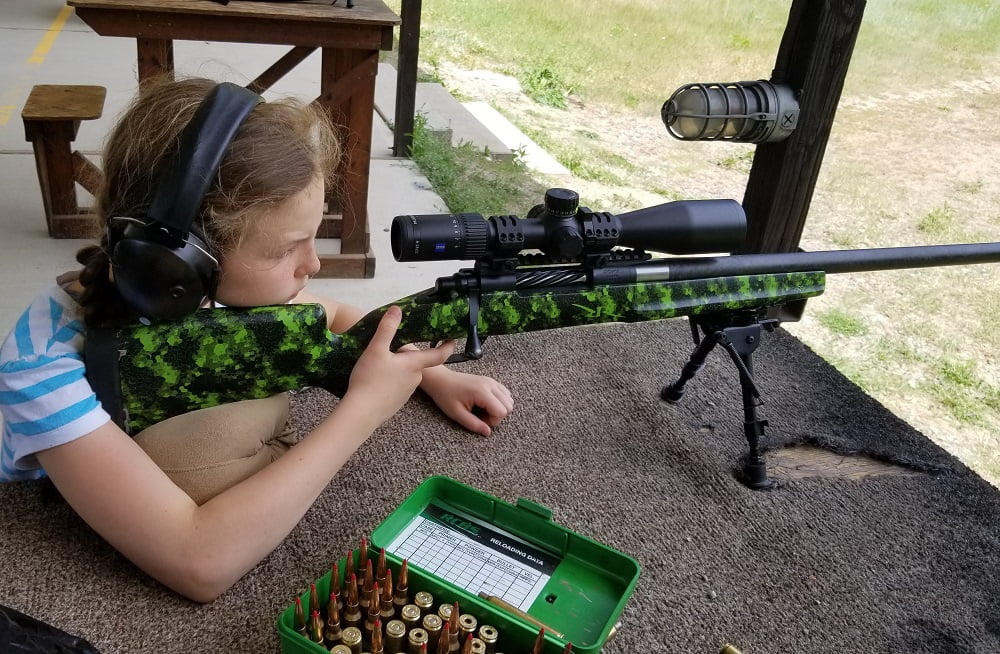 Low Light
As for low light performance (in my opinion is a very important factor as I have had issues with other scopes costing me opportunities) I found it performed very well in this regard, and very similar to my NXS as well as the Vortex razor HD, but quite a bit above the other scopes I mentioned. It does have an illuminated reticle to help in low light situations.

Field Use
Once everything was good to go, I started bringing the Zeiss Conquest V4 on my scouting trips and got quite a bit of practical long-range shooting in. With 71.5 MOA of adjustment up, the scope would allow me to shoot my setup out to 2,050 yards. And, that wasn't including the MOA reticle. The longest distance I ended up shooting it out to was 1,780 yards. I also took my 11-year-old daughter out to the field with it and she was able to identify targets quickly and successfully hit them out to 1,100 yards.
I ran it shot-to-shot with the Nightforce on many long-range shots. From dialing to sight picture at distance, there was no noticeable difference, and if anything, the Zeiss was a shade brighter. The difference in the reticle tightness I noticed so well shooting at a tiny target 100 yards barely showed up at distance. The only real difference I noticed was it took me longer to adjust parallax and sometimes had to mess with the eye relief.
Moose Hunt Success
Due to several unforeseen changes at work and other issues that stemmed from my wife deciding she wanted us to buy a pretty much gut-job house the first week of September (I still love you baby!) I did not get to use it on most of the hunts I had planned for myself and with family members. However, I was lucky enough to take my father in law on his moose hunt, which was his first big game hunt. He was able to make a 700-yard shot in which the scope performed flawlessly.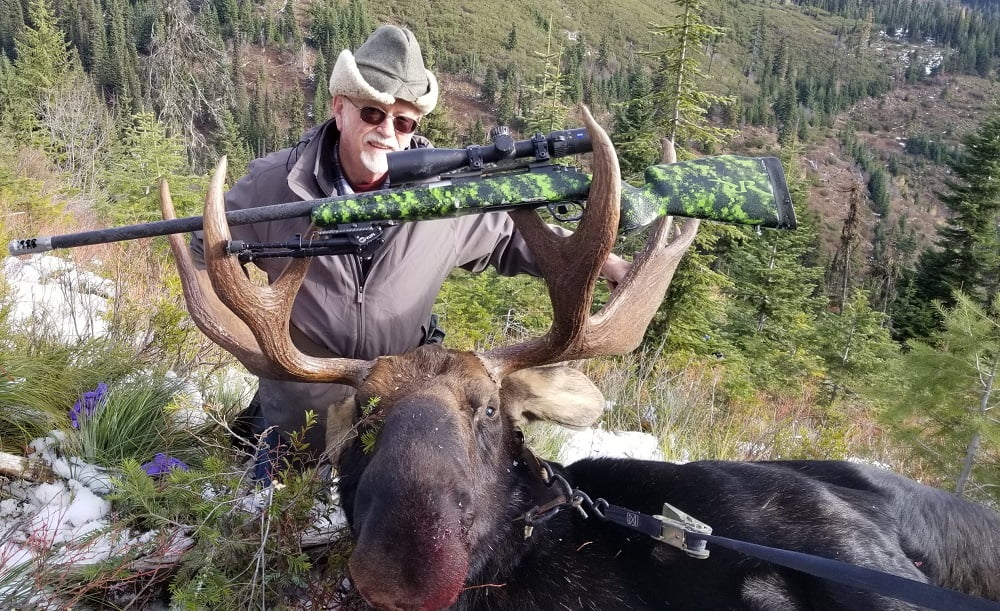 Zeiss Conquest V4 Durability
I was able to spend time hunting the North Idaho high country. The conditions were absolute crap with constant fog, rain, and snow. I had several opportunities to get on deer, and the scope never let me down. It was clear even though moisture covered the lenses. My daughter was able to immediately get on a buck in thick brush in a downpour, although he never presented a good shot. These simple instances check a major box for me.
I have hunted this country for quite a while in these conditions and have lost more than a couple of opportunities at big bucks because of the scope fogging up or moisture making it hard to see in the moment of truth. I ended up taking this set-up on several scouting trips and several thousand road miles, many rough roads, ATV rides, and quite a few rough country hikes. "I'm am not easy on equipment" is an understatement, as can be verified by Ryan Avery and Robby Denning. I checked zero multiple times and shot long ranges throughout all this taking place, including just the other day. Not once did I have to adjust zero as it remained perfect. This is a testament to both the rings and scope.
Conclusion
All in all, while there are some minor things I don't like about the Zeiss Conquest V4, from my perspective, it exceeds the other scopes in the price range that I have been able to get my hands on. While not quite on par with my more expensive NXS, it goes toe-to-toe with it on a few of the major points. The overall quality of parts is not equal, and it is reflected in the price difference. It has the added benefit of being a sleeker lighter weight scope. If someone was looking to set up a lightweight long-range mountain rifle, this would be at the top of the list. See the Zeiss website for more info.
You can comment or ask Jim questions here. A final review of the updated version of this scope is available here.
Also check out these other great optics reviews.