Imagine going to your kid's soccer game on a hot summer day. Under one arm, you have two lawn chairs and your awkward shade structure under the other. As Murphy and his laws would have it, you walk to the farthest field only to find out they moved it to another field. Once you arrive at the correct field, you set up the shade and chairs, now you are ready for an ice-cold (insert your favorite beverage here). Luckily, you brought your new Yeti Backflip 24 backpack cooler on your back.
My Favorite Soft Cooler
I own or have owned just about every Yeti soft-sided cooler offered, and the Backflip 24 is my favorite design. First, it's a backpack, so it frees your hands to carry other things, which has cut down drastically on a second run to the car. Second, the straps are large and comfortable, fitting most everyone. It does come with a hip belt which I have not used nor found a need for in a backpack cooler. If I'm hiking over rough terrain, chances are I will have a real backpack on.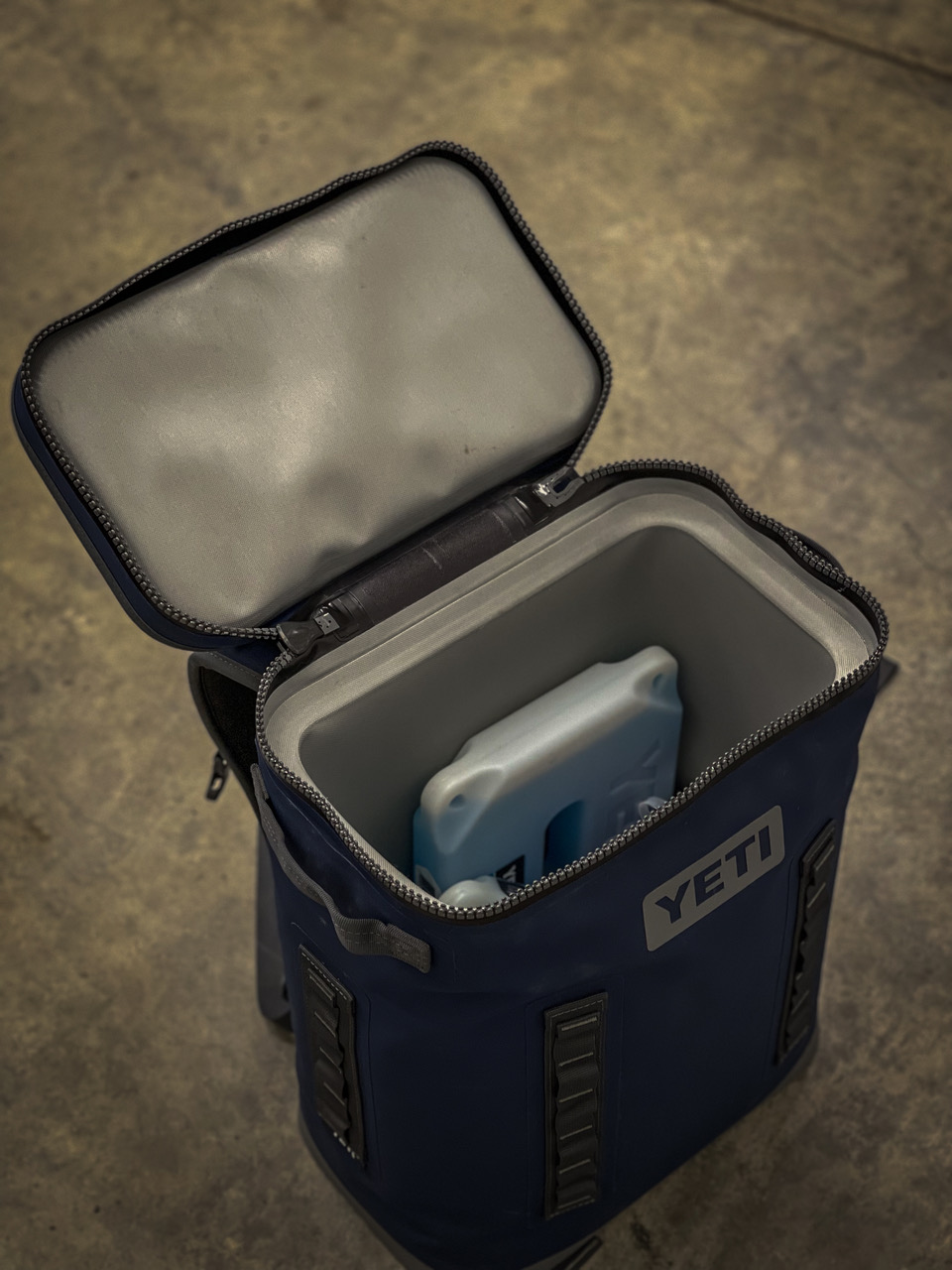 Lid and Zipper
The lid has a watertight zipper top that flips open, enabling you to see the contents inside. If anyone has the magnetic closure Hopper, you know what a pain it can be digging around in there finding what you want. This also makes for more effortless loading of the cooler as well as organization.
Outer Shell
The outer shell comes in Red, Green, Blue, and Charcoal, along with Molle-style attachment points along the back and sides. You can attach a variety of Yeti accessories or simply a carabiner with whatever you'd like. The shell is made using Yeti's Dryhide, which has proven to not only be very tough but very easy to clean. I have simply hosed it off to remove any dirt and debris collected along with our adventures. Along the inside of the cooler, it is equally easy to clean with its smooth surface.
Weight and Capacity
Weighing just over five pounds, the backflip 24 holds a day's worth of drinks and snacks for my family of four. We have also used the Backflip 24 for drinks in the backseat on a few road trips hunting out of state. It holds roughly 15-20 drinks with room for ice.
Yeti Backflip 24 Ice Retention
I did not put this cooler up against another for ice retention. I will say I am slightly disappointed in how long it keeps drinks cold, though. If you are looking for pure ice retention capabilities, I would look at the normal Hopper or similar. However, with that said, I can keep drinks cold for roughly 2-3 days which, in reality, is what this cooler and other soft-sided coolers are designed for. Weekend trips, no pre-cooling necessary, and easy to carry.
Conclusion
Yeti hit all of the features I want in a soft-sided cooler with the Backflip 24. With the rectangular footprint, it does not take up a lot of space, it is easy to access, carry, and simply looks good. Priced at $300, this is a good investment for those weekend summer scouting trips or getting out of town with your family. You can view options and order here.
Comment on this review or ask Travis questions here.
Brock Ackers also reviewed this cooler in 2019. Read his review here.