When merino wool baselayers became mainstream for hunters not many years ago, true to form, I sat on the fence and let others go first.
If a piece of gear is working for me, I'm the slowest among the slow to adapt. I want to be convinced that I need to change. While certainly influenced by budget, I think it goes deeper than that for me. I was the kid in school who used the same pencil until it was about as long as my thumb. At 46 years old, I'm still driving the same old Toyota truck to work that I bought when I was 19. I have a hard time blowing with the wind. However, I'm not a hoarder either. When something truly better comes along, all sentimentality goes out the window and I adapt quickly.
I followed this same cycle with polypropylene baselayers. They had been on the hunters' market a decade before I finally threw out my old dimpled cotton baselayers. I'd hunted with enough friends to know the synthetic performed better, so the switch was easy on my mind and I never looked back. Some of those baselayers made it 15 years. Save the smell, some staining, and a few tears, they were still functioning when I retired them.
By 2013, I'd been around enough merino that I was comfortable to give it a try. However, I still had one reservation: durability. Even the companies making the stuff admitted that I wouldn't see the durability I had enjoyed with the polypropylene. With First Lite as a Rokslide sponsor, the risk was low so I ordered my first set—a lightweight Llano QZ top and mid-weight Allegheny bottom— in February 2013. It's three years, three hunting seasons, and a hundred plus use-days later now. I thought it was time to re-assess my original concern about durability.
Because the Llano top is of the lightest weight merino, I wear it more than the Allegheny bottoms, so I'll just use the Llano for this review. Starting with the cool mornings in late August when I'm scouting for mule deer, the Llano top is on me almost daily. The only exception is if temperatures exceed 70 degrees and I'm active, then I'll either take it off (I know its weird and my dermatologist frowns, but I often hunt shirtless in hot weather) or replace it with a cotton or polyester shirt.
Most years I hunt and guide about 50 days average which takes me into at least early November and sometimes later. By then, I'm under three or four layers of clothes but the Llano is still my next-to-skin garment. I estimate that 40% of the time the Llano is worn as outerwear (maximum abrasion) and 60% of the time as underlayer (minimum abrasion.) I almost always have a day pack with shoulder straps on and at least once per year, I am also backpacking meat at least a mile with a pack in the 60-90lb range. Let's be conservative and just say I wear my Llano about 35 days a year. Running the math in my head, that means I've exceeded 100 use-days on the Llano. So how's she holding up?
I can find three places where the material has either worn though or been snagged and torn: one each on the lower right arm and cuff (I'm right handed so that makes sense) and one on the left rear shoulder. There are a few holes I've poked through the merino on the sleeves but they've never expanded beyone the initial damage. There is no piling except on the lower sleeve seams where my arms rub against my sides when I walk. Holding the garment up to the sun, I can see it is thinning in the shoulder areas but not by much. That is most likely because my day pack rubs me in those areas, and from hanging on a hanger in the off season.
Looking at the Llano's ability to maintain color without fading, I can see there is some color loss, but like the thinning, not much. I don't have a new Llano in Mossy Oak Break-Up Infinity pattern to compare it with, but looking at some photos taken the summer the top was new, I don't see much difference—maybe a 10-15% loss. Just enough to notice that it's not a new garment but far from looking like ragbox material either. FYI, I wash the Llano inside-out and according to the directions, but I air dry it. It's probably never been in the dryer.
Then Now
With no real objective way to test this, I can only estimate it's lost some insulating factor, but not enough that I could quantify it. If it has lost some, that just means it's better suited to the warmer days of September when I'll still enjoy the wicking and quick-drying ability quality merino is known for.
I test this all the time as once the cold weather hits, I'll go on 9-day hunts and never take my baselayers off (gross, I know). While they smell a little worse after five days and a little more than that after nine, compared to polypropylene, the Llano is a rose. I've noticed no loss of odor control with the wear which makes sense as the merino fiber should maintain this ability until it's destroyed.
Summary
I could expect to get one more year of out this garment before it will need replaced, barring any accidents with it. This means a guy like me could expect up to 135 use-days. Some of my hoity-toity friends would replace this garment now, but remember, my desk contains at least several 3-inch pencils.
Remember, this test was done on the lightest weight merino offered in the Llano. If you're using heavier weight merino, it will last even longer. With a retail of around $100, that calculates out to about 75 cents a day to enjoy the comfort that quality merino provides. My similar weight Cabela's polypropylene baselayer that I bought in 1992 lasted 15 years before it showed similar wear and cost around $25. With an estimated 450 days use in that time, and adjusting to today's dollar, that math works out to about 11 cents per day. You could say that is a much better value, but considering the increased comfort and function the merino provides, I'll pay the 64 cents extra per day.
However, if you're a young father like I once was and you're squeezing the budget like a sponge, quality polypropylene will certainly get you through the lean times. When you can step up to quality merino, go for it. You'll like it and if you're watching where your money goes, the price difference won't amount to enough that you'll likely ever go back.
Anyone else have feedback to share on your experience with quality merino?
Read all about the gear and techniques I use in my new book, Hunting Big Mule Deer, How to Take the Best Buck of Your Life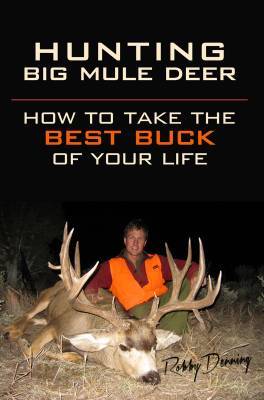 Subscribe so you don't miss a post at "Subscribe to blog" upper right under Fitness/Other