Picking out a quality scope to mount on a modern custom rifle can be a daunting task.  We have so many options today that it can become overwhelming.  I had the opportunity to test out the Snowy Mountain Rifles Alpine Hunter (SMR) this past year and went through the process of picking out the scope that I thought would work best for my intended purposes.
I chose the Zeiss Conquest V6 in their 3-18×50 with a ZMOA-2 reticle and Ballistic Turrets.  The SMR Alpine Hunter is a long-range capable rifle that is built to be in the 7-8lb range.  I wanted to keep the completed build as light as possible without sacrificing glass quality, repeatable turret tracking and light gathering abilities.  I wanted an MOA turret with a solid zero stop, second focal plane, and a reticle with windage subtensions in MOA.  The Zeiss V6 had it all and was only 22oz.

Some tech specs on the Zeiss Conquest V6 3-18×50 rifle scope
Schott Glass with Fluoride Lenses (FL) & T* Six Layer lens multi-coating with Lotu Tec protective lens coating
6x Zoom
30mm tube
92% light transmission
Second focal plane
13.3" long and only 22.2oz
FOV 38.2'-6.3' @ 100 yards
3.5" eye relief
.25MOA adjustment clicks
Side parallax adjustment from 50-infinity
Three reticles:  #6 (plex), ZBR-2, ZMOA-2
Ballistic Turret with positive zero stop or a capped turret option
103 MOA elevation & 58 MOA windage, 20 MOA (80 clicks) per rotation of the turret
For more detailed specifications on the Zeiss Conquest, go to the Zeiss Website.
First Impressions
Upon receiving the scope, the first thing I noticed was how light it felt in hand.  The glass was clear and bright, living up to the Zeiss reputation.  The turrets were easy to rotate and had a solid click when adjusted.  The zoom/magnification ring was not stiff to rotate and had enough texture to grip well, even with light gloves on.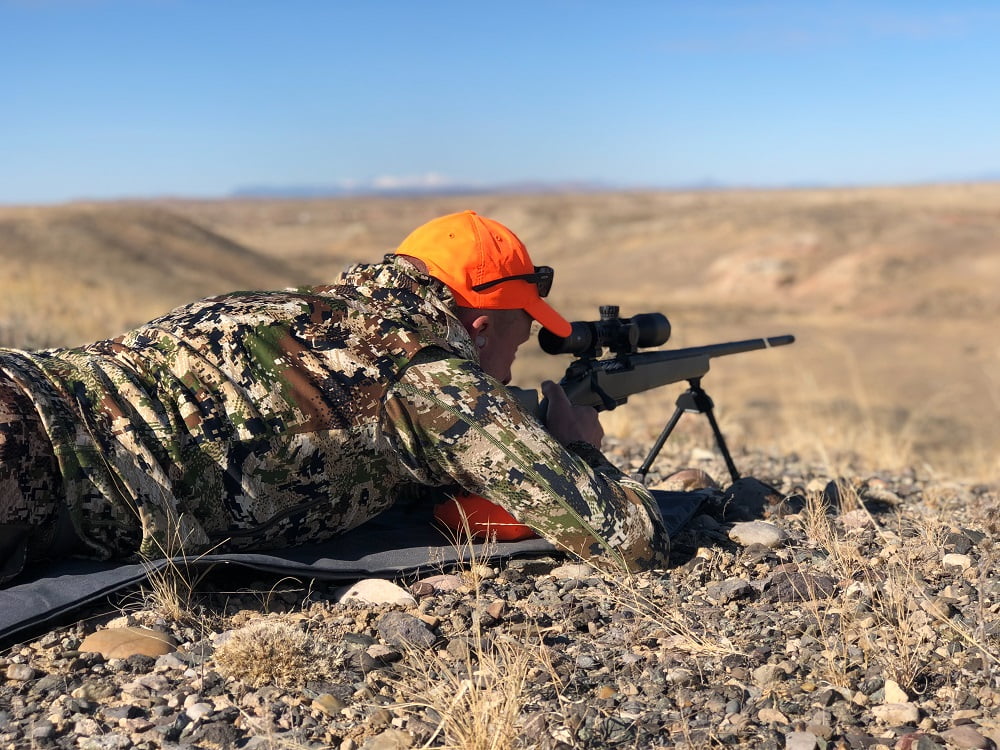 Range Performance
No time was wasted after getting it mounted up on the SMR.  The scope elevation tracked perfectly as we consistently banged steel plates out to 1200 yards and back in to 100 yards on a paper target.  The turrets are easy to rotate but stiff enough to stay put when not being adjusted.  The windage subtensions in the ZMOA-2 reticle proved spot-on in the Montana wind, as did the windage turret.  I am sure with 103 MOA of elevation adjustment that I didn't get close to maxing the turret out at 1200 yards.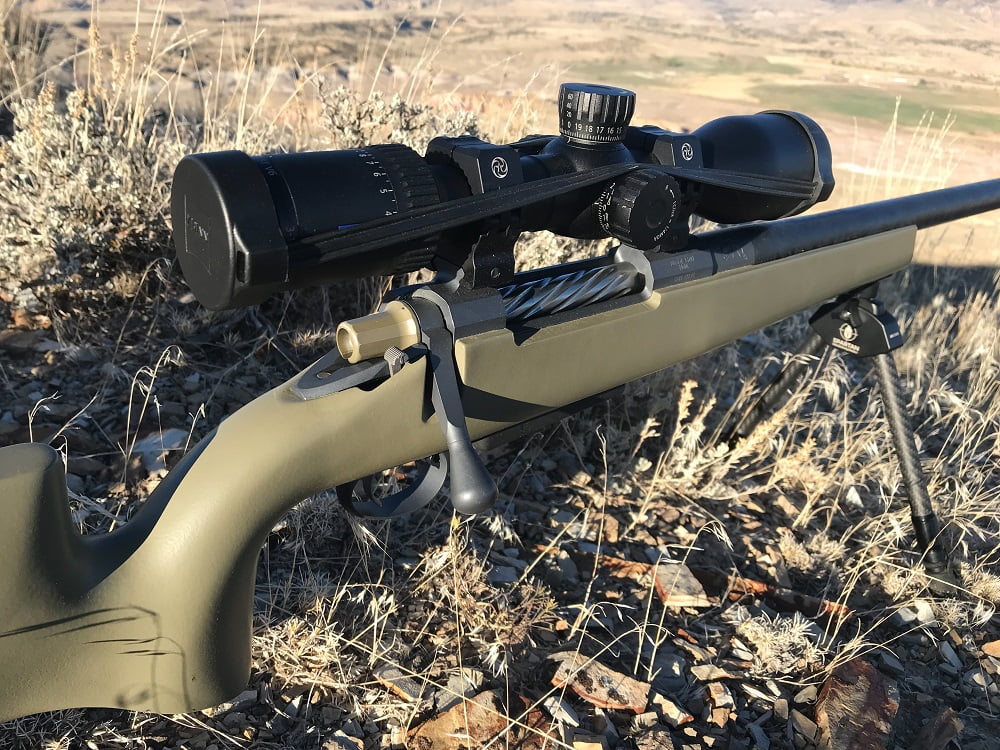 As I had a Wyoming elk and deer tag to fill, the scope would get tested backpacking in for my elk and then a mix of a horseback hunting and bouncing around day hunting for a buck.
First Up, Elk
I was fortunate to find a mature 6×6 bull in a spot that was perfect for a shot from above.  I was able to crawl up to a cliff edge above the herd and take my time setting up for the shot.  There was no way, due to the cliff, to stalk closer.  My rangefinding binos told me it was 575 yards and gave me the correction for elevation.  There was zero wind, so no windage correction.  A quick adjustment to the elevation turret and one shot later, I had my bull.  Getting him off the mountain was not as easy since I had to go all the way down the mountain in the opposite direction and come up from below him to get him out.
Mule Deer
My deer tag took a lot of miles to fill but once I found a buck that I wanted to kill, the scope performed perfectly.  I found him at daylight, pursued by other hunters.  I was over a mile away on a high knob glassing the scene and as they pushed him into a deep, long canyon. They appeared to lose track of him and after a few hours of them walking the rim of the canyon, they left.  I packed up and headed that way.
It only took 30 minutes of glassing after getting to the canyon edge before I spotted him bedded in the pinyon and junipers.  He had skylined me and was watching my every move.  I dropped down to the edge and ranged him as he stood up out of his bed.  I adjusted the turret to compensate for the 751-yard shot as he stood like a statue staring my way.  If he had started moving off, I would have had to let him walk but I got lucky as he must have felt hidden.  He never made it 10 feet.
Conclusion
The scope worked as well as I could have hoped in all situations I put it in and I have complete trust in it.  It got bounced around on my hunts and doesn't show any signs of damage.  The glass is fantastic and the turrets are easy to use and tracking proved to be spot-on.  The scope retails for $1899.99 and I highly recommend it. You can link to the scope here for more info.
You can comment or ask Tony questions here.