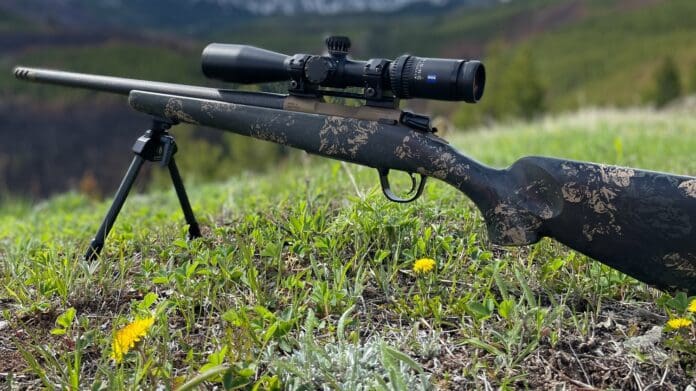 Most of us seek out and use ultra-lightweight gear for our backpacking hunts.  Titanium spoons, down sleeping bags, carbon fiber tripods—you get the idea. This desire to cut weight from my gear has left me wanting an ultra-lightweight rifle, a "sheep rifle," as many will call it.  Not that I expect to get my hands on a sheep tag anytime soon, but hey, a guy can dream. Plus, it gives me a reason to buy another rifle. Enter the new 2022 Christensen Arms Ridgeline FFT.
Christensen Arms Ridgeline FFT
FFT stands for Flash Forged Technology. Jason Christensen explains it better than I can.
New manufacturing methods of carbon fiber are pretty interesting, and I am guessing this won't be the last we see of it. A stock that is a full-pound lighter is a big deal!  Add the FFT bolt knob and floor plate to it, and there are significant weight savings in the FFT models from Christensen Arms. More info here.

My "Sheep Rifle"
I wanted a short action and chose to have the Ridgeline FFT chambered in 6.5 PRC.  It is available in many chambering from 22-250 to 300 RUM.  The weight was 5lbs 7oz out of the box, well within what I was looking for.  The fit and finish on the Christensen were very nice, with no visual flaws.  The FFT Sporter style stock is spot bedded and has stainless steel bedding pillars. The Trigger Tech trigger was a bit stiffer than I like, but it was easily adjusted to where it broke around 3lbs.  The action was smooth, and the Cerakote finish made the action stand out.  The bottom metal is billet aluminum.  It is available in several finishes, and those can be seen here.
Muzzle Brake
The new side baffle muzzle brake reduces the 6.5PRC's kick to more of a bump to the shoulder.  The side ports make the shot very loud, and hearing protection is a must for me.  Staying on target after the shot in prone was very easy.

Carbon Barrel
The barrel is 416R Stainless Steel wrapped with Aerograde carbon fiber, hand lapped, and button rifled at a 1:8 twist for the 6.5PRC.  The short barrel is 18.75" long, and the brake adds another 2.25". I love how tiny this rifle feels.
Zeiss Conquest Scope
I chose the Zeiss Conquest V4 4-16×44 with ZMOA-T30 reticle for this rifle. You can read that review here. To mount the scope, I used Zeiss Ultralight 1913 Mil-Std Rings with an integral anti-cant bubble, which proved very solid.
Javelin Bipod
Lastly, I added a Spartan Precision Equipment Javelin bipod, and we were ready to see how she would shoot!
Unknown Munitions Ammo
I reached out to Unknown Munitions for custom ammo for the rifle.  I wanted 156gr Berger Elite Hunters, and I was lucky that they had them and the brass in stock.  Jake and Jessica Mushaney at Unknown Munitions run a fantastic custom ammunition-based business and make life much easier for the shooter/hunter that doesn't have time to reload their own ammo.  They also do custom load development, Cerakoting, and even reloading and load development classes.
Sighting In
The first-time sighting in went fast, and I was impressed with how the build was shooting.  My groups were under ½" spread at 100 yards, and this was not from a bench.  I was prone and even forgot my rear bag that first day.  The rifle clearly was capable of shooting better than I was.  Even without load development, the Unknown Munition's ammo perfectly paired up with the rifle.  I was ready to go bear hunting.
I spent several weeks in the mountains with the Ridgeline FFT and got pretty comfortable with the rifle.  At 7lb 4oz, it's a dream to carry and handle.  The bear hunting was another story, and although I never caught up with the giant black bear that I set my sights on, it provided me time to bust some rocks, and I never saw any deviation in performance from the lightweight build.  Had there been an open mountain lion season, I would have notched a tag on a nice tom lion that I watched for a few minutes.
Western Hunting Summit
Next on the schedule was presenting at the Western Hunting Summit.  Along with educational lectures about planning, scouting, gear, hunting tactics, and skills, the WHS provides interactive clinics for shooting with Joel Turner for those attending.
During this time, I was able to test the off-hand shooting ability of the compact rifle.  Joel had us shooting across the canyon and uphill; no backpacks or bipods were allowed.  He had us twisted up to find a stable position, and I am happy to say that the Christensen hit steel every time I sent a round.
The little rifle was a crowd favorite, and after I was done shooting, I let a few others shoot it.  Ryan Lampers, Brady Miller, and Travis Nowotny all hit steel with every shot as well!  Everyone who shot the rifle was impressed with how it handled and performed.

Conclusion
The lightweight Ridgeline FFT is a dream to carry in the mountains and shoots better than I expected a "sheep rifle" could shoot.  After returning from my spring trip to the mountains, I rechecked zero, and everything was still perfect.  The rifle seems to be getting more accurate with more rounds down the barrel.
There is a reason competition shooters' rifles weigh more than the average hunting rifle; heavier rifles are easier to shoot more accurately. But the Christensen Arms Ridgeline FFT has proven that a short, ultralight rifle can still shoot accurately, and I would recommend it to anyone wanting a high-end, ultralight rifle. Order here
Comment or ask Tony questions here.