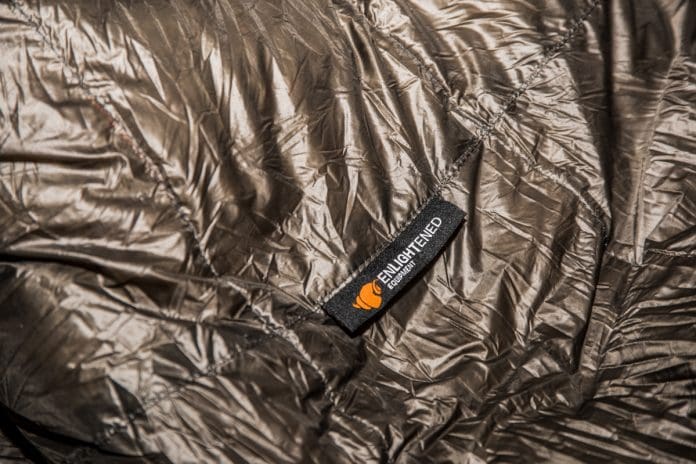 Enlightened Equipment's Convert Quilt Review

by Travis Bertrand, Rokslide Moderator
You flip through the pages of your favorite backpacking magazine or scroll through the Rokslide forums and you keep seeing all this talk about quilts. What are they? What is all the hype about? You're intrigued but scared to take the plunge. If this sounds familiar, then you will like what I have to say about the Convert from Enlightened Equipment.
In short, a quilt is a no-frills sleeping bag that went on a diet. A quilt takes advantage of the built-in insulation of your sleeping pad. A properly designed quilt wraps around the edges of a sleeping pad utilizing its insulation. This gets rid of the redundancy of the sleeping bag and pad insulation. It's a known fact that your body weight drastically reduces the insulating factor of a traditional sleeping bag between yourself and the pad anyway.
Quilts typically don't have hoods either. This drastically cuts off weight. In it's place, you utilize your beanie that you're already carrying if weather dictates. You will find a quilt does not have a zipper as well (exception below) as they add weight.
The Convert was designed for the skeptics among us who are scared to leave the security of a sleeping bag and dive into the unknown quilt world. The Convert is a fully functioning quilt with a full-length zipper giving you the option to use as a bag or a quilt. The Convert shares the same ultralight fabrics, down options, and baffle design of it's bestselling cousin, the Revelation quilt.
The Convert is fully customizable in 16 different outside colors and nine inside colors with a wide option of accents. Down fill options range from 800-950 fill untreated or treated with Downtek water repellent. Temperature ranges from 50 degrees down to minus-10 degrees to cover guys from the middle of August hunting antelope in Nevada to the late season Montana winter elk hunts. These quilts are made to order and you can buy them in lengths ranging from 5′ to 7′ with three different width options (Slim, Regular, And wide).

The Convert Laid Out Flat
The Convert's shell is made of 10D fabric that is DWR treated with an open foot box that can be cinched closed to adjust the temperature. At the top, you will find a drawstring to cinch the quilt around your body to minimize drafts. One big thing you will notice between a traditional sleeping bag and the Convert is lack of a hood. This allows the bag to be lighter and you choose if you want to wear a hat at night depending on the situation.
If you are in cold weather, I would highly recommend trying Enlightened Equipment's Hoodlum out. It is essentially a lightweight insulated hood weighing between 1.5-2.2oz. It also can double as a perfect glassing headwear to keep the chill off of your head while looking for that giant buck.
The Hoodlum tipped the scale at just over 2 (well-worth-its-weight) ounces

Enlightened Equipment also makes a pair of lightweight sleeping booties called the Sidekick that weigh 1.5-3 oz. They solve the cold toe problem in cold weather while adding minimal weight to your pack. Inside my quilt, I noticed the four ounce Climashield APEX model adequate below the 15 degree mark and took the bite out when the temps hit single digits.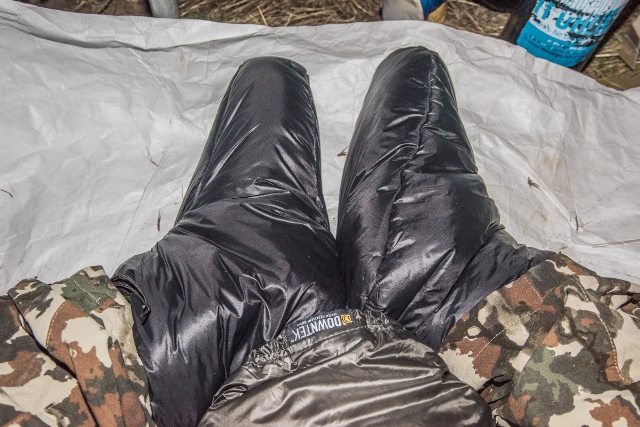 The Sidekick sleeping booties clocked in at 2.6 ounces and really cut the cold even in single digits

You can use this quilt in a traditional sleeping bag mode with your pad underneath or you can slip your pad inside due to the wide design of the quilt. Because the Convert doesn't have a hood, you can orient the zipper to your preference from either center entry or side. Center entry makes it really easy to get in and out of the bag without having to reach for zippers.
Convert shown in quilt mode with the pad acting as the sleeping surface

When using the Convert as a quilt, you either completely unzip it or zip it three-fourths the way down to the first sewn-in button. This creates a pouch in the bottom that helps keep drafts out and pad in place. There are two more buttons and I found it best minimized drafts when I snapped all three around my pad. With this configuration, I was able to seal up drafts along the side all night.
I am not happy with the rubber zipper pulls that it comes with. They have fallen off several times and will promptly be replaced with a short piece of 1.25mm dyneema cord.
One of the three buttons found at the top, bottom and one-fourth up from the bottom
I ordered two quilts, one in 10 degree and a second in minus-10 degree rating, both in charcoal shell and a forest lining regular length and width. To add flare, I opted for a steel reflective stripe near zipper and I decided to go with 800 fill Downtek treated down to maximize my cost/weight ratio.
Enlightened Equipment offers up to 950 down for the serious ounce counter but be prepared to fork out some dough for it. With the 950, you will be able to achieve the same temperature rating as an 800 but cut up to 5 ounces off the weight. The price of Downtek treated down versus untreated down is the same, so it's a no brainer for the western hunter that lives off his back to get the treated down option. In the event that the bag is exposed to moisture, the treated option absorbs 30% less water and dries 60% faster than untreated down.
I found the advertised weights of both Converts very close to actual weight. It is hard for a company to give an accurate weight due to fluctuations of supplies they use.
-10 Degree(Grey) and 10 Degree (black) Convert in supplied stuff sack on postal scale
Convert shown in forest green liner with a charcoal shell accented with a steel reflective stripe
I was able to test the Convert out on a couple recent backpacking trips in the Sierra Nevada Mountains. At night, the temps were in the low teens with a wind chill on top of that. A few nights got down to near 0 degrees. It was perfect conditions to test out both the 10-degree bag, and minus-10 degree bag custom made for me.
On the warmer nights, I slept in quilt mode with the foot box open. For clothing I wore a pair of light pants, and a lightweight puffy paired with the Hoodlum hood. I can honestly say that the 10-degree bag kept me warm all night once I figured out how to keep the quilt tucked in. I could feel the draft from the open foot box but that was easily handled with a pull of a drawstring. Being a guy who prefers to be on the warm side while sleeping, I would say this bag is rated around a +15 degrees. Keep in mind with most companies you can easily add 15-20 degrees to the published rating and I am sure if you zipped this bag up you would really get the full potential out of it.
The Convert in sleeping bag mode next to a Marmot 0 degree bag
On a snowshoe trip, I REALLY had the opportunity to test the two quilts side by side. In fact, in the middle of the night, I even swapped quilts to see the difference in temperature ratings. I was feeling the cold in the early morning hours when the temperature surpassed the quilt's rating but not so uncomfortable to change to full sleeping bag mode. Most of my heat was lost due my sleeping pad R-value. I used an Exped Synmat UL7 with an R value of 3.1. So make sure your pad's R-value is up to snuff for the mission at hand. One option would be the Therma-rest NeoAir Xtherm with an R value of 5.7

The Convert in quilt mode in three feet of snow
Overall, the Convert did its job and "Converted" me to a quilt user. The room under a quilt compared to a mummy bag is a welcome change for a guy like me who tosses and turns as a side-sleeper but gives me the freedom to zip it up if I miss the security of a mummy bag or the night gets a little colder than expected. Included, you will receive the quilt, stuff sack, and storage sack. I found the stuff sack to fit well but I could get both quilts to half of their size with a compression bag.
My 10-degree and minus-10 degree Converts in compression weigh less and are smaller than a traditional bag
The Convert, along with all other Enlightened Equipment products, is made to order in the USA in Winona, Minnesota. Depending on the options, you can pick up a Convert between $275 – $750 (900 fill, 7'L,70″W) from Enlightened Equipment here.
You can ask Travis questions or discuss this article here
You can read other quilt review here: Prodigy & Prospect and here: The Accomplice 2-Person Quilt