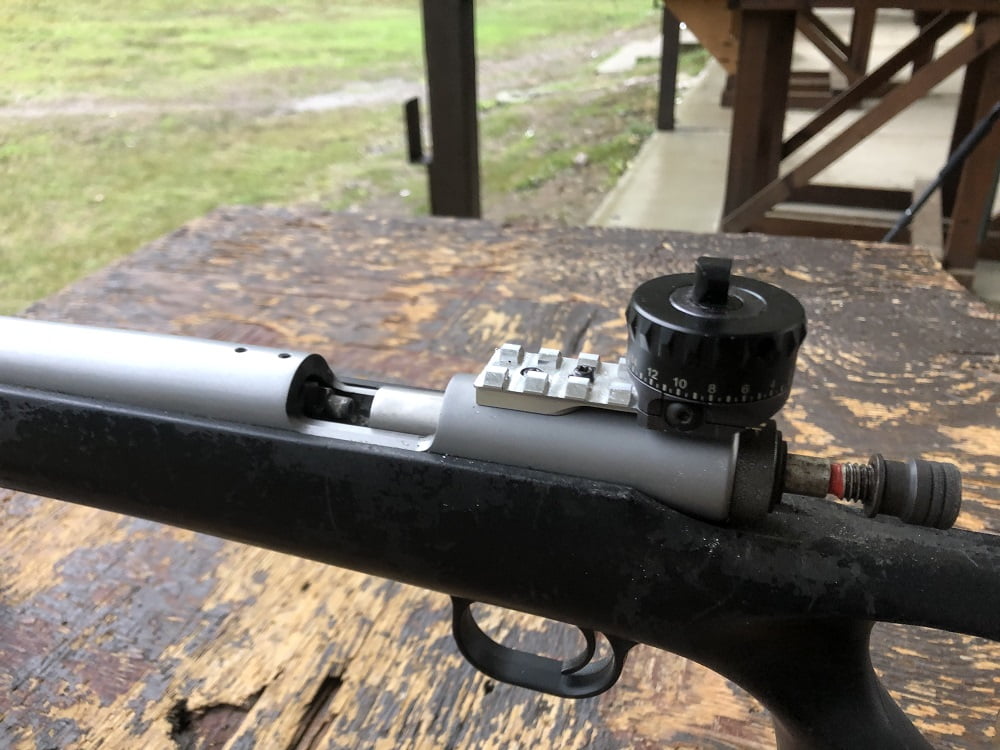 I've been into long-range muzzleloading for quite a while and was intrigued when I saw the Gunwerks Revic Exo rear sight. Being from Idaho with traditional rules, we don't have the luxury of being able to use a scope or sabots, so long-range is relative. But just because we have restrictions is no reason not to maximize our range capabilities. Peep sights are the only way to go for open-sighted muzzleloaders; if used correctly, your target will always be visible to you.
My Trusted Peep Sight
I have used the Williams field adjustable rear peep sight for years and have done very well with it. Shooting out to 300 yards accurately is very doable. However, I have always wanted to get a rear peep with a bit more precision when I dial. I've hunted from 1,500 ft elevation to over 10 K in December. Drops change when the environment changes so knowing exactly what to dial under any circumstance is huge. When I first heard about Gunwerks Revic Muzzleloader rear peep sight, I was all over it.
First Look At The Revic
Upon receiving it I noticed it was a bit larger than I expected. It weighed in at 3.9 ounces. Each click is 1/2 Moa with 32.5 Moa of travel from zero, and these are marked on the sight so you don't have to keep track or count. Gunwerks can also laser etch custom BDC yardages. The clicks are very solid. There is no locking mechanism for the turret, however the solid clicks, while still easy to adjust, don't move without shooter input.  Mine never moved 1 click the entire time I hunted with it.
1/2 MOA Clicks For Gunwerks Muzzleloaders
After talking to Landon with Gunwerks, I found out its MOA measurements are based on the dimensions from one of their muzzleloaders. So, it might not be exactly 1/2 MOA per click for every muzzleloader. I also realized there were a couple of issues: it needs a Picatinny rail to sit on which puts it up very high. Also, it does not have a way to adjust for windage.
Mounting The Revic EXO Peep Sight
I mounted the Revic to my trusty Knight Bighorn using a small Picatinny rail attached as far back as possible. Shooting with the original front sight put me roughly 4 feet high at 100 yards. So I bought the highest front sight possible but still couldn't get my point of impact low enough.  I finally tried using a lot of shims. However, it still didn't allow me to adjust the front sight. I also wanted a standard setup that was repeatable for anyone who wanted to buy the sight.
I talked to several gunsmiths without much luck. Then I talked to the tech from Williams Gunsights. He told me to measure front post height, rear sight height and the distance between (called the sight radius); mine was right at 30 inches. I also was told to shoot at 30 yards and give him the number. I was nine inches high; with this, he was able to calculate the height my front sight needed to be. Having that info, we chose a combination of a base, riser block, and fiber optic post; Williams carries these. I also found several options at Brownells.
Installing New Front Sight
The front sight base that would be perfect for me was not made for my Knight but close so I put a piece of 320 grit sandpaper around the barrel and sanded the base until it fit the barrel perfectly.
I then attached it with the added front sight riser block from Williams. This is an important piece as it allows me to adjust the front post for windage. I then added my post which has a wide base for more adjustment if necessary.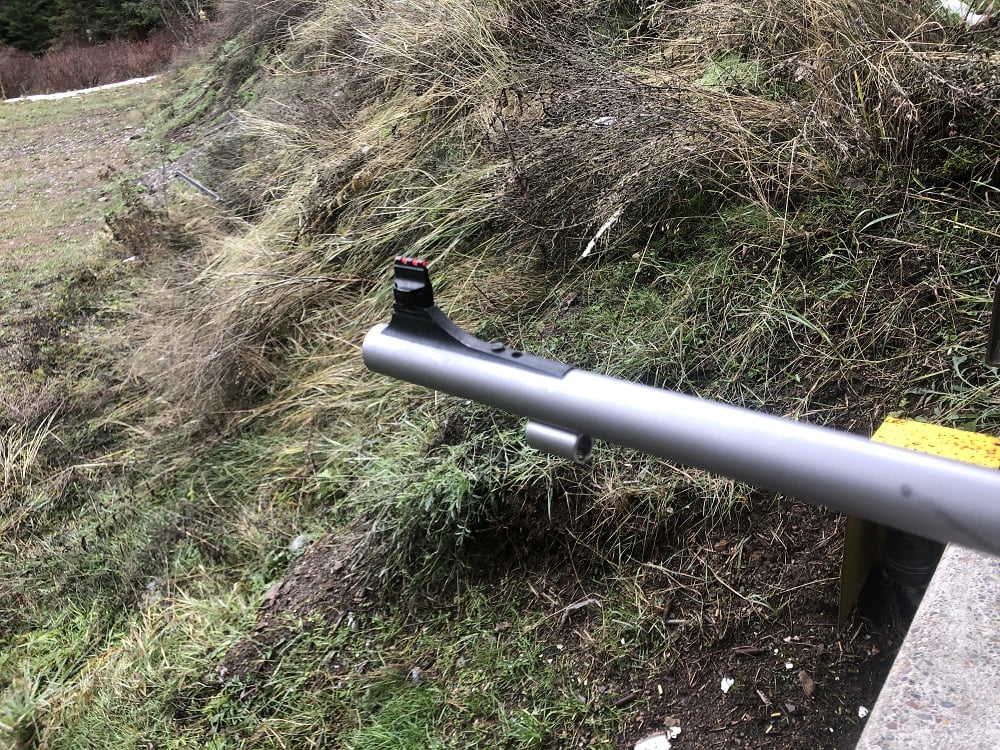 I put everything together using Loctite threadlocker on all the screws.
Sighting In
At the range I found that I was almost on dead on; actually, had to dial the rear sight up a few MOA to zero. Two set screws allow you to move the zero hash back to zero. I thought I would lose the amount I dialed up, but found I still had the full 32.5 MOA of travel up.
Time To Stretch It Out
I plugged in some numbers to JBM ballistics, rough BC, and my Chronograph velocity. I shot at 150, 200, 250, and 300 yards. After changing a couple of numbers in JBM it matched what I needed to dial for each distance.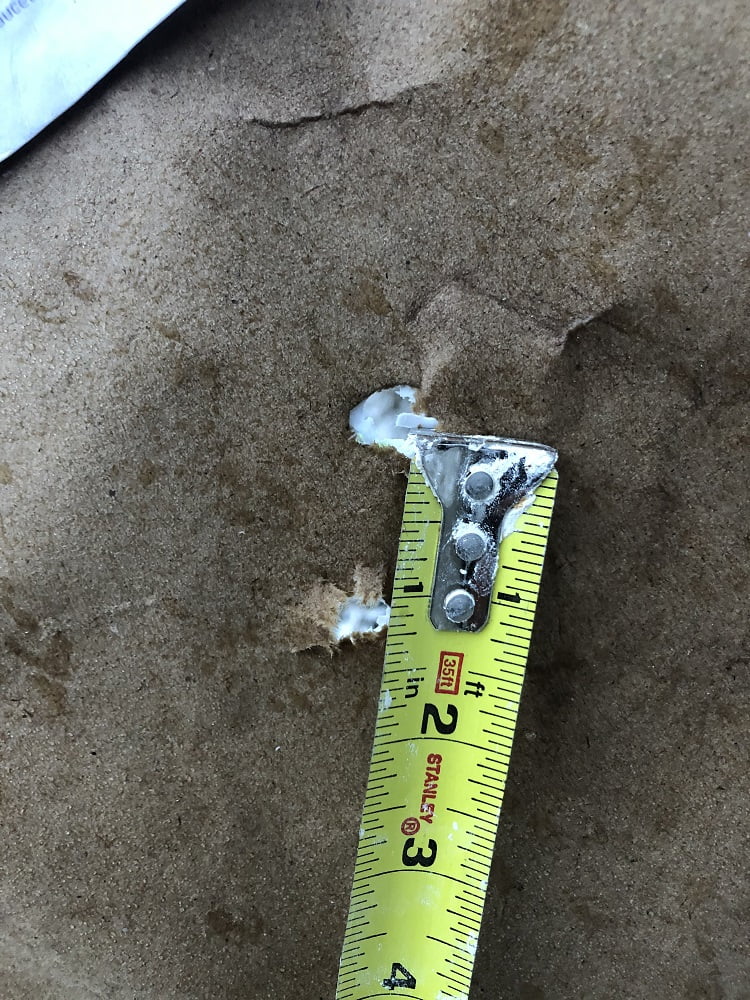 On my gun, the Revic dials right at ½ MOA per click. I was able to shoot it out to just under 400 yards by dialing. Almost just like dialing the turret on a long-range scope. As ½ MOA is about ½ inch at 100 yards, each click is going to be ½ inch. Or close to it if you have different dimensions between your sights. This sight is very useful and you don't have to know ballistics to use it, but it will help you find a zero quickly for each range.
Say you shoot at 250 yards and you are 10 inches low, all you have to do is move it up 4 MOA or 8 clicks and you should be dead on at that range. (250 yards is 2.5 times 100 yards, so the sight would move it 10 inches)
Don't Forget A Level
I found that because the sight is so high, it is easy to cant (lean to one side) and this was causing me sometimes to be off right or left when shooting at longer ranges. I mounted a small level on the rail which fixed this problem and I was ready to hunt.
Gunwerks Revic Peep Size Options
The actual peep has a very small hole that is centered in a screw that can be removed to have a bigger hole. The sight I'm used to runs in between both so I tried both. After using it in the field, I'd recommend removing the screw and using the larger hole.  Low light is very hard to see your target when it's in. I shot groups about the same with or without it and no difference in impact point. I also like to be able to see as much of the target as possible through the peep.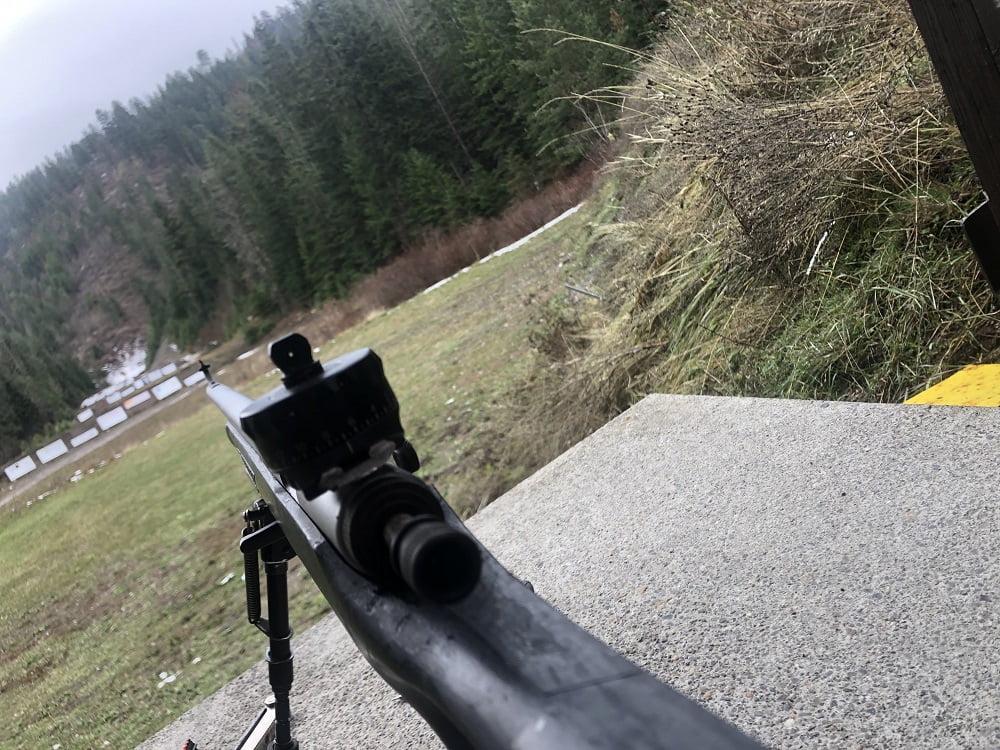 The Revic Is Robust And Holds Zero
Muzzleloaders can be finicky with cold weather. I kept my muzzleloader with me through November and early December and shot at various ranges, temperatures, and elevations to gather as much data as possible on drops. I never had to tinker with either the front or rear sight up through my December hunt. I'm rough on stuff so holding my zero through the season is always a good sign.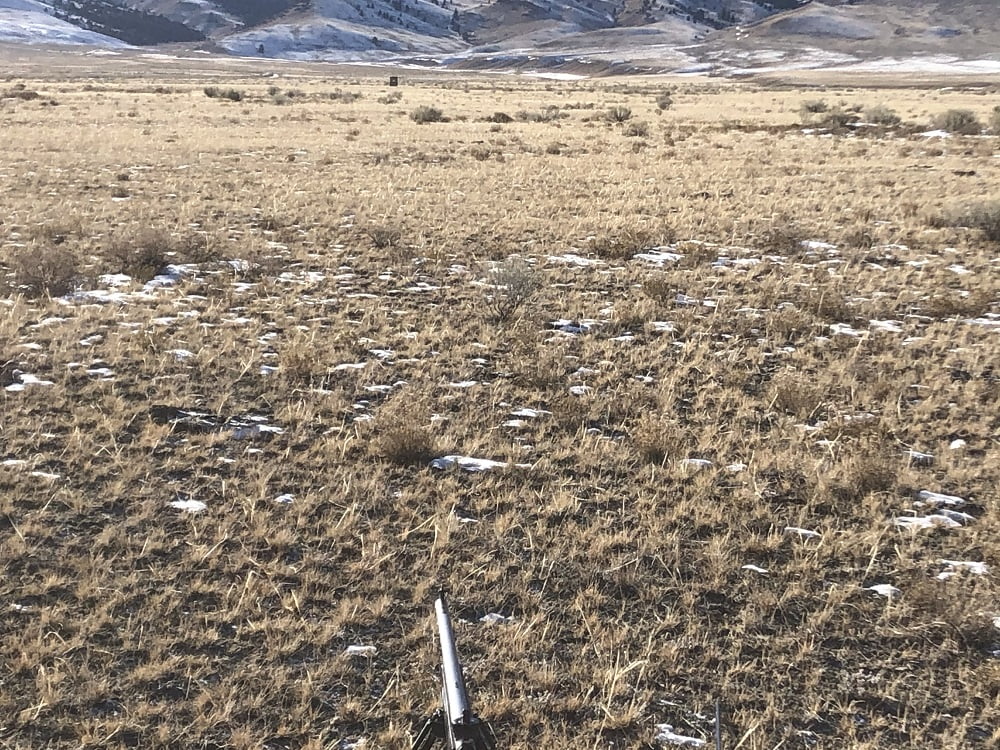 I helped a friend on a cow elk hunt where he used my set up to take his elk at 150 yards.
Late Season Elk Hunt
On my December muzzleloader hunt, temps were down to -8 at the truck. My area consisted of very steep rocky country and unfortunately, there wasn't enough snow up high to drive the bulls down. I ended up finding them still bedding in the timber above 9,500 feet in the heart of the summer range. I got on a couple of really good bulls but was busted by other bulls in their bachelor groups.
On my last day, I got on a big herd with a good bull but just before I got set up, a whiteout blew in. When it cleared the herd was gone. I ended up getting in front of them further up the ridge, though I was trapped in the open.  The big bull was heading right into a perfect shooting lane 80 yards away when a cow busted me. They headed right back the way they came; I took off running at an angle to cut them off; and was able to get into position however they were running and starting to top out and drop out of sight. I found the big bull towards the back but he was covered by other elk. I ranged where they were headed at 240 yards and quickly dialed. The bull never cleared.
Boom!
With my blood pumping and an itchy trigger finger I ended up shooting the last one–a nice spike. The bullet dumped him in his tracks. While the gun more than did it's job, I can't say it was my best moment as I was now over 10K and five-plus miles from the truck, and my big bull was a spike! My feet may have even been damaged getting the bull out, but out I got him!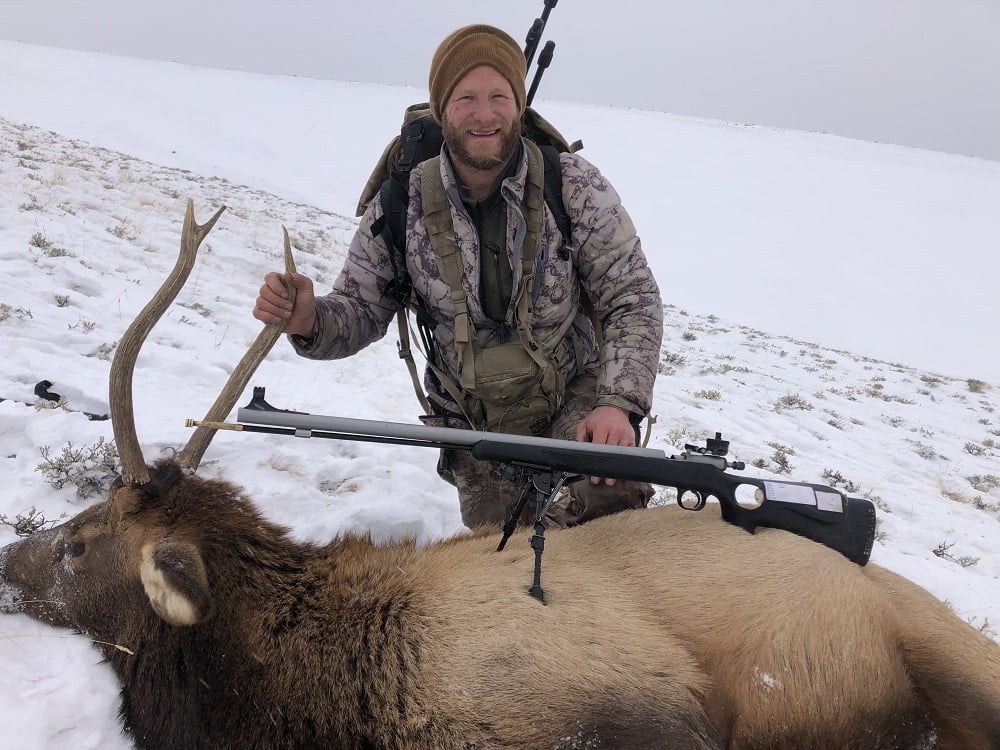 I have found peep sights to be easier to quickly get on and hold on target. I also find them easier to shoot offhand when compared to scopes.
Bullet Choice
I use the lead Powerbelt bullets. These are the most readily available Idaho legal bullets around me and are very accurate in my gun.  I have had good luck with them at longer ranges: I have taken three bulls and a buck at 200 yards or more with them, and each time the animal was dead on impact.
Worth The Effort To Install And Sight In
While several issues or hurdles came up, there was a solution for all of them. It will also take a bit of work upfront to make sure the sights are set up right. However once dialed-in, the Revic EXO Extreme O-Ring Rear sight is precise and is almost exactly what I have been looking for since I started muzzle loading over 10 years ago. It will make shooting longer ranges much more precise and add an element of fun to shooting muzzleloaders. It will contribute to success for those willing to put the time in to learn to use it to its fullest capabilities. Click here to order.
Comment on this article or ask Jim questions here.
Here are a couple additional muzzleloader articles Jim wrote several years back.