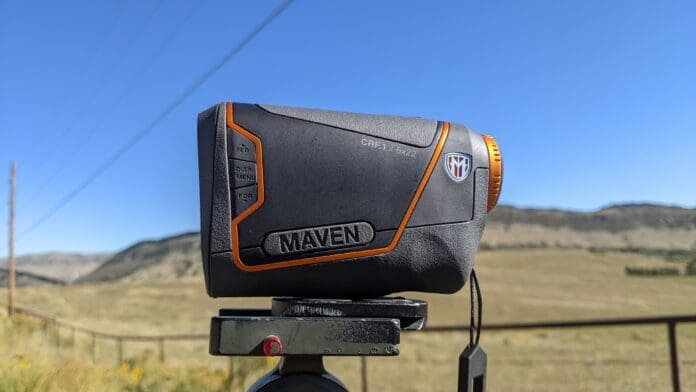 Maven is no stranger to Rokslide.  Staff, members, and myself have used and reviewed multiple products from Maven here since Maven's inception nearly ten years ago.  Their direct-to-consumer sales helps deliver high performance optics at a good value.  Their goal is to produce optical innovation within different levels of affordability, and that doesn't appear to have been forgotten in the new Maven CRF.1 (Classic Rangefinder) here. Having reviewed their RF.1 Rangefinder here and the Maven CRS.2 here, I was excited to do the same for the Maven CRF.1

CRF.1 Design Intentions
After I put some time on the CRF.1 in Colorado's archery elk season, I contacted Cade Maestas, Maven's Co-Owner and Chief of Sales.  Maestas expressed that the goal of the CRF.1 was to add to Maven's "Classic" line of binoculars, spotting scopes, and riflescopes all similarly designated with a "C" prefix.  The CRF.1 fills the need for the hunter who doesn't participate in extreme long range rifle shooting and doesn't have a reason to pay for the extended 4k+ yards ranging capabilities that are found with Maven's RF.1.  
At a price point of $295, what is the CRF.1 compromising?  Maestas told me that construction of the CRF.1 consisted of more plastic than the aforementioned RF.1, and lower ranging capabilities of 1k yards on non-reflective targets (ex: animals) and 2k yards on reflective targets (ex: flat rock faces, buildings).  Material standards, construction processes, and quality control procedures for the CRF.1 were all the same as the more expensive RF.1. The end user is spending a little less to trim off some excess range.  
CRF.1 Specifications and Features
Before moving on, let's jump in to the specs and features:
$295 all day every day price

6x magnification with a 22mm objective lens

"Field" and "Forest" modes

"Line of sight" and "angle compensation" modes

Auto illumination (red)

"Scan" capability

Focus adjustable diopter

Yards and meters selectable

CR2 battery life of 2000+ firings/readings 

7.8 ounces (my approximate weight finding)

4.6" Long x 3" Tall x 1.9" Thick (my approximate measurements)

¼-20 threaded insert for tripod adapter

Three reticle choices

.5 increments from 5-200 (meters and yards)

IP67 waterproof rating

Seven point individually tested QC in Lander, WY

Locking battery door

Rear lanyard bar

Ships with battery, microfiber cloth, and wrist lanyard

CRF.1 Display and Form
The CRF.1 is the same basic size and shape compared to just about any other rangefinder on the market.  The fire button is located on the top, is easily reached by any hands I put the CRF.1 into, and has a nice click when pressing. 
The unit does forgo the round protruding menu knob of the RF.1, for three push buttons on the left side towards the front.  From top to bottom there are individual buttons for "Field", "Menu/Display", and "Forest". 
Holding down the "Menu/Display" button for a few seconds allows the user to cycle through reticle choices, "Line of Sight" / "Angle Compensation", and yards / meters. 
Additionally, a rapid press and release of the "Menu/Display" button turns the red auto illumination on and off.  When the auto illumination is off, the readout within the display is a charcoal black. 
A rapid press and release of either the "Field" or "Forest" buttons changes the CRF.1 to that mode.  I found the buttons responsive and out of the way enough to not be accidentally pushed.  This also meant that an adjustment of grip or second hand was needed when wanting to make a change. 
Within the display, the readout distance is shown below the reticle, as well as a "Y" for yards or an "M" for meters, "LOS" for line of sight or "COMP" for angle compensated, and "FLD" for field mode or "FOR" indicating forest mode.  When in "Line of Sight" mode, the degree of angle is shown above and to the right of the reticle. 
Lastly, a little asterisk shows to the left of the reticle when the fire button is pushed and "SCAN" appears below and to the left of the reticle when the fire button is held down and the CRF.1 is smoothly moved about.  Reticle choices are a typical crosshair, a small open horizontal rectangle, or a small solid square dot.
CRF.1 In-Field Performance
I received the CRF.1 in late August and I had it in the field helping on a handful of hunts that ranged from archery elk in the timber to above timberline bighorns.  Not being the hunter was a benefit in the sense that I could carry multiple rangefinders to compare readings to the CRF.1 and compare views for things like glare auto illumination.  I found the Maven CRF.1 to provide readings under 1% of the RF.1 and a the Nikon Black 4k rangefinder 100% of the time.  Optically, the CRF.1 had an easier view compared to the other manufacturer's model, and was a scoosh less optically brilliant than the RF.1.   
The Nikon Black 4k rangefinder is also an auto illumination model and the CRF.1 performed similarly when comparing how the two units adjusted in different lighting.  One thing that I didn't think of beforehand, since I am used to the manual brightness adjustment of the RF.1, is use in dark conditions such as when barely on the non-legal side of shooting hours.  I came to realize this on a hunt about 15 minutes ahead of legal shooting time when I tried to grab a range across a small clearing.  The CRF.1's and the Nikon's auto illumination flooded the view with red LED and both were unusable until the illumination timed out.  At this point, it was too dark to see if there were elk in the clearing at 50 yards but it is something to keep in mind. 
To note, the CRF.1 fit in all rangefinder pouches from five different manufacturers that I had on hand: FHF, Alaska Guide Creations old style and new, Outdoor Vision, and Marsupial large.  Also, the full rubber armor provided a sure grip.
The CRF.1 could routinely range animals out to ~650 yards instantly, distances out to 1000 yards took a second longer.  For really tough animals at distance, I found that holding the read button down and doing tiny micro circles on it would initiate the scan feature and produce a reading. 
Angle compensation readings were on par with the previously well vetted and tested RF.1 that I have, and I did take them both downtown to read tall buildings without discrepancy.  During my time with it, no reading issues came up, and the Maven CRF.1 performed as it should.  
The weather during September and early October in Colorado has been fairly pleasant, however, a few days of rain did pop up.  I saw no lack in performance during fog or mild rain. In heavy rain, I saw a reduction in readings on animals to about 775 yards and potentially 2x as long in time to read.  I did hang the CRF.1 out at the edge of the patio for one rainstorm and it was fine. 
Lastly, since drop testing things is cool now, I did drop the CRF.1 on dirt and grass without issue, and let it slide around loosely in the bed of the truck for a week without any ill-effects.  
Feature Functionality
Speaking of scanning, the CRF.1 will scan regardless of whether the readings are getting farther or closer, and regardless of whether the unit is in "Field" or "Forest" mode.  *This is different, and I feel a big correction from the functionality of the RF.1 since the RF.1 will only scan closer or further depending on the mode it is in.
(*update: Second production runs and beyond of the RF.1 are corrected to scan in or out regardless of field/forest mode*)
With the CRF.1, scanning can take place for about five seconds before the fire button needs to be released and then pressed again to start a new scan. 
I found the "Field" and "Forest" functions to work adequately, although I feel this function in the RF.1 is a little bit more sensitive.  The auto illumination was also adequate. Besides the pre-legal light situation above, I did not run into any field situations where the display was unreadable.  According to Maestas, there is a sensor on the CRF.1 that detects background light on the target and adjusts the illumination of the reticle (in red) accordingly.  In situations where the CRF.1 dimmed the illumination and thus displayed in black, while on a well lit dark background such as a pine tree in the sun, I simply moved the view to a suitable background to see the display. 
Once again, our friends at Phone Skope came through with a custom adapter so that I can share video through the CRF.1. 
*Please note, since the CRF.1 has a thin 0.15" focus ring rather than a full thickness eyepiece like the RF.1 or a typical binocular/spotter, there wasn't much for the Phone Skope adapter to grab onto and it was impossible to get a crystal clear video. It's still pretty good, though.
Final Thoughts
Overall, I think that Maven accomplished their goal of delivering a solid, functional, only-what-you-need rangefinder for probably 99% of hunters out there. The Maven CRF.1 is top of the class around $295.  It compares nearly equal to the RF.1, and I remember paying around $500 for the Nikon.  I genuinely feel the​​only thing it gives up is ranging distance. 
For most hunters, there isn't a need to range beyond 1000 yards other than to satisfy curiosity.  I do believe that being able to range out to about double one's maximum shooting range is worthwhile and for someone like me who enjoys practicing at several hundred yards but limits game shots to a few hundred yards, the CRF.1 is a homerun. 
For the archery hunter, there isn't a logical reason to look elsewhere.  Saving $150 or more with no reliability penalty means a little extra for new boots, scouting fuel, or other expenses th​​at might help a hunt.  When you factor in the unconditional lifetime warranty, it seems like an easy contender for those looking at rangefinders. You can order the Maven CRF.1 Rangefinder here.
Comment on this review or ask Kyle questions here.
Check out more of our optics reviews here.