Mesa Horse Gear out of Colorado is offering horse tack for the western horseback hunter. This fills a unique niche. I've always had to buy horse gear made for the average horseman, not the western hunter. Mesa Horse Gear offers a growing line of products from rope halters to horn-bag style spotting scope carriers, and much more. I went for a set of saddle bags with the side load cantle bag.
I used the system for several months starting with a September muzzleloader mule deer hunt, then on to a Colorado rut hunt, and finishing with a late season Idaho hunt. While I didn't use horses every day, I easily accumulated two full weeks of use on the system. Here are my thoughts on design, function, durability, and improvements.
Saddle Bags
You can buy the saddle bags separately from the cantle bag, so let's start there. There are two saddle bags measuring in at 10x10x5. I consider them "not big, not small".  I usually prefer larger but these were sufficient for everything I needed from lunch, water, gloves, packable raingear, and my most carried item, a pair of Swarovski 15×56 SLC binoculars.  Larger bags will be offered for 2021, and since this is a modular system, they will be easy to swap out with the standard sized bags when needed.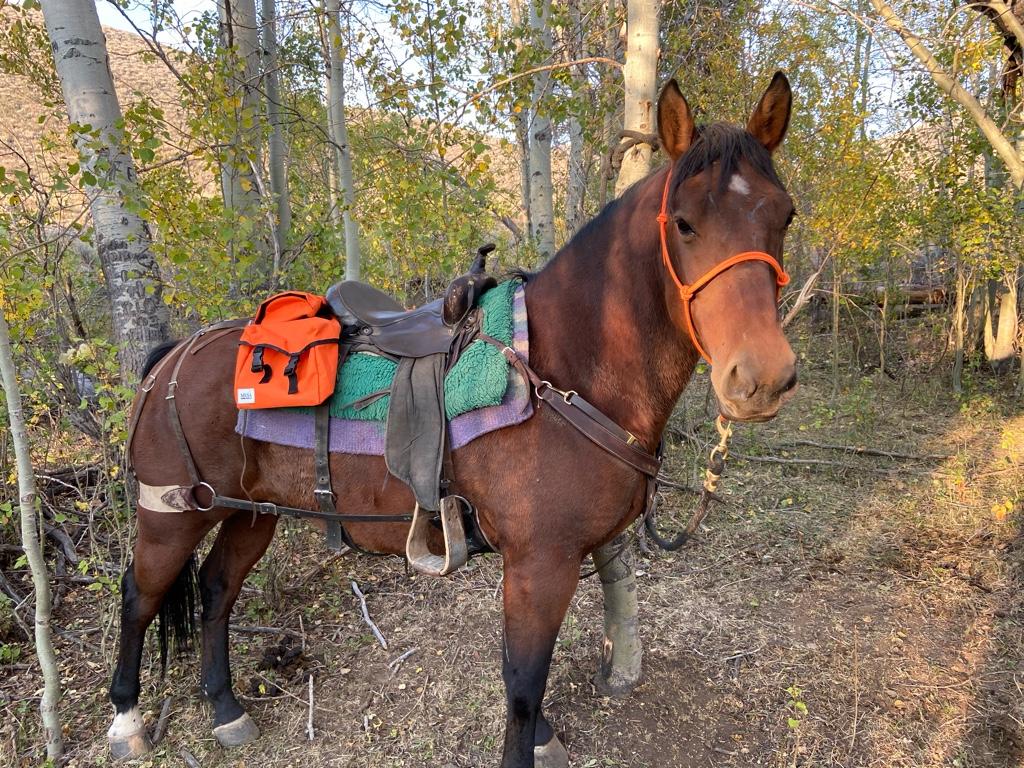 The bags feature two 1″ buckles that snap the lid closed, and are well suited for operating with gloved hands. There is an extra snap on the sides that allows access for smaller items when unfastening the entire lid isn't necessary.  The bags came with the standard two point per side attachments and never failed me.
Cantle Bag
A Cantle bag is simply a bag that sits behind the seat (the cantle) of the saddle. Most saddlebags don't have a cantle bag but rather four leather cords (saddle strings) for tying items to the saddle.

The side-loading Mesa Horse Gear Cantle Bag greatly increases the versatility of the system by allowing you to carry larger and loose items not easily tied down. With dual-side loading capability, it's much easier to access gear, especially if your mount is tall or you're short.  The cantle bag also offers a level of protection from the elements.
I quickly found the best use of my cantle bag was for a glassing tripod. My SLIK 624 topped with the Outdoorsmans Micro Pan Head fit well (a little tight) in the cantle bag's 17x8x6″ dimensions. This turned out to be THE WAY to carry a tripod vs. all my years of tying a tripod to the cantle.
The old method of using saddle strings was problematic when trying to mount up without snagging a leg, to slippage to one side, to exposure to the elements. The Mesa Horse Gear Cantle Bag solves all those problems.
Although the The Cantle Bag zippers seem light for the application, and are a little hard to access with gloves hands, they never failed me.  I'd opt for a heavy-duty zipper with a bigger pull-tab if I was suggesting any improvements, and I'd be happy to pay for such upgrades.
The system also includes adjustable nylon straps with buckles to secure items above the cantle bag in the traditional manner. Although I only used them a few times, they worked well. They can be rolled up and stored via a velcro strap when not using them.
The Saddle & Cantle Bags system is offered in green, brown, and blaze orange.  The latter option completely solves the safety issue of using horses in firearms seasons. There aren't many good choices for adding blaze orange to a horse that stay in place, can't be forgotten, and are visible from all angles.  Unless you're strictly an archery hunter, I'd highly suggest ordering your set of Mesa Horse Gear Saddle & Cantle Bags in blaze orange.
SIDEBAR
Mesa Horse Gear also offers a Spotting Scope Bag. My friend, Travis Hobbs, bought it and can't say enough good about it. I'm paraphrasing, but he told something like…
"…it turns your horse or mule into a traveling & glassing machine rendering no mule deer safe within a five-mile circle."
While he might be exaggerating a bit, I'm looking forward to adding the Spotting Scope Bag in 2021.
You can ask questions or discuss this review here