Otto NoizeBarrier Micro
As avid hunters and shooter's one of the most crucial pieces of equipment we can invest in is quality hearing protection. I find at the range ear protection is commonly overlooked as a necessity and thought more of a luxury item. Yes, foam plugs and muffs work fine but your situational awareness is severally hindered.
Hearing Protection Can Be Expensive
High-quality ear protection generally comes with a hefty price tag, some custom high-quality hearing protection being over $1000 and some even exceeding $2000! That is just not in most recreational shooter's budgets. I began looking for an electronic hearing protection system some years ago but to my dismay I always found problems: some were very uncomfortable, battery life was short, and e-muffs are far too cumbersome and impractical for most western hunting situations.
My Hearing Protection Needs
As a die-hard upland hunter that spends 50 plus days a year chasing pointing dogs around, quality hearing protection is an essential piece of gear for me. What I am looking for in hearing protection is comfort, a battery that will last all day. And of course, natural sound with effective localization and detection. All while not being distorted by the Wyoming wind, and affordable.
NoizeBarrier Micro Overview
The OTTO NoizeBarrier Micro high-definition and rechargeable electronic earplugs have a 16-hour rechargeable battery life and the case doubles as a charging dock. The charging dock is capable of up to 20 recharges before needing to be charged. The case and earbuds are IP67 water-resistant and include an internal LCD of the device's current battery charge. The case and earbuds also include small magnets that hold them in place for charging. The NoizeBarrier's offer a dual-mode hearing enhancement with a noise reduction of up to 40 dB.
Changing between the two modes is simply done by pushing the on/off button that is conveniently located on the outside of the earpiece, changing modes is confirmed by an audible tone. Level one is standard mode and is best described as natural hearing volume. Level two is enhancement mode and amplifies soft sounds by 5x. The earbuds come with 3 different tip sizes standard and large 3 flange (NRR-23 dB) and foam tips (NRR-28 dB). Also included are a cleaning brush, a simple set of instructions, and the battery pack containing a field cleaning kit, and a small lanyard.
First Impressions
One of the first things I noticed was the noise transfer while tuning out shots was a smooth reduction and not just a sharp cut out of all sound, this made it easy to have a conversation while others were shooting. The second thing I noticed was how well I could detect the location of sound. This is due to OTTO's Accu-Technology.  The earbuds are designed to have 360-degree sound detection and localization and it works surprisingly well.
Field testing
I was headed to Africa for 20 days and thought what better place to put this ear pro to the test. Within a few days on the Dark Continent, I began to realize how much I liked these earbuds. I used them daily from 6- 12 hours per day for 20 days straight. I charged them at night on the included charging dock throughout the trip and never had to charge the docking station.
The earbuds ranged between 60% and 30% remaining battery at the end of each day. I did notice most days the battery on one earbud would be drained more than the other because I would run it on the enhanced mode to better hear my Professional Hunter (PH). The enhanced setting is a game-changer for me as I am hard of hearing and my PH spoke softly with a strong dialect.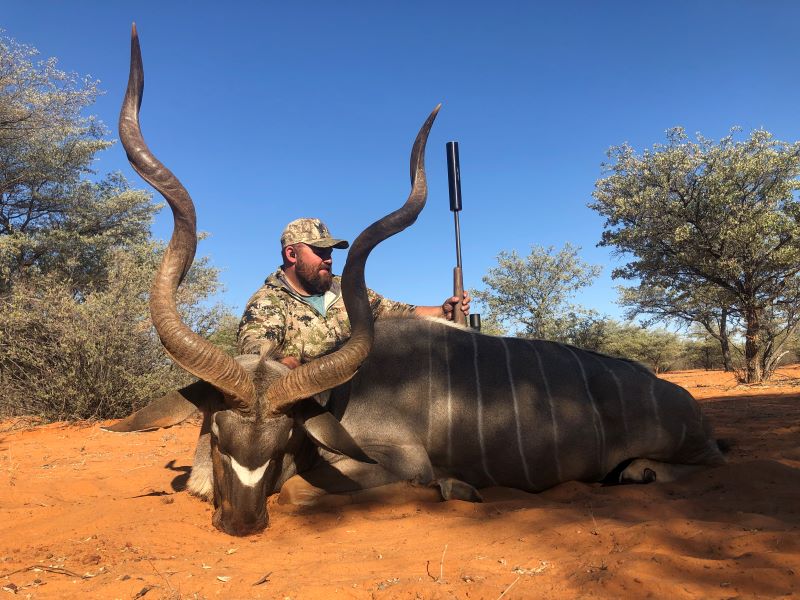 Regular vs Enhanced Modes
Back home, I find myself using these earbuds almost daily through the upland season. Otto has done a great job with the dual settings. On the lower setting sound is transmitted at almost a natural volume with very little to no distortion. The Accu-technology works great. I can effectively identify the location of birds flushing or the movement of dogs moving out of sight. They will still pick up slight wind noise and distortion in the natural setting but not until about 10 mph of wind.  The enhanced setting is significantly worse in the wind. Although nowhere near as bad as some of the other brands I have tried.
Conclusion
I have been using the Otto NoizeBarrier's for over two years and have been thoroughly impressed with them. At $399 they are at the upper end of the low to mid price range for hearing protection. They are a USA-designed and manufactured company, and they have great customer service that stands behind their product. I did have one earbud stop charging at around 18 months. I contacted Otto's customer service and they fixed the issue with no questions, even though they advertise a one-year warranty.
Comment on this review or ask Derik questions here.
You may also like this article on electronic hearing protection or this article on the importance of hearing protection.