Review: Cooper Model 52 Long Range Rifle
By Sam Millard
There's no getting around the fact that if you want to hunt at extended distances, your gear better be up to it. Rifles capable of the precision required for this task aren't likely to be pulled off the rack at your local sporting goods store. With the popularity of long range hunting, some rifle manufacturers are offering versions of their existing lineup that are suitable for precision work, near and far. Cooper Firearms recently released their rendition of that rifle with the Model 52 Long Range.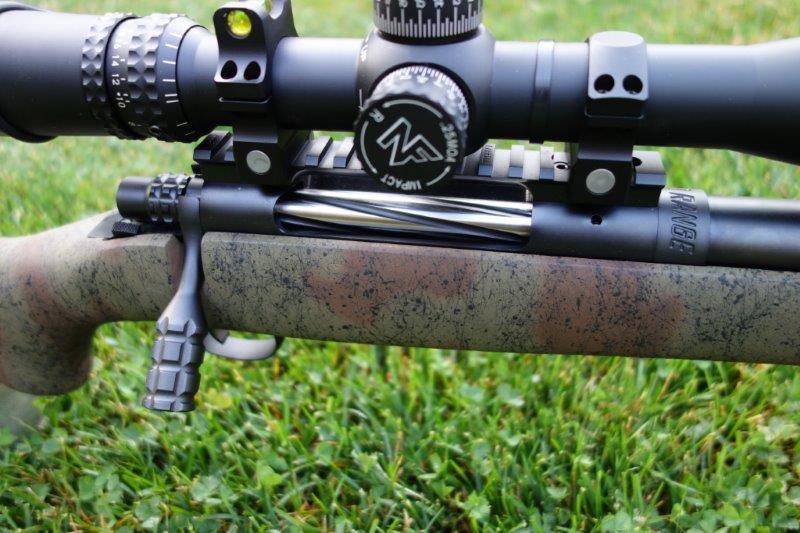 The Model 52 Long Range is based on Cooper's Excalibur and Jackson Hunter models, designated XLR and JLR. For the review, I requested the Excalibur (XLR), chambered in 6.5-284. The heart of the rifle is Cooper's Model 52 action. With its three lug design, and spiral-fluted bolt, it's as smooth and fast as they come.
The XLR adds an aggressively knurled bolt knob with matching bolt shroud. Wearing a 26″ Wilson sporter-contour barrel, H-S Precision stock, and steel Ken Farrell picatinny rail, the rifle weighed in at 9 pounds, 12 ounces. I mounted a Nightforce NXS 5.5-22×56 scope in Nightforce Ultralight rings, and a Harris BRM-S bipod, for a trail weight of 13 pounds.
The fit and finish of the receiver, bolt, and accompanying parts was excellent. It's a good looking rifle, and handles like a custom. A side bolt release and claw extractor are standard. Designed and manufactured by Cooper, the trigger assembly is crisp and fully adjustable. I adjusted it to break at 1 ½ pounds, which it maintained throughout the review.
The XLR comes standard with a chrome-moly action and barrel. Stainless is available as an option, and if the color is available in Cerakote, you can have it on this rifle. All machine and finish work is performed in-house at Cooper's facility in Stevensville, MT.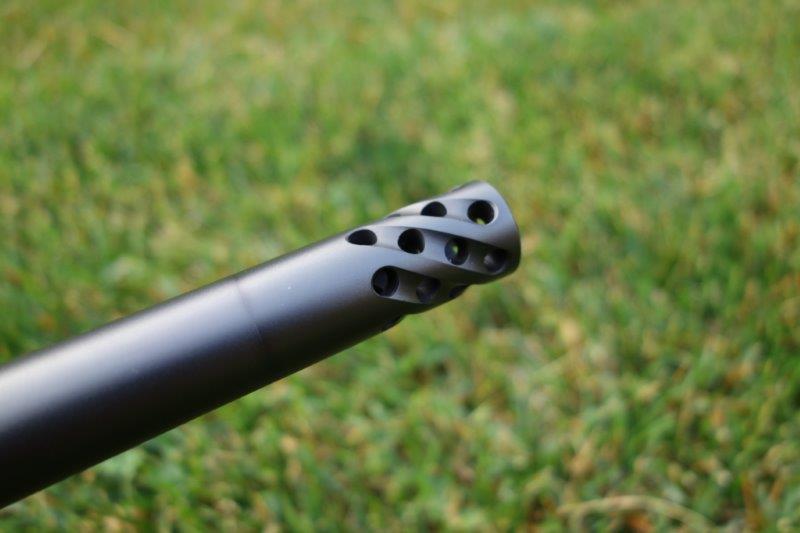 The six flute, match-grade Wilson barrel is threaded 5/8″-24 for Cooper's proprietary muzzle brake. A radial design, the brake was very effective at reducing recoil, and the spiral fluting makes it attractive as well. The mating seam, however, stood out and could be felt. It was the only fault I could find in the rifle's overall finish quality.
Aesthetics and handling characteristics aside, the main purpose for owning a precision rifle is to hit small targets consistently. Rifle builders who specialize in long range hunting typically guarantee their rifles to shoot extremely well, having learned through trial and error what combination of barrel, chamber reamer, and load will produce the best results. As long as you stay within those parameters, their rifles will most likely shoot better than you can.
Production rifle companies have to contend with a much broader customer base, who as likely as not, will buy their ammo or components according to what's in stock at their local sporting goods store. It's a tall order for them to have an accuracy guarantee, but Cooper does. Cooper Firearms guarantees their rifles to shoot three shots into a ½" or smaller group at 100 yards. The test target they provided had a bug-hole group, documenting three 142-grain SMKs, propelled by IMR 4831, sent downrange at their indoor testing facility. While I like Sierra's match bullet, and have found it to be one of the easiest to get shooting well in every caliber I've owned, my preferred hunting bullet is Berger's Hunting VLD (HVLD).
With a stack of 140-grain HVLDs provided by Berger for this review, I was more than a little disappointed to discover the Cooper's barrel didn't appear to like them. Despite trying three different powders, a broad velocity range, and seating depths from the lands to ¼" off, the rifle struggled to stay even close to one MOA.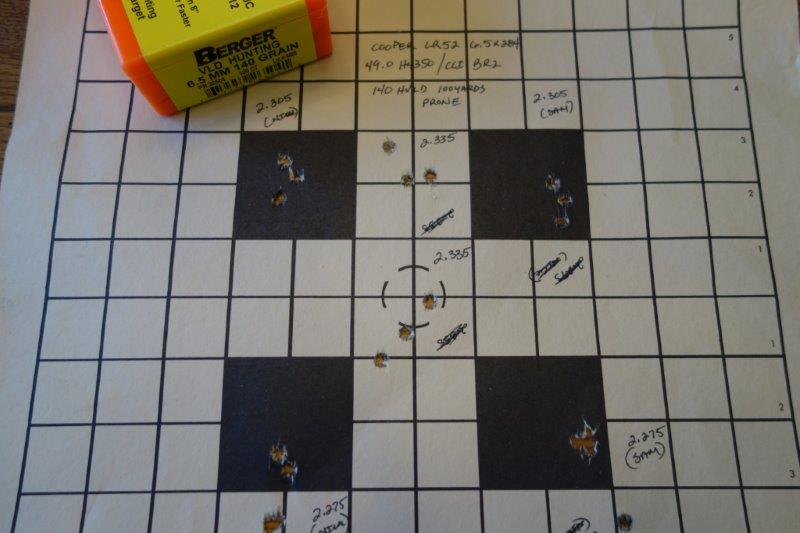 Early on, I loaded up some 140 grain SMKs to eliminate the possibility of a mechanical problem; a .450″ 10-shot group ruled that out. Finally, with a Wyoming antelope hunt a week away, and over 200 HVLDs down the tube, I gave up. On a whim, I loaded three of the new Berger 130-grain AR Hybrids over the last tried powder charge, and fired them into a .390″ group. Four subsequent groups showed the same results, with a muzzle velocity of 3050 fps. I loaded 50 rounds of this recipe, set the scope's zero, and packed the rifle for the trip.
One week later, my daughter pulled the XLR out of its case, and prepared for the day. Less than an hour into Wyoming's antelope season, we spotted a group of does on a distant ridge. With a confirmed range of 867 yards, Jessica set up for the shot. With calm conditions, I had her dial up 18.5 MOA, and .50 MOA left for spin drift. As I watched through the spotting scope, Jess said "On it". With my reply "Send it," the 130-grain Berger AR Hybrid began the journey, leaving a beautiful trace in its wake. A little over one second later, I saw the impact. With a perfectly executed high-shoulder shot, Jessica dropped the antelope in its tracks. The rifle and bullet combination had passed the ultimate test.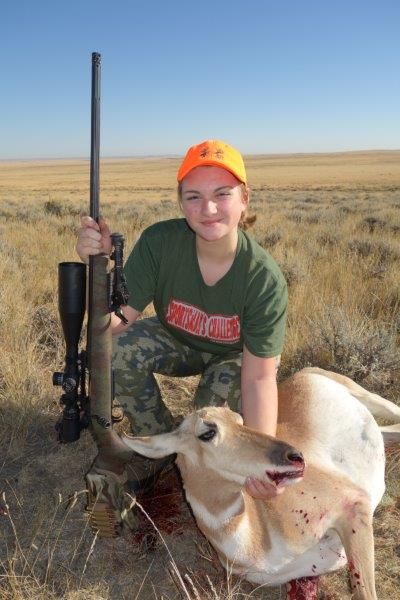 Over the course of this review, the only malfunction I experienced was with the detachable three-round magazine. The XLR uses a metal single-stack magazine, which fits perfectly with Cooper's bottom metal. For the first part of the accuracy testing, all rounds were fed through the magazine, with no malfunctions. It wasn't until the Lapua brass was on its second firing, that I noticed a problem; only the first round would feed, leaving the bottom two rounds stuck in the magazine, approximately ½" below the feed lips. When new, the brass case measured .499″, and fed through the magazine easily. Once fired, the head of the case expanded to .500″, which caused clearance issues. I contacted Glenn May at Cooper Firearms, who offered to do whatever it took to fix the problem. I elected to attempt a repair on my own, and after a simple twist of a screwdriver, I had the magazine feeding again. The 6.5-284 case is on the fat end of the spectrum when it comes to non-magnum cases. The majority of cartridges used in this size action measure well below .500″, and would likely never cause a problem.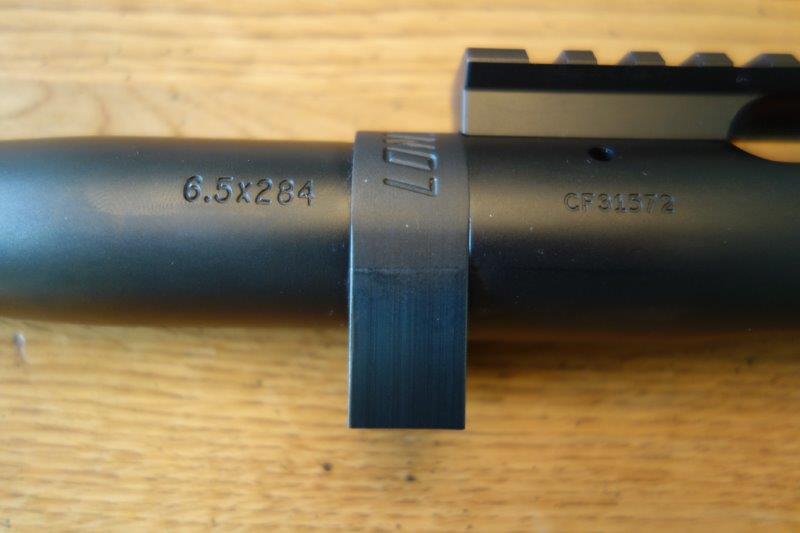 One of the biggest features that sets Cooper apart is their barrel replacement policy. If you wear out the throat on a Cooper, they will re-barrel the rifle for the incredibly low price of $125. You can't even buy a barrel blank for that price! When I first released some photos of this rifle, and people saw the thick piece of metal between the receiver and barrel, they naturally assumed it was a barrel nut design, which was why Cooper could offer that replacement policy. No sir, that's a traditional recoil lug, albeit a 5/8″ thick one.
Cleverly taking advantage of inventory from a previous project, and believing it could add rigidity to the barreled action, Cooper designed the oversized lug into the M52 LR. It certainly didn't seem to hurt it, and proves the commitment to customer satisfaction due to the labor involved in cutting the tenon, threading the barrel, and fitting it to the action. You can also elect to change the chambering at this time if you want. It is an incredible value, especially for the high-volume shooter.
Overall, I think Cooper hit a home run with this rifle. The M52 action is smooth, fast, and locks up solidly. The three-lug design, with reduced bolt lift, increases bolt speed, and eliminates any scope clearance issues. The combination of stock, barrel taper and length, and optic mounting rail puts the rifle in the weight range I recommend for serious long range hunting. The muzzle brake is very effective, which, along with the weight of the rifle, made spotting hits easy. It was a pleasure to shoot in 6.5-284, even for my kids. I would have liked it to shoot the Berger HVLDs, but the Hybrids worked well. The magazine feeding issue was simple to fix, but for a field gun shooting this size cartridge, I think a more permanent fix is needed.
With the XLR's stock option, you will most likely need a raised cheek piece if you use the provided rail. Mine came equipped with a 10 MOA rail, and even in low-height rings, I required an elevated hold. Unfortunately, Cooper doesn't offer services at this time for installing such options as cheek pieces, flush cups, etc. As a temporary solution, I installed a stock pack to get a proper cheek weld.
At a retail price of $2755, with additional options available, the Model 52 Long Range bridges the gap nicely between a factory rifle, and a full custom build. With an accuracy guarantee, and a superb barrel replacement policy, there's a lot of value built into this rifle.
You can contact Cooper Firearms via their website here or give them a call at 406-777-0373
You can discuss this article or ask the author questions here