Here's a quick scattering of information about the Seek Outside Eolus Tent System. It's fantastically light but not substantially lighter than other ultra-light tents. What makes the Seek Outside Eolus "next level" is its packability. A 1990's era rapper could pack this tent into the side pockets of his cargo pants, and you'd never even know it. More info here.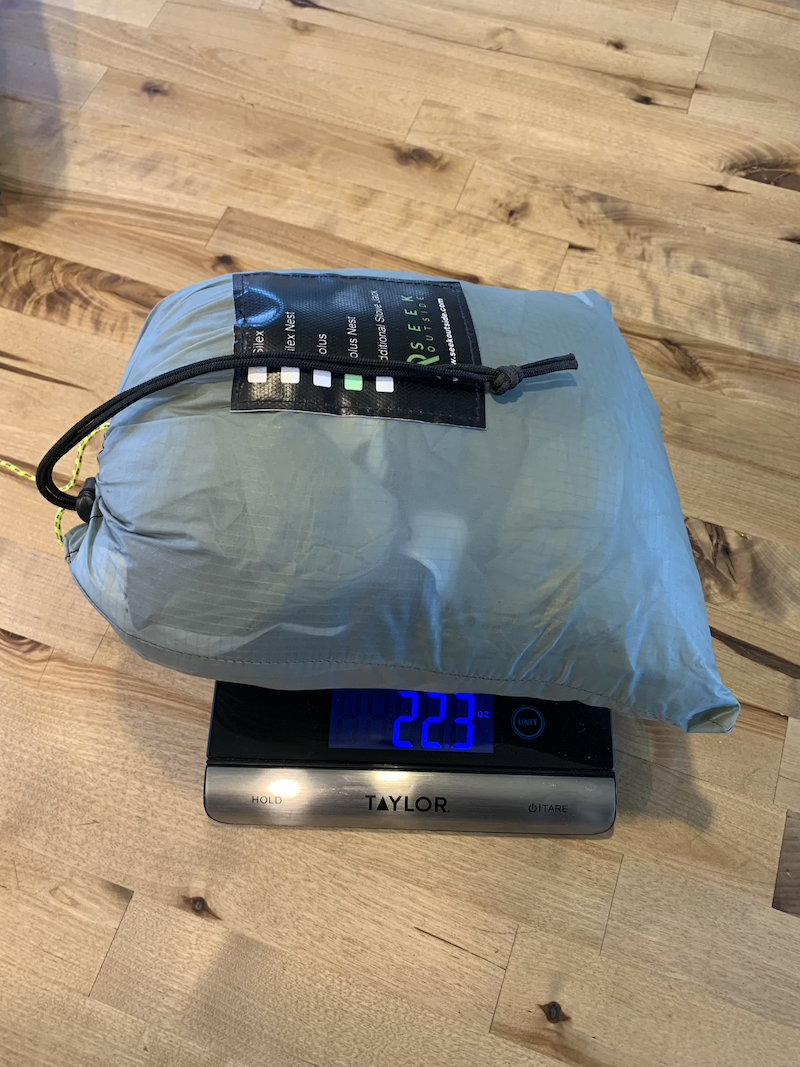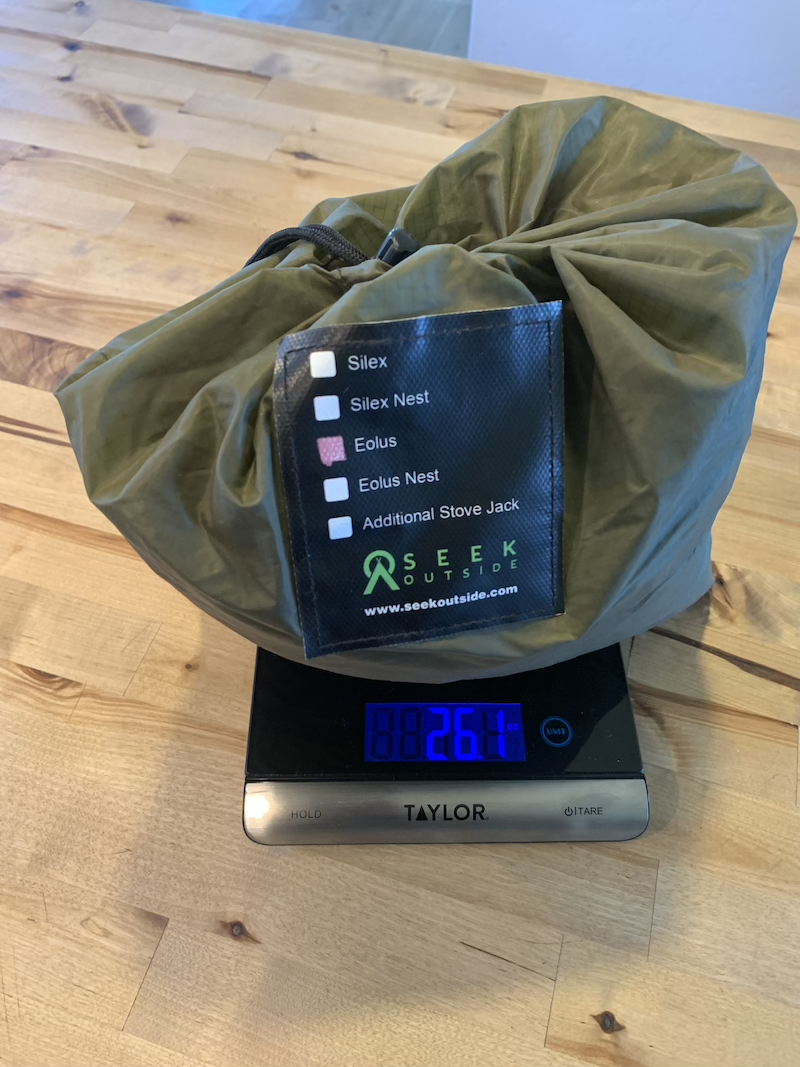 The Frustrations
It matters to us that our reviews are honest and authentic. In my effort to be genuine, I try to avoid reading reviews or watching videos before I use gear that I'm reviewing. I want to experience what a first-time user would experience. Well, that was stupid! Maybe I'm the slowest turtle in the race and I'm just now realizing it, but this tarp kicked my butt. The setup wasn't obvious. I made mistakes and if you look at my photos, I continued to make mistakes. Please watch these videos before you take your Eolus into the field and then come visit with us on the forum to get a solid understanding of the setup.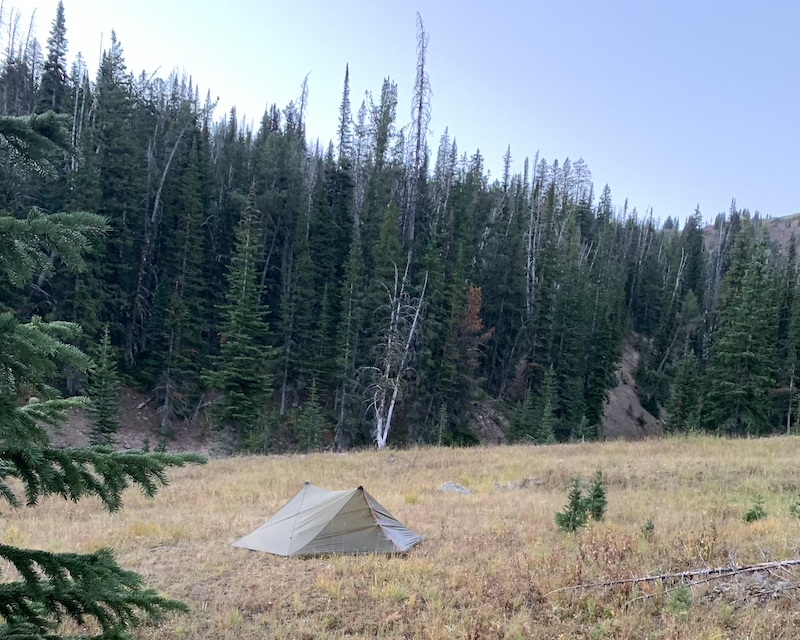 Here's my Eolus Tent System video review.
Performance
It did what it was supposed to do. That's the bottom line. It did all that it was supposed to do and more. Look at the photos in the forum and you'll see guys using this setup in winter!
On our first adventure, we fit one adult and two teens in the Eolus AND the nest. It was a tight fit and we won't do it again. It was too tight, and we almost ruined the zippers.
It's a two-man tarp or a single person with gear. I easily lived in it mid-September with a week's worth of gear.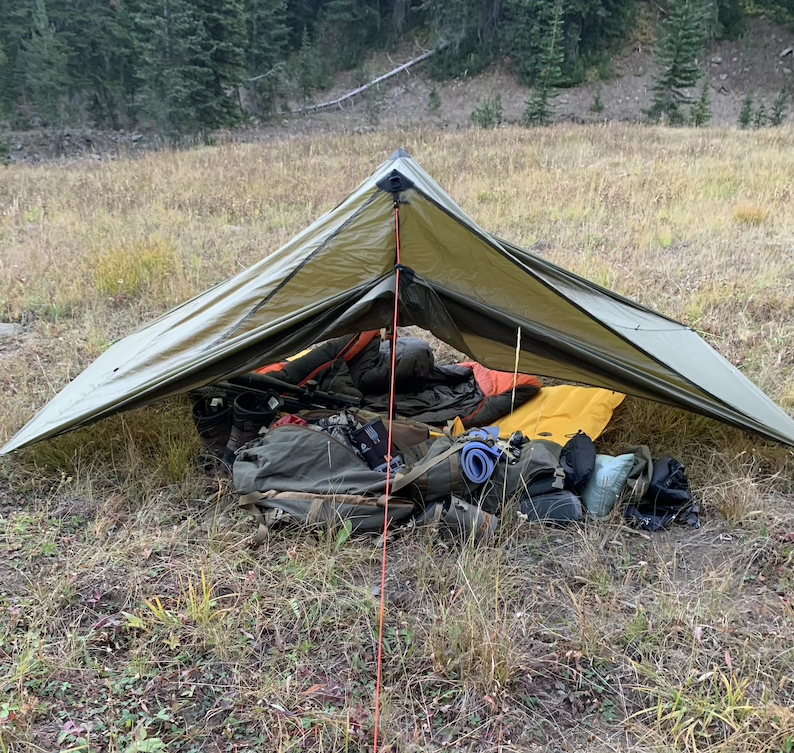 Condensation Considerations
It kept me dry. The double vestibules make sure there's plenty of room to keep the gear dry as well. The Eolus is designed with a gap between the tarp and the ground for airflow. The airflow is essential.
On a river rafting and camping trip, our kids brought the tarp too close to the ground and they were drenched in perspiration. Think of that gap like the flu on a stove pipe. In warm summer weather, you want a large gap for more air. I closed the gap too much in September and I ended up with a little frost and had to open it back up a smidge. If you have a good enough sleeping bag to use the Eolus in the winter, then you'll want that gap closed completely.
Concerns
At first, I was curious about what would happen once I took my hiking poles for the day? It was simple. I took my hiking poles and left my gear covered by the tarp. This worked surprisingly great. The looseness of the tarp flapped in the wind a bit, but that was the worst of it.
Speaking of wind, I worried how the Eolus would hold up against the winds of the high country without a tent frame. I now have the answer. If you set up the Eolus correctly, and if you tie a knot at the end of your stakeout lines, you'll survive just fine. (Watch the video above).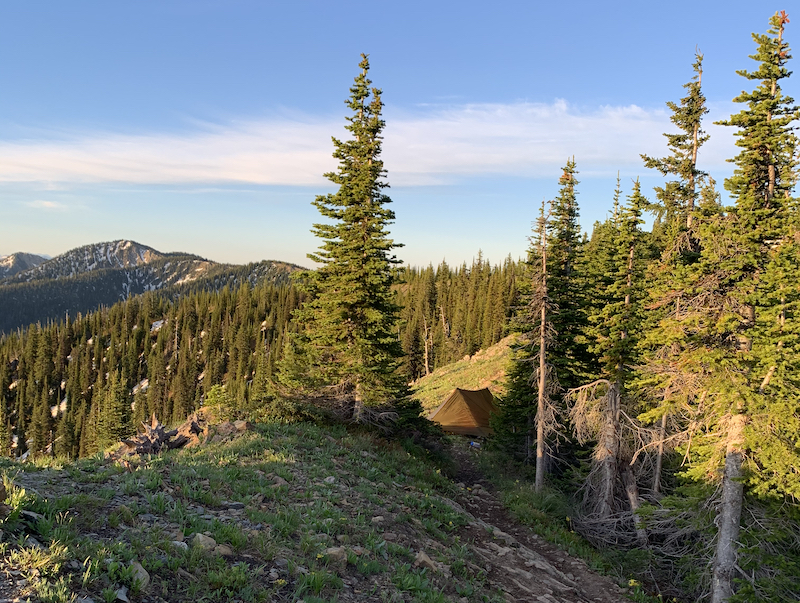 The Nest
The nest does one thing perfectly and suits a secondary purpose well.
Firstly, it keeps the bugs off your face! I truly hate fighting with mosquitos. They always win. The onslaught of tiny, biting flies, horse flies, ticks, and the wide variety of pests that ruin a summer outing can be survived. The nest is your veil of protection.
Secondly, the nest has a tub of sorts. It raises up off the ground a few inches and can help close off the air gap when airflow is unwanted.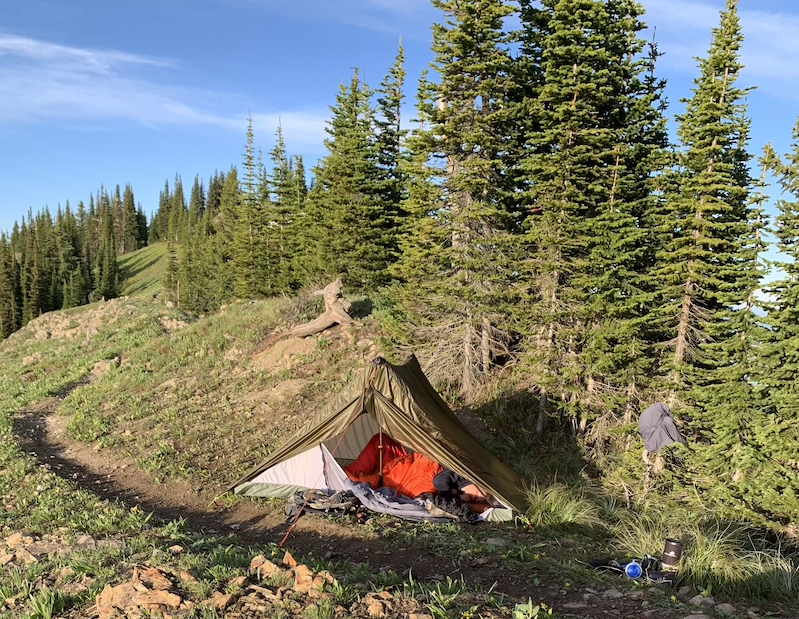 The Big Win
The Eolus does what it's supposed to do. It's as light as similar tents of the same class. In my opinion, packability is what sets it apart from other comparable tents.
For example, I have a Big Agnes Tiger Wall and I love it. It is my go-to tent, but its size and shape are fixed. There are no options because it has tent poles.
The Eolus and the Nest give you options. You can either fit both into one bag or separate them into their own individual bags. Small side pockets, fanny packs, or a jpack lid also become legit options for carrying your shelter.
When you're going in deep, space matters. Sometimes space is more important than weight. When you want a fast and furious overnight scout trip, you don't have to take a huge backpack. Heck, you could toss the Eolus and the nest inside your sleeping bag, pack it away and forget about it until you get to your destination.
No matter how you decide to pack it, you'll be glad that you did! Order yours.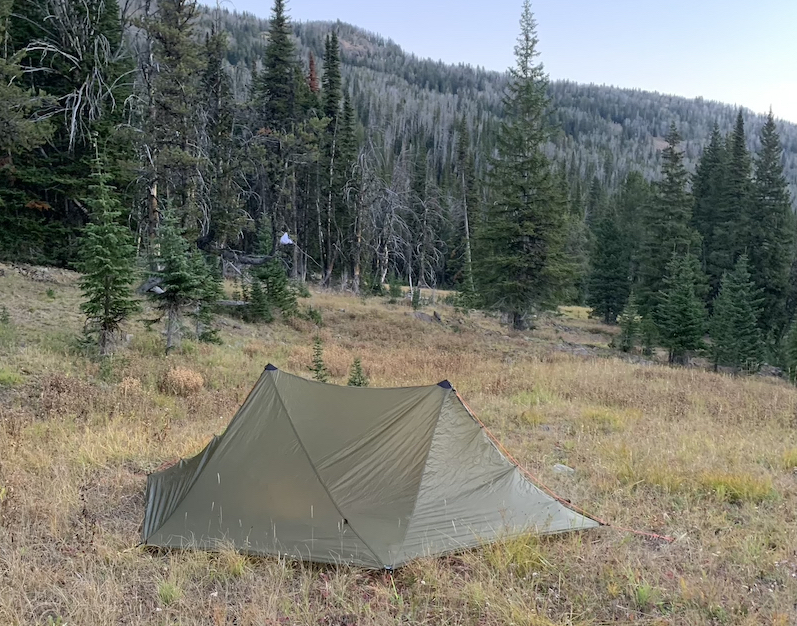 Comment on this review or ask Howard questions here.
The rest of our sleep system articles are listed here.