Seekins Havak Rifle
Technology has improved a lot lately for backcountry hunters looking to extend their effective range.  Improved optics, ballistic calculators, and ammunition have given hunters a path to precision previously unavailable to the hunting public.  Rifles have been at the leading edge of the trend.  The market has turned from light and handy short range rifles to sturdy, accurate rifles for long range precision.  Modern hunters want it all.  They want a rifle that is reasonably lightweight, crazy accurate, totally reliable, and resistant to the elements.  The good news is that this is certainly attainable.  The bad news is it will cost you.  A fully custom lightweight long range capable rifle starts at around 4 grand and can easily go for double that.
Seekins Enters the Semi-Custom Rifle Market
Recently, the market has seen semi-custom and production options in this category generating a lot of interest.  A hunter can get a rifle ready for the range for a price lower than paying a gunsmith to put together the parts individually.  Glen Seekins' company Seekins Precision in Lewiston, Idaho has entered this part of the market recently.  Seekins Precision offers the new Havak rifle series for just these hunters and shooters.  The Seekins Havak Pro Hunter (PH-1) is available chambered in 6.5 Creedmoor, 6.5 PRC, 6mm Creedmoor, .308 Winchester, 28 Nosler, and 300 Winchester Magnum. (Link to Seekins PH-1)
My test rifle came chambered in 300 Winchester Magnum
The Seekins Havak PH-1 is listed at 7 pounds.  My guess is this is pretty close for the short action 24-inch barreled versions, but the 26 inch barreled long action 300 Win. Mag came in at 7 pounds 12 ounces with the Seekins ATC muzzle brake installed.  Havak barrels come threaded for 5/8-24 suppressors or muzzle brakes.  After mounting a Nightforce ATAC-R 4-16X50 in Seekins 4 bolt rings the whole package comes to 10 pounds 5 ounces for an unloaded field weight (including muzzle brake).  This is heavier than ideal if a backpack hunt is in the cards.  An overall length of 48.5 inches is getting pretty long too.  When nestled into the side pocket of the Seek Outside Peregrine backpack, the muzzle contacted overhead branches frequently, and I couldn't get my horseback scabbard to shut completely either.
Lots of nice touches are included right from the factory
A 20 MOA picatinny rail is secured by five beefy 8-32 screws and further secured by the integrated lug in the proprietary Havak action.  The action continues the trend with an integrated recoil lug that is hand bedded into Seekins' own carbon fiber ProComp CH1 stock with pillars.  The stock has a generous palm swell and vertical grip.  The match grade 5R barrel has deep spiral fluting that saves weight, aids in cooling, and looks great.  Standard is a Timney 510 trigger that broke cleanly at 3.3 pounds in my test rifle.  A custom carbon fiber magazine was included that holds three 300 Win Mag rounds with plenty of room to seat long bullets right into the lands.  Two flush mount bases for push-button detachable swivels come installed in the stock.
Unique Action
The action is pretty interesting with 4 locking lugs providing a 90 degree bolt throw.   Unfortunately, the bolt throw ends pretty high and gets so close to the Nightforce's eyepiece that I wasn't able to clear it with the Tenebrex lens cover installed.  The spiral fluted bolt body is tool steel with anti-galling properties.  Cycling the bolt was pretty rough straight out of the box, but shot after shot it got better and is now downright slick after a couple hundred rounds. The action has a firm tension when closing the bolt that reminded me of a cock on close action, but I didn't find it particularly detracting. Some shooters that like to "feel" the shoulder crush on their handloads may prefer a different action.
The bolt handle and bolt face (magnum vs. standard) can be changed by the user.
Accuracy
When it comes to a rifle like this, accuracy is where the rubber meets the road.  I tried a number of factory loads in the rifle, and it became immediately apparent the Havak was going to shoot just about everything pretty well.  Various weights of bullet from 165 grains to 200 grains all shot five shot groups hovering around 1 MOA.  Interestingly, the different loads all shot to similar points of impact.  The rifle particularly liked the Hornady Precision Hunter 200 grain ELD-X factory load that consistently provided 5 shot groups at and under 1 MOA.
Handloading went similarly
Most loads put 5 shots around 1 MOA.  I was able to get a load with the 212 ELD-X seated over H1000 that consistently printed 5 shot groups well under 1 MOA.  Several five shot groups toyed with the 1/2 MOA line.  This load also had a very low standard deviation in velocity averaging 2905 fps.  At that point, I was done tinkering and ready to shoot a bit farther out.
In the field, the SeekinsHavak proved to be a comfortable shooter
The stock fit me well and the high comb of the ProComp stock provided a consistent and firm cheek weld with 50mm Nightforce mounted in low rings.  The Seekins ATC muzzle brake was effective in reducing recoil, and the Timing Nut made timing the brake a breeze.  No need for crush washers.  The soft rubber recoil pad further reduced the felt recoil to a comfortable level.
Recommended Accessories
Other accessories I added included a Spartan Javelin Bipod and CrossTac rear bag with plastic fill.  I cracked enough rocks with the Havak at ranges from under 100 yards to 1029 yards, that I was supremely confident in the rifle when the Montana General Season came along.
The True Test
Unfortunately, I never did find a muley buck I wanted.  The Havak was hungry heading into the backcountry for elk.  I passed a number of sub-mature bulls, all the while the Havak was whispering in my ear that she was ready…  Finally, nearing the end of the Montana General Season I spotted six bulls with a mature bull heading for the timber in Western Montana.  A hurried stalk left me 451 yards from the best bull, and only seconds to spare.  After making a quick elevation adjustment on the Nightforce, I put my confidence into the Havak to the test.  A moment later, the 212-grain pill found its mark across the canyon striking the point of aim on the high shoulder shot.  Unfortunately, the bullet didn't quite do its job, fragmenting and failing to substantially penetrate the chest cavity.  Subsequently, the Havak needed to prove itself on a second shot at 487 yards.  Another hit exactly at the point of aim, and this time the bullet performed perfectly.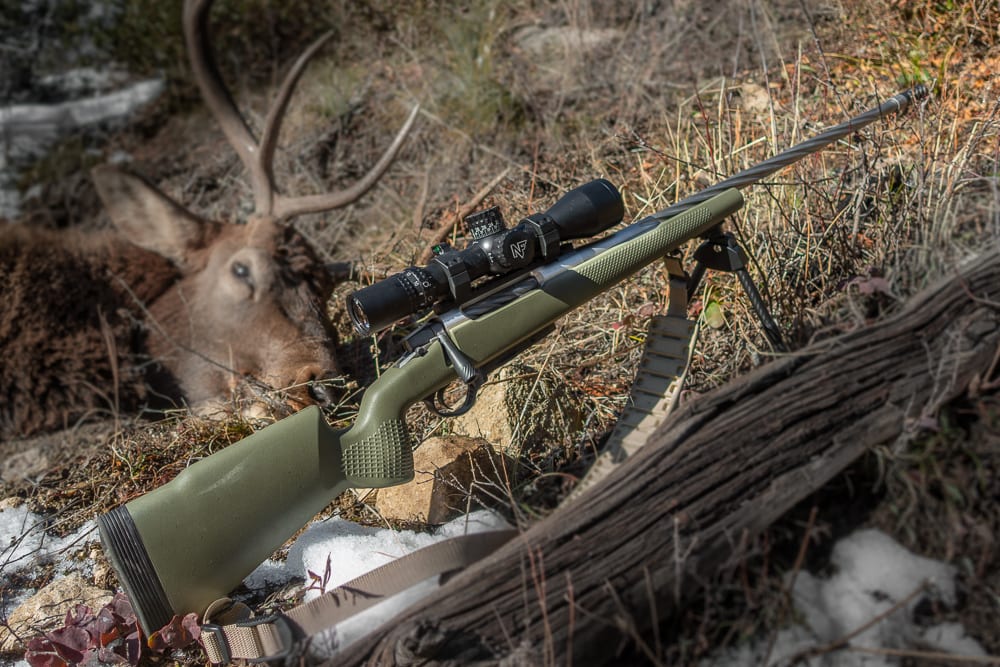 Seekins Havak Conclusion
The Seekins Precision Havak PH-1 is a long range rifle that screams value.  The list price of $2200 translates to right around $2000 on the street.  It is seemingly impossible to get a rifle with the Havak's list of features and accuracy at this price point.  While I would prefer a rifle that is a little lighter and a little shorter for backcountry hunts, the Havak is a solid turnkey long-range system ready to go right from the factory. Hunters looking to get a rifle that puts them in the long-range game at a modest cost need to check out the Seekins Havak PH-1.
You can comment or ask Matt questions here.