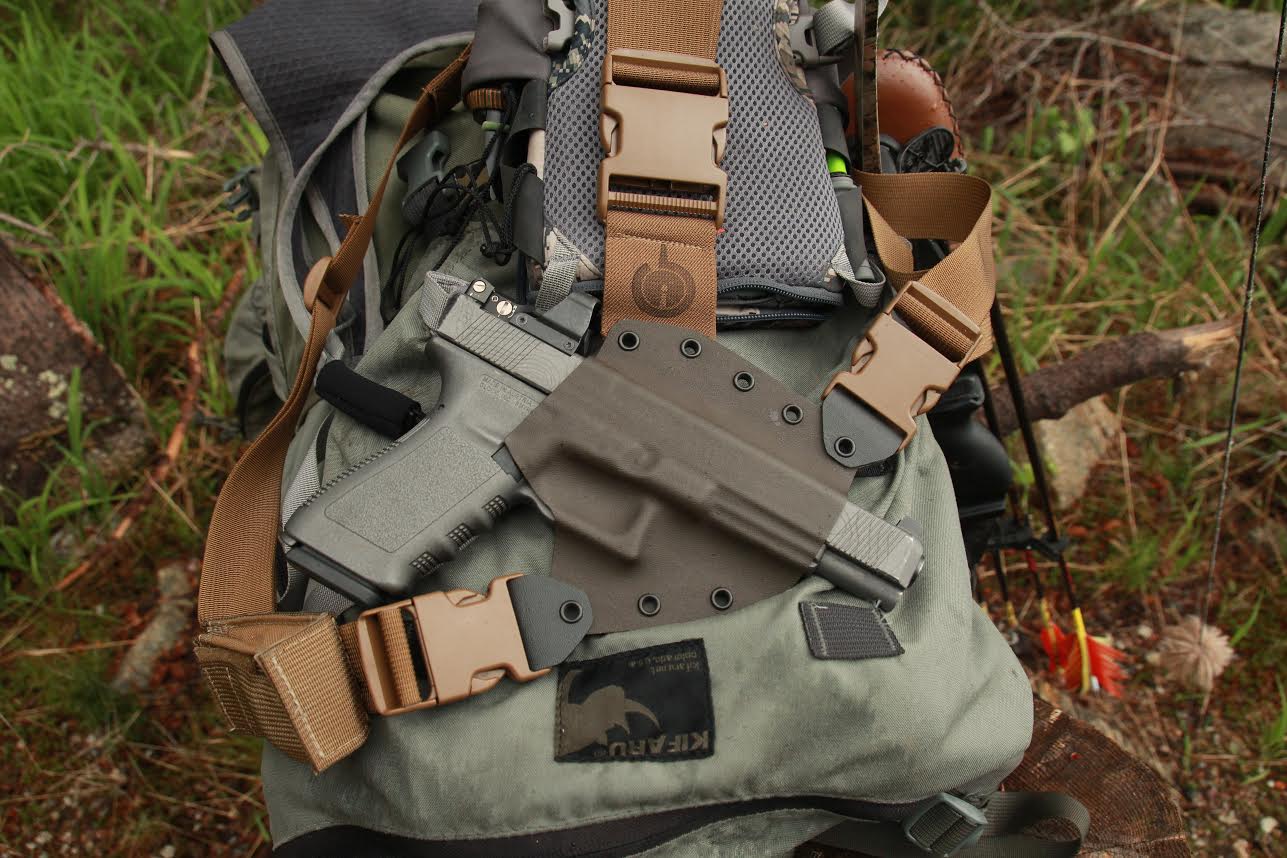 Kenai Chest Holster Review
By Luke Johnson, Rokslide Guest Writer
If you spend any amount of time in the mountains, you'll likely be wearing a backpack. And if you are spending any amount of time in the mountains…you're also likely to be carrying some sort of sidearm for personal protection.
Growing up in portions of NE Washington and North Idaho, carrying a handgun while roaming the backcountry is just standard procedure and not much thought is given to it. I remember the days of rocking a Jansport, with either a 1911 auto, or .44 Magnum strapped to my hip. But as my adventures and choices in gear progressed, I found that there had to be a better solution to carrying a handgun while wearing a backpack. Any backpack worth it's salt will have a waist belt, which generates the conundrum of how to carry that hogleg comfortably. Anyone who has tried to wear the traditional belt holster underneath their pack belt, and have hiked any considerable distance; will agree that there has to be a better way.
I've tried every reasonable mode of carry; including both a thigh rig, and strapping a pistol to my backpack. Each has it's pro's and con's…my experience marks them with possessing mostly con's. The first season I used a thigh holster to carry my Glock 20, I quickly found the outside of my thigh worn raw from the holster loosening up and slipping down after miles on the trail. Trudging through deep snow also was problematic, as I often found my pistol and holster packed full of the white stuff. I tried several different brands and configurations of thigh holsters before finally checking it off the list as a "no go". As for strapping a pistol to different areas of the pack, there are two main concerns:
1. You are separated from your weapon the moment the pack comes off
2. Keeping the handgun close to hand and mounted in a location that will allow it to be deployed quickly (likely the most important of the two)
Around 2011, I discovered the chest holster. And even with trying some of the more inferior designs, I still was convinced that a chest rig was "it". A chest holster puts a pistol right where you need it, but keeps it out of the way at the same time. Most importantly it puts the weapon above your midline, making it easy to be deployed rapidly and with less arm movement. I've also found that chest holsters work great while wearing a bino bivy and do not get in the way while shooting a bow, or rifle.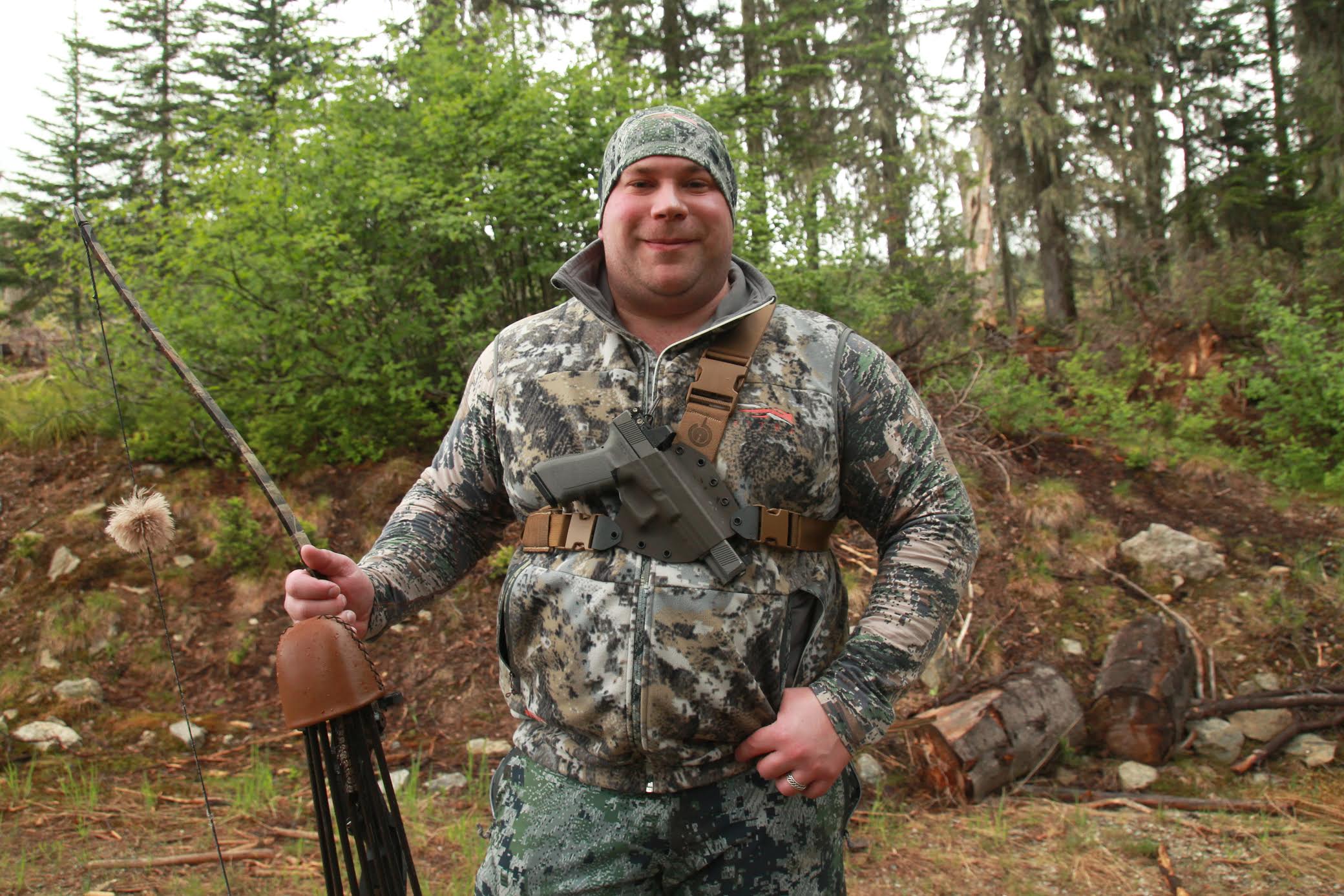 Gunfighters Inc Kenai Chest Holster
The first time I saw the Kenai Chest Holster on the Gunfighters INC website, I liked what I saw. I had already happened upon a chest rig that I had esteemed was "the best", but was intrigued by the Kenai, and agreed to put it through the paces. The first thing that I noticed about the Kenai was it's wide and stretchable harness straps. They looked like they would be comfortable and supportive. Being someone with a multitude of injuries and a certain amount of nerve damage along my spine, I've spent many a day miserable while on the trail. So obviously comfort is a very important factor for me. The first time out on the trail while wearing the Kenai, I was very pleased and noticed that it took several hours before I noticed even a hint of the nerve pain that I often contend with. It was even more comfortable than the chest holster I had been currently using. Now after using the Kenai from early spring to late fall, I can honestly say that it is the most comfortable chest holster that I've used thus far.
The first time I took the Kenai out of it's packaging, the large buckles and consistency of the material used for the holster itself generated some misgivings on the potential noise factor that seemed imminent. I paid very close attention to this on my first few times out with the Kenai, but excessive noise has only caused brief concerns on a couple of occasions since then. The large and "clunky" buckles go hand in hand with the wide harness straps. Which I later came to realize weren't as much as a "necessary evil" as I had previously thought, since the large size of the buckles made them easy to manipulate while wearing gloves. Also, I found that while the rig was worn and adjusted snuggly, the potential noise was mitigated and only noticed under certain circumstances (i.e. changes in temperature/humidity, still-hunting through quiet woods and being aware of any gear generated noise).
The material used for the holster portion, is a blend of Kydex and Nylon. The folks at Gunfighters INC state they went with this particular blend to achieve "excellent retention characteristics, weatherproofness and light weight".
I can definitely agree to the excellent retention of this holster. My pistol locks in with a definite "snap" but can be drawn easily when needed. And they seem to have hit the other intended areas as well as the holster is very lightweight and I've yet to have any weather related issues. This holster is about as good as it gets.
My particular sample was designed for the Glock 20, 21, 40 and G41; but also can be used with the G29 and G30 (you can order the Kenai for a host of automatics and revolvers as well). Since I'm using a G20 "longslide" configuration (equivalent to the new Glock 40), I wasn't a fan of the holster not having full coverage of the slide. But I have been told that you can order one that does have full slide coverage, as well as a host of colors and popular camo patterns.
The holster also works great with different barrel lengths and sight configurations. I have a Leupold Deltapoint Pro Red Dot Sight and very a very tall front sight mounted to my pistol. The taller front sight definitely can be an issue with some holsters, and the use of an RDS can also be an issue with holsters not specifically configured for one. But, neither posed any problem with the Kenai…so it was all "unicorns and rainbows" for me.

Although I had had a very lengthy conversation with Woody Dixon of Gunfighters INC, I only needed to take a few hard looks at the Kenai to know that some thought had been given to it's construction and configuration. However, my phone conversation with Woody only backed up what I was to experience myself, throughout my time using this holster.
It's very evident that the folks at Gunfighters INC actually use the products they design and put each holster through rigorous field-testing before bringing them to market. In summary, I can honestly recommend the Kenai Chest Holster to anyone and be confident that they'll regard it as sound advice and as a solid gear investment.
You can ask Luke questions or discuss this article here