Smart-Phones for Today's Smart Hunter
By Travis Bertrand
The idea of using a cell-phone as a primary camera on hunts is an intriguing option thanks to recent advances with the quality of the optics and sensors built into today's phones. Furthermore, increased cell coverage, the ease of use inherent to these devices, thousands of free apps, and built in GPS are all good features for a hunter… I carry it anyway so I decided to go all-in. If you are an ounce counter like myself, any device that has multiple uses for less weight than the items it replaces is always welcome in my pack.
Products like Delorme inReach can turn your smart phone into a 2-way satellite communicator and GPS, and Phone Skope makes a great adapter that turns your smart phone into a great digiscoping camera. Devices like these, paired with your smartphone can make it a killer tool for the backcountry.
I used to pack a Nikon D5000 DLSR with 18-55 lens coupled with a Swarovski digital camera adapter for my digiscoping setup. It weighed in around 2 ¼ pounds. That is a lot of weight for a back-country hunting camera. I always take my phone with me and usually end up taking a few photos by simply holding it up to my spotting scope. This year, my iPhone 5 will be my primary digiscoping camera, GPS, 2-way satellite text communicator, personal locator beacon, ballistic calculator, alarm clock, emergency flashlight, etc… The iPhone takes outstanding photos, and pairing it with Phone Skope's adapter and my spotting scope turns my optics into a fun and useful photographic tool. For the purposes of this article I'll focus on the Phone Skope and satellite communications & GPS capabilities.
A few months ago, I was sketching out some ideas for an iPhone case with a ring on it to slide over my spotting scope. Life happened, and my little project was put on the back burner. Friends were asking me about it which fueled the fire a little more… While doing a bit of research, I came across Phone Skope. They beat me to the punch with their own adapter, but made it even better than I had conceived! A few days later, my Phone Skope was in the mailbox. They basically took a regular case and plastic welded a universal adapter on it using a jig to ensure alignment of the camera with the eyepiece.
When I got it – I was like a kid at Christmas, busting out the spotting scope in the backyard to play with my new toy. I put a piece of electrical tape on inside of the ring to tighten the fit of the adapter over the eyepiece and more precisely align the camera. Since the ring is removable, I borrowed my wife's white nail polish and placed a small line on it so the tape is in the same spot every time. It removes from the scope with a ¼ turn and has 3 bayonet style fittings that it snaps in and out of.
Because the rings are removable, you can change ring-size to adapt different spotting scopes or binoculars. I plan on ordering a few more rings for other optics that I use. This versatility makes it a fairly universal tool regardless of what optics I bring on a given hunt.
If you've done any hand-held digiscoping, then you're familiar with how many frustrating attempts it takes before getting a good one through the spotting scope – especially when using a camera-phone. My hope was that the Phone Skope would mitigate the alignment and blurry photo issues that plagued me in the past. The Phone Skope did not disappoint! I'm really pleased with the product and think every hunter with a smartphone and spotting scope should consider buying one. It's nice to send my buddies photos that don't have a black circle cutting off half the frame or require a good imagination to see the antlers that are supposedly pictured.
One thing I have learned while digiscoping is that you need a remote shutter release or a self-timer on your camera to eliminate blurry photos caused by camera (and spotting scope) shake. This holds true when digiscoping with phones too, but most do not have a built in self-timer option. I discussed iPhone photography with a friend of mine who told me about the Gorilla Camera app. It can be used to take photos after a timed delay, a burst of photos, or time lapse photos. After experimenting with this FREE app, it's now my "go-to" program for snapping pics through my Phone Skope. I usually take a 5 photo burst using the self-timer at 5 – 10 seconds with one press of the button. I then go back to find the best one and delete the others. The friend that told me about this app also uses the app when taking trophy photos while hunting solo. Did I mention this app is FREE?? I like to watch my bank account as much as I like to watch the ounces going into my pack. Free stuff is good, free stuff that works great is as nice as a down bag on a cold night!

I try to document my hunts with plenty of photos since these are memories that last forever. One of the most difficult portions of the hunt to capture has always been animals on hoof and scenery. Plenty of photos have been taken around camp and after the shot, but you can bet I will be taking a few more live animal and panoramic shots this year.

In order to help my wife keep her sanity while I'm in the backcountry, I needed to buy a sat phone or personal locator beacon (PLB) so I could contact help if I got in trouble and also let her know that I'm OK. After a fair amount of research, I purchased the Delorme inReach. I chose the *inReach because I can send and receive messages from the wife and kids, or anyone else for that matter.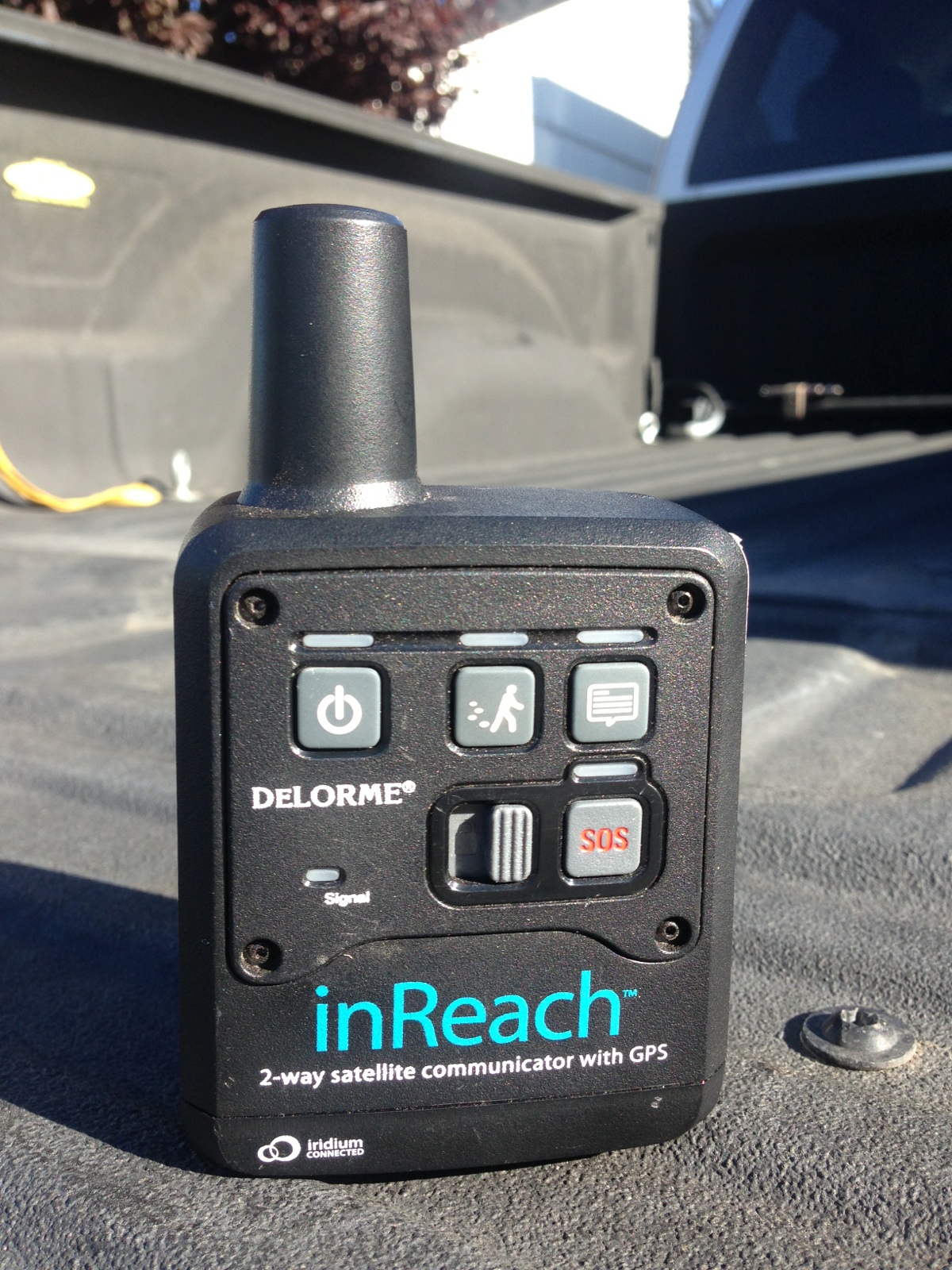 It turns my phone into a simple GPS with maps and a neat tracking feature that friends and family at home can use to see where I'm at. It weighs in at 8 ounces which is less than the GPS that now lives in my truck's glove-box. They have a few options for annual service fees which typically run $120 – $600 per year. I am going with the seasonal plan which has a four month minimum running 40$ a month. Small price to pay for peace of mind for me and my family. The yearly investment is comparable to SPOT but I think I get more bang for my buck with inReach. Being able to type a message to my family or alert and communicate with search and rescue was the biggest deciding factor. Sat phones are nice but they're bulky, expensive, and somewhat unreliable in my experience. They were just not for me.

Although my decision to carry a cellphone as my new multi-tool comes with its own set of challenges and limitations, for me, the pros outweigh the cons. Technology has come a long way in recent history and it's pretty cool how much of it can be used to aid hunters in the field. I eliminated a couple pounds of excess pack weight by giving my phone more responsibility. Meanwhile, I gained a lot of functionality that keeps me safer and helps me capture better photos and find my way with fewer pieces of gear.
*Note- Delorme has since updated the inReach, there is more information here

You can discuss this article or ask Travis questions here