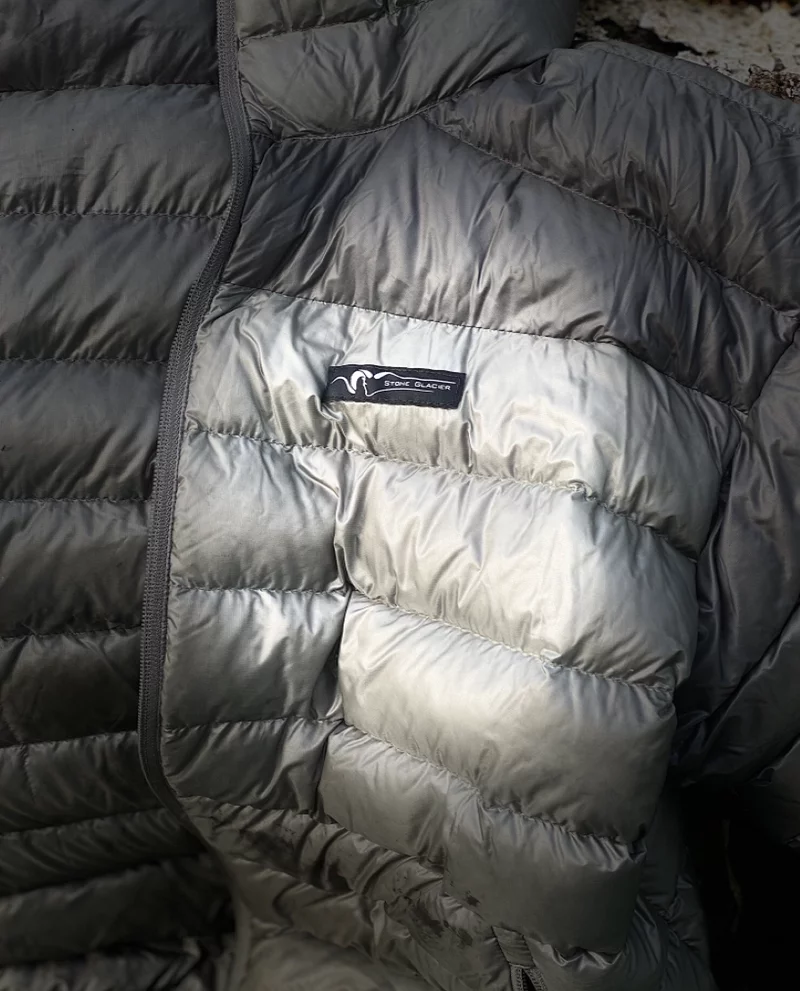 When you are as cold-blooded as I am, a quality puffy jacket is a must-have. My search for a new lightweight, packable but warm jacket brought me to the Stone Glacier Grumman. More info here. I knew Stone Glacier had a reputation for making quality packs but had no experience with their relatively new apparel line. I decided to give it a shot and picked up the Grumman from Rokslide sponsor 1Shot Gear.

Technical Specs
Weighing merely 11.8 ounces, lightweight seems like an understatement for this jacket. The shell is a 15 Denier Pertex Quantum an extremely tightly woven fabric engineered to trap still air and improve the performance of insulation. It is also soft to the touch, provides wind protection, and has a durable water repellent finish to shed light rain or snow. The Grumman has a fill power of 850+ which is excellent and helps make the jacket more packable and lofty than other jackets with a lower fill power. Filled with 5.3 oz of HyperDry DWR treated goose down, the Grumman retains its superior warmth to weight ratio even when wet. When packed in the included stuff sack the Grumman measures 8" x 4" x 3.5".
First Impressions
When I first pulled the Grumman out of the box, I was amazed at how lightweight this jacket really is. I found myself wondering how a jacket so light could possibly be warm, but more on that later. As I inspected the jacket I was impressed with the overall quality. I found no stitching errors and all of the YKK zippers were smooth to operate. The stone grey color wasn't too "shiny" like it appears on Stone Glacier's website. I ordered a size large and found the fitment to be perfect for me. I'm 6'0 185 lbs.

Performance
First and foremost, the Grumman is extremely comfortable to wear. Compared to other puffy jackets I own, sometimes I feel like the Michelin Man while wearing them. That is not the case with the Grumman. It has an excellent athletic fit that moves with you very well and is in no way bulky. The tightly woven structure of the Pertex Quantum shell impressed me with its wind-blocking ability, a welcome attribute for those stationary glassing sessions on a windy perch.
Perhaps the most important quality this jacket possesses is its ability to shed water–very important in a down product. The SUPERDWR combined with the HyperDRY down treatment really impressed me. I treated this jacket no different than a synthetic puffy and it performed flawlessly in some pretty steady Pacific Northwest rain. Typically I would wear a rain jacket over my puffy in a hunting situation. I experienced no down "clumping" and I felt no loss of warmth throughout the squall. The streamlined internal cuffs of the Grumman do an outstanding job of keeping water out of the sleeves when your arms are raised.

In the field
The Grumman is easily worn under a pack with both pockets effortlessly accessible above the waist belt. While glassing, the hood of the Grumman is cut in a way not to block your peripheral vision but still provides adequate warmth.
Another feature of the hood is the drawstring. Those of us who wear our puffy jackets to bed have no doubt struggled with the pull cord digging into the back of our heads. Stone Glacier has solved this problem by putting the cord down lower on the neck so it is out of the way while lying flat on your back, a simple but welcomed solution. When the Grumman is in its included stuff sack, it takes up minimal space in a lid or pocket. The jacket is easily deployable from the sack thanks to the addition of a loop sewn onto the end of the sack; another simple but well thought-out design feature.
Final Thoughts
Stone Glacier had the backpack hunter at the front of their mind while designing this jacket and it shows. From the 11.8 oz weight to the packability, this jacket was made to be thrown in a pack and hauled up a mountain. I was hesitant to buy a down jacket when I primarily hunt in the rain forests of the Pacific Northwest, but Stone Glacier put my mind at ease with their extremely technical and high performing DWR treatments to both the down and the shell.
I have no doubt about this jacket's ability to keep me warm while on the mountain. This jacket exceeded my expectations in every category especially packability. I can't believe a jacket that performs as well as the Grumman comes with such a small weight penalty.
The only thing the Grumman lacks in my opinion is a chest pocket. Although that would come at a small weight penalty, I believe it would be worth it. This highly technical piece of insulation has permanently made its way into my kit with its exceptional performance and well thought out design. Order yours here.
You can comment of ask Jacob questions here.
Also check out these other Puffy reviews