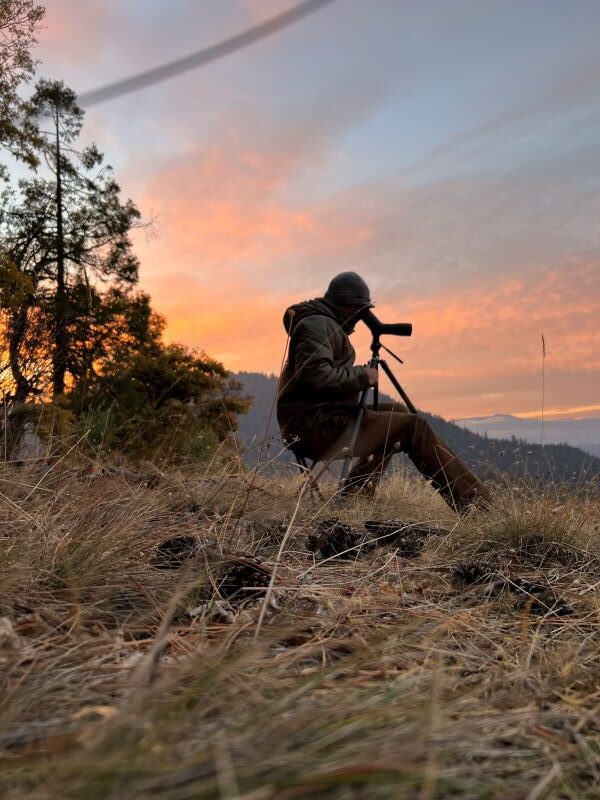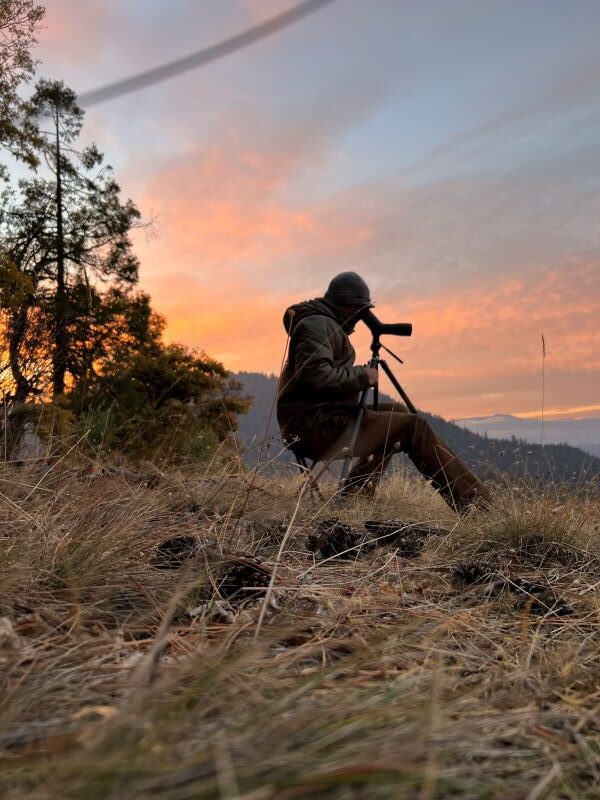 As an avid backpack hunter and now guide/outfitter, I am always looking for creative ways to shed weight from my pack. However, sometimes the juice isn't worth the squeeze and some of the lightest gear just won't hack it when it comes to durability or functionality. This has led me at times to fall back on a slightly heavier piece of gear that just works better. Swarovski in my opinion has never been a company to sacrifice any level of quality for weight savings so when they released the new ATC/STC 17-40×56 spotting scope I was immediately intrigued.
My Experience With Small Spotters
I have owned some of these "baby" spotters in the past, such as the Vortex razor 50mm and the Kowa 55mm spotter. Both of those small scopes left me wanting. The razor lacked clarity compared to alpha glass. And the Kowa had a narrow field of view with an eyepiece that felt similar to looking through a tunnel. Still, the Kowa 55mm was the best small spotting scope to date and I packed it around for a couple of years. It had great clarity, however, I just could never fall in love with the overall viewing experience. I reverted back to the tried and true 65mm spotting scope, with a Leica APO Televid 25-50x 65mm.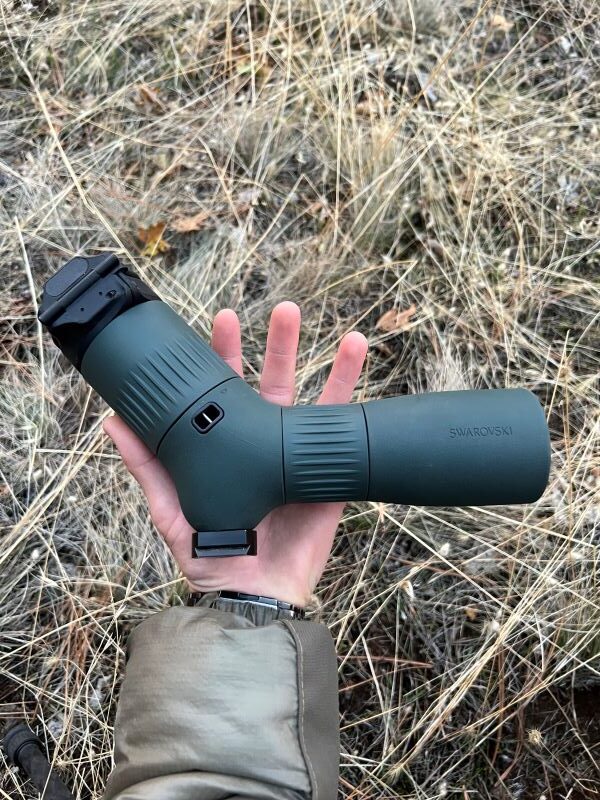 Swarovski ATC
Then Swarovski announced the release of the ATC/STC line and I immediately purchased one on backorder. I knew that I would have to personally test this in the field against some of the top 65mm spotting scopes if I was going to consider packing it over my Leica. When I received the ATC, I was shocked at its compact size. It might actually be at risk of getting lost inside my pack!  It weighed just a shade over two pounds naked. So far, so good, but I would need field time to see if it holds its own. Read more here on the Swarovski website.
Swaro ATC vs Leica APO
While guiding a late-season blacktail hunt, I took the Swaro' ATC out to glass some open country, comparing it against my Leica. I was immediately impressed with the clarity of the little spotter; it was sharp from edge to edge and even at distances beyond a mile, it seemed to deliver very crisp images of deer. The viewing experience through the wide integrated eyepiece was nothing short of fantastic. It was exactly the same as looking through a wide-angle 65mm spotting scope eyepiece. This thing was a pleasure to sit behind.
In the twilight category, the ATC gathered light very well at dusk, however (and obviously,) the 65mm won out in this field but not by much.
As we know, the smaller the objective size in a scope of equal quality, the less light it will gather—there's is no way around this so if weight is not a factor then carrying the largest objective possible only makes sense. For me personally, the weight savings was worth the marginal loss in light. The Leica was getting the boot.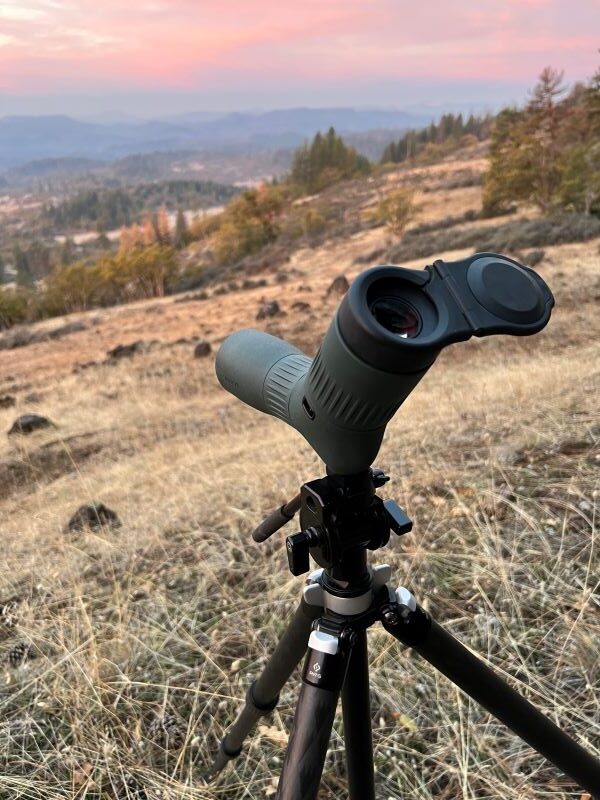 Swarovski ATC vs Swarovski ATS
Fast-forward to a late-season fall black bear hunt with a client, and wouldn't you know he packed along a Swarovski ATS HD 20-60x 65mm spotting scope! Another great opportunity to give the little ATC a head-to-head against a top competitor. To set the stage, we were glassing deer at about 1.5 miles away on an overcast afternoon. The scopes were side by side on tripods with both zoom set to 30x.
Going back and forth I immediately noticed the larger field of view in the ATC and how buttery smooth the zoom and barrel focus adjustment were on this new scope. To my eyes, the clarity of the image seemed to favor the ATC as well, although just slightly. I'm not sure if there are updated glass coatings in the small spotter, or if it is because it is all one integrated piece without a removable eyepiece, or the fact that this particular scope is brand new. But it seemed to be just a touch sharper than the ATS.
The viewing experience also was a little better in the ATC, but this may be due to the 20-60x eyepiece on the ATC being more "tunnel" like. It may have been a better comparison against the favored 25-50x wide-angle eyepiece from Swaro'.
Do note that the ATC only reaches out to 40x, so if maximum zoom is a factor then, the higher zoom range of the ATS would trump the smaller scope and it will also inherently gather a little more light being that it has a larger objective diameter.
Conclusion
I think Swarovski nailed it with this new spotting scope, it will be in my pack for years to come. There is no such thing as the perfect piece of glass; to gain in one aspect will be to sacrifice in another. However the small amount of light gathering and zoom given up in this small spotter is marginal compared to the weight and size savings that it offers. This scope punches far above its weight class and you can feel confident in packing it along. Order yours here.
Feel free to reach out with any questions you might have here.
Click here to learn more about Live Wild Outfitters.
Read the rest of our optics reviews here.