I received a Toric UHD 4-20X50mm, FFP, MOA, PRS from Tract Optics for review. Up until recently, I hadn't heard much on Tract optics. Tract, located in Pennsylvania, prides itself on being able to produce quality optics for less. There is no retail markup on the scopes as they only sell directly to customers. The scope I received sells for $1,294 which is right in line with others competing in the mid-priced, long-range scope market.
Tract Optics Toric UHD 4-20X50mm Riflescope
After taking a quick look at it, the Toric seemed high quality in every aspect. It was very smooth and tight from the locking elevation and windage turrets to the numbered parallax and magnification rings.
The reticle is glass etched MOA PRS Christmas-tree style. I can imagine the 0.14 moa floating center dot will lead to some tight groups. I did have a hard time seeing the dot at low power; I've always had that problem with FFP scopes at low power.
It has both locking elevation and windage turrets and comes with a zero stop. The clicks are very solid and audible. They sent me Triad rings and a bubble level as well.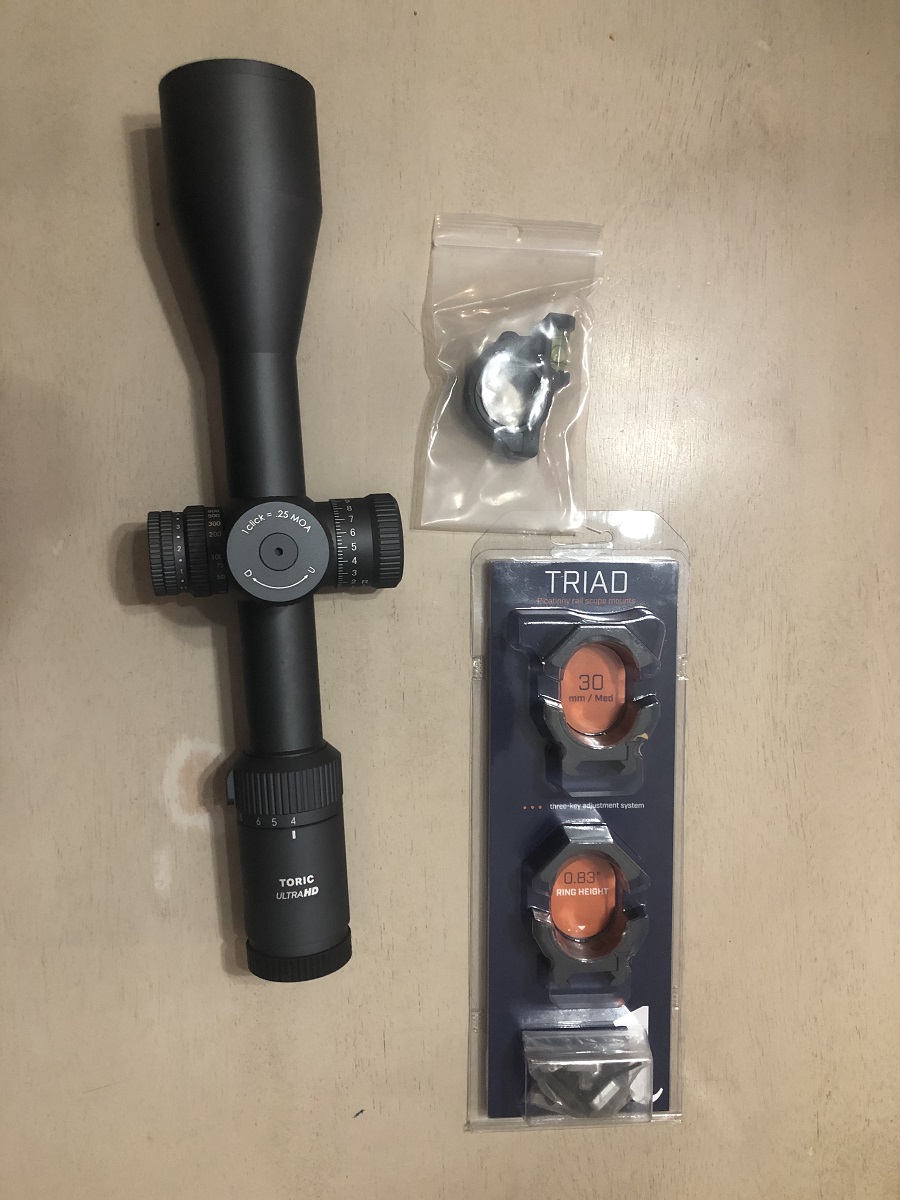 Very Robust
This thing is solid. It probably could double as a hammer. It is fairly compact side-by-side with a Zeiss V4 4-16 50 MM. It is more compact. However the Toric outweighs the V4 by almost 10 ounces at a total of 33.85 ounces.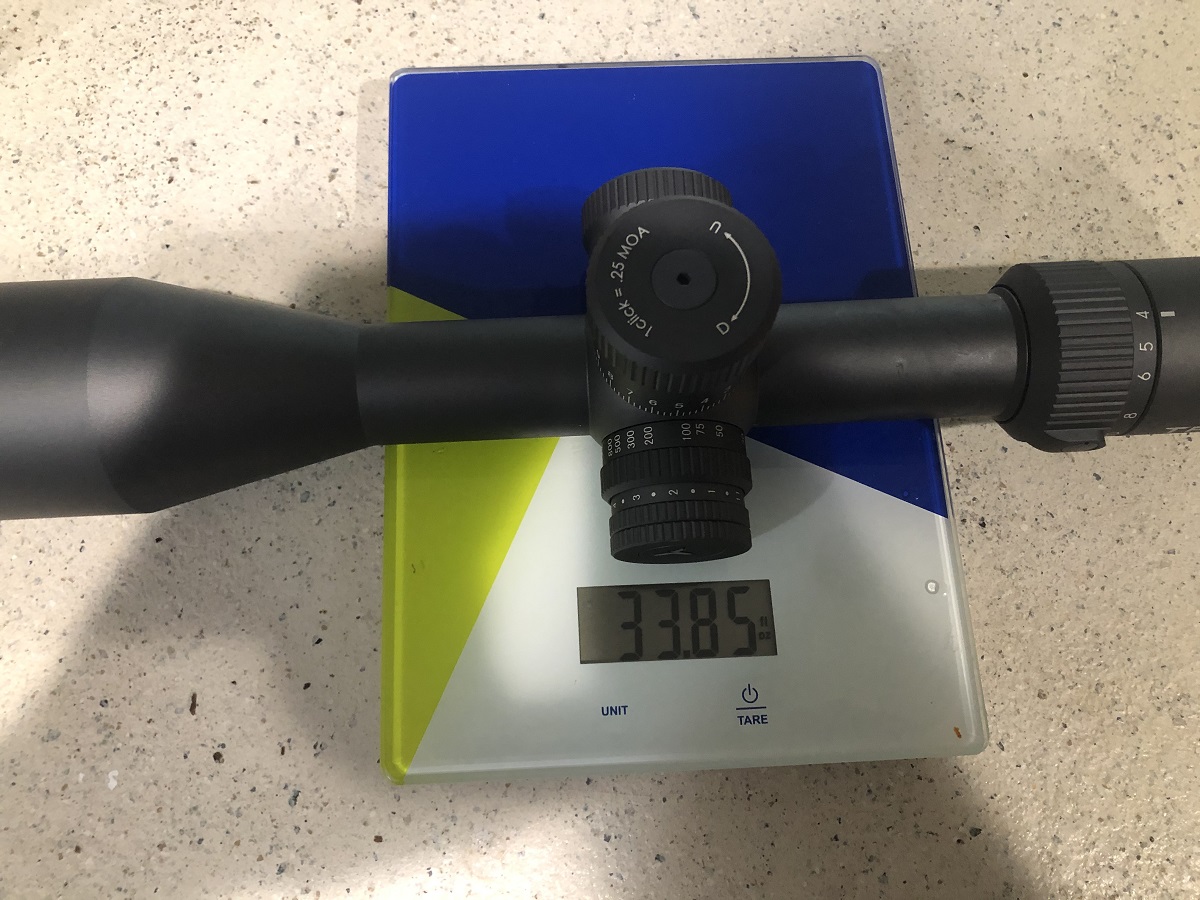 Toric UHD Tracking Tests
I put the scope on my daughter's 6.5 PRC (at least that's what I told my wife when I got the PRC) and leveled it. Everything went smoothly with the mounting process, and the rings and level seemed solid and well machined.
At the range, I did a tall target test as well as a box test and it performed perfectly. During load testing, I shot several groups which were among the tightest I've ever shot (you'll have to trust me on that claim as I can't locate the photo.)
Aim Small, Miss Small
Something to note, looking at my target's normal 1/2-MOA circle I use as an aiming point for groups, the small size of the Toric's center dot left tons of room around it. So I ended up moving to a 1/4-MOA diamond as an aim point.
My first shot was 5.5 MOA high and 4.25 MOA left; my second shot was dead center.  The dot is so small there is almost no error in aim point. I can use a bullet hole in the target as an aim point. It doesn't hurt when you have a rifle that shoots as good as that 6.5 PRC does either.
Solid Locking Turrets
The locking turrets are super smooth with audible clicks and easily lock and unlock by pushing down or up. I installed a Thunder Beast Suppressor from Sowa Strong Industries on it in the hopes it would make it even more kid-friendly. It did just that.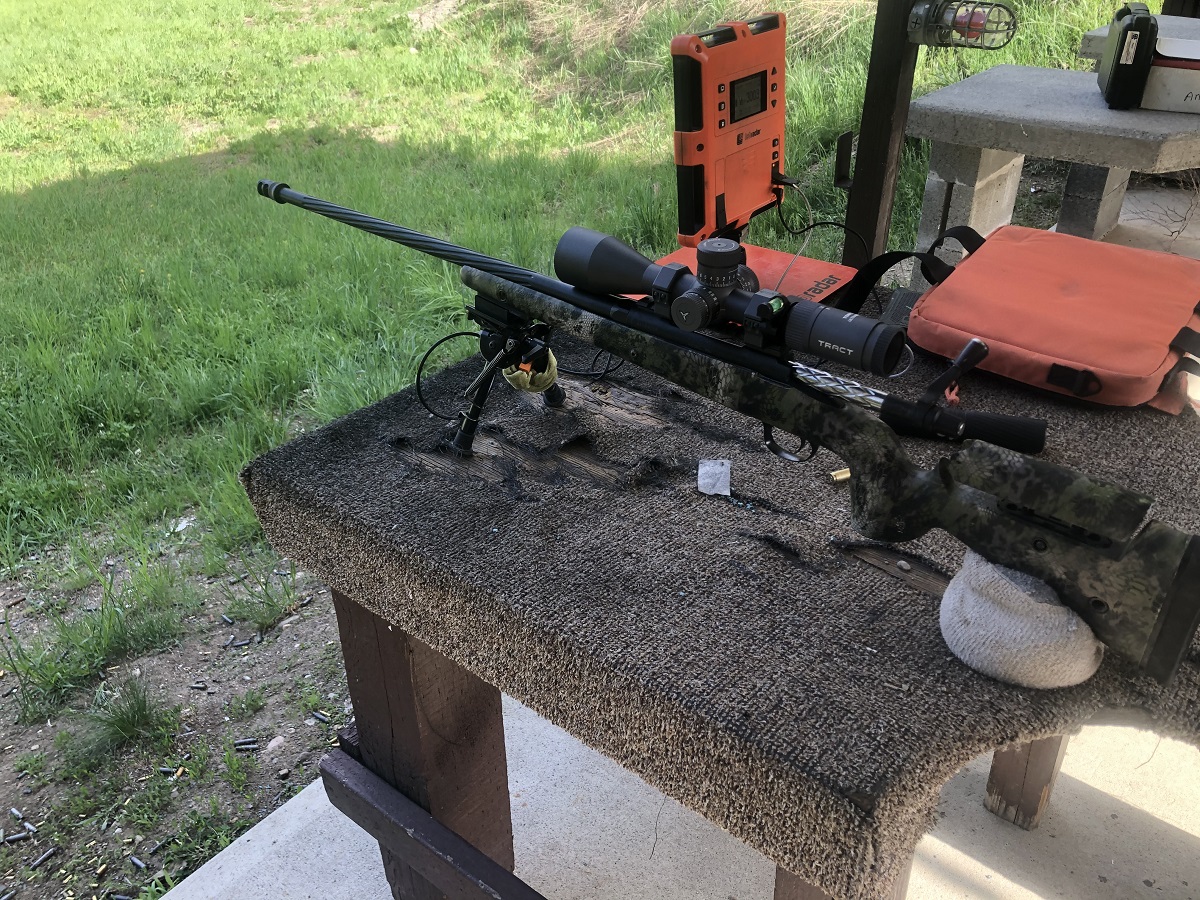 Long Range Testing
I used a Lab Radar chronograph to get my adjusted speed, then took it to the hills to do some long-range shooting. My first three shots were at 1,115 yards. It put all three inside a 5-inch circle including cold bore. I then dialed it out to 1,300, 1,500, and 1,700 yards. The scope definitly doesn't have any issues dialing.
With the Thunder Beast and the clarity of the scope, I was able to watch my hits without losing sight of the target and often got to see the vapor trail on the way to the target. Usually, I'm lucky to get on target after the shot in time to see a hit, so this setup is nice.
I had all my girls shoot the set-up.  From Annabelle and Emmie to next in-line, Charlotte, my 8-year-old. They all put together a good group at 800 yards then. Of course, my 4-year-old Julia wasn't about to be left out. The small aim point made it easy for them to know exactly where to hold.
Tract Toric UHD vs Zeiss V4 vs Nightforce NXS
I tested the Toric side-by-side with a Zeiss V4 4-16×44 MM which I had previously mounted on this rifle and now on my 338 Lapua (another great shooting rifle.) I also ran it with my Nightforce NXS 5.5x22x50MM mounted on a 300 rum. All three scopes dial well and get the job done. They all have their strong points.
Click here to read the full Zeiss V4 Review
However, the Tract Toric UHD seems to win almost every facet for me. The oversized locking target knob is smooth and positive. It beats the Zeiss hands down in this department. The Toric also gets the edge over the Nightforce. The glass on all three is good and similar. However, the edge goes to the Toric in clarity and lowlight performance.
Zero and Tracking Reliability
Reliability is the most important factor and hardest to replicate without running through the gauntlet for a few seasons. I have yet to run the Toric through a full hunting season or poor conditions. The Zeiss did well last season and the Nightforce for many seasons. However, I'd pick the Tract over both at this point just because I have the most confidence in it at the moment.
Confidence In Gear Is Critical
Not only does it physically look and feel like it would hold up to anything, but I have yet to make a bad shot with it; that stat includes my daughters or anyone who has shot it.
That could be an unfair comparison due to it being mounted on such an accurate, easy-shooting gun. But there has yet to be a long-range shot that has made me check or wonder about my ballistics or parallax.
I went into this fully expecting to move the Tract to my 338 Lapua for hunting season which I would end up using for my personal hunts. However, I planned more rifle hunts with my girls so I would switch their rifle back to the Zeiss which performed very well last season and is noticeably lighter in comparison. After using the Toric for the past couple of months, I'm not switching it. It's staying on the 6.5 PRC rifle and well worth the extra weight.
My Dislikes
Now with all that said there are a couple of issues to mention. The reticle.  While it's great for shooting targets, it might not be the the right choice for hunting. I love a small dot and feel it's the best for shooting, however this dot is small and can be hard to pick up when not at full power. This is the reason I have never loved FFP plane scopes for hunting. The reticle isn't up to full size unless on full power. The scope is still very shootable, we just have to get used to using the invisible crosshair.
Also, the Christmas-tree reticle is great, but for kids or those who don't take the time to get to know it, it can be confusing. On this reticle, however, it isn't overpowering and hasn't confused my kids at all. I just dial for wind with them.
Parallax Marks vs Numbers
I have always liked numbered parallax since it usually makes for a quicker parallax fix. Even if it's not perfect, you at least don't have to count hashes. While I rely on actual parallax when I get on my target, I'm often helping a young shooter. So rather than they adjust it, I like to know where to go quickly. These numbers on my unit were way off and the window for an adjustment was much smaller. The 300 yards was my infinity adjustment basically out to 1,700 yards.
Of course, my biggest gripe is the weight. It's noticeably heavier than my Zeiss but right on par with my Nightforce.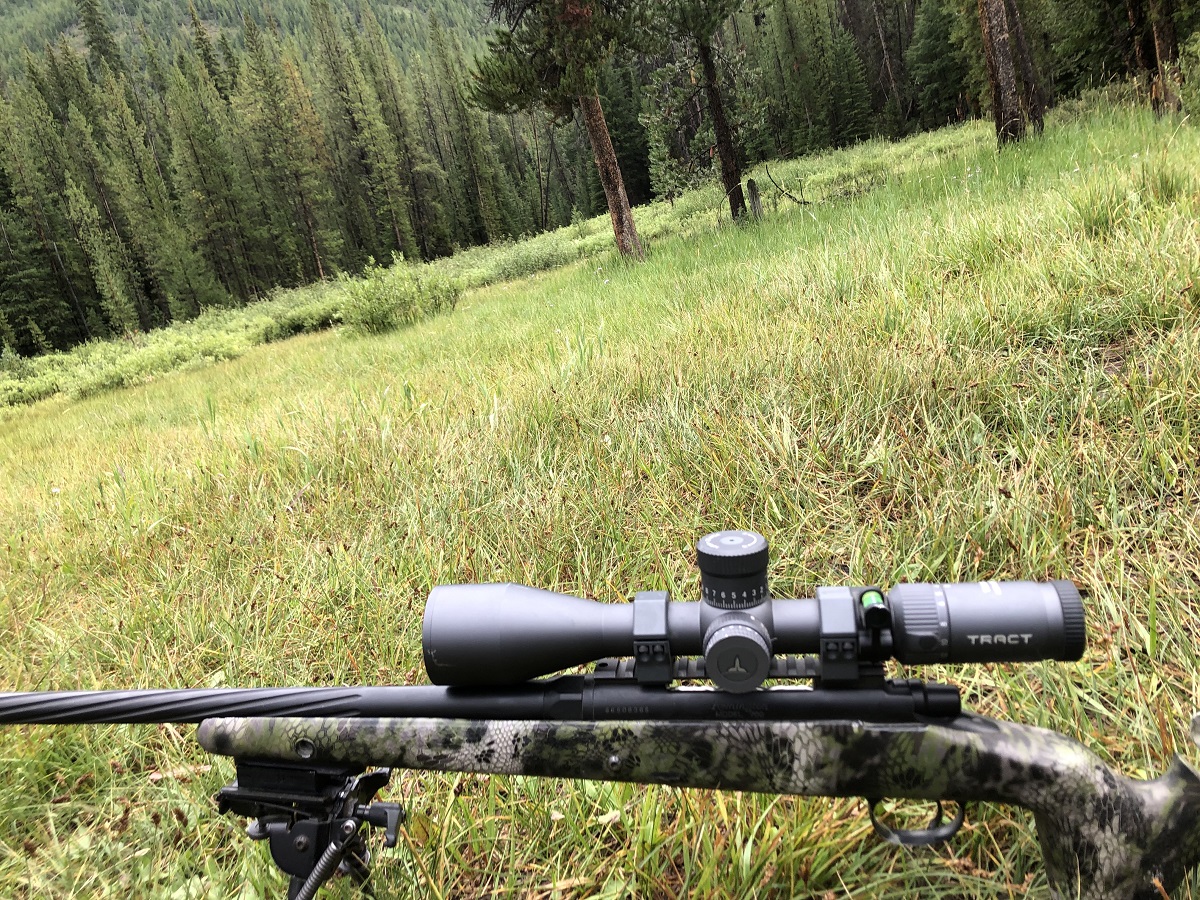 Hunting With The Toric UHD
We used the Toric on my daughter Annabelle's elk hunt. We had found a big herd with a good herd bull. They were in the bottom so we decided to wait until they fed out in the evening. As luck would have it, a couple of hunters coming from the bottom blew the herd of 60 and the herd bull out. Annabelle and I had to run to make it to the edge of the next draw to see them.
We set up on a rock outcropping as the elk were heading out of the country. I ranged the opening where they were traveling through: 704 yards. This would be our only shot before they went out of sight.
I quickly dialed and was getting the camera set up when Annabelle said she could see the big bull.  Without hesitation, she made the shot just before he went out of sight. I could see the bull was hit hard.  Once we got over there, we recovered him within 150 yards. There's a reason we call her "Dead Eye".
Her comment was the scope was very clear and easy to keep on him as he moved and the small dot was quick to put it right where she wanted it.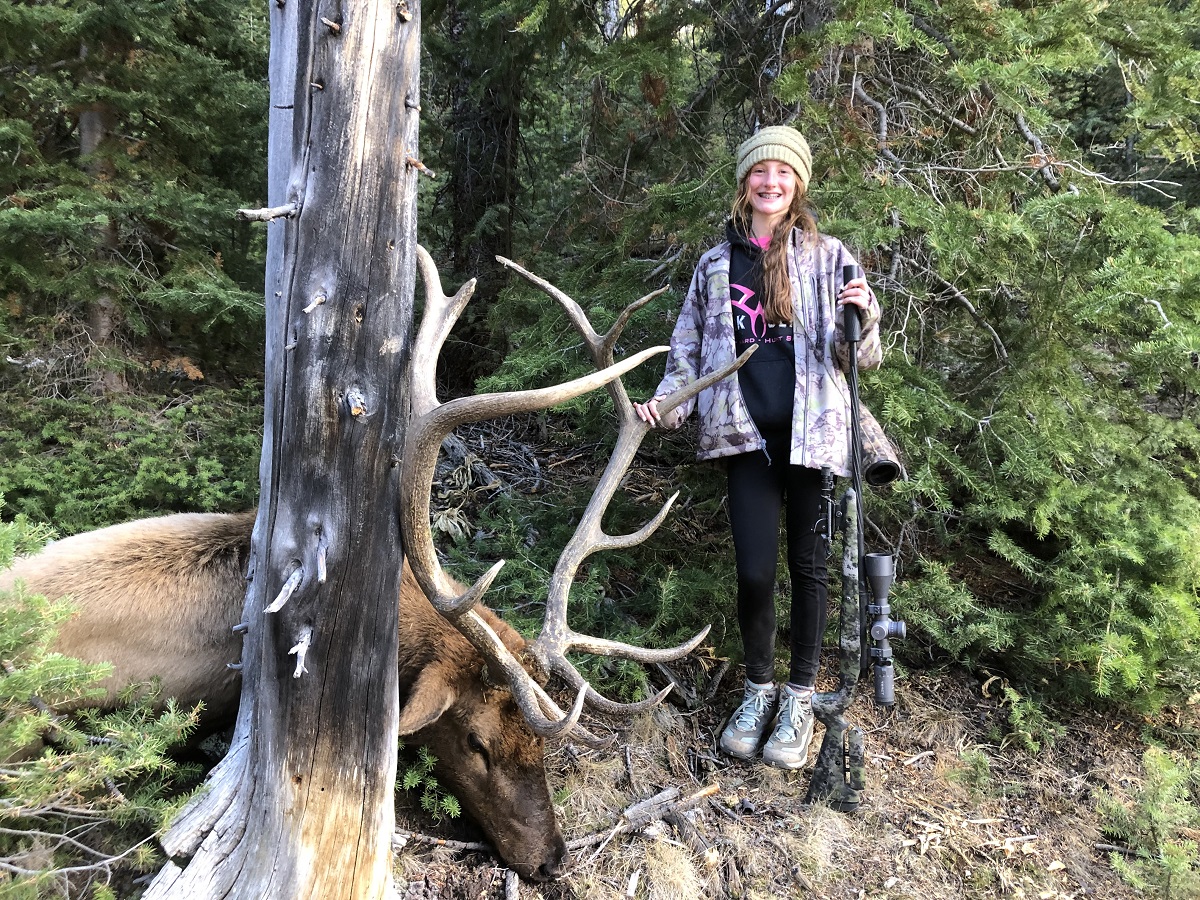 In Conclusion
The Tract Toric UHD is an excellent scope even without taking into consideration the price tag. When taking into account the price, you are getting a dealer's price and saving the markup.
This scope is an excellent value compared to what I have tested as the best on the market. While inflation has raised prices across the board on hunting products over the years, I feel scope quality from lower tiers has closed the gap on with top tier long-range scopes. I remember just five years ago there was very little in the lower bracket that I would consider a true long-range rig.
This $1,294 Tract Optics Toric UHD 4-20x55mm Scope can do it all without much compromise in most situations. They offer a lifetime no-fault warranty fully transferable, and no paperwork needed. I definitely recommend this scope. Order here.
Comment on this review or ask Jim questions here.