Vortex Razor HD 4000 Rangefinder
I often think back to the days when I had to depend on nothing but my practice at varying yardages to figure out where to hold my bow without pins and a peep sight. Or guessing the holdover on a target with a rifle at long ranges. Days when knowing your exact yardage was nothing more than a guess most times. Then the first non-electric rangefinders came along that gauged the deer or elk brisket to the top of the back that gave you an estimated yardage. It was a game-changer for sure! Much more accurate than guessing on each shot! Even harder to do when you are rushed! I would be lying if I said my shot accuracy didn't go up a tick.
Rangefinders Have Come A Long Way
I remember when I used my first electronic rangefinder and my accuracy went up even more! Awesome sauce right?! Rangefinders have come a long way and they make us much more accurate with our shots in the field even if they can be thought about as a handicap when you come to think about it. The days of being good at judging yardage aren't as good as it used to be for the simple fact that we don't need to take these guesses any longer. We now have a much higher level of advanced tools. When given the chance to review a newer rangefinder by Vortex I was excited to be able to do so.
Vortex Optics first came out with the Ranger series rangefinders that I became very fond of and used extensively. They have introduced a couple more after that but the new Razor HD 4000 caught my eye and I wanted to give it a go. I was happy with the Ranger line but when given the opportunity to use HD glass in a rangefinder I was intrigued and was excited to give it a try to see how much it was improved over its predecessors. The 7X25mm objective would surely be better than previous models as well, especially with multi-coated HD glass.
First Impression
When I opened the box and peered inside I was happy to see the Vortex Razor HD 4000 rangefinder came with a carrying case that can be buckled onto your pack or to your existing binocular harness. The added tether allows you to attach the rangefinder so it doesn't walk off. It is a bit bigger than the Ranger line that I was using and measures in at its widest point at just under 4.5". That isn't enough for it not to be used in my binocular harness pocket so that is where it was placed. The small compact size is preferred for my uses. I opted not to use the included carrying case and tether that it came with. More info here.
Ergonomics And Ease Of Use
It is relatively light at just under 10 ounces and fits in my hand well. Buttons are arranged in good locations that are easily operated with one hand. The focus was easily adjustable by turning the diopter ring and a quick setup by toggling through the features allowed me to pick the LED brightness and other features that are offered. The eye relief was good as well and boasted 16-19mm to help fit a wide range of individuals and their needs. It incorporates a belt clip that can be repositioned from one side to the other to allow for user preference or removed altogether if not needed.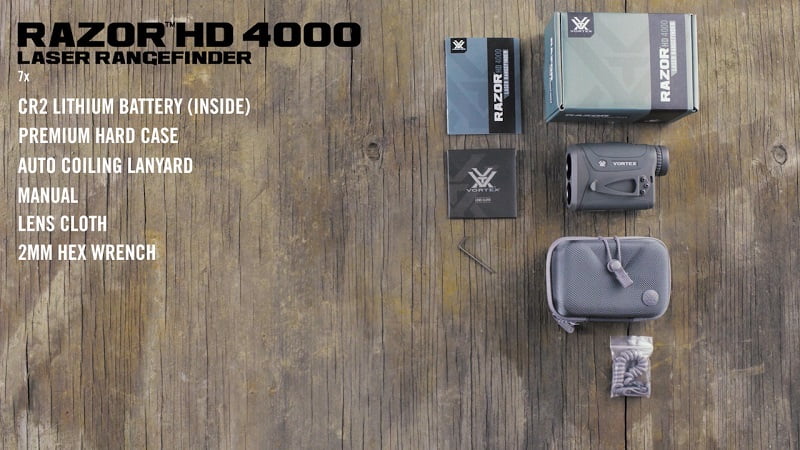 Vortex Razor HD 4000 Rangefinder Field Testing
It seems that I always walk out of my house with each new optic that I try and quickly begin to pick out distant images. The Razor HD 4000 can range reflective objects out to 4000 yards with extreme accuracy and I quickly was able to pick out a few targets close to that distance. That is a huge improvement over the Ranger line; much faster readouts and is pretty much instant with the push of the button. Love that feature! The sharpness of the images and brightness is much better than in the past as well. In low light, this will be extremely helpful.
Awesome Range Capabilities
While on various hunts I was able to range deer much further past what I would ever think about shooting at them with a long-range rifle. It is advertised for range on deer out to 1600 yards, I was able to get very close to that but is very hard to tell at that distance if you are getting the deer's range or something else but I do think it is pretty darn accurate. Accuracy is within .5 yards within 200 yards. Anything within1000 yards they claim accuracy within one yard and accuracy within two yards at anything after 1000 yards, pretty common for all rangefinders on the market. With a minimum 5 yard range, there aren't any issues with ranging those rather close shots if ever needed. Four targeting modes include: Normal, First, Last, and ELR.
Normal Mode
Normal mode is recommended for most situations in which you would hunt in. With an effective range on reflective targets out to 2400 yards and incorporates a scan mode as well, that will adjust as you move the rangefinder over various objects
First Mode
First mode comes in handy when you have a critter standing amongst various objects but is the closest to you. Using this you can scan over the critter and it will give you the readout of the closest object, in this case being the critter. Very ideal when ranging a smaller target that is amongst larger objects nearby
Last Mode
Last mode is exactly the opposite of First. In Last mode, it will give you a readout of the farthest object that you have when in the scan mode. Handy when that critter is standing behind trees
ELR Mode
ELR mode (Extended Lazer Range) will allow you to range targets out to and even past 4000 yards. Very effective to use this mode when at the range and you can put the rangefinder on a tripod. You need to be still in order to get the most of this feature so a tripod is the best option for using this mode. The readout will take a tick longer but is still extremely fast.
Horizontal Component Distance
The Razor HD 4000 also has two ranging modes consisting of HCD (Horizontal Component Distance) which will automatically adjust for the shot angle and make the corrections for what yardage to use. This is most commonly used for most rifle and archery hunters.
LOS (Line OF Sight) is commonly used for long-range rifle shooters who use some type of ballistic programs while shooting. This mode will give the line-of-sight distance to the target as well as the angle of the shot.
Can Be Overwhelming At First
With these added features it was a bit confusing at first to be able to figure out how to select between these but I was able to get it figured out in a hurry. I mostly used the normal mode in HCD as this fits most situations for me. It is easy to select Normal, First, Last, and ELR modes by simply pushing the menu button to toggle between the four. I ranged a deer in some heavy brush using last and was able to get a good readout as well which was very handy in that given situation.
Depending on the day I had no problem adjusting the red LED readout to the brightness I needed. If in low light the brightest setting is too much but works great in the brightest part of the day. Finding the best setting can vary for each person but this offers numerous brightness settings to get what you prefer.
I also noticed that the cold weather didn't affect the Razor HD 4000 as much as the previous models I have used. In temps below 0, I was able to get quick ranges just the same as in fair weather. This was one situation in which I was most concerned about how it would perform. Battery life seems ample as I haven't had to replace a battery in it yet after several months of use.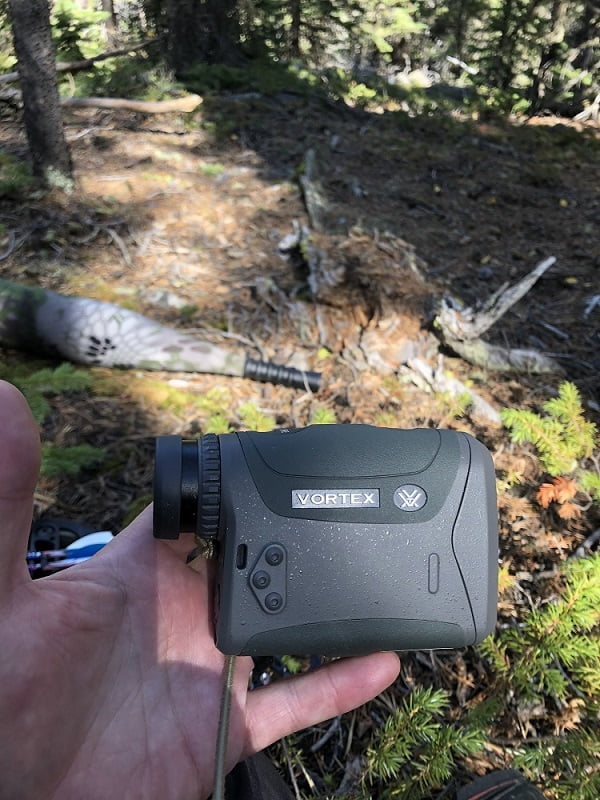 End-User
For someone looking for a compact rangefinder that can do it all this would be a perfect fit for them. I was most impressed by its quick range readouts as every millisecond counts when preparing for the shot. It can and does make a difference. With an MSRP of $729.99 it is right in the ballpark with many other rangefinders on the market with several preferred features as well and has been argued that it may be the best option for under $800. Technology has come a long way since I began using my first rangefinder that resembled a block of wood. This is a handicap that I am willing to accept! Order here.
Below are the full specifications for the rangefinder:
| | | | |
| --- | --- | --- | --- |
| | DEER RANGE | TREE RANGE | REFLECTIVE RANGE |
| | | | |
| NORMAL MODE | 1,600 yds (1,463 m) | 1,800 yds (1,646 m) | 2,400 yds (2,194m) |
| NORMAL MODE (SCAN) | 2,000 yds (1,829 m) | 2,200 yds (2,012 m) | 2,400 yds (2,194m) |
| ELR MODE | 2,200 yds (2,012 m) | 2,500 yds (2,286 m) | 4,000 yds (3,658m) |
Max Range Reflective (yards) 4000
Range Tree (yards) 2500
Range Deer (yards) 2200
Accuracy (≤ 199.9 yds) .5 yds
Accuracy (200 – 1000 yds) 1 yds
Range Accuracy (> 1000 yds) 2 yds
Max Angle Reading + / – 70 degrees
Magnification 7x
Objective Lens Diameter 25 mm
Linear Field of View 341.25 ft @ 1,000 yds
Angular Field of View 6.5 degrees
Eye Relief 16-19 mm
Length 4.49 inches
Width 1.34 inches
Weight 9.9 oz
You can comment on this review or ask Jared questions here.