Vortex Razor HD 5-20×50 Review
Jordan Kauer
from
A few years ago I got bit hard by the long range shooting bug. The more I learned the farther I was shooting and quickly started reaching the limitations of my gear. This spring I picked up a custom 300 RUM and wanted a scope that wouldn't limit the max effective range of the RUM. I made up a list of things I wanted in a scope:
·         Minimum 100 MOA of elevation adjustment
·         20 MOA turret
·         First Focal Plane reticle
·         1 MOA hash marks for windage
·         A zero stop.
I've had great luck with Vortex Optics in the past so I called them up to see what they would suggest. They pointed me to the Vortex Razor HD 5-20×50 EBR-2B.  It seemed to exceed everything I wanted in a scope so I placed an order.
The Razor HD has several models in both MOA and MRAD.  You can choose between 15 and 25 MOA or 5 and 10 MRAD per revolution of the turret. The scope weighs 35.2 ounces and is 15.8 inches long. The 35mm tube provides 125 MOA (36 MRAD) windage and elevation adjustment.
The scope is available with 4 different reticles EBR-1, EBR-2B MOA, EBR-2B MRAD or EBR-3 all of which are First Focal Plane (FFP). With the FFP reticle, the sub tension will stay constant throughout the power range of the scope.  This type of reticle is ideal if you use the reticle for windage or holdover because you don't have to worry about what power you're on. The scope tested was equipped with the EBR-2B reticle.  I chose this reticle because it has lines spaced every 1 MOA for windage and elevation.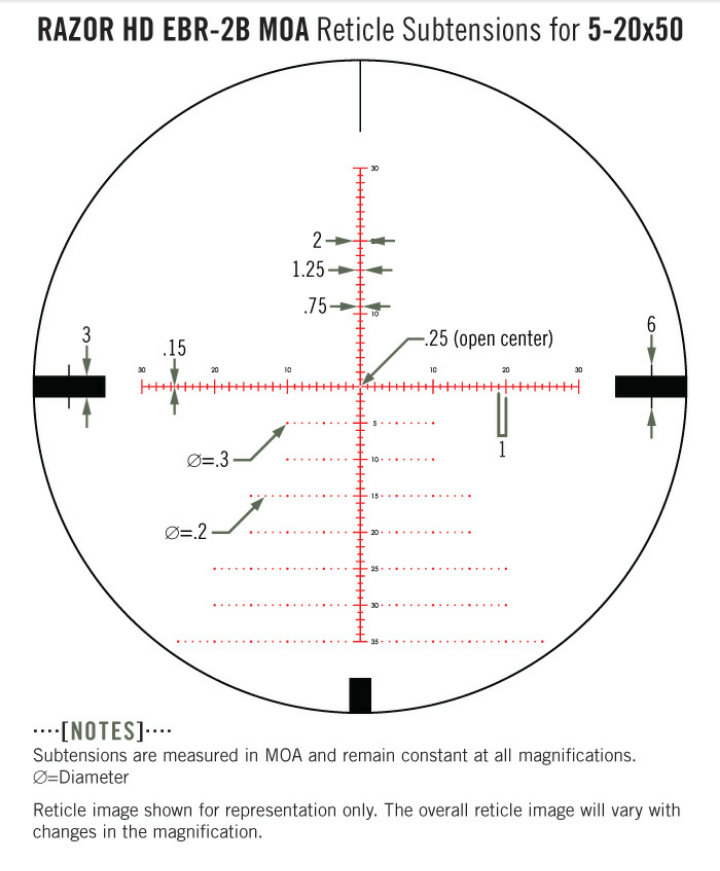 The scope showed up and I couldn't wait to get it on my rifle. Upon opening the box I was pleased with all the accessories the Razor came with like the flip-up lens caps, sunshade, bubble level, lens cloth, and battery. First thing I noticed was that they mark the turret out to 50 moa which makes going over a full revolution easier to keep track of. I chose to mount the scope on my RUM using Vortex Precision Matched rings. I took it out on the porch to check the clarity and was very impressed with how bright and clear it was. Being a FFP reticle, it seemed thick (.15 moa) on 20 power but on five power, it basically looks like you have a standard duplex reticle at first glance. The reticle has a .25 moa open center which I didn't like at first but shooting at a distance you can see exactly what your shooting at and I became very fond of it the more I used it. The reticle is also illuminated with multiple brightness levels. 
Where this was a new rifle, the first few trips to the range where just trying to find a load the rifle liked. After finding the right load, I was ready to shoot some distance.  I zeroed the rifle at 100 yards and set the zero stop.  With the zero stopped disengaged, you can fine tune your elevation.  If you need a zero between 2 clicks, you can do that with this scope. It was easy to set up the zero stop and I like how it stops solid on your actual zero every time. I had 4 rounds remaining so I fired them at 300 to figure out my validated velocity. I went home loaded some more rounds and got all the data put into my G7 rangefinder.
 I was back at the range the next morning bright and early trying to beat the wind but typical of Idaho, the wind was blowing. I set my target up at 600 Yards and my rangefinder said dial 9.5 moa and hold 2 moa for wind. I dialed my scope held 2 Moa and fired. I was shocked as I hit the 2" dot the first shot.  It usually takes a few minor adjustments to fine tune the load with my rangefinder.  What shocked me the most, though, is that I could see my bullet hole at that range! I fired another shot and hit the top of the orange dot then a third that was about 1" outside the dot which could have been from fluctuating winds, so I fired a 4th shot and put it right next to my first shot.
I then moved back to 1050 yards to shoot my 10" steel plate. Dialed 22.2 Moa and held 4 moa for wind.  My first shot was off the plate so I rechecked the wind.  It had picked up a little so held another 1 moa and put 2 shots in the center of the plate. I had 2 rounds remaining and wanted to make sure it returned to zero so I dialed back to my zero stop and fired two shots in the same hole, exactly where I wanted.
Through the course of the summer, I put over 200 rounds through the rifle from ranges of 500 yards out to 1500 yards checking my 100 yard zero periodically and it always stayed true. This fall, my friend and I found two bucks in the same herd of deer that we both wanted to shoot, I took my deer at 1082 yards then he got behind the rifle and took the other buck at 960 yards. We had spent enough time in the preseason shooting that we both had 100% confidence in the gun and scope and ourselves that we could make the shots.
In conclusion, the Razor is solid option for the long range shooter looking for a high end scope. With a MSRP of $2499 and retail price of $1699, that might seem high but when you look at all the features as a whole, it's actually a great scope for the money.  The scope weighs in at 35 oz, so if you're concerned about weight this may not be the best choice for you. If you're looking to shoot the max effective range of your rifle, the 125 moa (36 Mrad) will definitely  get you there. I would not hesitate to put this scope on another rifle if weight is not a factor. On  a side note, Vortex is closing out the 15 moa and 5 Mrad versions for $1350
 Editors Note: This article was sent to us by Jordan Kauer a Switchback Outdoors Prostaffer. If you haven't checked out their Webisodes you're missing out! Here is a little more about them.
Switchback Outdoors was created with a goal to find a niche in the video production market. We knew that you had to offer something special if you wanted to contain and maintain viewers. Switchback Outdoors offers a "semi-live hunting webisode" experience like you have never seen before. We know that hunters/viewers want to see current adventures and not have to wait a year to watch a show that happened last season. Once an animal is harvested the webisode containing that hunt will be available to watch within 10 days.