"What in the hell do I need $350.00-dollar duffle bag for?"
I asked myself that question as I pulled the Yeti Panga 75 out of the box. Not having much time to look at it, I loaded it up and took off to help a friend on a mule deer hunt. During that hunt, it was super-hot and dusty to start, then it rained for a few days. Each night I would sleep in the back of the truck, and all my gear was in a cooler, my backpack or the Panga laying on the ground. Over four days, no dust or water got into that bag. More info here.
Rokslide Tested
I hate giving feedback on products until I've had a chance at breaking the product and the Panga 75 is no different. All told it went on seven hunting trips and six plane rides. As most know, the airlines are almost as hard on items as hunters are.
Yeti Panga Sizing and Features
The Panga comes in three sizes a 50, 75, and 100-liter bags. The bag is waterproof, and I don't say that half-assed, this bag is WATERPROOF, even when fully submerged. The outer material is very stout and well made. There are not many features on the bag, and in my option, it doesn't need that many. The backpack straps are very functional.  When it's on your back, the pack feels more comfortable than I thought it would, even with a fair amount of weight. It has grab straps in convenient locations.
The zippered opening on the Panga is somewhat narrow, but I did not find it hard to load any of my gear, including large tripods or spotting scopes. Sometimes finding certain items was a chore with the narrow opening. There is a cool internal strap that connects under the zipper to help aid in zipping it shut with when the bag is stuffed full. The Panga also has two mesh side pockets inside that are in easy to reach areas of the bag for keys and other vital items. It's only a 75-liter bag but It always surprised me how much it holds when I am loading it up.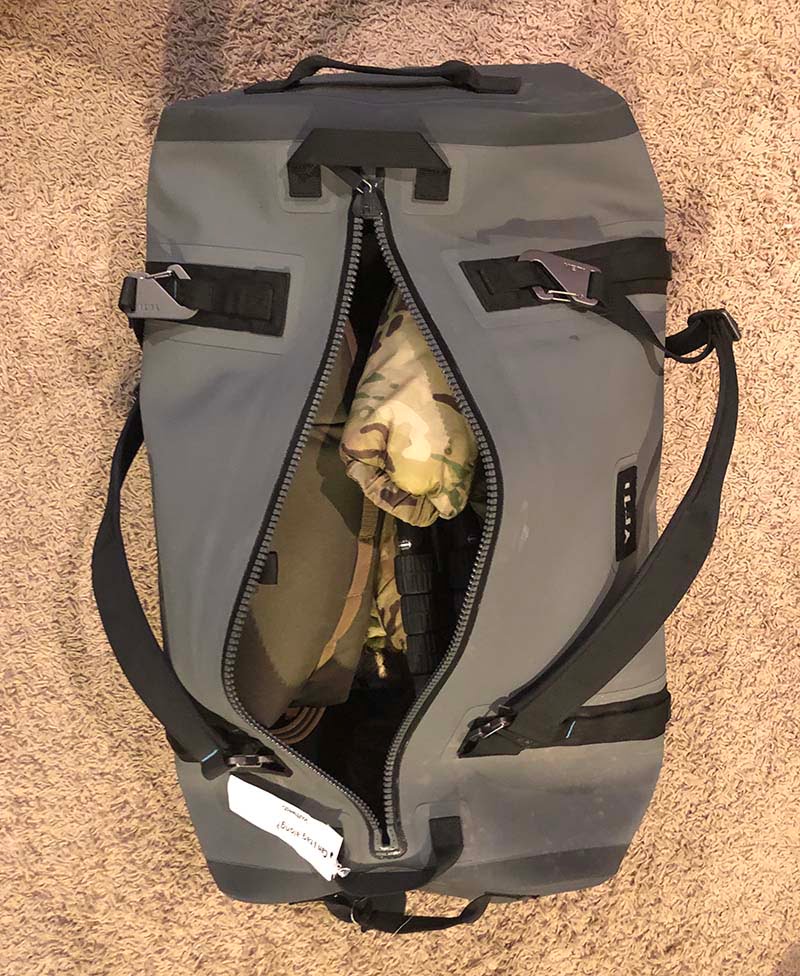 Expected Uses
As a hunter, the primary use of the Yeti Panga 75 is to keep my high-end gear protected from water, mud, dust and bumps and bruises from the long rides in the back of the truck to the beatings it takes on the TSA conveyor belts.  This bag would also be at home on an Alaskan float trip, in a jet boat, or on the back of a horse. I don't fish, but I imagine there are several uses for the Panga if you do.
Yeti Panga Pros
Waterproof
Durable Materials
Looks good
Backpack Straps
The Panga is very well made
Yeti Panga Cons
Price
Somewhat narrow zipper opening
If the TSA makes you take off the backpack straps, it's a painful process.
Wish it had wheels on one side.
Specs
Would I buy the Yeti Panga 75?
I have spent good money on two other waterproof bags that have failed me. The Yeti Panga 75 is expensive, but that expense pales in comparison to the items I am putting inside it to protect.  I cannot afford to lose hunting days to crappy products. So, to me, the answer is yes. You can order yours here.
You can comment on this review or ask Ryan questions here.